Tiyana Cackovic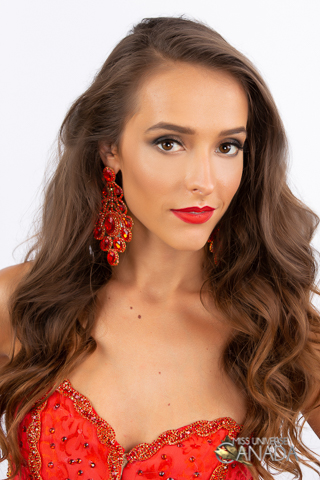 Height: 5'8
Hometown: Hamilton, ON
Languages: English
Occupation: Entrepreneur
Tiyana Cackovic was born and raised in Hamilton, Ontario. Being from a big Croatian family, having strong family relationships and spending quality time with them has always been very important to her. From a young age she has always had a passion for the arts. Always attending various theatre camps, such as The Great Big Theatre Company, & when performing in front of her family, this is where her interest in the entertainment industry grew.
At 12 years old she was signed to a modeling agency in Toronto, Ontario. She got right into doing various jobs such as four Book Covers and Family Channel commercial spots. Throughout the years Tiyana has stayed involved with the dramatic arts & was cast in her High School Production "Murder Mystery Dinner Theatre". A role of a washed-up Rockstar intended to be for a man, & that she decided to audition for anyway and got the part! Always driven and focused she entered CMTC. The Canadian Model and Talent Convention, placing 1st in Runway and 2nd in Swimsuit. After her first time attending the convention, Tiyana landed a modeling Contract in Taipei, Taiwan for three months. She was able to explore a new culture, & learn and develop new personal skills on this adventure. Although incredible, the experience was very eye opening and led her to where her hearts dreams and desires lie.
Coming home Tiyana decided to move to Toronto and channel her focus more on her craft as an Actor. She has attended various classes around the city including Second City & Armstrong Acting studios, where she studied worked her way up to being invited into the Masterclass Level. With this knowledge she created an Acting program for kids back in her hometown at Studio E Music & Arts School. While living on her own in Toronto and working in the service industry to pay for rent and volunteering as a camera operator at Armstrong Studios to help compensate for classes, Tiyana learned the importance of having to mindfully live your life. As an Actor she's learned that you need be able to be yourself while stepping into a different reality, and in order to do that you need continue to have various life experiences. This is when she realized she had an eye & long love for Fashion and discovered her interest in Graphic Design and Branding. She has plans on attending school to further her curiosity, knowledge and skills as it has become a new realized desire to own her own company in the future.
Tiyana's main goal is to create a platform in which she can inspire the youth and especially the young women to fiercely go after life. That there isn't a conventional or traditional way to discover your passions and that you can indeed have more than one passion. That who you are isn't defined on any one thing you do, but the multiple experiences that make you who you are. She wants to spread the message that "Life is a Journey" and encourage people not to fear, but to take that journey. She believes that God has a plan & purpose for everyone and keeps that at her centre core.
Sponsors
Video
Q&A
What are your interests and what do you enjoy doing the most?
I am always interested in anything that allows me to express my creative side. I've always enjoyed modeling and coming up with interesting and unique concepts with my best friend, who's a photographer. I enjoy graphic design and any hands-on arts projects such as creating vision boards or collage art pieces that have a deeper story. I enjoy cooking meals I've never tried to make before and experimenting with new ingredients. Diving into the mystery of the unknown or to see how something is going to turn out excites me. I've also studied Acting at a professional level and enjoy that willingness and freedom to explore and play as an adult.
List any special training you have had (music, art, drama, dance, etc.)
Armstrong Acting Studio – Core 1, 2 and 3 / Bridge 1 and 2

Accepted into their masterclass level

Second City Improv and Comedy Writing Level A
CMTC Improv workshop
Continued:
3 years of vocal lessons
and a Song Writing course mentored/taught by Canadian Idol Winner Brian Melo.
3 Summers of the Great Big Theatre Company Camp
In what sports, if any, have you participated?
I participated in sports growing up and in elementary school, such as Tee-ball, Soccer, Volley Ball and Flag Football.
Name one person, other than your parents, who has had the most influence on your life. Why?
Brian Melo, my song writing teacher, mentor and friend has had the most influence on my life. He has always cultivated such a positive and self-expressive environment for us to learn in. He taught me one thing that I still live by to this day, "become comfortable with being uncomfortable". That the most growth we will see in our lives is understanding to stand in the face of fear and dismiss it. To conquer the things that hold us back and to be unapologetically ourselves. While being a talented and hardworking Musician, he is one of the biggest supporters in my life & a person I'd like to be more like. Strong, Resilient and Fearless.
What is your proudest personal accomplishment (other than participating in this pageant)?
My proudest personal accomplishment other than participating in this pageant would be traveling to Taipei, Taiwan out of high school on a Modeling contract. I lived in another country for 3 months on my own and was able to adapt, learn and explore a whole new culture, as well as take care of myself. It was also one of the greatest and most cherished memories with my mom, who traveled with me there & stayed the first week.
What is the most interesting or unique thing that has ever happened to you and/or what is the most interesting thing about you?
I believe the most interesting thing about me is that I went straight into life right out of High School. Traveling to Taiwan and coming home and getting myself right into private acting classes. I entered the work force, service industry at entry level and worked my way up to Managing a restaurant. To me this is the most interesting that has ever happened. I learned to live on my own from a young age and make my ends meet. I was able to grow and develop and view the world from a very different lens. It has shaped me and developed my hard work ethic. It has shown me that with determination and ambition, that anything is possible. Even Success!
What is your career ambition and what are you doing or plan to do to accomplish that goal?
My career ambition is to own my own company one day. I have a love for "Fashion" and "Tea" and would love to do something in those spaces in regards to my future company. I've been doing online courses focusing on the business side of fashion and luxury companies. I plan on furthering my education in September to hone my skills in on graphic design and business since I have already learned so much from within the workforce. As well as take a Tea Sommelier course to have a better understanding of the product if I intend to sell. I would also love to be an advocate for young women, of course women in general but I am super passionate about our youth, as they are our future. I want to create a platform where they can feel inspired and safe. I want women and young women around the world to know their value and how INCREDIBLE and AMAZING we all are as women! With my career passions, I'd love to share & spread that knowledge and freedom to women of all ages globally.
What would be your "dream job" in life?
My dream job is to be "CEO" of my own Brand and travel the world as a Motivational speaker.
Describe where you were raised and what your childhood was like.
I was raised in Stoney Creek/Hamilton Ontario. My parents got divorced when my older brother and I were a young age. So, my mother moved us into my grandparent's house where we lived with my Grandma, Grandpa and Great Grandma (my Baba). My mom worked very hard to make sure my brother and I could participate and be involved in whatever our hearts desired. She did a great job of allowing us to discover who we were. Growing up with grandparents around showed me how to be patient. They've taught me how to have a kind heart & how to care for people. It is definitely something that has stayed with me well into today. Although they also liked to do everything for my brother and I, which as a child sure made things easy and amazing, it forced me as an adult to learn different disciplines on what it is like to take care of yourself. These life lessons made living in Taiwan such an accomplishment for me.
List any interesting or unusual jobs you may have had.
I wouldn't say I've had any unusual jobs, but I've definitely had some very interesting ones. I would say the most interesting to me would be teaching Acting classes in Stoney Creek to kids. I loved this job! It was definitely so much fun to watch the kids grow their confidence & interest within the Arts. Having two of my younger cousins in my class, made it very challenging and interesting in being able to find that balance of a professional learning environment and juggling family. Things like what to do when they don't listen to you or follow instructions. Although challenging it was incredibly rewarding, especially to hear (now a couple years after running the classes) my younger cousin Caitlyn tell me "I loved your acting class, you did a great job teaching".
List any volunteering you have done.
In the last year I've volunteered through many different events with my work. As well as volunteering on the Hair and Makeup Team for the Christmas Production at Church on the Queensway. I was also on the Hair and Makeup team for the Production of the Passion Play at the Church on the Queensway this past Easter.
What is your most unusual talent?
I can sing the Alphabet Backwards!
Where is the most interesting place you have been to?
It is definitely a tie between Taipei, Taiwan and Los Angeles, California. Both places have taught me so much and were such magical experiences, it really is hard to pick just one as both have impacted my life in interesting ways…and in ways I would never have expected!
What do you hope to be doing in ten years?
In ten years, I hope to be an incredible Mother and Wife. I truly do feel it is my calling in life to be a mom. I hope to have been consistent with my blog and living my healthy lifestyle. I hope to be inspiring to my family and teaching them importance of taking care of yourself mentally and physically. Alongside all this, I hope to be running my own business that I have been dreaming of and that I have achieved the success in my life in the way I choose. Ten years is a very long time. I hope to have taken the ups and downs of life and handle them with grace. I hope to have grown and continue to grow and inspire and change someone else's life one day!
Is there anything you would like to add that we haven't asked?
I am definitely not your typical Pageant Girl, as this is my first time entering one. I've always been a fan and had an interest in what Miss Universe Canada is all about. How she relates to the nation and woman of Canada as a whole. I connect because I've been there. The millennial generation and those younger live in a DIY world. Where anything goes, where hard work and creativity and thinking outside box, feeds our souls. I may not have had the most conventional path out of high school, but I've got my life experiences. I was able to travel and explore. Dive into my passions and discover who I am. I've learned how to develop my skills and climb from an entry-level position to a Manager at every single one of my jobs. I'm proud of where my curiosity and work ethic has gotten me, and I've overcome my personal struggles along the way making me stronger. I am super passionate about impacting and helping shape the youth of our country. With the Miss Universe Canada platform, I would be able to reach the young women of our country, and help them realize that everyone can succeed at their own personal pace. I would motivate people to believe in that you can better your life and fulfill your purpose, starting with yourself!