Tysia Suzuki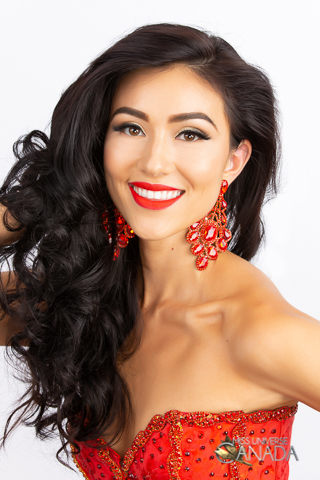 Height: 5'6
Hometown: Burnaby, BC
Languages: English, Mandarin, Spanish
Occupation: Student at Shanghai Jiao Tong University (Chinese Language and Culture)
Tysia Yu Shuen Suzuki is a recent medical school graduate who hopes to lend her voice to the community as an advocate for health, sustainable nutrition, and international relations.
Born in Richmond and raised in Burnaby, British Columbia, she moved to Herstmonceux, England after high school to study at the Bader International Study Centre, the UK campus of Queen's University. She was accepted the following year to Fudan University, Shanghai Medical College – one of the top medical schools in China – for a demanding 6-year medical program. Tysia graduated with a Bachelor of Medicine and Bachelor of Surgery (MBBS) degree and made the decision to diverge away from clinical medicine to instead promote the importance of lifestyle choices and preventive healthcare. Additionally, she completed a certificate in Plant-Based Nutrition from eCornell, the online learning platform of Cornell University. She feels that this path will allow her to make a difference in nutrition, environmental health, and mental health. Tysia actively volunteers as a health education guest speaker and provides Chinese public hospital language and service interpretation. She volunteered with a Chinese preschool as an early childhood instructor and wishes to help ensure that every child has the same opportunity to learn with full health. She is very humbled by the fact that she has already been able to share health-related messages to those otherwise not exposed. And she hopes to continue on this positive trajectory of health education and support.
Tysia has spent the past several years studying and traveling around Asia, Europe, and the Americas. Her father, who is of Japanese and Chinese heritage, immigrated to Canada from Taiwan when he was ten years old, and her mother was raised in a mixed European-Canadian Mennonite household. Her early family life shaped much of her understanding of both eastern and western cultures, and her life abroad reaffirmed the importance of strengthening international cooperation for a brighter and healthier future. Currently, Tysia is a linguistic student at Shanghai Jiao Tong University where she is testing at the highest level of reading, writing, and oral Mandarin. In her spare time, she likes to teach herself Spanish and does health research. She is grateful for the opportunity to have had such a unique education and wishes to globally educate youth on how to take charge of their health and nutrition.
From her early piano-playing days to her international singing performances, she has witnessed the power music has for bringing people together. She became an active member in choirs and musical performances, going on to volunteer with the Canadian Chamber of Commerce in Shanghai as a performer for multiple sports and business-related events. In 2012, she successfully auditioned and placed top 10 at the Chinese National Tibetan Folk Singing Competition in Chengdu, Sichuan Province. She has also hosted a Mandarin travel show aimed at promoting sustainable tourism and has been a commercial model. Tysia was honored to have been invited to participate in a Roundtable Luncheon with the Former Governor General of Canada, His Excellency, the Right Honourable David Johnston and other dignitaries during their state visit to China in 2013. She hopes to use her expat life experiences to help facilitate new opportunities for advocacy of and aid in health and wellness issues.
Pageants are a new experience for Tysia, but she is excited for the chance to represent her country. Her charisma, openness, and stage experience will assist her in utilizing this opportunity to inspire and empower women everywhere to strive to achieve their goals. Tysia is thrilled and grateful for the opportunity to share the stage with such strong, intelligent, and beautiful Canadian women. Becoming Miss Universe Canada 2019 would be an honor – one which she would fulfill with dignity and pride.
Sponsors
The Sakura Singers Society
,
APC Cargo Express
,
Mara
,
Shenglin Financial Group Inc.
, Gordon Kadota,
Ekaj
, OK Gift Shop,
Tiffany's Vancouver Bridal
,
Damien Savant Photography
, Jinjing Guo, Family and Friends
Video
Q&A
What are your interests and what do you enjoy doing the most?
Regardless of what is going on in my life, you can always find me baking. Since I was little, I would help Ama (my maternal grandmother) make various creations: pies, cookies, cakes, and more. Even when I found out that I was wheat intolerant, that did not stop me. If anything, it challenged my love for creative innovation where I now experiment with different types of flour. I sometimes spend hours coming up with new recipes and baking healthy treats for my loved ones.
But on rainy days, classic black & white movies have long been my favorite companions. The elegance and charm these stories and artists embody on the silver-screen gift a special type of magic, letting me dive into the worlds of old; to simpler times, where romance was paramount, and fantastical dreams were only limited by your imagination. Moreover, the melodies of 1930's and 1940's musicals fashioned my deep-rooted passion for singing.
Traveling is also something I love to do when I have the opportunity. I think that being able to visit another country and culture is one of the most valuable life experiences a person can have. At least, I have gained so much from my travels. But when I am at home, I love to go out and walk around lakes and beaches with my Siberian husky, Floki. Floki entered my life halfway through my medical degree in Shanghai, China. He is a true rascal who redefined my definitions of love, loyalty, and responsibility. He is my constant source of support and reason. And so, after moving him back home to Burnaby, I like to spoil him with the beautiful landscape that my home province is blessed to have.
List any special training you have had (music, art, drama, dance, etc.)
Royal Conservatory of Music Grade 10 piano
Singing in multiple languages (English, Mandarin, Spanish, Tibetan)
Traditional Chinese acupuncture and cupping techniques
National Lifeguard Service (pool and waterfront)
The Lifesaving Society Bronze Medallion, Bronze Cross, WSI
The Lifesaving Society Standard First Aid/CPR C/AED
Japanese and Chinese Calligraphy
Fencing footwork and technique
In what sports, if any, have you participated?
I was brought up playing many, many sports: swimming, volleyball, figure skating, track and field, basketball, softball, soccer, and water polo, to name a few. My parents made sure that my brothers and I knew the value of athletic discipline, team comradery, and the health benefits of exercise.
Name one person, other than your parents, who has had the most influence on your life. Why?
Bachiang – my paternal grandmother. She immigrated to Canada with her husband and two young children when she was 31 years old. Not understanding English fluently, she studied very hard to improve her language skills and pass these lessons onto her Taiwanese/Japanese/Mandarin speaking children. In order to help provide for her newly immigrated family, Bachiang went against tradition and made a career for herself in opera. In Taiwan, she was a self-trained lyric soprano, and, in Vancouver, she courageously auditioned herself into the chorus, followed by lead roles, first with the Vancouver Opera and then with other Canadian opera companies. Through her determination and hard work, she stressed the importance of keeping a positive mindset; of not letting little things get you down; the virtue of perseverance. To this day she still teaches voice lessons and volunteers with local choirs. She has so much love and passion for what she does, ultimately inspiring the people around her. She is a light and I hope to one day shine as bright as her.
What is your proudest personal accomplishment (other than participating in this pageant)?
Balancing a full-time medical education with building a life away from home in Shanghai is my proudest accomplishment. Moving away from my family to an unfamiliar society was a very vulnerable venture. I struggled, I cried, and I sometimes felt at my lowest. I learned about medicine, but I learned more about myself. My ability to stay positive and find silver linings was tested; to keep an open mind and persevere even in the bleakest of situations was key. Learning about how to survive and thrive in another society proved challenging but interacting with different types of people and engaging with new friends brought fresh perspectives and inspired me to keep pushing on and be a better person. It is the accumulation of life experiences in Shanghai which make me most proud. Be it learning how to buy vegetables at the nearby market, understanding the Chinese university system, forging international friendships, placing in the top 10 of a foreign singing competition, or even raising my dog. I am proud of my work ethic, perseverance, and the ways I have learnt to navigate new environments. These trials have helped me become a stronger and more confident woman.
What is the most interesting or unique thing that has ever happened to you and/or what is the most interesting thing about you?
Spending a year working full-time as a medical doctor intern in Chinese public hospitals was definitely one of the most unique educational experiences I have ever had. I was given the unique opportunity to observe and get hands on experience in both western and eastern medical practices. Though I had lived in Shanghai for several years, my classes were taught in English, and not one of my classmates was local Chinese. So, when I was rotating by myself through different hospital departments, I was tested each and every day. My Mandarin vastly improved, I was able to better understand the western medical system in China, and was also provided insight into traditional medical practices, such as Chinese Traditional Medicine. From my experiences, I was able to witness symptom treatment with acupuncture first-hand. Used in conjunction with western treatment methods, I found it fascinating to see the association of daily acupuncture treatments with a positive mental state and quick improvement of symptoms. The combination of both treatment methods to procure a positive outcome was thought-provoking.
What is your career ambition and what are you doing or plan to do to accomplish that goal?
My career ambition is to help improve global public health and healthcare accessibility. I believe having completed my university medical education is a good start. I believe that participating in this competition will also help improve many skills that I will need to successfully work with charities, organizations, and causes. In the future I plan on pursuing a graduate degree in public health or entrepreneurship and am looking forward to successfully implementing a project I started aimed towards healthcare accessibility.
What would be your "dream job" in life?
To be a documentary filmmaker. Though I have not found an occasion to learn the skillset needed to become one yet, I think that this is an admirable profession that can bring so much good to the world. Originally, I had dreamt of being a biographer. Reading and writing other people's origin stories always fascinated me. How someone became that person, the choices they made, and the risks taken to achieve their goals would leave me spellbound. I would spend hours and days reading about different lives and pondering how I could apply their life lessons to my own.
But with visual media, public reach is so much greater. There are countless stories worth telling and causes that need a media presence. Being a documentary filmmaker is a medium in which this can be achieved. The flexibility and possibility to address any type of subject matter is also what makes it very intriguing. Be the topic women's rights, environmental advocacy, or the life of cows, documentary filmmaking helps bring awareness and highlights areas that require change. It can be the inspiration people need to spark positive conversations.
Describe where you were raised and what your childhood was like.
I was raised in a British Columbian household with strong Asian and European family values. My parents made sure that there was always time for family gatherings and Sunday dim-sum. It was a fun mish-mash of east meets west cultures. Our birthday parties would always consist of pizza and sushi, though my friends sometimes thought it was a strange combination.
In terms of a real "fun" childhood, I must admit that it erred on the tiger-dad side of things: Kumon, piano-lessons, and as many sports practices you could possibly fit into a week before hours of homework and extra worksheets was the norm. That didn't leave much time for friends, but I tried my best despite being a shy child. To this day I am very thankful for the friends I have been able to keep since elementary school.
List any interesting or unusual jobs you may have had.
In high school, our track and field team had an annual fundraiser. Each team member had to sell at least 45 50kg bags of manure. The challenge was that we lived in the suburbs, where many households did not have use for so much fertilizer. We had to apply our creativity to market and find suitable buyers. In addition, we also did the shoveling and weighing of the manure bags.
List any volunteering you have done.
Sexual health and hygiene guest speaker
Chinese public hospital language interpreter and service facilitator
Canadian Chamber of Commerce in Shanghai, China anthem singer and event volunteer
Shanghai Roots & Shoots translation and editing
Vancouver Lifeguard Association volunteer lifeguard
Burnaby Baby Cudas swim instructor
Musketeers Fencing Society event volunteer
Ten Thousand Villages stockroom volunteer
BC SPCA cat companion
What is your most unusual talent?
I don't know if this is considered an unusual talent. But I am able to bake almost anything without a recipe or measuring cups, and it will still turn out rather tasty. Because of this, my friends have dubbed me "The Baking Fairy".
Where is the most interesting place you have been to?
Last year, I had the opportunity to visit Quito, Ecuador. Nestled up at 2850 meters above sea level, the city and its people "sleep peacefully amid roaring volcanoes," just as Alexander von Humboldt once said. In this city that showcases the beauty of both colonial and modern worlds I experienced the warmth of its people. I was taken in like family, patiently encouraged to practice my broken Spanish, and was gifted the priceless knowledge of my host family's secret family recipes. Through its tumultuous weather, where the day could begin with a clear, sunny sky and then switch almost instantly to a downpour lasting not even twenty minutes before reverting back to its sunny forecast, but this time with a ten-degree temperature drop, I learned how to better prepare myself for a day that could manifest into multiple outcomes. This lesson also went hand in hand with the phrase I had become accustomed to hearing: "Los caminos de Dios son perfectos, todo pasa en su tiempo." (There is a bigger plan and things will happen at the right moment) – The key is just making sure you are always prepared.
What do you hope to be doing in ten years?
I would like to have completed a master's degree and have started my own company or organization. I hope to be in a position to help people in Canada and abroad with healthcare issues. I have ideas of how to make healthcare more accessible and wish to execute these ideas in the near future.
On a more personal note, I hope to be married and have started a family of my own.
Is there anything you would like to add that we haven't asked?
I am truly grateful for the opportunity to represent myself, my family, my province, and my country. I would like to thank the Miss Universe Canada organization for this unique experience. And another enormous thank you to all my family, friends, and sponsors who have helped me get to this stage. I wouldn't be here without your love and support!