Whitney Serwaa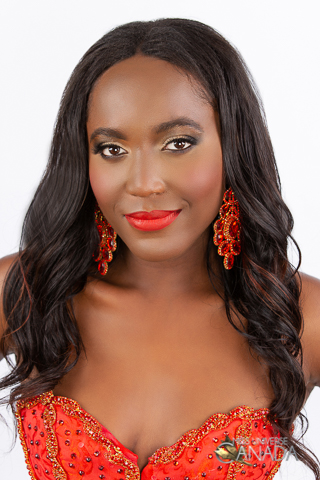 Height: 5'9
Hometown: Toronto, ON
Languages: English, Twi
Occupation: Student at University of Guelph (Bachelor of Arts (Honours) – Sociology) on Dean's List
Born in 1997 to Ghanaian parents, Whitney Serwaa is the epitome of beauty, confidence and perseverance. Whitney believes that determination and discipline will lead her to the path of success. She is a strong believer of self-growth and self-acceptance, and is driven by the desire to constantly improve herself holistically. She aspires to be memorable and play an important role in society. She wants to not only talk about change, but also initiate it. As a forward and motivated individual, she looks forward to advocating for humanitarian issues and pursuing personal career goals.
Currently in her fourth year at the University of Guelph, Whitney is pursuing a degree in Sociology with aspirations of becoming a Lawyer. She is the first in her family to pursue higher education. At 21 years old, she can proudly say that she has accomplished many things in life. She is a graduate of the University of Exeter International Summer School where she studied Shakespeare. She starred in a documentary called "Keepin It Real" during her time in Paris, France earlier this year. The documentary examined the multifaceted experiences of contemporary black youth in the streets of France. Whitney has been to over 10 countries and has interacted with people from different walks of life. She has a deep understanding of what it means to test herself and step out of her comfort zone.
Never needing to rest her hands, Whitney plans to further her studies in the legal field with a focus on International law and human rights. The 21-year-old is determined to make her mark through a position that will offer opportunities to represent Canada on an international stage. This will give her the platform to share her vision for improvement, empower women, and to effect positive change not only personally and professionally, but also philanthropically.
Dedicated, bubbly and talented are just three words which Whitney uses to describe herself. She is dedicated because she never leaves a task undone. She is bubbly because she brings joy and light to people around her regardless of the situation, and she is talented because she puts the many talents God has given her to good use. With a strong belief in her aspirations and purpose, Whitney Serwaa continues to strive for success. She takes advantage of every opportunity that life offers with enthusiasm and persistence. Her hope is to affect positive change in the world.
Sponsors
Family and Friends
Video
Q&A
What are your interests and what do you enjoy doing the most?
Travelling has allowed me to learn more about myself, immerse myself in different cultures and consider career options I had not before. I like to study and I am currently taking classes online during the summer break. Studying has helped sharpened my critical and analytical thinking skills, as well as my intelligence. I also enjoy helping people and cheering them on. I am really good at making people feel better about themselves.
List any special training you have had (music, art, drama, dance, etc.)
Acting lessons
Guitar lessons
Cadet marching band
I played the trumpet for a while in middle school
Visual arts
Home economics (cooking classes)
In what sports, if any, have you participated?
Soccer
Track and field
Volley ball
Badminton
Name one person, other than your parents, who has had the most influence on your life. Why?
The most influential person in my life is my maternal grandmother. She is an inspiration and a blessing to me. I admire the fact that she did not let her disability define her and continued to bring light into the lives of people around her. I aspire to make her proud and start a foundation that provides rehabilitation and wheelchairs for individuals with mobility disabilities in her memory.
What is your proudest personal accomplishment (other than participating in this pageant)?
My proudest personal accomplishment is spending an entire semester abroad in Paris, France. It was one of the most exciting and challenging experiences of my life. Learning to live comfortably in a different country is an important life lesson. I made a lot of great memories, widened my social horizon and improved my understanding of people.
What is the most interesting or unique thing that has ever happened to you and/or what is the most interesting thing about you?
The most interesting thing that happened to me occurred during my time in Istanbul, Turkey. I was invited to the 32nd International Consumer and Social Media Summit in March at Ciragan Palace Kempinski. The event was hosted by LOB'IN honouring Turkey's leading names in the worlds of business, culture, civil society, art and sports. Several Turkish businessmen, managers, industrialists and celebrities were in attendance.
The most interesting thing about me is my mind. I have an incredible ability to comprehend, articulate and find a relationship between different aspects of life and communicate that in a very effective way.
What is your career ambition and what are you doing or plan to do to accomplish that goal?
I want to become a lawyer someday. I would like to specialize in International law and human rights. I want to help individuals and groups with their legal problems and campaign for legal and social causes for the greater good of society. After completing my undergraduate degree, I would write the LSAT and apply for law school. Combining the Miss Universe Canada title with a degree in law would enable me to have an even stronger voice and advocate for and empower women all over the world. With discipline and perseverance, I know I can achieve this goal.
What would be your "dream job" in life?
My dream job is one that combines problem solving, mediating conflicts, community involvement and a collaborative environment. I would like to be part of a passionate team and take on a key role in society by engaging in social issues I am passionate about. I want to be a voice of hope for young women.
Describe where you were raised and what your childhood was like.
I was raised in Canada and Ghana. My childhood involved trying to find the balance between two different cultures. I developed an integrated identity because I wanted to maintain the values and culture of Ghana but also adopt the values and culture of Canada. I had the opportunity to experience two different school systems and that came with its own challenges and rewards. I had a lot of responsibility from a young age. I felt the pressure of being the oldest child and having to set a good example for my younger siblings. I was forced to grow up very quickly. I stepped into the role of a mother when my family moved back to Canada in 2012 without my mom. I learned many lessons and these experiences shaped who I am today: a strong, resilient, confident, and compassionate individual.
List any interesting or unusual jobs you may have had.
When I graduated high school in 2015, I worked for the TDSB Focus on Youth program. I assisted with day to day activities such as planning trips, games, events, etc for children at a summer camp. This job allowed me to help others reach their goals, break out of my comfort zone and use the skills I developed from babysitting my younger siblings. I learned about leadership, time management and obtained valuable work experiences.
List any volunteering you have done.
Keeping It Real Documentary (Paris, France)
Church Involvement
Success Beyond Limits
Math Tutor (High School)
Painting apartments in Toronto
What is your most unusual talent?
I am not sure if these count as talents, but I can memorize things quickly, wiggle my ears and read things that are upside down. I would say being able to sing Spanish songs perfectly without being able to speak the language or understand it in my most unusual talent.
Where is the most interesting place you have been to?
This is a tough one to answer. I have been so many amazing places including Turkey, Ghana, France, Switzerland, Italy, Monaco, Czech Republic, England, Belgium, Germany and the United States. The most interesting place I have been to is Istanbul, Turkey. I visited Istanbul twice during my semester abroad in Paris this year due to my love for the city. Istanbul has a rich history and culture, amazing food, beautiful landscape, and Turkish people are some of most kind-hearted and compassionate people I have ever met. I also find it very fascinating that Istanbul lies at the intersection of Europe and Asia. I boarded a ship across the Bosphorus to two of the biggest Princes' Islands. These Islands have no motorized vehicles and are extremely peaceful and quiet. I also had the opportunity to attend a fashion show hosted by Punto Leather & Fur. Being in Istanbul was an experience of a lifetime.
What do you hope to be doing in ten years?
In ten years, I hope to be working at an organization where I can grow and take on new, exciting and different challenges. For the most part, I would love to be more involved with humanitarian work such as charities and fundraisers, and team up with schools and institutions around the world influencing and educating people on important social issues. This includes health and safety, food insecurity, mental health and mental illness, addiction, women's rights, human rights, equality and environmental impact. Taking my personal struggles with mental illness, bullying, self-esteem and abuse into consideration, I want to promote an image of a woman beyond physical beauty. Most importantly, I want to work for an organization where I can build a career. I am driven to be the best at what I do and I want to work somewhere with opportunities for self-growth, to develop my skills and work with individuals I can learn from.
Is there anything you would like to add that we haven't asked?
I would like to thank Miss Universe Canada for giving me this opportunity. My parents are very supportive of me. I believe that this pageant's focus on humanitarian work, self- esteem, confidence and one's personality can help me achieve my charity missions and help other people. My philosophy in life is to always be morally upright and to respect and gain respect. I have prepared very well for this pageant and I am ready and equipped with all that it takes to be Miss Universe Canada 2019.