Aleria McKay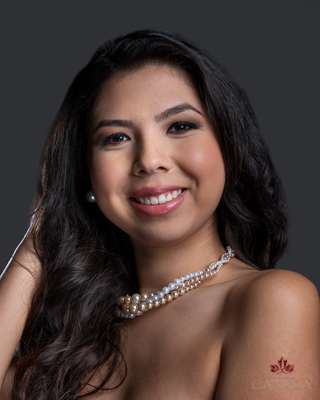 Height: 5'9
Hometown: Six Nations, ON
Languages: English
Occupation: Student at York University (Theatre – Major, Indigenous Studies – Minor)
Aleria McKay is a passionate, determined, and brave young Indigenous woman, who strives to work hard in all areas of her life. She graduated high school from Brantford Collegiate Institute as an Ontario Scholar in 2017 and began her post-secondary studies in 2018 at York University. Aleria is currently majoring in Theatre Studies, with a minor in Indigenous Studies, and is a member of her university's international honour society. Aleria is a mix of Indigenous cultures and identities, as she is Haudenosaunee and Teme-Augama Anishnabai on her mother's side, and Dene Tha, Cree, and Metis on her father's side. She is extremely devoted to both her cultures and her people and works to be involved in her community in any way she can.
Aleria has been involved in various forms of the arts from a very young age. Growing up, she was actively involved in competitive dance, competing across the US and Ontario. She loved public speaking and participated in a number of speech competitions in elementary and high school. She also began writing when she was 11 years old, writing various short stories and small plays. This love for writing continued into her teens, and in early 2020, she was successful in self-publishing her first book of poetry. Aleria's greatest passion is within theatre, where she is able to combine her love of writing and her love of the stage.
Aleria has always been a passionate activist for many humanitarian causes, using her voice to amplify those who need it. Her love for performance and passion for activism is what created her love for pageants. Pageants have given Aleria a platform to speak on her passions and raise awareness for causes close to her heart. She has held the titles of Miss Teen Six Nations 2013 and Miss Teenage Ontario 2018, and is currently Miss Six Nations, a role that has her serving as a cultural ambassador for her reserve.
Throughout her life, Aleria has had to overcome personal hardships relating to mental illness. After surviving a suicide attempt at 17, and witnessing the impact suicide and mental illness had on her reserve, she decided she wanted to make a change. In 2018, she wrote and directed her own play entitled And She Split the Sky in Two, which told the story of a teenage girl grieving the suicide of her older sister. The play received many awards and accolades, and was featured in a news segment on CBC Indigenous. This experience allowed Aleria to realize that she had a voice, and could use it in ways that make people listen.
In spring 2019, Aleria founded RAY of Hope (Remembering Aboriginal Youth), the Six Nations youth suicide prevention committee, in memory of Six Nations youth lost to suicide. RAY of Hope is a by-youth-for-youth organization with a goal of spreading a message of hope, life, and wellness through community, culture, language, and education. Today, Aleria acts as the director of the committee as they continue to grow and become more involved in the community. Aleria is open about her experiences with suicide and mental illness, as she believes the more we talk about it the more it lessens the stigma. She views her own experience not as a battle, but as a gift that has aided her in growing, learning, and ultimately, helping others.
Sponsors
Video
Q&A
What are your interests and what do you enjoy doing the most?
For as long as I can remember I have always loved reading and writing. When I was young, I would spend hours reading, lost in the worlds books created for me, sometimes attempting to create my own in the short stories I would write. As an adult, this love has translated into my own ventures in the world of literature. This past year, I self-published a book of poetry entitled "Thunderstorms", and I am currently working on my next book. Other than reading and writing, my passions lie in nature and the environment. I am working hard towards a zero-waste lifestyle, and am always taking opportunities to strengthen my knowledge of the land. I am also a huge animal lover, at home I am a mother to two cats, three dogs, and two guinea pigs!
List any special training you have had (music, art, drama, dance, etc.) 
I was introduced to performance at the age of 2, when I fell in love with dance. I continued on both recreationally and competitively in Jazz, Lyrical, and Tap, until I was injured at 15. My love for performance continued on in high school when I began to study drama both in class and extracurricularly. I took various acting classes and performed in a number of school shows in both lead and supporting roles.
In what sports, if any, have you participated?
Other than dance, I participated in cross country for many years until I injured my knee.
Name one person, other than your parents, who has had the most influence on your life. Why?
As a child, my family and I lived with my Grandma, who was one of the strongest influences in my life growing up. Since my parents both worked full time, I spent a lot of one on one time with my Grandma while she looked after me when my parents weren't able to. Spending time with her was always fun, as she would always listen to my stories and play along with me when I was outside. If I wasn't outside making a "salad" out of grass and things from the yard for her, we would be inside playing a board game or colouring. She was less like a grandparent to me, and more like another parent. She was kind and giving, and she would always encourage me to read and tell her stories. I believe this is where my love for writing came from, and this gift from her is still shaping my life today.
What is your proudest personal accomplishment (other than participating in this pageant)? 
It may seem small to some, but my proudest accomplishment has been graduating high school on time. In my grade 12 year, I was struggling with various mental health issues and attempted suicide two months before I was set to finish school. After spending two weeks in the hospital, I returned to school determined to not let my personal situation set me behind academically. I had always taken my studies seriously, and I worked extremely hard to finish the year, and I was able to graduate on time with honours. Although it was a difficult time in my life, seeing how I was able to set a goal, persevere, and come out stronger on the other side has shown me that I have more strength inside of me than I sometimes may think.
What is the most interesting or unique thing that has ever happened to you and/or what is the most interesting thing about you? 
While I am full of stories of funny situations and predicaments I've gotten myself into, I'm not sure if I want the world to know about all of them! Something I've always thought is interesting about me though is my name. My full name is Aleria Angeline Ellen Quill Turner McKay. I've always had the longest name of all of my peers, and a unique one at that. While my middle names are all family names, I've never met anyone else with the name Aleria! Prior to choosing my name, my parents wanted to name me "Emma" until they found the name Aleria in a baby book. Latin for "eagle-like", they thought it was perfect for who they wanted me to be.
What is your career ambition and what are you doing or plan to do to accomplish that goal?
My career ambition is to work in the realm of theatre as a playwright and director. In high school, I discovered my passion for drama and had the opportunity to write and direct my own play. Through this, I realized that this was what I wanted to pursue as a career. I am currently working towards completing my Bachelor's Degree in theatre studies as a way of gaining practical and academic experience. After university, I hope to find mentorship and experience at a theatre company that welcomes diverse voices. Eventually, I also hope to open my own theatre company on my reserve, as a way of giving back to the community that raised me.
What would be your "dream job" in life?
Although I have career goals surrounding my passions and interests, I would not say that I have a "dream job". My dream in life is to be able to write and work on directing plays in and around my community, reaching people and telling stories through art and performance. Throughout this, I would be focusing my energy primarily on building a sustainable home where I can provide myself and my family a traditional Haudenosaunee way of living.
Describe where you were raised and what your childhood was like.
I was raised on the Six Nations of the Grand River reserve in Southern Ontario. I was extremely lucky to grow up surrounded by cultural knowledge and teachings, and I learned about my traditions in school, from family, and around my community. For the most part, I was raised in a single parent household with my mother and brother. Though my parents split up while I was very young, I was blessed to have a father who worked hard to have a strong presence in my life. My parents were always extremely supportive of all my endeavours and projects, and I have many great memories of family trips and adventures from my childhood. I was also lucky to have an amazing step-mother introduced into my life during this time, and she was also an incredible support and presence throughout my childhood. Family has always been the most important aspect of my life, a value that was instilled in me early on. I've always been close to my extended relatives, and my childhood memories are filled with family visits and get-togethers. Although I have a large family, there's never been any difference between first cousins and second cousins and fifth cousins twice removed, to us, they are all just family!
List any interesting or unusual jobs you may have had. 
My most memorable job experience was a summer job I had as a teenager, working on a youth stewardship crew on Lake Temagami. On my maternal grandfather's side, I am Teme-Augama Anishnabai, and having the opportunity to spend a summer on my family's homeland was an unforgettable experience. I spent six weeks alongside other TAA youth learning how to build a birchbark canoe from scratch. We spent the summer harvesting materials, preparing them, and building the canoe. It was incredible to be involved in the revitalization and relearning of the traditional knowledge of my ancestors, and I still carry the lessons I learned that summer with me today.
List any volunteering you have done.
Canadian Baptists of Ontario and Quebec – Administrative/Guest Relations retreat intern
Oneida Baptist Camp – Camp counsellor
RAY of Hope: Six Nations Suicide Prevention Committee – Founder and Director
Six Nations Bread and Cheese Celebration – Food handler
Tom Longboat Run – General Volunteer
Michelle Farmer's Studio of Dance – Year end recital assistant
Temagami Arts Camp – Workshop instructor
WE Charity – Hosted various fundraisers
Children's Wish Foundation – Hosted various fundraisers
What is your most unusual talent?
It may not seem very unusual, but I'm a very fast reader! I can read full-length novels in a matter of hours with full comprehension. My average reading time is around 1000 words per minute.
Where is the most interesting place you have been to?
When I was younger, I used to go on camping trips with my extended family in Northern Ontario. One year, we took a day trip to what is widely known as Maple Mountain, at Lady Evelyn Provincial Park. The mountain is located on N'dakimenan, the homeland of the Teme-Augama Anishnabai. Our culture regards this as a very sacred site, as the traditional word for the location translates to "where the spirits go". It was exciting to see and explore this important site, knowing I was connected to it through my ancestors.
What do you hope to be doing in ten years?
In ten years, my main goal is to be fairly fluent in my traditional languages, Anishinaabemowin and Onondaga. Indigenous language revitalization is something that is very important to me, and I hope to relearn my languages so I am able to pass them on to my children. Other than this, I hope to have an established career in writing and be fairly settled down. Although, despite the plans I make now, I know that things can change in an instant so I am keeping my horizons open!
Is there anything you would like to add that we haven't asked?
As an Indigenous woman who is a mix of cultures and nations from coast to coast, I would be extremely proud to represent not only Canada on the international stage but the original people of Turtle Island as well. In all I do, I aim to amplify the voices of Indigenous people across the country, and I hope to use this platform to accomplish this as well.