Alice Bowyer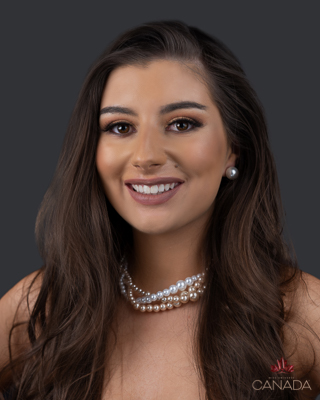 Height: 5'6
Hometown: Calgary, AB
Languages: English
Occupation: Student, Volunteer
Alice Bowyer is an adventurous, passionate, and ambitious individual. She endeavors to live a life where she gives back to others while forging her own path in pursuing her academic interests. Alice was born in England and was raised in Manitoba, Ontario, and Alberta, in Canada. She is a proud Canadian who currently resides in Calgary, Alberta.
Alice is a recent graduate from the faculty of Environmental Science from the University of Calgary. She loves being outdoors and learning about how the world works around her. Specifically, Alice enjoys the fieldwork that comes with the Environmental Science profession. She loved conducting field experiments throughout her degree where she was able to work in waders in the water or use tree cores to study Alberta's forests. Alice feels blessed to have the opportunity to study and live in such a beautiful part of the world, in the Rocky Mountains. Alice's dream is to continue being an advocate for the environment in the legal field. Currently, she is studying for her Law School Admissions Test (LSAT) and volunteering for different charitable organizations.
Although Alice is a science graduate, she is also a very creative individual with a love for the arts. During university, Alice worked as a part-time art instructor for the company 4Cats where she discovered the joys of teaching children how to construct art projects and develop different art techniques. During the Covid-19 pandemic, Alice has had the chance to explore her art interests further and learn new skills. Alice recently set up her own online art store and has expanded her digital art skills. Whenever Alice has any downtime, you can find her painting with her iPad or updating her art store and websites.
From tutoring students in Math/Science to volunteering at her local hospital to help prevent delirium in elderly patients, she is an individual who enjoys learning from her experiences, working with all ages and helping others with the skills she has to share. Following her favorite quote by Pablo Picasso, "I am always doing that which I cannot do, in order that I may learn how to do it", she is an individual who is always willing to try new things. Especially with the new path in life that the Covid-19 pandemic has created, she is using every day to learn and try something new. Currently, she is completing her Teaching English as a Foreign Language (TEFL) certificate in the hope of teaching English as a foreign language abroad someday. Alice believes that the Miss Universe Canada pageant is another new and exciting adventure that she is honored to embark on in 2020.
Sponsors
Family and Friends
Video
Q&A
What are your interests and what do you enjoy doing the most?
I love to paint. Specifically, I love digital art the most. I enjoy using the program Procreate on my iPad to create the majority of my art pieces. I love learning digital design and film editing software as well, such as Photoshop and Final Cut Pro. I even have a YouTube channel where I post art tutorials and updates on running my online art Etsy shop. As I have recently created my Etsy store, I spend a lot of time updating it and posting my art pieces/updates on my art Instagram as well.
List any special training you have had (music, art, drama, dance, etc.)
Competitive dance- Jazz, Musical Theatre, and Hip Hop
Violin
Trumpet
French Immersion: Junior High
In what sports, if any, have you participated?
I was trained in equestrian show jumping for a number of years and even owned my own horses that I truly loved riding. I was enrolled in swimming lessons from a young age which is a life skill that I am very fortunate to have developed. I was a cross country runner throughout school and still enjoy going for runs outdoors. I also took skiing lessons and began skiing from a very young age with my family. I am blessed to live right next door to the Rocky Mountains where I have been able to spend most of my winters skiing. During the summer, I also have a great appreciation for the mountains as I love to go hiking with my siblings and friends.
Name one person, other than your parents, who has had the most influence on your life. Why?
My great grandmother, Belinda Ellwood-Wade, has influenced my life. She broke family ties to marry the man she loved who was a Canadian soldier in WW1 who her family looked down upon. She then survived the Great Depression in Manitoba in the 1930s and raised three sons. She is a strong female role model who I look up to because she made her own path in life and endured many hardships. I always wish that I could have met her.
What is your proudest personal accomplishment (other than participating in this pageant)?
My proudest personal accomplishment is recently graduating from the faculty of Environmental Science from the University of Calgary. It was a very intense academic degree and one that I found challenging at times. It has taught me that perseverance and hard work are the keys to success. I am very proud of myself for never giving up.
What is the most interesting or unique thing that has ever happened to you and/or what is the most interesting thing about you?
I spent three years living on a working farm with my family. When my family and I moved to the farm it was very exciting for me as I was a 12-year-old at the time who had always lived in the city. We kept bees, cows, pigs, horses, and chickens, and I loved every second of it.
What is your career ambition and what are you doing or plan to do to accomplish that goal?
My career ambition is to become a lawyer in the Environmental field. My goal is to be an advisor and legal advocate in the protection of the environment and natural resources. I am currently studying for my LSAT and preparing for my law school applications. I am also continuing my charitable work in different volunteer organizations to learn new skills and ways that I can help others.
What would be your "dream job" in life?
My dream job would be one where I am working with a purpose that leaves me feeling fulfilled because I am doing something that is helping others and the environment. I want to use my skills to make a positive impact on this world no matter what the job title is. I want to be the voice for those who cannot stand up for themselves. Therefore, my ideal goal is to become a lawyer in the Environmental field where I can be that voice and legal advocate for the protection of the environment and natural resources.
Describe where you were raised and what your childhood was like.
Looking back on my life, I had what I consider a fairly unique upbringing. I was born in England and moved to Canada when I was four. My parents are very adventurous individuals and I spent a lot of my childhood moving schools, provinces, and even trying out completely different lifestyles. I moved from the city to a farm when I was 12. I think that was one of the most crucial components that impacted my personal development in my life. That transition was at such a critical age in my life, an age where I believe that individuals are strongly influenced by the people, and environment around them. There, on our new family farm, I learnt a lot about the environment, nature, life, death, and it even opened my eyes to the financial struggles that small farmers now face in the wake of such a highly urbanized world. I moved back to the city after just three years on that farm. However, three years was enough. It got my gears turning and I developed a real interest in the environment, social inequity, land policies, and land regulation. I am now a recent graduate from the faculty of Environmental Science at the University of Calgary.
List any interesting or unusual jobs you may have had.
I was an Art Instructor for 4Cats where I taught children how to construct art projects and develop different art techniques. It was a very fulfilling job as I taught a wide range of age groups and even had to host the "splatter parties" on the weekends where the kids went into a splatter room and created amazing, crazy art pieces. I was also a Math and Science tutor for almost three years for Elementary-High School students. This was a very interesting job because I was able to tutor so many incredible, young individuals one-on-one and really got to know them.
List any volunteering you have done.
Loyalist Township Spring Break Camp Volunteer
The Foothills Hospital HELP Volunteer
Parvati MAPS Volunteer (currently in the training process)
We Did it! School-Age Care Society – Volunteer Art Instructor
ARK Society Events Committee Volunteer
What is your most unusual talent?
My iPad art is probably my most unusual talent. I create my paintings and art digitally using the program Procreate and my Apple pencil.
Where is the most interesting place you have been to?
I went to Rome, Italy, two summers ago and I fell in love with the amount of history within the city. I also fell in love with the food – I think I had gelato every single day that I was there! I am now currently working towards completing my TEFL certification with the hopes to teach English as a foreign language in the future there.
What do you hope to be doing in ten years?
In ten years, I would like to have finished my law degree and to be happy and successful in my ideal field of work (Environmental Law). I would like to have travelled abroad and lived in new places as well. I also would like to still be part of different volunteer organizations and continuing with charitable work.
Is there anything you would like to add that we haven't asked?
I would like to thank the Miss Universe Canada Pageant for this incredible opportunity, as well as my family, and friends for their constant support during this journey.