Arminta Thurairajah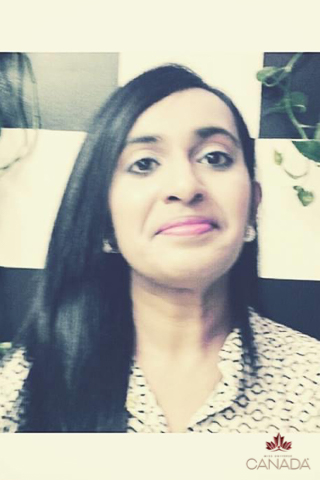 Height: 5'4
Hometown: Montréal, QC
Languages: English, French, Malayalam, Tamil and Konkani
Occupation: Student, Entrepreneur
Arminta Thurairajah is honored to be chosen as a finalist in the upcoming Miss Universe Canada. She is excited to represent the organization with passion for positive change; not only in Canada but throughout the world,and excitement in inspiring others to be confidently you no matter what issues they face.
Born in Montreal, she is the daughter of two resilient immigrant parents from Indian Subcontinent, who have instilled in her the art of kindness, compassion, perseverance and dedication to achieving goals and pursuing passions that will have an positive impact on society. She is proud of her parents, because without her parents and family, Arminta would not be the kind and compassionate woman she is today! Arminta is currently studying to become a Psychiatrist so that she can treat patients for their condition and end the stigma that comes with mental illness. She not only wants to be their Doctor, she wants to be their support system and while doing so, she will take down the stigma that faces many people that suffer. She will fight for her patients and for those who seek treatment.
Arminta has always believed education is a high priority, so much so that Arminta made to the Honors list and awarded with multiple certificates in High School. She has carried that enthusiasm for education into college. Arminta has also won awards for volunteer services such as the Margret School Board Certification for helping others. She is also an advocate for Autism Spectrum disorder and mental illness issues where she attended and worked South Asian Event Charity Gala. Arminta has also shown interest in collaborating with humanitarian organizations such as Hearts and Souls helping orphans in Egypt and India by organizing fundraising and collecting clothes and other necessities. As you can see, Arminta has a passion for advocating and helping others.
Throughout her life, Arminta has faced her own trial and tribulations. Her brother is diagnosed as a non-verbal autistic with obsessive-compulsive disorder. He also has anxiety. Because of her brothers' disorder, he is the catalyst that has influenced her to pursue a career studying mental health—becoming a Psychiatrist. Arminta has worked with ABA therapy, staying up to date with her brothers' condition and was an Assistant Therapist. As you see, Arminta is on track to achieve her goals and passions and with the title of Miss Canada 2020, she will be able to reach more people worldwide.
Sponsors
Q&A
What are your interests and what do you enjoy doing the most?
I love reading a news article on sensitive topics and I learn new materials about the world, every day. I love using social media to be in touch with marginalized communities around the world. When I started sharing my journey with my brother on social media, a British Baluchi girl with paranoid schizophrenia and anxiety that was able to relate to my brother's diagnosis. She also mentioned that this story brings hope because she is not alone in this unimaginable battle.
List any special training you have had (music, art, drama, dance, etc.) 
I have been trained for visual arts such as painting and drawing. I have been trained in Indian classical dance such as Bharat Natyam, Mohiniyattam and Kuchipudi.
In what sports, if any, have you participated?
I have participated in Tennis at my high school.
Name one person, other than your parents, who has had the most influence on your life. Why?
My non-verbal autistic brother with obsessive-compulsive disorder and anxiety, because he has been a catalyst in my life and it has been a hustle to find the right service to help cope with his symptoms. The neurodivergent community doesn't suffer from their diagnosis, they suffer a lot from ableism and the lack of resources.
What is your proudest personal accomplishment (other than participating in this pageant)? 
My proudest moment is that I am grateful to use this platform to advocate on marginalized topics and bring awareness on issues that has rarely discussed.
What is the most interesting or unique thing that has ever happened to you and/or what is the most interesting thing about you?
The interesting thing that ever happened to me is when my brother lost control of his OCD. My parent made a phone call to the ambulance, because there were no services available. It was my first time taking my brother to the ambulance. He was admitted to the general hospital for three months. Then, he was transferred to the Douglas Mental Health Hospital for special treatment and it is a really sad environment. I heard of stories where people would abandon their children to the hospital due to their psychological disorder. Some patients live there for over two years. I would visit him on a weekly basis. It also took several months for my brother to be accepted to the group home because the waiting list was so long. Every day has been a constant battle for my family to search for opportunities and my mother would break down in tears thinking of what the future holds for him. This motivated me to chase for opportunities and use them as a tool to make a difference within the community.
What is your career ambition and what are you doing or plan to do to accomplish that goal? 
I am also Mary Kay Consultant. I want to be a Director at this company and I am also motivated to become a Psychiatrist so that I could open new doors and make a difference for people like my autistic brother.
What would be your "dream job" in life?
My dream job has always created new opportunities for communities like my autistic brother because the greatest worry for my mother has always been what the future holds for him. In the late 1990s, autism and other psychiatric disorders have been a stigma to the community and there is a lot of misunderstanding when it comes to this complex condition. Therefore, my brother influenced me to become a Psychiatrist and offer a helping hand to the voiceless.
List any volunteering you have done.
Pierrefonds Comprehensive High school

Leadership Program
Organizing activities and advertising program for students during the school year
Fundraising, creating games, preparing equipment and posters.
Hearts and Souls Charity
Assistant leader
Wrapping gifts, selling poppies and fundraising money for the Red Cross
Terry Fox Run Charity
Fundraising and creating posters to bring awareness on the breast cancer foundation.
Bags for Beds Charity
Making beds for Africa
Sopar
Fundraising money for making wells in Andhra Pradesh, India
Aspire to Inspire – South Asian Charity Gala

Model
Fundraise money to help out orphan children in India who do not have access to clean water and other basic essentials.
Fundraise money and donate clothes to the marginalized communities in the North and East provinces of Sri Lanka who have been affected by the civil war for 27 years.
What is your most unusual talent?
Researching on hidden histories and sketching images of humans in 3D dimension.
Where is the most interesting place you have been to?
The most interesting place I have ever been to is Lourdes, France, because the nun told my mother that there is a brighter future for my brother. It was also my brother's first time to explore the world, because autistic children experience ableism at the airport due to their uncontrollable tantrums and travelling is luxury.
What do you hope to be doing in ten years?
Within the next ten years, I am hoping to create more opportunities for people like my autistic brother, just so that they do not have to endure pain and challenges my family has gone through. Making a difference in the community and I also see myself as a Psychiatrist in ten years.
Is there anything you would like to add that we haven't asked?
I am grateful to have this opportunity. It is sad that society sees him by his diagnosis, but the universe or God sees him as His children.