Carmela Zarbo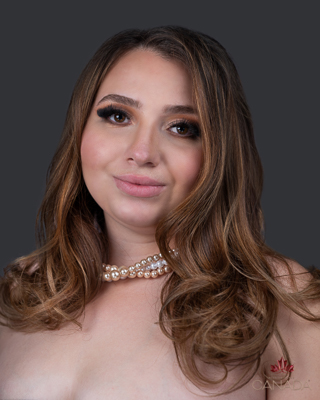 Height: 5'3
Hometown: Windsor, ON
Languages: English, Italian (Sicilian)
Occupation: Customer Service
Carmela Zarbo is an empowered, confident, and responsible woman who strives to advocate against abuse and eliminate the stigma. Raised in Windsor, Ontario, Carmela comes from a religious Italian household. Carmela's family has always supported her immensely and motivated her encouragingly, which has provided her with a solid foundation. In collaboration with her strength and belief that she can pursue anything she dreams of, Carmela reaches for the stars in all of her works.
Carmela attended Catholic Central and graduated with honors. Her academic career set for a busy lifestyle, as she balanced her job, helping the elderly while having a daily fitness routine and social relationships. Carmela is employed as a cashier of the grocery store The Real Canadian Superstore. In collaboration, Carmela enjoys challenging herself in activities, she hopes to demonstrate that women and men can do anything they set their minds to.
Carmela has been very blessed to grow up with the opportunities to get involved in extracurricular activities. At a young age, she developed a passion for music, primarily playing the trumpet. Aside from the trumpet, Carmela participated in dance and writing competitions. Carmela has a creative side. She took lessons in drawing and videography, she also partook in constructing her Canadian national costume for Miss Universe Canada 2020.
Carmela's greatest passion is videography. At the age of seventeen, she tested the waters with various editing programs. This experience opened a new chapter in her life, introducing her to explore different platforms such as Youtube. As she titles her very first video "Dying My Hair Again" where she later opens up about abusive relationships.
Carmela has grown and evolved immensely, she fell in love with all aspects of self-love. Mind, Body, and Soul. She enjoys living a healthy lifestyle through fitness and nutrition, which helps her feel empowered. As a previous victim of abuse, she continues to use her voice to advocate against abuse; physically, mentally, and emotionally. Carmela stands up for every woman and man to help individuals strive to their fullest potential.
Sponsors
Q&A
What are your interests and what do you enjoy doing the most?
Over the years my hobbies and interests have evolved immensely. I fell in love with all aspects of self-love. Mind, Body, and Soul. At a young age, I developed perseverance and determination, which encouraged me to strive for my greatest potential. All the way from dance, training, videography, and writing competitions.
Self-love has been a huge aspect of my life. I enjoy living a healthy lifestyle through fitness and nutrition, which helps me feel empowered, physically, mentally, and spiritually. I find indulgence in traveling, having experienced Canada has made it a goal to travel worldwide. I believe by putting ourselves in uncomfortable situations and out of our comfort zones, gives us the resilience to handle what life throws at us.
List any special training you have had (music, art, drama, dance, etc.)
I express my creativity in many ways. In my younger years, I engaged in musical training, such as trumpet and then enhanced through dance; ballet. As I grew older, I enjoyed learning about my physical and mental health which led me to self-love (physically, mentally, and spiritually) which helped develop my communication and self skills. Through this, I began training which lead me to become healthier, stronger, empowered, and led me to become the woman who I am.
In what sports, if any, have you participated?
Although sports have not been a key aspect of my life. Growing up in an Italian household where European football, specifically my favorite sport has played a humongous role in my life, I partook in different events throughout my childhood and teenage years. Through this, I have gained determination, endurance, and most importantly happiness.
Name one person, other than your parents, who has had the most influence on your life. Why?
Growing up with my grandparents as my role models. My nonna is and will always be the most influential role model in my life. She was the hardest working, determined woman I have ever met. The battles she fought over the years have set an example of perseverance. Her strength has inspired me to do my best in anything life throws at me and to always have a positive outlook. She was the definition of work ethic and I know it has not only inspired me but also influenced many others in the Italian community. She was a hard-working, Italian woman and I hope to be an amazing role model to women and men as she was to me.
What is your proudest personal accomplishment (other than participating in this pageant)?
My proudest personal accomplishment unquestionably would be placing second place in a poem competition throughout Ontario. I struggled with school learning portraying to my professors that I would not be able to enhance my academic skills. However, I was once told by a professor; (Mr.Sperduti) "Reach for the stars but if you land on the clouds that's okay too" in this quote it showed me the outlook to life. It gave me confidence, motivation, and to never give up on myself.
What is the most interesting or unique thing that has ever happened to you and/or what is the most interesting thing about you?
One of the most unique and memorable experiences for me was the time I was stopped in public and recognized by a woman who had watched my Youtube channel. Abuse can be physically, mentally, and emotionally. Being a vocal activist against abuse has changed and inspired my life immensely. Using different platforms such as Youtube and Facebook and talking to many different women and men has shown me that my voice and actions have helped many individuals. We shall all rise together and stand up as one family.
What is your career ambition and what are you doing or plan to do to accomplish that goal?
My career ambition is to become Miss Universe. In this, I have been preparing and practicing for months in order to show Canada that I will represent myself poise and sophistication throughout the Miss Universe Canada 2020 competition. I am an empowered woman, I pose all the qualities of a Miss Universe. I am motivated, dedicated, and responsible. Therefore meaning I would take full responsibility for what comes with the title of Miss Universe and I know I would be a great role model for men and women globally.
What would be your "dream job" in life?
When I hear the statement "dream job" I think about Miss Universe. This job comes with a lot of responsibility and is more than just a crown; it is a once in a lifetime experience. Miss universe provides an individual with a platform. I would use this platform to put awareness against abuse and advocate for abuse globally. To focus on eliminating the stigma surrounding abuse. I believe to succeed, you must make things happen instead of waiting for them to happen.
Describe where you were raised and what your childhood was like.
I was born in Windsor, Ontario. As a child, I grew up in a European household where I was raised with a different outlook to life, In this, it gave me maturity and responsibility at a young age. Growing up my sister was my best friend and my number one support system. I remember traditional Sunday family dinners with authentic Italian food. I've experienced middle-class lifestyle and I've been through rough patches but in this, it taught me the importance of life, the importance of family.
List any interesting or unusual jobs you may have had.
The most interesting job I have had was working at the Real Canadian Superstore. For the last two years, every shift is something new and interesting. The staff at The Real Canadian Superstore have made my experience absolutely spontaneous but the customers are what make my work experience enjoyable. I think The Real Canadian Superstore is a company that every individual should experience at least once in their lifetime.
List any volunteering you have done.
100+ hours for high school volunteerism
Carousel of nations
Tutoring (math, and French)
Gardening work
Elderly work
What is your most unusual talent?
My unusual talent is that I can talk in a British accent.
Where is the most interesting place you have been to?
Although I have only traveled throughout Canada. The most interesting place I have ever been is Stratford, Ontario. The streets of Stratford reminded me of a mini Europe. As Stratford is known for its modern Shakespearean play, they as well have outstanding cuisine. The hospitality was remarkable and the people were welcoming and beyond belief.
What do you hope to be doing in ten years?
In ten years, I want to be a successful cosmetic registered nurse and help individuals around my community. To surround myself with positivity and love. I want to build platforms to help end the stigma surrounding abuse and hopefully be a role model to women and men globally. I desire to be married to a man with the same morals as myself and to create children of our own.
Is there anything you would like to add that we haven't asked?
Becoming Miss Universe Canada has a lot of meaning to me as I have dreamt about this day. I am competing because I want to grow. To put awareness against abuse and eliminate the stigma. I am an empowered woman, I pose all the qualities of Miss Universe Canada and I would take full responsibility for what comes with the title. If this honor was bestowed to me I plan on preparing and getting organized for Miss Universe, in order to be my greatest self and represent Canada proud.