Cassidy Barry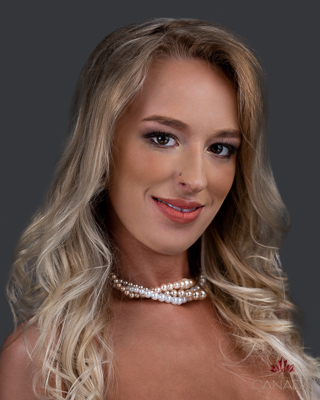 Height: 5'2
Hometown: Placentia, NL
Languages: English
Occupation: Entrepreneur
Cassidy Barry was born and raised in the small fishing town of Placentia, Newfoundland with her parents and younger brother. She currently resides in the province's capital city of St. John's to study at Memorial University of Newfoundland.
Cassidy proudly graduated high school among the top three of her class and received several scholarships to aid in pursuing her dreams of becoming a board-certified trauma surgeon. She is currently striving towards that dream as she completes an English Degree, prepares for her MCAT exams and avidly volunteers in her community. Aside from her university studies, Cassidy has also received formal education in gel nails, three-dimensional nail art and has earned the title of Swarovski Certified Nail Artist; which has allowed her to become her very own boss as she is an entrepreneur with a successful nail salon.
The arts have been a cornerstone in Cassidy's life ever since she was able to hold a crayon and turn on her television. She spent many of her formative years learning to paint and draw. From an extremely young age, she knew she wanted to entertain people, this led her to drama-theater by grade two. As an adult, Cassidy has turned her love of the arts and performing into a career as she is currently a professional model with multiple publications both print and digital and also has several runway shows under her belt. Cassidy can also be found as a background actress in several episodes of the international television series Hudson & Rex.
On her rare days off, you can find Cassidy trading in her heels and makeup for boots and a helmet as she suits up to ride her motorcycle and snowmobile. Her newest favourite pastime is playing with her very large puppy and working on obedience training.
Cassidy has been fortunate to travel to several Canadian provinces and American states which has allowed her to learn about a plethora of cultures and histories. She enjoys immersing herself in a city's culture no matter how long her stay is. She has studied French for an entire month in Quebec, played basketball in Walt Disney Florida, as well as visited Salem, Massachusetts home of the late writer Nathaniel Hawthorn and the site of the tragic witch trials. Through travel, Cassidy feels she has been enriched with knowledge and cultures and hopes to continue to travel the world and experience many more through her modeling, acting, and volunteering.
Volunteering holds a special place in Cassidy's heart as she works for various charitable events within her province, including her recent role in helping the Rebel Dolls grant a sick child's wish with calendar sales.
Although pageantry has been a new adventure for Cassidy, she has discovered it to be a very enlightening experience and a confidence booster. She is prepared and determined to shatter glass ceilings and represent her beautiful country of Canada on the Miss Universe Stage.
Sponsors
Vanstone Scott College
,
Bright Whites NL
,
The Babe Cave Aesthetics
,
NewFound Sprinkle Sisters
,
Frontier Tattoo Studio
,
Fleece and Buttons
,
Harborview Beauty
,
Studs By Sarah
,
Kat M Clifton
,
Aimee Nicole Photography
,
Rodney Philpott Designs
,
LUXE Nail Spa
, Family and Friends
Video
Q&A
What are your interests and what do you enjoy doing the most?
I love doing any form of creating or crafting. Anything from sculpting nails, to painting, sewing, or drawing. I always have various creative projects at home in various stages of completion. I most enjoy spending my spare time with my puppy and continuing to develop her skills through obedience training and just cuddling on the couch.
List any special training you have had (music, art, drama, dance, etc.) 
It was extremely expensive to be in activities where I lived as it typically involved traveling at least an hour from home, so I took advantage of anything that was offered in my town just so I could make friends and have something to do. My favorite training I have received would be the painting lessons I did for years as a very young child in a lady's garage in Placentia. I also dipped my toes into swimming, dancing and skating, as well as piano and guitar while the opportunities were available. I have also received years of acting and athletic training through school. Finally, as an adult, I have been trained as a gel nail technician, a 3D floral nail artist and most proudly I have been certified as a Swarovski® Nail Artist.
In what sports, if any, have you participated?
I played almost everything I could in school since there was nothing else to do. I played soccer from grade 3 until I graduated, I discovered basketball in grade six and through the sport I was privileged to travel to both Halifax, Nova Scotia and Orlando, Florida to play in tournaments, I also played volleyball while we had a team, I rowed and I was a cross-country runner both individually and on a team.
Name one person, other than your parents, who has had the most influence on your life. Why?
The person who influenced my life the most is my best friend Sarah. She has taught me to look for the best in everyone and everything. She had an unfortunate and relatively unstable childhood and upbringing, yet she is the most kind, loving and caring person you will ever meet. She is my personal ray of sunshine because she always finds a silver lining no matter what the situation. She is truly the embodiment of beauty inside and out and I strive every day to be half the person she is and a quarter as positive and uplifting as her.
What is your proudest personal accomplishment (other than participating in this pageant)? 
My proudest personal accomplishment is being a homeowner at the age of 22. I worked extremely hard to be able to purchase my very first house and it has just recently become a reality for me. I feel that's a pretty big thing to be proud of for my age.
What is the most interesting or unique thing that has ever happened to you and/or what is the most interesting thing about you? 
I have lived with a minimally functional jaw for 12 years of my life which has required me to survive on a soft food diet and wear an oral splint for the last two years while I await surgery.
What is your career ambition and what are you doing or plan to do to accomplish that goal? 
My career ambition is to become a board-certified trauma surgeon. Currently, I am working towards that goal by completing my undergraduate degree in English with a possible minor in biology as I had originally started my undergraduate degree majoring in Biology. I am also preparing to write my MCAT exams and do my Mini Mock Interviews while I volunteer within my communities.
What would be your "dream job" in life?
My dream job would be to become a board-certified trauma surgeon who travels helping others in communities that don't have adequate access to healthcare. I dream of saving, and changing lives.
Describe where you were raised and what your childhood was like.
I was raised in a very small town that is considered a rural town in Newfoundland it was originally settled as a fishing port. It is extremely picturesque as there are so many rolling hills and rocky shores. My childhood was very fun-filled. There was no real stores or places to go do things, so mostly I spent my time outdoors playing with other local children or I would go for various adventures with my family. I grew up driving everything with a motor and learning how to pick it apart and put it back together, while wearing a pretty pink dress and rollers in my hair. I was a complete mix of girly girl and tomboy so it was a very fabulously messy upbringing.
List any interesting or unusual jobs you may have had. 
I worked full time as a housekeeper and receptionist at a small hotel named Bridgeway in my hometown for two years in high school. I actually bought my very first car by working there and it is also one of my favorite jobs to date because of how amazing my bosses and coworkers were; they even made cleaning toilets seem fun.
List any volunteering you have done.
MUN Monte Carlo event
Ronald Macdonald House baking
Habitat for Humanity MGM week
Wheels for Wishes Calendar and Magazine
Coldest Night of the Year annual walk
MUN Blood
Basketball camp coach
What is your most unusual talent?
My most unusual talent would have to be my ability to know what type of nail product (acrylic, gel, acry-gel, etc.) I'm using by both smell and filing it. I like to consider that a talent.
Where is the most interesting place you have been to?
Although I've had the privilege of traveling to multiple Canadian provinces and several American States; the most interesting place I've ever been would be Salem Massachusetts because it is so full of history. I was lucky enough to visit and tour Nathaniel Hawthorns house, as well as the 'witch house' owned by Judge Jonathan Corwin in ~1620.
What do you hope to be doing in ten years?
In ten years I hope to be an accomplished actress finishing medical school and traveling the world. I also hope to continue running an expanded version of my current nail salon, including the addition of employees.
Is there anything you would like to add that we haven't asked?
I am extremely grateful and humbled by this opportunity to represent my beautiful province of Newfoundland, and I hope I can do everybody proud during my time in Toronto. I am ready and prepared to represent our incredible country on the Miss Universe stage.