Catherine Chen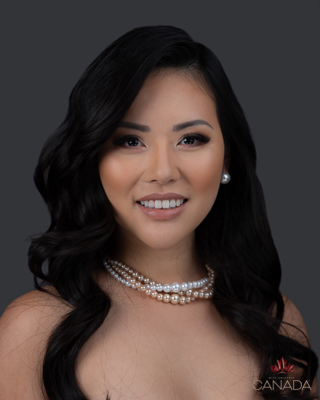 Height: 5'5
Hometown: Vancouver, BC
Languages: English, Mandarin Chinese
Occupation: Senior Consultant, Strategy & Brand Sustainability
Catherine Chen is a "dreamer-achiever", who backs up her big dreaming, with even bigger action.
Catherine's journey to Miss Universe Canada 2020 is a unique one. It is a story about the human potential, dreams, limiting beliefs, impossibilities, and the power of a definite decision.
This year, Catherine is setting "IM"possible goals, to show herself and others that whatever you set your mind on, you can do, no matter how "impossible" it may seem.
For Catherine, the idea of a pageant was both exciting and scary. She had never participated in a pageant or modelled before, she would only have 10 days to prepare, and this would be her last chance to compete before she reached the eligibility age limit. In other words, there were so many "impossibilities" in this goal, that it would fit the criteria of an "IM"possible goal perfectly.
Catherine is always up for a challenge, and has a motto of always giving her whole heart, and doing her absolute very best in all that she does.
She is a multi-faceted young woman who has excelled in all areas of life. Catherine is a management consultant (practicing in sustainably and climate change); on the side, she has also patented a hydrophobic mesh bandage technology, developed a million dollar real estate portfolio, and is passionate about the transformation of society through the love of humanity and earth.
Catherine sees the Miss Universe Canada title as an opportunity to spread kindness, inspiration, hope, and create positive social change!
Sponsors
Family and Friends
Video
Q&A
What are your interests and what do you enjoy doing the most?
One of my passions is bringing solutions to the world. Although that can take many forms, I have currently pursued real estate, patents and innovation, and sustainability and climate change. I love these areas as I truly believe business is one of the greatest tools to bring about positive societal change.
I love anything to do with learning and growth, and making things better; whether that be in personal development, health development, intellect development, or societal development. I dislike anything to do with injustice, corruption, and harm to mankind. Such evil hurts my heart, and creates a fiery passion in me to stand against such things happening to those who cannot or do not know how to stand up for themselves.
List any special training you have had (music, art, drama, dance, etc.)
Chinese traditional dance.
In what sports, if any, have you participated?
I live a very active lifestyle, I run 4K every morning and work out 4-5 times per week. I am a huge proponent of physical health as it contributes to our emotional, social, intellectual, spiritual and even financial health! I also love to swim, bike, hike, and take barre class.
Name one person, other than your parents, who has had the most influence on your life. Why?
My grandfather has made a huge impact on my life. During his celebration of life, over 3000 people attended to pay him respects. At the event, I thought to myself "What does it take to live such a purposeful life, that would impact so many people to come". My grandfather was a leader in the community, always putting the community first. I aspire to be like him, and to serve my community with love and kindness to create a better Canada for us all.
What is your proudest personal accomplishment (other than participating in this pageant)?
My proudest personal accomplishment has been to develop my real estate portfolio. I started when I was 26 years old, with the goal of purchasing two properties per year so that by the time I am 50 I will have fifty properties. This year I reached my goal by Q2. Thus, I thought of challenging myself and increasing the number of properties by double! I am well on my way, and have successfully closed property five. I have three more months for three more properties, and I totally believe I can do it.
What is the most interesting or unique thing that has ever happened to you and/or what is the most interesting thing about you?
The most interesting and unique thing is the pageant. I'm working with a life, business and transformation coach, and last Saturday she challenged me to set an "IM"Possible goal. Ie, a goal that seems impossible to me. At the time I had no clue what that goal could be.
Over the week, the idea of a pageant kept coming up. And I thought, wow this would be an "IM"possible goal. Because it would both excite me and freak me out, it would be a great challenge!
On Tuesday (with only 2 weeks before the pageant) I googled all available pageants in BC. On Wednesday I submitted an online application. On Thursday I received an invitation for a phone interview. On Friday I passed the first round of interviews. And, on Sunday I successfully completed the final interview and was selected for the pageant.
There are so many "impossibilities" in this. As I have never done a pageant, I only have 10 days to prepare. If I didn't do it this year, I would not qualify for the next year because of the age cut-off of 28.
So I want to do this to prove to myself and others that anything is possible, if we just decide, follow through with action until we obtain the desired result, and have a positive go-getter attitude.
What is your career ambition and what are you doing or plan to do to accomplish that goal?
People know me as a "dreamer-achiever". Although my head is in the clouds (and I truly believe that anything is possible), I am also an efficient, pragmatic, action-taker.
Naturally, this contributes to high ambitions for myself, and the outcomes of my life story. I aspire to be a balanced multi-faceted woman who is excellent in all areas of life including business, family, community, and personal life. I seek to one day build a billion-dollar real estate portfolio, have a research institute for leading medicines and innovations, and be a leader in the community to look out for the welfare of society and those who cannot look after themselves.
As mentioned above, I already am pursuing this through my consulting job, real estate investments, and inventing.
What would be your "dream job" in life?
My dream job in life would be to encourage and inspire others to believe in and reach their potential, through sharing content and education on holistic health, emotional intelligence, relationships, and personal development. In turn, this would contribute to healthy individuals; and healthy individuals make up healthy communities; and healthy communities make up a healthy nation.
Describe where you were raised and what your childhood was like.
I was born in Canada, and raised globally in four nations (Canada, China, Romania, USA); at a very young age I considered myself an international citizen, and felt deeply connected to humanity and different cultures. I was exposed to a variety of personalities, cultures, values, and recognized quickly that although humans can express themselves in many ways; we fundamentally are the same. We all have a desire for a better life for ourselves, and our families.
List any interesting or unusual jobs you may have had.
One of my favourite jobs to date has been at Cinnzeo, a cinnamon bun bakery. I worked there as teenager at one of the smallest stores; which meant I was a one-woman show (i.e., the cashier, baker, cleaner, inventory manager, etc). This experience taught me how to manage many responsibilities at once, while still putting on my best attitude to welcome and serve the customers.
List any volunteering you have done.
Community and social impact are incredibly important to me. I have been a long-term volunteer at Emerge Free (formerly know as CHILL, an anti-human trafficking organization), A21 (anti-human trafficking organization), and regularly volunteer at the local food bank. I am also a leader at our community group in church for young women.
What is your most unusual talent?
My most unusual talent is my efficiency. You can ask all of my friends, managers, and co-workers, I am very fast at all the things that I do.
Where is the most interesting place you have been to?
The most interesting place I have been to was Dubai! I had never been to the middle east prior to this trip to Dubai, so I thought it was incredibly majestic how all the woman wore abayas and men wear kanduras. During the trip, I learned more about the Muslim culture, and how inaccurate many stereotypes are. Especially, in regards to how prized, valued, and honored women are in the culture.
What do you hope to be doing in ten years?
In ten years I hope to be in a life-giving marriage, with four beautiful children, and building a billion-dollar empire with my husband bringing divine solutions to the world through our portfolio of businesses. I would love to see my family as leaders in the community and nation, building a better Canada for us all.
Is there anything you would like to add that we haven't asked?
I am grateful that Miss Universe Canada exists, as she represents beautiful and timeless ideals that are found more rarely these days.
Miss Universe Canada is a radiant young woman, possessing both inner and outer beauty, wisdom, grace, intellect, charm, poise, charisma, and care for more noble human ideals. She is worthy of becoming a role model to young women, she lives above reproach, and has integrity in all that she is, and all that she does.
To be worthy of the title, and earn the respect of the judges, a young woman must be able to authentically shine. This kind of radiance can only come when a young lady has taken the time to fully know herself, accept herself, love herself, and joyfully share her whole self with the world. Becoming Miss Universe Canada, would be a great honor to me, as it would represent that I have embodied these awe-inspiring ideals; for the purpose of positively influencing others.