Chantel Wiebe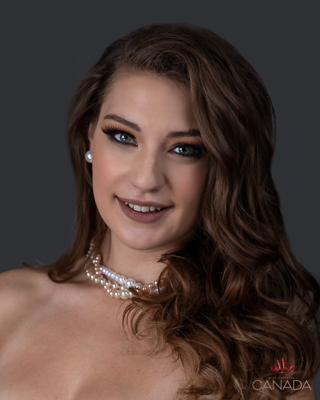 Height: 5'9
Hometown: High River, AB
Languages: English
Occupation: Financial Services
Chantel Wiebe is a resilient and strong 20 year old who was born and raised in the small town of High River, Alberta. As an ambitious teenager she worked in the restaurant industry for 3 years alongside her father. Growing up, Chantel watched both her parents start and run their own successful businesses; and at the age of 15 she was inspired to start one as well, focusing on hairstyling, makeup artistry, and photography. She is an advocate for breaking stereotypes, and as the only woman on a four-man drywall crew, she lives what she believes. Chantel encourages women and girls to "break through and be you" because she believes women can do anything that men can do. Currently, she is licensed in financial services and enjoys educating people about the power of money and helping them reach financial freedom.
Chantel accomplished one of her greatest goals when she graduated from high school. Having struggled with ADHD and dyslexia, she aspires to be a voice for other students that struggle every day with an "invisible disability" and hopes that by sharing her story, she can inspire others never to give up because anything is possible with enough drive and desire. She is passionate about raising awareness while fighting on behalf of these students, and for schools to be more accepting and better equipped to help these students succeed. Chantel has always wanted to have enough money to put herself through school, and in the next 3-5 years, she plans to make that dream a reality, when she pursues a career as an athletic trainer and massage therapist.
Chantel loves dance and has been dancing since she was very young. She is also passionate about music, enjoys hanging out with friends and family, and loves having deep meaningful conversations. Chantel is a writer and uses stories, poems, and essays as a way to express herself. She loves sharing her creativity with style on both sides of the camera with modeling and photography and her newfound passion for creating YouTube videos. Her spunky spirit and optimistic personality made her a team player on the volleyball court, and the best cheerleader in the stands. Chantel gets hyped up about watching sports, her favorite being lacrosse.
Chantel is a charismatic leader, inspiring others in all that she does. She loves volunteering and putting other people first. Her empathy and the unconditional love she possesses for all people is what truly makes her unique. Her hometown church organizes senior's lunches where she serves. Not only does she have a devoted passion for serving the elderly, but she also has a soft spot in her heart for children. For the past few summers, Chantel has volunteered at a camp as a cabin leader, in the kitchen, or wherever else they needed her. In 2017, she was blessed to represent Canada in the Dominican Republic for the Miss Beauty International pageant, and in 2018 she was given the opportunity to pour out love and blessings on others through a missions trip to Mexico. The highlights of both trips were visiting the orphanages and playing with the children. She has now made it her mission to visit at least one orphanage at every place she travels. Chantel also volunteers once a week at her high school to assist her sport science teacher by demonstrating how to properly prevent and treat athletic injuries.
Sponsors
Bells & Bows Bridal Center, Infinity Entertainment, Family and Friends
Video
Q&A
What are your interests and what do you enjoy doing the most?
My biggest passions include dancing, singing, volleyball, watching lacrosse, volunteering, hanging out with friends and family, doing people's hair and makeup, and playing around with photography.
List any special training you have had (music, art, drama, dance, etc.)
I was in dance for 2 years, and I have been in the choir for both my school and my church. I have my license as a financial advisor and have done a practicum as an athletic trainer for a lacrosse team.
In what sports, if any, have you participated?
I have done volleyball, dance, gymnastics, swimming, kickboxing, taekwondo, and working out.
Name one person, other than your parents, who has had the most influence on your life. Why?
My entire family has had such a huge impact on my life, but outside of my the name that comes to mind is Siera Bearchell, because since watching her compete in 2016, she is always so inspirational and uplifting. She has been a huge role model for me as she proved to the world that she could overcome anything.
What is your proudest personal accomplishment (other than participating in this pageant)?
It sounds simple, but my proudest accomplishment was graduating high school, after being told for so long, by so many people that it would never happen.
What is the most interesting or unique thing that has ever happened to you and/or what is the most interesting thing about you?
The most unique thing about me is my empathy and unconditional love that I have for all people. I always strive to help others and am at my best when the needs of others are being met.
What is your career ambition and what are you doing or plan to do to accomplish that goal?
I enjoy working in financial services right now, but eventually it is my goal to pay to put myself through school to become an athletic trainer and massage therapist.
What would be your "dream job" in life?
Other than holding the title of "Miss Universe", I would love to be an athletic trainer for a high end sports team, but more than anything I hope to someday become a mother.
Describe where you were raised and what your childhood was like.
I grew up in a small town, and most of my days were spent walking from one end of town to the other with my friends or hanging out at the downtown park. Though my childhood had its painful moments, I had so much love poured over me and I wouldn't trade it for the world.
List any interesting or unusual jobs you may have had.
I wouldn't say it's an unusual job, but I work part time with my brother hanging drywall. The days I go to work with them, I am the only woman on a four man crew. It's interesting seeing the world from there and to be given the opportunity to work in a male dominated field.
List any volunteering you have done.
I have volunteered at senior's lunches that my local church puts on, spent a few of my summers volunteering at a summer camp as a cabin leader or wherever they needed me. I go in once a week to help my old teacher demonstrating tape jobs for athletic injuries to her class.
What is your most unusual talent?
From laying on my stomach I can touch both of my feet to the back of my head. Other than that, I have the talent of drawing people in with my eyes.
Where is the most interesting place you have been to?
I went to Dominican Republic for a pageant in 2017. It was incredibly beautiful and I loved all the work that I was able to do down there. The people were so kind and the food was absolutely delicious. Visiting the orphanage was by far my favorite part and I definitely can't wait to go back.
What do you hope to be doing in ten years?
10 years from now I will be turning 30. It is my goal to be married and have started my family with the love of my life. I will be financially independent and will be traveling the world. I would also like to continue building my YouTube channel as a way to document my memories and expand my platform.