Christina Williams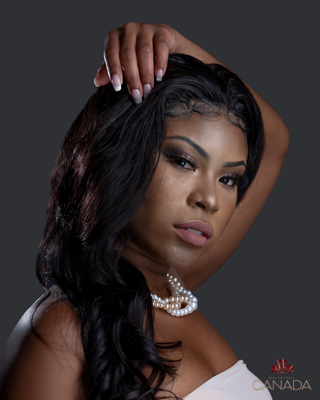 Height: 5'2
Hometown: Toronto, ON
Languages: English
Occupation: Healthcare Administration and part-time Hospitality
Christina is a charismatic, passionate and ambitious young woman, with a zest for life.
She was born in Toronto, raised in the greater Toronto area and now currently resides Downtown, Toronto. Christina graduated with Honours from the University of Ontario Institute of Technology, located in Oshawa, Ontario, with her Bachelors's in Human Health Science and a minor in business entrepreneurship. Currently, she is working in healthcare administration at a downtown hospital as a medical screener. Towards the completion of her degree, she also embarked on her very first business venture, and established her own fitness brand, BodiedByTina. Fitness and health has always been one of her greatest passions, and it was only a matter of time before she channeled this passion into something profitable. Through her business she has the pleasure of creating content for her fitness page and channel, creating customized programs and plans for clients and friends, and personal training. Christina is also no rookie to pageantry, as she competed and placed 1st runner up in the Miss West Indian Canadian pageant in 2018.
In spite of all of her various endeavours and passions, Christina's primary career aspiration has always been to become a board-certified Dermatologist. Christina had quite an early exposure to the field of dermatology, as she began to struggle with her skin very early on in life. This eventually led to her keen interest in all abnormalities of the largest organ of the body, the skin. Throughout her career she has hopes of exploring different area's of research including skin cancer, incidences of skin cancer in minority & marginalized populations as well as climate change and how it may affect our health in the future on the surface level. Although she is graduated, Christina is currently taking the time to prepare for her MCAT exam, work in a healthcare setting and gain valuable patient experience, and is also working as a co-investigator on a research study focused on lung cancer screening with a team from Women's College Hospital and UofT. Working at Women's for the past 2 years has also exposed her to the inequities that women-especially minority women face in today's healthcare system. She hopes to use her platform to bring more light to this issue, and advocate for equal access to care for all. When her head isn't tucked away in the books or working, you can either find Christina at the gym weight training, rollerblading along Toronto's gorgeous lakeshore or somewhere comfy editing YouTube videos for her channel. Christina prides herself on presenting to the world a well-rounded and wholesome version of herself, and hopes to inspire others by being an exemplary role model for women everywhere.
Sponsors
Video
Q&A
What are your interests and what do you enjoy doing the most?
I have a very vast array of interests and hobbies, and like to consider myself a woman with many hats. I have always loved and enjoyed physical activities since childhood, which into my adult years led me to be comfortable with various hobbies that keep me physically active and healthy, which has always been a passion and priority of mine. I enjoy working out regularly, rollerblading/skating, running and also using my fitness background to train others and have started my own fitness brand BodiedbyTina as a result. My other set of hobbies and interests allow me to tune into my creative side. These include filming and editing videos for my Youtube Channel, playing my violin, cooking and trying new cuisines, singing and creating content (whether through videos or ebooks) for my fitness page and clients. Additionally, I enjoy travelling and immersing myself in new cultures.
List any special training you have had (music, art, drama, dance, etc.)
From the age of 5 years old, I was fortunate enough to be involved in various activities and expressions of art. My parents were very keen on my level of energy and love for movement and dance, and soon after had me enrolled in dance classes. I trained in Ballet, Jazz and acrobats until the age of 9, as my interests drifted away from the arts and more into sports. I transitioned to gymnastics followed by competitive cheerleading into university.
I was also given the opportunity to explore my musical talents at a young age. I started with playing the piano, then at 11 I added the violin to my roster of instruments. I also played the clarinet throughout high school and was a member of the band. I've always loved playing and still enjoy making music to date, however, I did have my struggles while learning to play as a child. I found it more challenging than it should've been to play with sheet music, and preferred playing by ear as it was easier for me. At the time I thought only playing by ear was rebellious, because my musical teachers weren't fond of it, but have found that it's actually a musical gift to be able to play by ear. A gift that has made it easier for me to learn the songs I love, memorize them and perform them with more ease.
The final training I had was unrelated to the arts, but helped me with my public speaking and performance skills. I took courses in presentation and speaking skills, which helped me improve a speech impediment I once had and improved my confidence overall.
In what sports, if any, have you participated?
Throughout my childhood I was involved in various sports and activities, which included skating, swimming, cross country, gymnastics, track and field which I continued to compete in throughout high school and finally competitive cheerleading that I competed in throughout university.
Name one person, other than your parents, who has had the most influence on your life. Why?
The most influential person in my life has always been Jesus Christ, who is the centre of my faith. As someone who grew up in a Christian household, I was taught to lean on him in times of trouble. Growing up I have always found my confidence and reassurance in the teachings of my faith. I'm a firm believer that to this day, every accomplishment I've achieved and blessing I've received has come as a result of my trust and faith in God and his teachings. Many times when I'm faced with life's difficulties and uncertainty, my first instinct is to stop, centre myself and reconnect with the values I was taught and inspired to portray. Often I'll ask myself, "what would Jesus do" when in the face of conflict. Fun fact: my parents decided to name me Christina, because it means "to be like Christ" and "anointed one". I know I will never be as perfect and blameless as Christ was as humans we cannot expect to be, but every day I aim to present to the world a heart and love that reflects Christs'.
What is your proudest personal accomplishment (other than participating in this pageant)?
My proudest personal accomplishment is being the first of my family to graduate from university with a science-based bachelors, and with honours. The experience was challenging, I had no one in my family to look up to for guidance. With determination, perseverance and the constant support of my parents however, I was able to achieve this goal and prove to myself that I can achieve anything I set my mind to and trust that God will give me the strength to achieve. Not only did I complete my bachelors in Human Health Science, I also attained a minor in business entrepreneurship, and held various positions in student government while in university. These positions included vice-president & VP of student life for the health science society, president & VP of events for the Caribbean students association, events coordinator for the UOIT Medlife chapter and many more. I was also a founding sister for the Alpha Tau chapter of Kappa Beta gamma-international sorority, and I held the position of philanthropy, academic and health and wellness chair throughout my time there.
What is the most interesting or unique thing that has ever happened to you and/or what is the most interesting thing about you?
Many will agree that the most interesting thing about me is my warm and inviting personality. I once shied away from expressing my animated and quirky persona, until I realized how approachable it allows me to appear to others. Now I take pride in sharing my sense of humour and allowing my positive energy to be felt immediately in any room I walk into. I believe that when we allow our true and sincere selves to shine through over forced perfection, we're able to portray ourselves in a more human-like light that others are able to relate to, and can build and sustain more genuine relations with others. Overall, I am a people's person and love to entertain and put a smile on everyone's face that I encounter.
What is your career ambition and what are you doing or plan to do to accomplish that goal?
My career ambition is to become a board-certified Dermatologist/Physician. I dream of opening a cosmetic and medical clinic in the GTA and another overseas. Currently, I am studying for the MCAT exam, and completing work on a research study focused on lung cancer screening with my team at a Hospital downtown in preparation to apply to Medical School. I'm also working full-time at the hospital where I'm gaining valuable patient experience. I will be returning to school in 2021 to start my Master's, then I'll be starting medical school once that degree is completed.
What would be your "dream job" in life?
My dream job is to become a Board Certified Dermatologist, working hands-on with patients and exploring research in skin cancer among minority and marginalized populations.
Describe where you were raised and what your childhood was like.
I was raised in Mississauga and Brampton, Ontario, which are located in the peel region. My childhood was very exciting and my parents kept us busy with travelling often and various extracurricular activities like swimming, dance, music lessons and more. I also grew up in a solid Christian home, so Church activities were also a major part of our lives. One aspect of my childhood that helped to make me who I am today, is how often we moved. My family and I moved to a new house every 5 years and 3 times throughout my childhood. As a child, this wasn't the most ideal situation, as I would frequently change schools and was always "the new kid". This made it particularly difficult to form lasting friendships and led to me being picked on and bullied. As rough as the constant moves were for me, looking back it made me who I am today and for that I am grateful. At a young age I learned how to be adaptable in any given situation or environment, I managed to become a very quick learner in order to compensate for different routines at my various schools and I was able to foster my people skills that allowed me to easily form genuine relationships quickly as a child.
List any interesting or unusual jobs you may have had.
I've had the opportunity to work in a variety of settings that have granted me many memorable or valuable experiences. My most interesting job to date has been banquet serving, at a prestigious banquet & convention centre in the GTA. This position was the 1st of my serving and bartending jobs, and one of my favourites. Every weekend I was serving at multiple weddings, bridal showers, graduations and other special occasions. What made this job so memorable and exciting was being able to observe various weddings and special occasions from a different cultural viewpoint. The experience really allowed me to immerse myself in other cultures and customs, and observe the beauty of Canada's multiculturalism.
List any volunteering you have done.
My volunteer experience includes:
Women's Cancer Centre, volunteer research assistant
The Ricky Kanee Schachter Centre for dermatology, clinical liaison
Lakeridge Health Hospital, seniors assistance program
Kappa Beta Gamma international Sorority-Alpha Tah chapter, philanthropy chair (overseas all philanthropic work for the sisterhood, with a focus on special olympics as our official international philanthropic cause)
The Denise House Women's Shelter
Vincent's Kitchen-Durham outlook
York University Summer Kids camp program
Various involvement in my churches events and community outreach charities/initiatives.
Volunteering has opened many doors for me and has given me experiences I would've never had the chance to take part in otherwise. My current position, placement on my research team and clinical experience all came as a result of volunteering, which is why I always emphasize the importance of getting involved with your community and volunteering because you never know what opportunities it will provide for you.
What is your most unusual talent?
An unusual talent I have is being able to compose music on my violin or piano. I have a gift to hear music and replay it by ear, on any of my given instruments. For me it's quite amazing because as a learner I struggled to play via sheet music, and found ease in hearing a song and finding the notes on the instrument and memorizing the entire song under a couple hours. This talent has made it quite easy for me to perform music covers on my violin without sheet music, because as I'm learning the song on the instrument I'm also memorizing it.
Where is the most interesting place you have been to?
I've been fortunate enough to have been traveling all my life. The most interesting place I've ever been to however, is my parents country of origin, Jamaica. Growing up I have always been in tune with my culture, but being able to visit my parent's home for the first time at the age of 14 was an experience I'll never forget. I've always felt like a Jamaican at heart by how I was raised, from our values, customs, music, food and more. Being able to experience all these things while on the beautiful island in person instead of imagining it, however, allowed me to truly connect to my roots, where my family comes from and who I am. Upon my first visit, I finally understood the meaning behind our many customs and ways of life. I've enjoyed revisiting the island and hold my heritage closer and closer to my heart with every visit. I have always referred to myself as a Jamaican-Canadian, however, my confidence in my identity has grown and solidified once I was able to visit the country.
What do you hope to be doing in ten years?
In the next 10 years, I'll be a graduate with my Masters and medical degree, and a practicing physician in the field of dermatology. I have hopes of owning and operating a medical and cosmetic Dermatology Clinic & spa. I also have aspirations to be traveling and volunteering and exploring skin cancer research internationally.
Is there anything you would like to add that we haven't asked?
I would like to add that, whichever journey you're on in life, remember to stay true to yourself. "Comparison is the true thief of all joy", which is a concept I struggled and grappled with for quite some time. Never allow the images in the media or impressions of other people's lives to deter you from your dreams. This is especially important for any woman competing in pageants. And even if you're not involved in pageants, remember that there's only one healthy and worthwhile comparison you should make, and that's you today vs. you yesterday. Sharing this is very important to me, as I struggled with comparison and imposter syndrome. Feeling like I was never ready enough or lacking in worthiness has cost me opportunities and distracted me from why I go after the opportunities I do.
Therefore, with sharing this struggle of mine I hope to inspire others to never second guess themselves, or place limitations on what they can achieve based on what others have done. Go after whatever it is you're passionate about and enjoy every part of the journey. You're your most beautiful when you remain honest and true to who you are. Wherever this pageant takes me, I'll be overjoyed to know I remained true to myself and abilities and enjoyed every moment of it.