Courtney Jones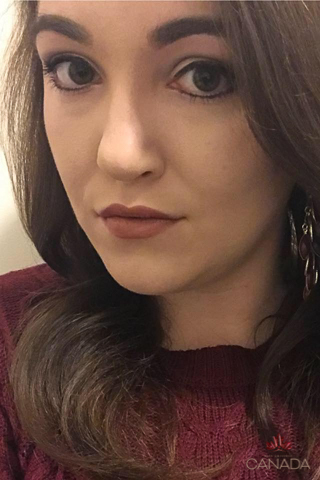 Height: 5'5
Hometown: Torbay, NL
Languages: English, French
Occupation: Student at University of Exeter (English Law and French Law)
Courtney Jones was born in St. John's, Newfoundland and Labrador. She graduated from Memorial University with a Bachelor of Science in Behavioural Neuroscience and is now pursuing a dual English law and French Law degree. Throughout her entire life, Courtney has been and continues to be an avid volunteer, and particularly enjoys helping women's organisations. Throughout her undergraduate degree, Courtney spent time volunteering on a crisis line supporting victims of sexual violence and as a clinic volunteer for her local Planned Parenthood. She later joined the board of Planned Parenthood as chair. In her first year of law school, Courtney took on a volunteer project with Citizens Advice, which is an organisation that provides legal information and advice in various areas of law including housing and family law. Courtney's passion for human rights is what led her to pursue a career in law and develop an interest in politics. Courtney was honoured to have had the opportunity to serve on both her Member of Parliament's Youth Council and the Premier of Newfoundland and Labrador's Youth Council, which gave her the opportunity to advise elected officials on matters of government policy. Her mission, hopefully as the next Miss Universe Canada, is to inspire more women to become involved in politics and someday run for office. As someone with a background in science who is furthering her education with legal studies, she hopes to inspire young women and girls by showing them that they really can do anything and to not let anyone tell them they can't do something because of their gender. In her spare time, Courtney enjoys reading, playing the piano and stunting with her cheerleading squad.
Sponsors
Family and Friends
Q&A
What are your interests and what do you enjoy doing the most?
My interests are politics and science. My interest in politics developed when I started volunteering for women's organizations, and I recognized how much positive change could be made through public policy and legislation. It has always been my goal to do everything I could to help people, and politics seemed like possible way to do this on a larger scale. As for science, this was always something I was interested in. Even in childhood, my two favorite subjects were math and science. I thought pursuing an undergraduate degree in neuroscience would provide a good balance between the social and life sciences.
What I most enjoy doing aside from volunteering is stunting with my cheerleading squad. I started cheerleading in junior high school and fell in love with the sport. This led to several provincial competitions with my squad until I was unable to continue because our coach had moved, and we were unable to acquire another one. I decided to begin participating in the sport again in university, and I am currently cheerleading for my fifth year.
List any special training you have had (music, art, drama, dance, etc.)
I have been playing the piano for 20 years, 14 of which I spent in classical training.
In what sports, if any, have you participated?
I have been cheerleading for almost 5 years and spent 5 years figure skating.
Name one person, other than your parents, who has had the most influence on your life. Why?
My great-aunt Ollie. I don't think there was one time that we were together where she didn't remind me that I could do anything I put my mind to. She taught me to never let anything hold me back, always follow my heart, and most importantly, to be kind.
What is your proudest personal accomplishment (other than participating in this pageant)?
My proudest personal accomplishment was being accepted to do a dual English and French law degree and being appointed to the Premier's Youth Council.
What is the most interesting or unique thing that has ever happened to you and/or what is the most interesting thing about you?
The most interesting thing that has ever happened to me was being asked to introduce the former Minister of Public Safety at an event. This was quite a big deal to me because of my interest and involvement in politics. During the event after the introductions, I even had the opportunity to speak with the Minister about work the Canadian government was doing to end human trafficking which is something I am very passionate about.
What is your career ambition and what are you doing or plan to do to accomplish that goal?
My career ambition is to become a human rights lawyer, and hopefully someday a Member of Parliament. To accomplish my goal, I am currently studying a dual law degree in English and French law. I do pro bono work every week with an organization that provides advice to people around the country on various issues including housing, debt, family law, and discrimination. I am also a member of the law subject council and women's equality panel at my university.
What would be your "dream job" in life?
My dream job would be to work for the United Nations as a human rights lawyer, particularly for UN Women.
Describe where you were raised and what your childhood was like.
I was raised in beautiful Torbay. My parents were both very hard-working and raised me to be the same, as well as an honest and compassionate person. They always encouraged me to try my best and to help others whenever I had the ability to do so.
List any interesting or unusual jobs you may have had.
My first ever paid job was as an extra in an independent film. This was a really good experience for me. It gave me the opportunity to better learn how the entertainment industry worked and I was able to spend all day on set and meet a lot of interesting people.
List any volunteering you have done.
Crisis Line Volunteer for the Newfoundland and Labrador Sexual Assault Crisis and Prevention Centre
Clinic Volunteer for Planned Parenthood
Volunteer Chair of the board for Planned Parenthood
Swim instructor for Easter Seals Newfoundland and Labrador
Fundraising for Easter Seals
Fundraising for the Children's Wish Foundation
Fundraising for the Janeway Children's hospital
Fundraising for Free the Children
Volunteer for the Women's Resource Centre at Memorial University
Volunteer assessor for Citizens Advice
Equality panelist at the University of Exeter
Women's Representative for Memorial University's Student Union
Volunteer research assistant in two neuroscience labs, one studying Alzheimer's and the other Multiple Sclerosis.
Volunteer activities leader at a senior's residence
What is your most unusual talent?
I can wiggle my nose.
Where is the most interesting place you have been to?
The most interesting place to which I have travelled is within Europe. It's incredible to see all the culture and history and hear so many different languages being spoken.
What do you hope to be doing in ten years?
In 10 years, I hope to be a successful human rights lawyer helping victims of human trafficking.
Is there anything you would like to add that we haven't asked?
Four years ago, I experienced something that no woman should ever have to go through. I was sexually assaulted. While this was a very difficult thing to have gone through, I was able to heal with the support of my family and friends. Going through this has definitely motivated me to keep working to improve the rights of women and girls. It is also one of the reasons I became so dedicated to improving the representation of women in politics. This is because when women are properly represented in politics, it empowers us to have an impact on legislation that impacts our lives in fundamental ways. This is also why I have created the hashtag #EmpowerToSucceed, to spread the message that by empowering young women and girls to pursue their highest goals and dreams, not only will we help them succeed, but this will lead us to success ourselves.