Dominique Doucette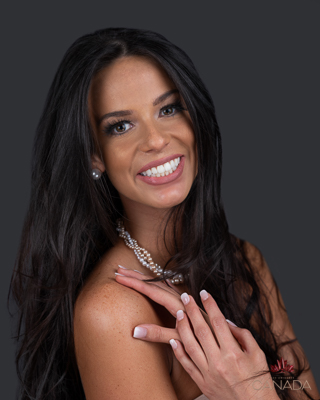 Height: 5'8
Hometown: Québec City, QC
Languages: English, French
Occupation: Human Resources Advisor, Part-time Student in Public Communication
Dominique was born and raised in the beautiful city of Campbellton, New Brunswick. She fell in love with being on stage at 4 years old during her first dance show. Since then, she has done dance, improv, drama shows, talent shows, stand up comedy, fashion show, animation, photoshoots, conferences, speeches, and many more. She felt the most alive when she was on stage, but growing older, Dominique realized that it's by helping others that we truly find ourselves.
Dominique is well known for her leadership, she has been the president of the student body counselor in elementary school and in high school. Dominique used to be a dance teacher for many years, she loved to have a positive influence on young girls and show them her passion. Dominique went to Louisiana to support and to talk about the importance of the bilingualism at the Acadian Congress. She was also an active member of the Little Breakfast Club at her High School. This goal-oriented person won the Youth Merrit Award which recognizes young adults as potential leaders of tomorrow's complex world.
In Dominique's opinion, a person who doesn't get out of their comfort zone doesn't grow which led to the decision to move to Quebec City and pursue her education. She thinks as we live different experiences, we become more conscious of ourselves and we develop emotional intelligence. She graduated from Laval University with a Bachelor's Degree in Industrial Relations with honors for her involvement towards the community. Furthermore, Dominique was part of the Excellence Competition of Industrial Relations. She was a member of the Joint committee where she represented all the students in her program to improve the students' experience during their studies. During that time, Dominique was also doing conferences for an antibullying campaign. Dominique was nominated for the campaign Du monde à connaitre which is an awareness campaign initiated by the Regional Immigration Dialogue Table of the Capitale-Nationale. It aims to show the positive side and the richness of immigration in the region. Dominique was also the Co-manager of Défilé Luna, who raised more than 30,000$ for Opération Enfant Soleil throughout the 4 years. Dominique modeled to raise money and raise awareness for eating disorders. In the meantime, she also created a discussion group for women who are diagnosed with breast cancer.
Throughout all her accomplishments, Dominique always kept a warm place in her heart for the town she grew up in. She was the guest of honor at the graduation ceremony of 2016 at the Polyvalente Roland-Pépin, back in her hometown. That same year, her high school honored her in their Hall of Fame for everything she's accomplished after high school, including pursuing her dreams and making her school known all around the world. Self-confidence, interpersonal skills, speaking in public, making decisions and assuming the consequences, sense of organization, planning, coping with constraints and unforeseen events, but above all making it happen, Dominique has known how to adjust, make compromises and more often than not, make adjustments to her original plan. All of these are essential when tackling everything life has to offer.
Dominique is a passionate human resources advisor who develops her capacity to adapt herself in various situations. Out of 10,000 members of the Certified HR Advisor Association, she was chosen to represent the next generation of leaders in her field at the annual Human Resources Congress. As a Human Resources Advisor I think it's important to have organizations that include people from different cultures. She advocates to make job opportunities more accessible for all and for diversity to be more present because it represents our Canadian culture. It's a real benefit to include more minorities in the organization.
This won't be Dominique first pageant. She was Miss Salmon Festival 2014, Miss New-Brunswick Second Runner up 2014, Miss Canada 2015 and Miss Teenager Universe 2015. Dominique was also a Duchess of the Quebec Winter Carnaval in 2018. After a few years away from the pageantry, Dominique is more than ready to make a comeback at Miss Universe Canada 2020. Her time away made her even more motivated to get back on that stage and show the world her passions and leadership.
Sponsors
Video
Q&A
What are your interests and what do you enjoy doing the most?
I practice yoga because it helps centralize my energy (I have a lot). I love to volunteer and to get involved in different projects. This year I am part of a committee with the Young Chamber of Commerce of Quebec named Bourse Jeune Entreprise. The objective we have is to raise as much services as possible to support future entrepreneurs and help young businesses get off the ground. I also enjoy attending many fundraisers for kids with autism, mental health, and many more.
List any special training you have had (music, art, drama, dance, etc.) 
Since a young age I loved all sort of performing arts. I danced for over fifteen years and I continue to do so as a way to express myself. Moreover, my mother taught me how to draw. In elementary school I won a few drawing contests. I even drew my deputy Christmas card.
I was captain of my improv team in high school and we also won the provincial championships. I was part of the Drama club for many years and I won the best comedian at a Festival.
In what sports, if any, have you participated?
Beside spending the most of my time dancing like I mentioned earlier, in New Brunswick we have wonderful outdoors scenery, so I enjoyed skiing and snowboarding. I was also a softball player. I had the chance to represent the Restigouche County at the Jeux de l'Acadie.
Name one person, other than your parents, who has had the most influence on your life. Why?
It is definitely my grandfather Pete. On Christmas Eve 1994, he asked my mother to give him the gift he always wished for and it was for a little granddaughter. In September 1995, I made my first step into this world. He is my inspiration because he was proud of all of my accomplishments.
I really look up to him, because he was a fighter. He fought in the Korean War for our country. He fought for his place on a junior hockey team for the love of our national sport. He fought for making his way as a culinary chef in Lake Louise. He fought to help my grandmother with her business and the family. He also fought against cancer.
Unfortunately, it is the only battle he didn't win. In 2004, my inspiration lost his life to cancer, but he is and will always be my hero. I wish I could have his courage, his audacity and his charisma.
In Campbellton, everybody knew Pete. One day, I hope everybody knows me in a positive way like my grandfather who used to be an active member of the community.
What is your proudest personal accomplishment (other than participating in this pageant)? 
I am really proud to have worn Canada across my chest in 2015 at the Miss Teenager Universe Pageant in Panama City. I am also proud to say that I am the first and only Canadian to have won this title so far. This is my proudest accomplishment, not only because I got to wear the crown but because it allowed me to be someone all the young girls from eastern Canada could look up to. If I was able to do it, all those young girls can do it too.
During this year I got involved in many projects, many charities and to give a smile on another person's face is the most satisfying thing. I understand how to handle the pressure of an international title. Most importantly, I learned how to be humble and to always have humility because that is the quality that led me to win the title.
What is the most interesting or unique thing that has ever happened to you and/or what is the most interesting thing about you? 
In 2012, I was chosen to receive the Vimy Pilgrimage Award. This award recognizes the actions of young people who are dedicated to the betterment of society by demonstrating an outstanding commitment to volunteer work through positive contributions, notable deeds, or bravery that benefits their peers, school, community, province.
The Vimy Pilgrimage Award consists of a fully funded week-long educational program in Belgium and France to study Canada's tremendous First World War contribution.
The First World War is an important, strategic moment in Canadian history and this experience helped me foster a greater appreciation for the sacrifices made for our freedom.
What is your career ambition and what are you doing or plan to do to accomplish that goal?
My main career ambition is to break the glass ceiling. Women shouldn't be doing 32% less than men in terms of salary. I will achieve my goal by working harder than men to be heard and to defend our interests.
I want to start a Master's in Electronic Business Technologies because I am passionate about innovative ways of conceiving and organizing businesses more efficiently.
I want to do it part-time to conciliate with my amazing responsibilities that I have as a Human Resources Advisor. I work every day to make a difference in the workplace, to make it more inclusive. Economic immigration has always been the lifeblood of Canada's economic success and has played a key role in the building of our great nation. While our immigration system has many goals, immigrants of all skill levels should be able to come to Canada for jobs where they struggle to find Canadians to fill them.
As a Human Resources Advisor, I think it's important to have organizations that include people from different cultures. I think businesses need to be more open to immigration to support Canada's development in the economy as we face issues regarding employment.
That invisible barrier should disappear with the abundance of innovation and affluence of diversity.
What would be your "dream job" in life?
My dream job would be a position where I have an impact on humans daily because I think they are the center of any business. I would be blooming if I had a career that allowed me to use my creativity, my communication skills and my unifying spirit.
Describe where you were raised and what your childhood was like.
I grew up in Campbellton, New-Brunswick. Being from a small town you get raised not just by your parents but by your whole community. My parents both have a successful career and have always shared the importance of education to my older brother and I.
Besides having hardworking parents, I had the most supporting ones too. They gave us the opportunity to follow our desires and to be part of any sports or any extracurricular activities that we wanted to. Being committed to such activities taught me essential life skills like time management, teamwork and discipline.
I consider myself lucky because I never missed out on anything, but my parent raised me to be grateful about it everyday and to help those who didn't have the same opportunities as I did.
List any interesting or unusual jobs you may have had.
In 2017, I had the opportunity to represent the Quebec Winter Carnaval in Paris. My team and I did presentations in travel agencies to promotes the pleasure of the snow in France. We also promote our maple syrup products at a booth in a job fair. We also visited the Canadian Embassy in Paris. It was great to share our history and our love for winter.
In 2019, I was an extra for a comedy show. I had to dress up has a poutine for the opening number.
List any volunteering you have done.
Youth Chamber of Quebec
Opération Enfant Soleil
Moisson Québec
STAND 4
Maison L'éclaircie
Breast Cancer
Little Breakfast Club
Anti bullying campaign
P.A.R.T.Y. prevent alcohol and risk related trauma in youth
Family Hospitality Day
Excellence competition of Industrial Relations
Initiatory of Industrial Relations
Joint Committee of Laval University
International Car Exposition
Quebec Winter Carnaval
Improv league
Speaker for AEFNB
Fidèle Moustachu
FJFNB
Speaker for SPFF
Soup Kitchen
Children Wish Foundation
Festivent
Rod Harquail Family Tournament
YWCA
Salmon Festival
IWK Foundation
And many more.
What is your most unusual talent?
I have a great memory for song lyrics, but I can't sing.
I have a good sense of humor and I make people laugh easily.
Where is the most interesting place you have been to?
I think that going to see Miss Universe 2019 in Atlanta all by myself last December was an interesting experience. Seeing those poised and powerful women on stage made me certain that I wanted to take this challenge.
What do you hope to be doing in ten years?
In ten years, I hope to be sharing my passion for philanthropy with my future family. I hope to be in a manager position in Human Resources. I hope I will continue to inspire people and be surrounded by inspiring people too.
Is there anything you would like to add that we haven't asked?
I hope to make Eastern Canada proud and to remind every Canadian that confidence is simply a mindset.
To be confidently beautiful,
c'est de partager cette confiance et d'être bien dans sa peau
simplemente creer en ti mismo y en tus habilidades.