Emily Lau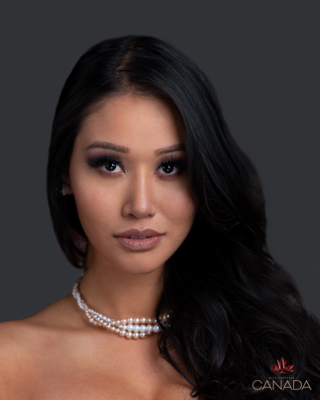 Height: 5'8
Hometown: Toronto, ON
Languages: English
Occupation: Student
Emily was taught and raised to be as diverse as possible. When you get to know her, you will see that. She has experience in the arts, music, photography, law, politics, economics, finance, marketing, hospitality, and much more.
Emily Lau was born and raised in Toronto, Canada. She graduated from Ryerson University with a Bachelor of Commerce degree, majoring in Economics & Management Science and minoring in Finance. She currently works in the marketing industry with a full-time job at an agency. She also has a few small businesses of her own. These endeavours include marketing consulting where she helps individuals and small businesses, and a luxury resale (consignment) business. Emily is also a professional photographer. She shoots weddings, engagements, models, concerts, products and food. Her proudest moment in her career was shooting a wedding at the Vatican.
Emily has traveled extensively with having visited 80 countries and 6 continents. She hopes to see every country by the time she is 30 years old. This is how Emily became a social media influencer with over 150,000 followers.
Other than becoming Miss Universe Canada, Emily's dreams include becoming an entertainment lawyer to work alongside some of her favourite talents, including musicians and athletes, and to be able to devote more time to volunteering abroad where individuals lack basic necessities.
Sponsors
Family and Friends
Video
Q&A
What are your interests and what do you enjoy doing the most?
Traveling, of course. I believe every country has something unique to offer and teach its tourists. I love to immerse myself into different cultures, and traveling to all corners of the earth allows me to do just that.
I'm a huge fan of music. I love to play music and go to as many concerts as I can. I also love to stay active through yoga, Pilates, bootcamps, hiking, playing volleyball and basketball.
Photography is another passion of mine. I was given an entry level Canon DSLR for my 15th birthday, and fell in love with it ever since. I am so blessed that I am able to work as a photographer today.
List any special training you have had (music, art, drama, dance, etc.)
I started playing the piano at the age of 8. In just 4 years, at the age of 12, I was certified with the Royal Conservatory of Music with completing their program of Grade 8 piano. However, I've given up playing competitively and now enjoy playing for fun. I played the trumpet and bass guitar in school as well. As for other arts, I am a self-taught photographer.
In what sports, if any, have you participated?
I played a lot of sports in school. I was on the volleyball, basketball, baseball, soccer, track & field, and rugby teams. I was even captain of the volleyball and basketball teams for some years, and received MVP awards.
I haven't stopped playing volleyball (indoor & beach) and basketball – my two favourite sports.
What is your proudest personal accomplishment (other than participating in this pageant)?
My proudest accomplishment is being the first in my family to graduate from university. My parents immigrated to Canada for better opportunities for the next generation. I am proud to have earned my Bachelor of Commerce degree in 2017. I majored in Economics & Management Science and minored in Finance.
What is the most interesting or unique thing that has ever happened to you and/or what is the most interesting thing about you?
I would say the most interesting thing about me is that I have traveled to 80 countries.
Another really interesting thing that I want to add is that I am a huge rocker chick. Most people don't expect this when they look at me, but I love classic rock, heavy rock and metal.
What is your career ambition and what are you doing or plan to do to accomplish that goal?
My career ambition to become a lawyer. Music and sports are passions of mine, therefore, I would love to practice entertainment law and work alongside musicians and athletes. My plan to accomplish that goal is to gain a few more years of work experience as I love what I currently do before I buckle down and become a student again.
What would be your "dream job" in life?
My "dream job" in life would to be a full-time human rights activist and humanitarian. If I was able to support myself financially and not have to work again in my life, that is what I would do. We are so privileged here in Canada. With having visited many less fortunate countries, it has opened my eyes to the adversity that many face in their daily lives, including fearing basic necessities to survive.
Describe where you were raised and what your childhood was like.
I was born and raised in Toronto with strict Asian parents. As a child, I was put into a variety of extracurriculars with very little time to spend with friends. I had Saturday school where I learned Cantonese, had math class and art class as well. On top of this, I did piano, swimming, and skating. I definitely did not appreciate any of it as a child, but when I look back today, I am so glad that they did that for me. It has molded me to be diverse and to continue to be as diverse as possible in everything I do.
List any interesting or unusual jobs you may have had.
When I was 16 years old, I had a summer internship at Member of Provincial Parliament (MPP) Bas Balkissoon's constituency office. He was the MPP for the Scarborough-Rouge River riding. It was such an eye-opening experience dealing with constituents, and organizing fundraising events.
Another fun one I had was during the beginning of the pandemic, I signed up to be a food delivery courier. Even though this only lasted a few days, I quite enjoy trying anything once.
List any volunteering you have done.
Most of my volunteer experiences have been done abroad. I enjoy traveling abroad to volunteer whenever I have a long break from school and/or work.
Maximo Nivel via IVHQ (Cusco, Peru) – a two-week holiday project where I provided medical, childcare and construction & renovation assistance.
TH School via IVHQ (Faridabad, India) – teaching children in the slum
Daya Nivasa via IVHQ (Kandy, Sri Lanka) – attending to those with special needs
What is your most unusual talent?
Being able to survive a mosh pit at a rock/metal concert.
Where is the most interesting place you have been to?
Having been to 80 countries, this one is a tough one! Every place is so unique and magical in their own special way. If I had to just pick one, I would say South Africa. It was the first overseas country I traveled to… alone! I was able to learn, challenge myself, make new friends, relax and appreciate my life all at the same time. I went on a safari. I learned so much in Johannesburg with the Apartheid. I was able to then travel to Cape Town and play beach volleyball with the beautiful ocean and mountains in the background. I'll never forget how cute the little penguins on the beach were. They just melted my heart.
What do you hope to be doing in ten years?
I hope to be a serial entrepreneur with having had many career paths and attaining a diverse set of skills. I want to own a few businesses and invest in many others. In my spare time, I'd love to be a mentor to young women who need the guidance and support that I would have wanted. Lastly, I want to create a family full of love and joy.
Is there anything you would like to add that we haven't asked?
I am so excited to be participating in this year's Miss Universe Canada. I will be forever grateful for this opportunity. I have been following this pageant for almost 10 years, and I look forward to the entire journey.