Evangeline Lou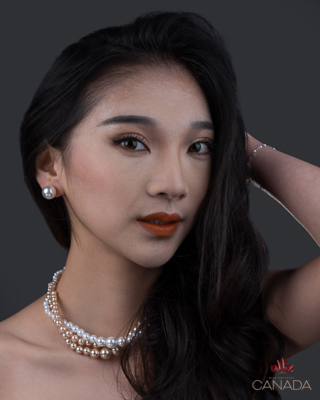 Height: 5'7
Hometown: Vancouver, BC
Languages: English, Chinese, French
Occupation: Student at Columbia University (Business Management; Ethnicity and Race Studies)
Evangeline Lou is a singer-songwriter and an undergraduate student at Columbia University in the City of New York. Growing up, she had lived in seven different cities in three different countries and had traveled to more than twenty (20+) countries around the world! While pursuing a rigorous Ivy League education with a perfect GPA, Evangeline also manages her music as an independent singer-songwriter and a live-streamer on NetEase music, one of the leading and largest Music streaming services in China. Despite Instagram, Facebook, and YouTube being blocked in China, she currently has a massive fanbase on NetEase. Her singles peaked on the Popularity Chart and Original Music Chart numerous times. In the past, she had been invited as a guest performer for many mainstream artists, won many singing competitions, and appeared in reality shows on TV. Evangeline is passionate about art and life! Evangeline is also involved in many different volunteering activities and community services. Most of the money that she earned from her music is donated to charity. She is also the founder and president of "Help Stop Bullying International Association," with Prime Minister Justin Trudeau as the association's "Honorary President."
In the future, Evangeline plans to become a successful singer-songwriter in Los Angeles. She believes that the more powerful you are, the more you can provide, and the more you can help others. Therefore, Evangeline aims to learn as much as she can in one of the world's best institutions, Columbia University, and raise more awareness of racial inequality issues. Moreover, she wishes to voice for the underrepresented minorities and express problems that should not be silent through music!
Sponsors
Family and Friends
Video
Q&A
What are your interests and what do you enjoy doing the most?
Singing, songwriting, music productions, ballet, piano, Ukulele, Hip Hop Dance, Yoga, Soccer, Culinary Art, etc. What I enjoy doing the most are singing and songwriting
List any special training you have had (music, art, drama, dance, etc.) 
I have been playing the piano and dancing ballet since when I was four years old. I have been professionally trained in music (piano, voice, songwriting, etc.)
In what sports, if any, have you participated?
Soccer and volleyball.
Name one person, other than your parents, who has had the most influence on your life. Why?
Justin Trudeau. I had the honor to work with and meet with Mr. Trudeau many times by volunteering for the Liberal Party of Canada before he was the Prime Minister of Canada. Mr. Trudeau was also the Honorary President of my "Help Stop Bullying Association," which I founded in 2016. By volunteering for him, I developed my leadership skills many years later in Vancouver, assisting Justin Trudeau in the federal elections. My team and I persistently solicited votes and campaigned by advocating for children's benefits, the middle class, and national security. With hard work, we changed history from a low supporting rate to a majority vote. Moreover, through the process, I have witnessed Mr. Trudeau's diligence and persistence, and he has profoundly influenced me. I learned a lot from him and the experience. I will be forever grateful for his encouragement and inspiration as I fight for my dreams and ambitions.
What is your proudest personal accomplishment (other than participating in this pageant)?
My proudest personal accomplishment is the balance between my academics as a student and my music as a singer-songwriter. Pursuing a rigorous Ivy League undergraduate studies at Columbia University in the City of New York, I also managed my music career on NetEase Music, one of the leading and largest music streaming services in China. I also did live-streams to connect with my fans on the platform. While maintaining a perfect GPA, I also gained over 100,000 fans with only a few months and won second place in the most prominent end of the year Livestream competition on NetEase Music. Despite Instagram, Facebook, and Youtube are blocked in China, she currently has a huge fanbase, and my singles peaked on NetEase Popularity Chart and Original Music Chart numerous times. One of the singles," 说不出来," made it to the top three on the NetEase Popularity Chart for more than one week, and with the support of my fans, it peaked at number two on the chart, replacing Taylor Swift's "Lover" just one day after "说不出来" was released. The income that I made from my live streams and my music paid for my everyday expenses and all of my tuition. I even had some extra money that I donated to the Red Cross Society. With a growing fan base, I hope to create more music and grow stronger as a singer-songwriter while continuing my academic pursuits.
What is the most interesting or unique thing that has ever happened to you and/or what is the most interesting thing about you? 
My single, "说不出来," on NetEase Music, made it to the top three on the "NetEase Popularity Chart" for more than one week, and with the support of my fans, it peaked at number two on the chart, replacing Taylor Swift's "Lover" just one day after "说不出来" was released.
What is your career ambition and what are you doing or plan to do to accomplish that goal? 
A singer-songwriter. With my current connections, after graduating from Columbia University, I plan to move to Los Angeles. I am currently negotiating with some major labels and hope to pursue my music dreams. I hope to represent Asian Americans/Canadians through music on the international stage.
What would be your "dream job" in life?
Singer-songwriter.
Describe where you were raised and what your childhood was like.
I was raised in Canada in an Asian family. One of the reasons I love about my country is its diversity. However, despite the large population of Asian-Canadians, the community is often underrepresented or misrepresented. Growing up, I have struggled with racial discrimination. Because my mother does not speak perfect English and has a thick accent, she was often treated unfairly. As a child witnessing the injustice around minorities, I hope to gain knowledge and become more powerful in making a change and providing help to racial inequality issues and underrepresentation in any way I can.
List any interesting or unusual jobs you may have had.
Leading Actress
Host
Guest Performer
Reality TV lead
List any volunteering you have done.
Founder and President of "Help Stop Bullying International Association (HSBIA)" (Prime Minister Justin Trudeauis the Honorary President of the association)
Group leader of the Liberal Party volunteers
Lead, organized and performed at "All Hearts Together," a fundraising show for Canadian Cross (raised over $60,000 for Canadian Red Cross during the Fort McMurray Fire)
Hosted, organized, and performed for UNICEF (United Nations Children's Fund ) Art Auction
"One World Together" online concert guest performer
Heart 2 Heart club President
GDSC Global Student Development Association ambassador
What is your most unusual talent?
Being able to write songs/freestyle or improvise on the spot.
Where is the most interesting place you have been to?
I have traveled to more than eighteen (20+) countries in the world and have lived in seven different cities and three different countries. Throughout my experiences, I think the most exciting place I have been to in New York. It is such a vibrant city and a cultural hodgepodge with everything all at once.
What do you hope to be doing in ten years?
I hope to be a successful singer-songwriter, a philanthropist, and an activist for racial equality!
Is there anything you would like to add that we haven't asked?
I cherish the opportunity so much! I hope to use the microphone and the attention that Miss Universe Canada provides for a greater purpose and voice for the neglected. Moreover, to speak for issues that should not be silent!
If I could have the incredible honour to be crowned, I will not only fulfill every single duty but excel in them by giving 100% of myself!
Thank you so much!