Faith Byers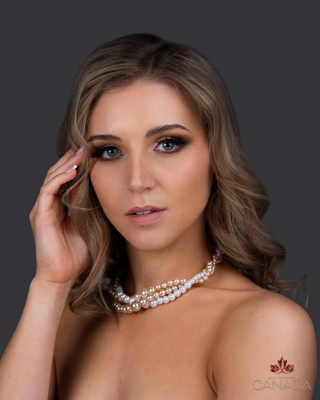 Height: 5'5
Hometown: Edmonton, AB
Languages: English
Occupation: Children's Pastor
Faith felt called since the age of thirteen to be a minister in the Christian Church. Growing up in small-town Caledonia, Ontario she has always dreamed of going all over the world to be able to learn and work in diverse environments. Thankful for her family's support, she knows that no matter how far she goes, her family will always be her "number one fan". At the age of fifteen she went to El Salvador to minister to children through children's programs, and then again at sixteen for two months. Then at eighteen, she ministered and taught English in China, Thailand, and Hong Kong. Having traveled to thirteen countries altogether, in her youth Faith also gained a multitude of experiences serving in Canada. She served doing homeless ministry in Vancouver, cleaning churches in NWT, and leading worship and youth in her local church. Faith currently attends Vanguard College in Edmonton, Alberta working towards completing her Bachelor's degree in Theology (Intercultural Studies). She is also currently serving as a Children's Pastor at an Ethiopian church and has a passion to end the prejudice around women in ministry. She endeavours to encourage every woman, young or old, to pursue their God-given dreams, including being a lead pastor! She wants to influence everyone that ministry is not just a male-dominated job, but it is for all people who have the heart and passion to see the world transformed by the love of God.
Creativity has also been a big part of Faith's life. She started dancing when she was three, moving to a competitive level at the age of twelve and continued for seven years. She performed jazz, hip hop, lyrical, contemporary, ballet and pointe. Faith's love for performing also led her to take modelling lessons for a short time as well. Growing up Faith took interest in songwriting, singing and playing the piano which led her to releasing a song called "Trust" in June 2019. She is also currently working towards her first Album.
Sponsors
Paul Hardy, Marissa Myers, Grace Simon – eXp Realty, Rain Salon and Spa, Mallory Murphy Nails, Serena's Evolution of Fitness and Nutrition, Hair By Evet, Prestige Lash & Beauty Bar, Family and Friends
Video
Q&A
What are your interests and what do you enjoy doing the most?
Health and fitness has always been a big part of my life. I started dancing when I was three years old, and moved into dancing competitively when I was 12 doing jazz, hip hop, contemporary, ballet, point, and lyrical. As I got older, health and fitness became something I really enjoyed and key to good mental health. My hobby is to write and create songs which now I hope to turn into a side career. I released a song in 2019 called "Trust" and my second song is to be released in 2020. I am also currently working to create an album. The main goal of my music is to connect with individuals by being honest and real, yet still carrying a message of hope. – I also love to travel! I started traveling abroad when I was 15 years old doing humanitarian work in San Salvador. This trip sparked a passion and interest to travel, work and learn from people who are different from me. Since then I have traveled to 9 countries doing global work! In my whole life, I have traveled to 13 countries.
List any special training you have had (music, art, drama, dance, etc.)
I started dancing when I was only three years old doing jazz and tap. When I turned 12 I started dancing competitively doing jazz, hip hop, contemporary, lyrical, ballet and pointe. The performing arts was a big part of my life growing up. I was awarded the Best Female Actress Award two years in a row during High School. Growing up I also took part in singing, piano lessons and modelling classes.
In what sports, if any, have you participated?
Growing up I was involved in soccer lessons but never continued very far. I was more interested in the creative arts.
Name one person, other than your parents, who has had the most influence on your life. Why?
My mentors and friends Ashley and Sarah has had a profound impact on my life. They have empowered me to be a strong woman in ministry and do whatever I feel called to do with my full heart. They both have walked with me through some of my hardest seasons in life. Have inspired and encouraged me to always be myself. And has demonstrated great character and strength through their actions and life.
What is your proudest personal accomplishment (other than participating in this pageant)?
My proudest personal accomplishment was overcoming the barrier of poor mental health. I changed my diet and started going to the gym and after a year off looking after myself holistically, I went from going in and out of the hospital to having overcome panic attacks, depression, and crippling anxiety. Looking back, I am proud of the strength all that took to not only go through but overcome. I have learned so much about myself and gained so much more emotional intelligence because of it. I hope to use my story to inspire those who struggle with mental heath to never give up pursuing health and wholeness. I also hope that in sharing my story, I would be able to help end the stigma to mental health.
What is the most interesting or unique thing that has ever happened to you and/or what is the most interesting thing about you?
Ministry has always been a big part of my life. From volunteering in church or traveling for global work I felt called to ministry both overseas and in Canada. I was fascinated in traveling so that I could work and learn from people who are different from me. At just the age of 15 I went to San Salvador on my first mission trip leading kids programs. This was the most exciting adventure and I decided to go again the next year for two months. I knew that nothing made me feel more alive than that. My career and my life decisions have been built around pursuing my dream of ministry. For instance, I am now working to accomplish my theology (intercultural studies) degree and currently working as a Children's Pastor at an Ethiopian church in Edmonton.
What is your career ambition and what are you doing or plan to do to accomplish that goal?
I hope to use all areas of my passions, creativity and abilities to minister to people. I hope to use my musical abilities to create music that reaches more people than just the typical Christian audience. I am currently working with my producer to release music that is honest and relatable but brings out a message of hope. I want to leave people feeling like they can relate to the song while also taking away a sense of hope for their own lives. In terms of my dream to work alongside people of other ethnicities and cultures I am currently working as a Children's Pastor intern at an Ethiopian church. This has been helping me work with others from different backgrounds for a similar purpose which is to be transformed by the love of Jesus. This experience is helping me to learn and grow more as an individual so that I can be more effective as a minister in Canada or overseas.
What would be your "dream job" in life?
My dream job is to pastor and mentor youth in the Christian faith and empower them to live for God and for people. This means caring for them spiritually and even emotionally as they embark on their own journey in life. I hope to impact them to do what they feel called to do and become the people they were made to be.
Describe where you were raised and what your childhood was like.
I was born in Toronto, Ontario but was raised in Caledonia, Ontario. It is a small town just outside of Hamilton. I grew up with my older brother and younger sister. Things were not always easy due to my brother's autism. I found myself often having to step up and support the family. Thankfully, my mother and father work hard for my brother and want him to achieve in life. I am very grateful to come from a very supportive and loving family. My dad always tells me that he is my "number one fan."
List any interesting or unusual jobs you may have had.
Teaching English in China, Thailand, and Hong Kong. This is an unusual job because it is not one that many people get to experience. Through this, I was able to not just grow in my communication skills to those who speak a little English but learn from them as well. My favourite lesson I taught was teaching a class of all girls that true beauty comes from the heart.
List any volunteering you have done.
Missions trip to El Salvador (2 months) working with children who are vulnerable to gangs
Children and youth camp leader (3 years in a row)
Teaching English in Asia (2 months)
Homeless Ministry in downtown East Hastings, Vancouver, Canada
Rebuilding campsites and cleaning churches for the community in NWT, Canada
Serving in my local church for the children's and youth program
Lead band for Sunday Services
Connections team director
Red Frogs
Youth small group leader
What is your most unusual talent?
I can make a bird noise, lick my elbow and wiggle my ears!
Where is the most interesting place you have been to?
I went to China to teach English and while I was there we stayed in a teachers dorm at a boarding school. This was very outside my comfort zone because we were not allowed to leave the campus the whole week. I was also able to step outside my comfort zone by interacting with new people (most of them did not speak English), eat new food, and learn a new way of life in a different culture.
What do you hope to be doing in ten years?  
In ten years I hope to be traveling with my family in Canada and overseas to mentor, care for and empower people to do whatever they feel called to do. This looks like pastoring, training leaders, and equipping congregations to leave a legacy for Christ. I also hope to mentor and inspire those who struggle with mental health. In fact, I have already started mentoring young girls from my church by doing a discipleship class with them every week.
Is there anything you would like to add that we haven't asked?
After studying Humanities for a year at McMaster University, I felt drawn to
the Feminist movement and wondered how to bring it to the Christian church. As a woman in ministry, it looks like continuing to shed light on how women for so long have not been allowed to be pastors. It also means empowering the next generation of Christian women to step out and do what they feel called to do (ministry or not). I believe that the first step to stopping prejudice against women in ministry is to stand firm in our knowledge of scripture and allow women to teach scripture no matter what they are told by any person in the church. I also believe that in bringing the feminist movement to the church we must teach women about true beauty and worth. This means not only helping them understand such concepts but also embrace holiness and love. In this sense, our value does not come from what we have, how we present ourselves, or how many men like us, but rather it comes from who we are and who we were made to be. Likewise, this is also teaching young men in our church how to respect women and represent Christ to them.