Ishpreet Gill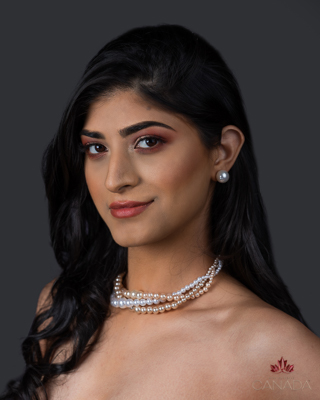 Height: 5'9
Hometown: Victoria, BC
Languages: English, Punjabi, Hindi, Marathi, German
Occupation: Business Analyst
Looking to break gender stereotypes, Ishpreet aspires to be a part of a legacy of incredible women who embody confidence, a spirit of service and courage to represent the world we live in today. She strives to carry that legacy into the years to come by raising awareness on promoting an egalitarian society. It is her ambition to make a difference by breaking the barriers that the society has set and not just stand up for herself but more importantly for others.
Ishpreet grew up in India and ventured to New York a few years ago to pursue further education where she graduated with a Masters degree in Information Management and thereafter gained valuable professional experience working in Data Privacy for a leading pharmaceutical company. She recently moved to Canada to explore new opportunities and perspectives that life has to offer.
In addition to her career and education, Ishpreet has had the privilege of volunteering with several non-profit organizations where she was able to tutor students with disabilities and provide counseling to those who needed a listening ear. Through her social initiatives, she has contributed to the quality of education for people with disabilities while preparing them for leadership roles. Apart from her passion for pageantry and social work, she is an accomplished athlete, having been a soccer player at the state level.
Miss Universe Canada gives her a sense of purpose and belonging that she always sought for. She feels truly liberated as not only is she getting to live her dream she is also getting to make a difference.
Sponsors
Family and Friends
Video
Q&A
What are your interests and what do you enjoy doing the most?
Learning new things and gaining knowledge on intellectual topics is something I enjoy. I believe knowledge is power and can transform your life and enlighten the lives of those around you. I am also a nature loving person who loves to escape in the wilderness to unwind and seek positive blessings from my surroundings.
List any special training you have had (music, art, drama, dance, etc.)
Taekwondo, Aerial Yoga, Bollywood Dance, Swimming
In what sports, if any, have you participated?
Growing up, I was actively involved in various sports and extracurricular activities including dance, track and field, soccer, swimming, and taekwondo. I am an accomplished athlete and have been a soccer player at the state level.
Name one person, other than your parents, who has had the most influence on your life. Why?
While there have been many people who have influenced me in different walks of life, I would say my neighbor, who is also a founder of a Non-Profit Organization for students with disabilities has had the most influence on my life. She is a woman of substance, strong and courageous who leads by example. Her spirit of service and a desire to inspire others by encouraging people in our society is truly commendable and I wish to carry the baton in the years to come.
What is your proudest personal accomplishment (other than participating in this pageant)?
I would attribute my journey to being a strong and independent woman as my proudest accomplishment. It is my independence that has given me an opportunity to voice my opinions and pave the way for an equal society by inspiring young women to take charge and be unapologetically ambitious.
What is the most interesting or unique thing that has ever happened to you and/or what is the most interesting thing about you? 
I am a spontaneous person who is fearless and does not hold back from being a voice for the voiceless and doing the right thing. I keep challenging myself as in my experience challenges prepare an ordinary person for an extraordinary destiny.
What is your career ambition and what are you doing or plan to do to accomplish that goal? 
It is important to Seize the Day and realize the opportunities that come your way by giving your best shot. Professionally, I would like to see myself in a leadership position advocating for Data privacy by furthering my research in this area and creating awareness on the importance of protecting and taking control of the personal data about individuals that prevails all over the world.
What would be your "dream job" in life?
It would have to be something that I do with all my heart while contributing positively to the lives of as many people as I can.
Describe where you were raised and what your childhood was like.
I was raised in Pune, a cosmopolitan city in India – also known as the Oxford of the east. It is a city that taught me to be grounded, humble and instilled in me a spirit of social responsibility towards uplifting others in society. I grew up in a strong community of people who were loving and caring and at the same time encouraging individuals who had a respect for each other. Some of my greatest friendships and memories are from my childhood.
List any interesting or unusual jobs you may have had. 
The most interesting jobs of all has been that of a tutor. I have had a privilege to tutor students with disabilities and be a guiding light in preparing them to integrate in a normal society. Not only was this a gratifying experience but an enlightening one. Although I went there to teach, instead I happened to learn a great deal from my students. It was my students who made me realize that you are only limited by the depth of your own imagination.
List any volunteering you have done.
I have had a privilege of volunteering with several non-profit organizations where I got an opportunity to tutor students with disabilities and provide counseling to those who needed a listening ear. I have been instrumental in contributing to the quality of education for people with disabilities while preparing them for leadership roles and teaching them social skills to better integrate in a normal society.
What is your most unusual talent?
I enjoy driving and can drive for longer hours. The longest I have driven in a day is 15 hours.
Where is the most interesting place you have been to?
Deriving its name from the five hills surrounding it, Panchgani is a popular hill station in India, famous for its various sunset and sunrise points and scenic valley view. Apart from the verdant green valleys, and soothing environment, the red, juicy strawberries are a major attraction of Panchgani. I have travelled to many places but with Panchgani it feels like I left a piece of my heart here. It holds the power to immerse me and the serenity is breathtaking.
What do you hope to be doing in ten years?
I believe in living in the moment and taking life one day at a time. Each day I strive to put my best foot forward and embrace all my experiences with a positive attitude. Having said that, with the same spirit I will continue to lead a meaningful life and seek for opportunities to uplift others while taking on a leadership role in the corporate sector.