Jacqueline Juntilla Marsh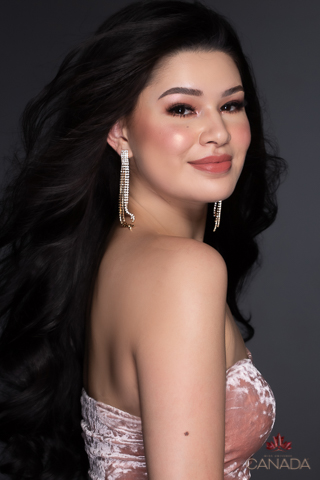 Height: 5'11
Hometown: Thunder Bay, ON
Languages: English
Occupation: Registered Nurse
Jacqueline Juntilla Marsh is a confident, determined and compassionate young woman who advocates for the opportunity for less fortunate youth in her community to engage in recreation such as arts, sports, and culture. Raised in Thunder Bay, Ontario along the shores of Lake Superior, Jacqueline has always called Northwestern Ontario her home. Jacqueline grew up as an only child with two supportive parents: a Canadian father and Filipina mother who allowed her to pursue all of her passions including dancing, singing, playing guitar and piano, and modeling. Jacqueline was fortunate to participate in after school activities that allowed her as a very shy child to gain confidence and to find her own voice in the world.
Jacqueline graduated from Lakehead University with a Bachelor of Science in Nursing. She is employed full-time at Thunder Bay Regional Health Sciences Center as a registered nurse on a surgical floor. Since her teenage years, she has had a fascination with health sciences, and an interest in working with the public. Jacqueline has found great gratification in nursing in the fast-paced and ever-evolving world of healthcare. During her time off, you will find her Latin dancing at local events, walking the dog, exercising, or socializing with friends. Jacqueline is also an active volunteer in her community. Jacqueline teaches Filipino Cultural dancing for the Filipino-Canadian Association of Thunder Bay youth and has performed at the Folklore Festival since the age of six. As well, Jacqueline has volunteered with Positive Recreation Opportunities (P.R.O) for Kids for the last seven years, which provides recreation to less fortunate children in Thunder Bay, and has recently completed her term as Chair on the board of directors. Jacqueline has also spearheaded her own youth projects in the Philippines. In 2017 she led a recycling mission in Ormoc City at Libertad Elementary School where she fundraised and purchased recycling receptacles for schools and educated the children on the importance of caring for the earth. This year she fundraised for SOS Children's Villages Cebu and held a lunch for the children and caretakers. She was also engaged in a collaboration between the Naga Department of Education and Red Tycoon Philippines to incorporate personality development and modeling into the curriculum.
Jacqueline began competing in pageants at the age of 18, where she took home the crown on her first pageant, Miss Thunder Bay in 2012. She continued to participate in pageantry in the following years and found a unique sisterhood in which women supported each other and their dreams. She is proud to have raised awareness for different organizations and charities across Canada over the years. In 2017 she went on to earn the title of Miss Earth Canada, and represented Canada in Miss Earth in Manila, Philippines where she won a silver medal for her national costume.
Jacqueline fondly remembers watching pageants with her mom growing up and has since sought to be one of those inspirational women herself. Jacqueline has been actively working towards the Miss Universe Canada pageant and aspires to represent our beautiful country on the Miss Universe stage with pride.
Sponsors
Family and Friends
Q&A
What are your interests and what do you enjoy doing the most?
I enjoy singing, playing guitar, and piano in my free time. Expressing myself through music is my outlet for dealing with stressful times in my life and allows me to relax and lose myself in a song. My love for performing has brought me to many interesting venues such as the opening for the Folklore Festival, and the Philippine Independence Ball in Thunder Bay.
Another interest of mine is baking and cooking. I have always had a sweet tooth, but I realized that there is nothing more satisfying than enjoying a dessert made by your own hands. My favorite thing to bake is cinnamon buns because my family is always begging me to make my famous recipe! Recently, I have started to learn how to cook traditional Filipino dishes from my mom. I love Filipino cuisine and hope to perfect my recipes in the coming years.
The interest that I enjoy the most is Latin dancing because I grew up dancing many different styles, however, I fell in love with the spontaneity of the follow-and lead style of partner dancing. I was introduced to Latin dance through a free class at a local church three years ago and have been doing it ever since. I enjoy the universality of salsa and bachata. Throughout my travels I have always been able to find a Latin dance club to visit, because of this I have danced in Minneapolis, Paris, Barcelona, Ormoc, and Cebu!
List any special training you have had (music, art, drama, dance, etc.)
Dance lessons: ballet, tap, jazz, cabaret, and pointe
Vocal training
Guitar lessons
Piano lessons
Latin dance classes: salsa, bachata, and merengue
In what sports, if any, have you participated?
I participated in competitive cheerleading for 2 years when I was in middle school. Cheerleading was one of the hardest activities I ever participated in because stunting required a great deal of physical strength and trust in your teammates to perform and not injure yourself or others.
Name one person, other than your parents, who has had the most influence on your life. Why?
One person who has had the most influence on my life would be my Lola (grandmother) Tasing because she was the strongest and happiest person I knew. She grew up poor and lived a very simple life, however she spent most of her days smiling and telling jokes. She was a mother to 10 children, and always found resourceful ways to ensure all of her children had the opportunity to get an education. Despite the toughest situations she persevered: she was an entrepreneur, mentor, and devout Catholic. My Lola taught me that even in the hardest of times, to have trust in God's plan and keep smiling. Although my Lola passed away in 2017, I always feel her presence and know that she will be watching me walk across the Miss Universe Canada stage with pride.
What is your proudest personal accomplishment (other than participating in this pageant)?
My proudest personal accomplishment was the recycling project I led at Libertad Elementary School in Ormoc City, Philippines in 2017. I was able to fundraise and purchase recycling containers for the children to use while at school to separate recyclables, non-recyclables, and food waste. During my visit I was able to speak to the students about the importance of recycling and taking care of the earth. This was one of my proudest moments because the children were quickly able to understand the importance of recycling and taking care of the planet; it is my hope that through this project these children will continue to be conscious of their environmental impact.
What is the most interesting or unique thing that has ever happened to you and/or what is the most interesting thing about you?
The most interesting thing about me is that I am a proud Filipino- Canadian. Growing up I was very lucky to be able to learn about my heritage from my mom who was born and raised in the Philippines, and my dad who was born and raised in Thunder Bay, Ontario. Visiting impoverished areas of the Philippines throughout my childhood, I realized the importance of empowering young people to reach their full potential. These trips inspired me to visit schools and orphanages while in the Philippines to speak to children about how they can achieve their dreams through hard work and perseverance.
What is your career ambition and what are you doing or plan to do to accomplish that goal?
My career ambition is to complete my Masters in Nursing, to become a Primary Health Care Nurse Practitioner. I would like to pursue this career in order to have my own practice and give back to my home community of Thunder Bay. It saddens me to see people in my community who struggle with their health and chronic conditions due to a lack of family doctors and nurse practitioners. It would be very fulfilling to help alleviate the stress people face when they do not have a primary care provider. I plan to accomplish this goal by pursuing further education at Lakehead University in the next two to three years.
What would be your "dream job" in life?
My dream job in life would be to build schools in remote areas of the Philippines where children have to walk long distances to access school and receive an education. It is also my dream to provide school and supplies to impoverished children cost-free. It is my dream to be able to eliminate the barriers preventing these children from going to school. I would also like to create after school programs in these communities for the arts, music, sports, and personality development because after-school activities helped me become the person I am today. It would be my dream to be able to build and develop these programs full- time.
Describe where you were raised and what your childhood was like.
I was born and raised in Thunder Bay, a city of one hundred ten thousand people along the shores of Lake Superior. I grew up with a great appreciation of the outdoors being a short distance away from fresh-water lakes, bubbling streams, and mountains to hike and ski. I grew up as an only child who enjoyed her time in class but lived for her dance and piano classes after school. In high school, I found my love for music and began taking vocal lessons and participating in my school's musicals. In addition, I was able to embrace my Filipino heritage by learning and performing traditional cultural dancing, eventually becoming a cultural dance teacher myself. I was very lucky to have travelled frequently throughout my childhood years to the United States for dance competitions and to the Philippines to visit the other half of my extended family.
List any interesting or unusual jobs you may have had.
The most interesting job I had was working in the menswear department at Sears when I was in high school. It was interesting because at the age of 16 I learned how to measure and fit men in dress shirts, suits, and how to tie a tie!
List any volunteering you have done.
Positive Recreation Opportunities (P.R.O.) for Kids Thunder Bay

2012 – Present: volunteer and board member
Vice- chair of Board of Directors in 2018
Chair of Board of Directors in 2019

Filipino- Canadian Association of Thunder Bay

2016- Present: Cultural dance teacher for youth dancers

Irma's Boutique

2017- Present: Model for seasonal fashion shows

Thunder Bay Regional Health Sciences Center

2013-2017 Hospital Elder Life Program volunteer
Other volunteer experiences:
SOS Children's Village Cebu, Philippines
Libertad Elementary School, Ormoc City Philippines
What is your most unusual talent?
My most unusual talent is that I can dance the "Tinikling." It is a traditional Filipino dance that requires the dancers to turn, skip, and jump with a partner between two bamboo sticks that open and close to the beat of the music. As a child it was very tricky to learn and resulted in my feet being squished many times, but now I have an even greater appreciation for Filipino cultural dancers.
Where is the most interesting place you have been to?
The most interesting place I have been to was Oslob, Cebu, Philippines in 2016 where I was able to swim with whale sharks. I was terrified to be swimming in such close proximity to such large creatures, but it ended up being an incredible experience that helped me appreciate the ocean.
What do you hope to be doing in ten years?
In ten years, I aspire to be practicing in the healthcare field in my own clinic, continuing to volunteer and advocate for youth empowerment, and be married and raising children. However, I have learned that life can be unpredictable and I hope that regardless of where I end up in ten years that I am happy and fulfilled in whatever I do.
Is there anything you would like to add that we haven't asked?
The message that I hope to share with young women is that pageantry has given me a platform to advocate for change, and aid meaningful organizations and charities. Most importantly it has given me a wonderful sisterhood. Pageants are an amazing way to get to know women from around the world who support one another and hope to make a difference in the world.
I am so honored to be participating in the Miss Universe Canada pageant this year, and it is my goal to perform to the best of my abilities and convey the hard work and determination it has taken to get here.