Jenna Escobido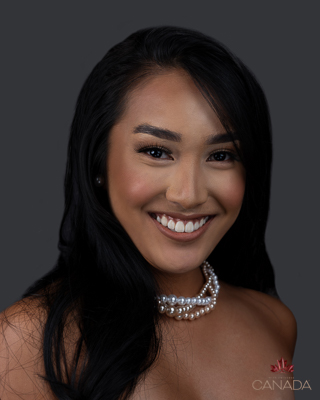 Height: 5'6
Hometown: Vancouver, BC
Languages: English, Tagalog
Occupation: Preschool Teacher
Jenna Escobido was born a raised in Vancouver, British Columbia. She graduated From Langara College in Early Childhood Education. From volunteering at many daycare centre in Vancouver, she now works as a Preschool Teacher at a local Community Preschool. Jenna has been learning and  competing in Hip Hop for  almost eleven years, and began teaching dance at the age of fifteen. She competed at the Canadian Hip Hop Championships in 2018 in Ottawa. Jenna and her dance group, Art.Illery, won first place at the Canadian Championships and went on to represent Canada at Hip Hop International Championships, where they competed against teams from all over the world. In 2019, Jenna and her co-coaches taught and led a group of young individuals, Swaggadeliks, that competed in the World of Dance Championships that was held in Los Angeles, California. She has had the honour to be able to share her passion for dance globally through international competitions and through teaching dance workshops in different countries. In her free time, she enjoys volunteering at many center's and events. She also takes an interest in motorcycles as she enjoys to meet riders and cruise around.
Sponsors
Family and Friends
Video
Q&A
What are your interests and what do you enjoy doing the most?
I enjoy cooking and baking, as well as eating. I also tend to listen to a lot of music, mostly RNB. I take an interest in Motorcycles and am currently learning how to repair/service them, I own a Motorcycle so I enjoy going out for rides and meeting more riders.
List any special training you have had (music, art, drama, dance, etc.)
I have no formal training when it comes to art, but I do enjoy painting. I was also in choir when I was in High School. I am a Hip Hop dancer and have been dancing for almost 11 years now, and I have been teaching Hip Hop dance for 5 years.
In what sports, if any, have you participated?
In the past, I have participated in basketball, volleyball, badminton, and dodgeball.
Name one person, other than your parents, who has had the most influence on your life. Why?
I do not have just one specific person that has influenced my life more than others. I would say that everyone I have encountered so far in my life has influenced me in many different ways. Through interactions with others, I learn more about myself, wisdom, places, emotions and much more. These learnings has shaped my life.
What is your proudest personal accomplishment (other than participating in this pageant)?
My proudest personal accomplishment would be being hired as a dance teacher, as dance is something that I love to do. To be able to do what I love as a job made me feel very proud of myself.
What is the most interesting or unique thing that has ever happened to you and/or what is the most interesting thing about you?
The first pageant I participated in, I actually wasn't aware at all that I was signed up for it. My mother actually went through the whole application process without me knowing, she did this because at the time I wasn't interested in pageantry. Once I got accepted into the pageant the directors wanted to speak to me through Skype, and right before the Skype call with them I finally was told that I was in a pageant.
What is your career ambition and what are you doing or plan to do to accomplish that goal? 
My career ambitions include making children as well as their families comfortable. I also really focus on inclusivity as well as equity not just in the teaching environment but wherever I go. The way I would reinforce these ambitions, I would be warm-hearted towards others, and I will recognize and correct my own personal biases and prejudice. I will also make more of an effort to understand others and recognize everyone's differences and accept them.
What would be your "dream job" in life?
I do not have a specific "dream job" in mind, I just knew that I wanted dance to be a part of it. Which I am currently doing right now as a dance teacher, and now I want to see how far dance can take me. Maybe my next step is to become a choreographer and/or professional dancer.
Describe where you were raised and what your childhood was like.
I was born and raised in Vancouver, BC. As a child, I had a lot of health issues and I am very thankful for the healthcare system we have in Canada. My childhood was very normal up until a time of unforeseen events and uncertainty. Though there were uncertain times in my childhood, my friends and family has always supported me. As I was growing up I had many people to lean on, with this being said I learnt that everyone needs someone that they can trust and depend on. I believe my childhood is the reason I am who I am today. It taught me gratitude, compassion, persistence, patience and much more.
List any interesting or unusual jobs you may have had.
I wouldn't consider this as unusual, but I worked at the Fair in a donut stand; me and my coworkers were very close to each other and all of us used to make dance videos and have dance battles at work. I must say it was the people at this job that made it interesting for me.
List any volunteering you have done.
I have volunteered at Leukemia Light the Night, I have taught after school programs at many different elementary schools. I have also volunteered at many daycares / preschools / montessori schools near my area.
What is your most unusual talent?
I am able to imitate a motorcycle speeding by.
Where is the most interesting place you have been to?
The most interesting place I have been to is the Philippines. Every single time I go back to the Philippines I learn more about my family and my culture.
What do you hope to be doing in ten years?
In ten years I hope I will be influencing many more lives positively.
Is there anything you would like to add that we haven't asked? 
One of my favourite quotes/ sayings is "Aim for the stars and meet me at the moon". I honestly do not know where I've heard this from but it has stayed with me for a long time.