Kalika Hastings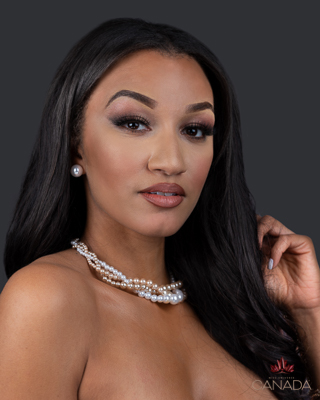 Height: 5'9
Hometown: Montréal, PQ
Languages: English, French
Occupation: Entrepreneur and Publicist
Innovative and determined, Kalika's entrepreneurial spirit and quest to relentlessly pursue her dreams are what drive her towards success. Born and raised in Montreal, Quebec, Kalika attributes her well-rounded nature to her unique upbringing which was shaped by a series of interesting dualities. Her biracial heritage, being Jamaican and Scottish/Irish Canadian, living jointly between the city with her mother and in the countryside with her father, and lastly, being an only child on her mother's side to having siblings on her father's side. As a young girl navigating her identity, these experiences were sometimes challenging but also rewarding and provided Kalika with particular insight into different perspectives.
Kalika began modeling at the age of fourteen where she participated in numerous fashion shows and editorial opportunities for local boutiques. The experience strengthened her self-confidence, networking abilities, and stage presence. Growing up listening to Beyoncé, Kalika vowed to never give up on her dreams and to always strive to reach her highest potential. She hopes to inspire young girls and women to do the same, to challenge stereotypes, and live intentionally while discovering their purpose.
It wasn't until after completing a B.A. in Communications Studies from Concordia University, that Kalika discovered her passion for video production, a subject she initially struggled with in school but was always fascinated by. In an effort to prove to herself that tenacity combined with curiosity result in the ability to hone any craft, she quickly began covering local events and offering videography services to anyone willing to give her a chance. With a strong belief in her creative abilities and not one to wait for an opportunity to be handed to her, Kalika co-founded a boutique video production agency with a friend from university, B Scene Media Inc., in an industry that remains heavily male-dominated today. Since launching, the agency has expanded it's services and has produced videography, photography, and digital content for some of the city's highly-respected brands, talked-about events, and notable influencers.
Being able to recognize failure as an opportunity for success has been a defining lesson in her life. After receiving a poor grade in a public relations course while completing her Bachelor's degree, Kalika was inspired by her step-father's dedication to obtaining his PhD, and she decided to pursue a Graduate Diploma from McGill University in the very subject she struggled with the most, Public Relations & Communications Management, once again pushing herself into uncomfortable territory in the pursuit of growth. She fell in love with the profession and was offered a position at a boutique public relations firm where she was quickly promoted to PR Director after a few short months and spent four years there. She currently works as a freelance publicist.
Having empathy towards others is a quality that was instilled in Kalika from a young age, to treat people with respect and compassion. She considers herself a humanitarian and has volunteered for a variety of causes including teaching English at an orphanage and local schools in the Dominican Republic, holding a position as a teaching assistant to youth with learning disabilities and behavioral challenges in an inner-city Montreal community center, and most recently, participated in food drives for the homeless during the COVID19 pandemic and protests against police brutality in support of the #BlackLivesMatter movement for racial equality. Kalika hopes to use her voice with the Miss Universe Canada platform to advocate for female entrepreneurial empowerment, issues of domestic violence, discrimination, prison reform and mental health awareness in minority communities. Championing the belief that beauty is more than skin deep, Kalika hopes to use this reputable platform to encourage women to embrace their authentic beauty and engage in conversations that might be difficult or uncomfortable but to stand up for what they believe in.
"Create the highest grandest vision of your life, because you become what you believe." – Oprah
Sponsors
Video
Q&A
What are your interests and what do you enjoy doing the most?
I love doing anything that allows me to express myself creatively, whether that be creating videos, cooking, scrapbooking, journaling or photography. I also enjoy being in nature and around animals. I am happiest when I am surrounded by people who inspire me and who have great energy or when I'm being of service to others, this could be small efforts such as cheering up friends and family when they're feeling down or volunteering with those in need on a greater scale.
List any special training you have had (music, art, drama, dance, etc.)
I began modeling at the age of fourteen. In university, I specialized in video production and editing. I also have specific social media marketing training.
In what sports, if any, have you participated?
I participated in track and field in high school as well as basketball, I attended a basketball camp for a few summers, which I enjoyed. I've also done leisure canoeing with my family and I had formal kayak training at a specialized camp.
Name one person, other than your parents, who has had the most influence on your life. Why?
Growing up, I used to watch the Oprah show on TV with my mother. I loved her energy and the diverse topics she discussed. I was specifically fascinated by her ability to connect with people of all different backgrounds and experiences from notable celebrities to former criminals and regular people going through everyday issues. Also, I immediately recognized the healing power of sharing personal stories that people can relate to and connect with. After completing my undergraduate degree, I founded a media production company with a partner, because I too was passionate about telling stories, but more so from a visual perspective by creating videos and covering events.
I hope to someday have my own influential platform where I can interview people and uncover secrets for success and also how they learned to embrace their failures and come out on top. I'm currently working on a podcast where I'll be interviewing a variety of #GirlBosses. I'm excited about this.
What is your proudest personal accomplishment (other than participating in this pageant)?
I've been blessed to have achieved a number of personal accomplishments so far. Some of my proudest would be completing my Bachelor's degree in Communications Studies and a Graduate Diploma in Public Relations. Also, founding my media production company, B Scene Media Inc. with my long-time friend and business partner.
What is the most interesting or unique thing that has ever happened to you and/or what is the most interesting thing about you?
The most interesting thing about me is my versatility. While I enjoy being glamorous and appreciate opportunities where I can experience the luxuries that life has to offer, whether trying out trendy restaurants or attending special events, I also find great pleasure in humble situations. I believe this characteristic stems from my experience when I was a young child being exposed to my mother's humble upbringing in Jamaica, where I would spend some summer vacations. From feeding my grandfather's goats, to eating mango under a coconut tree or simply traveling around the country and experiencing the local culture, I've always been fascinated by the down-to-earth lifestyle that I was fortunate to be exposed to at such a young age. This experience shaped my view on life and put things into perspective when I returned home to Montreal. In this way, I consider myself to be someone who is well-rounded and humble and someone who appreciates the small pleasures in life.
The most unique thing that has ever happened to me would be a memory I have when I was about ten years old. I was writing in my journal as I often did, but this time I lied about some detail in the story. It was a small diary with a lock and key, and once I finished writing, I attempted to lock the diary but it would not lock. I kept trying for what seemed like twenty minutes with no success, until I decided to erase the lie and try again. To my disbelief, it actually worked! Instantly, the diary locked. It taught me a lesson about God/the universe and also having a moral compass and never lying to myself.
What is your career ambition and what are you doing or plan to do to accomplish that goal?
My career ambition is two-fold. Firstly, I'd like to be an accomplished communications entrepreneur offering public relations and media services to entertainers, influencers and notable events across North America. And secondly, I wish to be a media personality, with my own platform to interview people from a variety of backgrounds and hopefully inspire women to accomplish their goals and dreams despite any setbacks.
What would be your "dream job" in life?
My dream job would firstly be to represent my country as Miss Universe Canada 2020 and use the opportunity to inspire girls and women to strive to be the greatest version of themselves while making a positive impact and shedding light on issues of injustice. I would also love to have a platform where I can interview a variety of guests from notable figures to entrepreneurs and anyone with a unique story to discuss issues that affect humanity. And finally, I'd like to be an accomplished entrepreneur in the communications and public relations industry and to produce innovative content and work with entertainers, athletes and cover major events.
Describe where you were raised and what your childhood was like.
I was raised in Montréal, Quebec. My childhood was full of dualities that make me the unique person I am today. My parents divorced when I was six years old. I lived with my mom in the city during the week and spent the weekends with my dad in the countryside. Being mixed-race, my mother is of Jamaican origin and my father is Anglo-Canadian (Scottish, Irish background), offered me the ability to experience two different cultures and to be sympathetic to both. This has been extremely rewarding but difficult at times, especially as a young girl navigating my identity. A third duality is the fact that I would go from being an only child with my mother during the week, to having half-sisters on the weekend at my father's house. I got to experience the benefits and drawbacks of both circumstances. In this way, my childhood was particular and offered me the ability to experience life from different perspectives, contributing to the well-rounded woman I am today.
List any interesting or unusual jobs you may have had.
When I was in university, I once got a job making smoothies at Jugo Juice. To my surprise, it was one of the most labour intensive jobs I've ever done. There was a great deal of prep-work involved in making the smoothies, which included packaging the frozen fruit ingredients and maneuvering lots of ice. Also, because the kiosk was located in a popular downtown Montreal mall, we had to work at a fast-pace to keep up with customer orders. I learned a lot about work ethic while I was there.
List any volunteering you have done.
While in university, I travelled to the Dominican Republic with a group of my classmates, where we taught English at an orphanage and in local schools for a few weeks. It was an eye-opening experience for me and one that taught me the importance and power of education. Those memories have stayed with me to this day. I was also an early childhood assistant to youth with learning disabilities and behavioural challenges at an inner-city Montreal community center, as well as a teaching assistant at Concordia University's daycare. Most recently, I participated in food drives for the homeless during the COVID19 pandemic and participated in the protests against police brutality in support of the #BlackLivesMatter movement advocating for racial equality.
What is your most unusual talent?
My most unusual talent is being able to drive a manual transmission in high heels.
Where is the most interesting place you have been to? 
The most interesting place I have visited would be the Philippines. I stayed in the capital city, Manila, as well as a remote town called General Santos. I stayed with friends and locals, it was a beautiful experience. I loved the people, food and culture.
What do you hope to be doing in ten years?
In ten years, I hope to be an established entrepreneur and media personality. I hope to be using my platform and voice as a former Miss Universe Canada to share stories and struggles faced by humanity and hopefully inspire women to achieve their goals. I hope to have travelled to a number of countries and experience different cultures. I also wish to be a mother to three beautiful children and a wife to someone I am madly in love with.
Is there anything you would like to add that we haven't asked?
I strongly believe in the importance of self-improvement and the power of having a role model in order to keep on-track towards your goals. For this reason, I am extremely enthusiastic about the Miss Universe Canada opportunity to have a platform to uplift and encourage girls and women to strive to be their best self and find confidence within (something I have grown better at with age but I believe absolute confidence in oneself is an ongoing pursuit and something we should all work towards achieving). Also, I believe in the importance of education, setting goals and pursuing your dreams. I look forward to meeting the other impressive delegates and having the opportunity to introduce myself on such a well-respected platform and hopefully leave a positive impression and impact on as many Canadian girls and women as I possibly can.