Kathryn Legaspi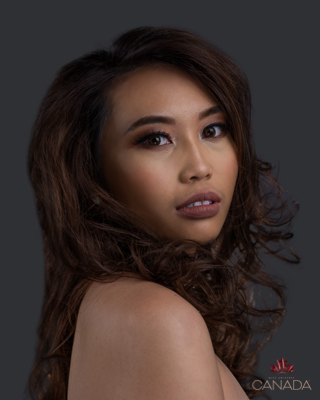 Height: 5'4
Hometown: Edmonton, AB
Languages: English
Occupation: Educational Assistant
Kathryn Legaspi was born and raised in Edmonton, Alberta. A graduate of MacEwan University Kathryn majored in Psychology and a minored in Sociology, while being involved in the education and social-services communities. Kathryn is passionate and driven to understand the contextual limitations of people in society – particularly people with disabilities. Kathryn works full-time as an educational assistant and part-time as a behavioural interventionist, while attending school to attain her Speech Language Pathology Assistant Diploma. Kathryn is proud that she manages and balances her work and life commitments.
Kathryn is involved in helping and assisting children with Autism but hopes to help others with disabilities. Through her volunteer and work experience, she has learned that children with disabilities need to be given the opportunity to grow. Kathryn aspires to learn and develop educational programs to enable people with disabilities to grow and flourish in their respective communities. She works with these children day to day and has grown an empathy and earnest drive to learn from what they can teach and particularly what they have taught her. With the recent government budget cuts to education and health in Alberta, Kathryn knows the importance of awareness and hopes Miss Universe Canada can provide this platform for her work field.
Being a 1st generation Canadian Kathryn knows the meaning of dedication, sacrifice and drive to achieve her aspirations through the lessons of her hardworking Filipino parents. Raised in an ethnically and culturally skewed area, Kathryn understands the meaning of seeing a familiar face on screen and hopes to inspire others currently going through the difficulties she went through as a child. Previously struggling between her identity of being either Canadian or Filipino, Kathryn is proud to call both cultures her own.
Kathryn's personal life experience has motivated her to utilize the power of education to influence others. Currently working on a Diversity and Inclusion program, Kathryn hopes to educate her local Edmonton community. Kathryn believes that everyone can be change-makers and that accessible education and resources are pertinent to enacting empathy, understanding, and diversity on all fronts.
Kathryn aims to win Miss Universe Canada, to represent her city Edmonton and province of Alberta known for their beautiful prairies, backyard mountains and most of all their Western Hospitality. Kathryn's journey to Miss Universe Canada is supported and motivated by her family, and particularly her close brother. Kathryn hopes to make her region proud and most of all fulfill her late Grandmother's wishes.
Sponsors
Video
Q&A
What are your interests and what do you enjoy doing the most?
I really enjoy art and believe art can be used a form of leisure and therapy. I spent over 8 years of my life competing in provincial and national swimming competitions. Alberta is such a diverse landscape; I am very fortunate to be in close proximity so that I can go hiking and enjoy the scenery. But most of all I enjoy coming to work at the Elves Special Needs Society and seeing the difference I can make in my students faces, it is not an easy job and I am very lucky to be surrounded with such positive people.
List any special training you have had (music, art, drama, dance, etc.)
I have been dancing since a very young age As a kid I grew up competing and practicing ballet, jazz, and tap. I try my best to keep up with art in my free time, my passion was heavily influenced by my education supporting me in the Arts.
In what sports, if any, have you participated?
I swam competitively for 8 years and danced (ballet, jazz, and tap) for 5 years.
Name one person, other than your parents, who has had the most influence on your life. Why?
My grandma has always been passionate about pageantry. Living in a multi-generational home my grandparents raised me along with my parents. My grandma has always found ways to help our communities through donating and volunteering both in Edmonton and back home in the Philippines. By inheriting her beliefs and values, I have learned the importance of giving back. I hope to continue her legacy, while fulfilling her wishes.
What is your proudest personal accomplishment (other than participating in this pageant)?
My proudest personal accomplishment is being able to balance my work, education, and personal life. At times it can be difficult and overwhelming; however, I am proud of my work ethic and effort to reach my goals. I have a dream to develop specific educational programs for children with disabilities. At the age of 25 I am proud to be a work in progress, finding opportunities and learning. I hope to represent others who haven't quite made it yet either.
What is the most interesting or unique thing that has ever happened to you and/or what is the most interesting thing about you?
When I was seven years old, I spent my winter holiday with my family in California. On Christmas Eve, someone broke into our house and stole our valuables. I was thankful that my family was not harmed in the process. At a young age, I learned the importance of family over material possessions.
What is your career ambition and what are you doing or plan to do to accomplish that goal?
I hope to continue to work with individuals with disabilities. I want to make a difference in someone's life and by assisting those who need support. I want to help their community grow and flourish. Through my volunteer and work experience, I have learned that children with disabilities need to be given the opportunity to grow. I work with these children day to day which drives me to learn from what they can teach me. By furthering my education and searching for other opportunities, I will gain experience and expand the types of individuals I work with.
I am currently volunteering with a Diversity Awareness and Skill Building Youth Program. I hope to engage individuals in meaningful conversations in personal/professional success, workplace dynamics, inherent biases and variant stereotypes that inhabit our society even in Canada. 2020 has shown both the good and bad of society. Canada is a wonderful country with freedom, opportunities, and diversity; however as socially responsible citizens I believe we have the opportunity to keep learning/un-learning, keep growing, building empathy and to stand-up for inequities and injustices for those who are silenced or unheard. Diversity and inclusion is an integral part of society and I believe as a Canadian and global citizen everyone can enact a spark to social change.
What would be your "dream job" in life?
I want to continue helping kids with autism and other disabilities. I genuinely love what I do and I hope to grow in this field by creating educational programs that help this community. I can accurately say I am very content where I am right now and I am surrounded with positive and like-minded individuals.
Describe where you were raised and what your childhood was like.
I was born and raised in Edmonton, Alberta Canada. My parents immigrated from the Philippines, so their culture is engrained in my identity. Growing up as Filipino Canadian, I have an inherent stewardship and hospitality that I can embrace in different aspects of my culture. I feel blessed to be in a country where multiculturalism is encouraged and accepted.
List any interesting or unusual jobs you may have had.
I have worked as a lifeguard, the experience made me learn lot and to think and react on the spot.
List any volunteering you have done.
Diversity Awareness and Skill Building Youth Program
On Site Placement
Promoting educational inclusion initiatives about Indigenous peoples, visible minorities, women, LGBTQ2+ and persons with disabilities
Developing educational programs to strengthen knowledge on diverse cultures
Volunteer
Centre for Autism Alberta
Participated in a variety of volunteer programs (Motor Skills, Community Works Canada, and Respite) offered at the Centre for Autism

Motor Skills Program: Encourage children to develop their gross motor skills through participating in different activities such as playing, swimming, and taekwondo
Community Works – Peer Mentor: Provides opportunities for high school students with autism volunteering opportunities to prepare for future employment and build their resume
Respite: Assist staff in providing childcare for children with autis
Youth Support
Catholic Social Services: Immigration and Settlement Service
Provide academic and social support for immigrant and refugee youth to help them integrate into school and the community
Orientation to Canada transitioning participants into the Canadian school system
Volunteer
GEF Senior Housing (Kiwanis Place)
Interaction with seniors in a variety of social stimulating activities ranging from large-scale events or small one-on-one functions
Commitment to GEF values such Respect, Integrity, Well-Being, and Accountability
What is your most unusual talent?
I can squish my nose flat as it has soft cartilage.
Where is the most interesting place you have been to?
The most interesting place that I have been to recently is Ptarmigan Cirque in Kananaskis, Alberta. This was my first-time hiking and the experience has motivated me to do more hikes in Alberta. The three-hour hike led me to see the mountains that meet the sky and the view was absolutely breathtaking.
What do you hope to be doing in ten years?
In ten years, I hope to continue working with individuals with Autism and other disabilities. I hope to expand the type of clients I work with and help them not only flourish as children, but as young adults as well. They are individuals who are fully capable of being an active participant in communities, but society lacks the opportunities available to them. Employment for adults on the Autism Spectrum is 11-50% and often times they are under-employed and work in positions that do not exhibit their skills.