Kathy Spence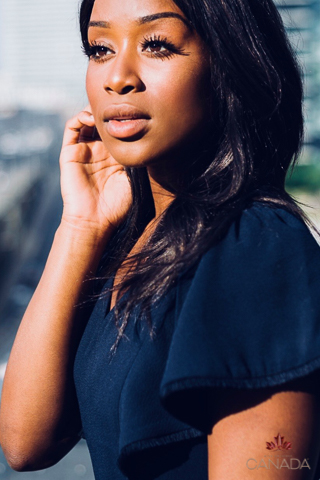 Height: 5'7
Hometown: Toronto, ON
Languages: English, French, Spanish
Occupation: Entrepreneur
Kathy Spence was born and raised in the city of Toronto, Ontario – a melting pot of ethnicity and culture. At twenty-seven years old, she is continuously striving to become a greater version of herself, and has always had a desire to encourage others to do the same.
Growing up, Kathy was privileged to have the unconditional love and support of her family, moulding and shaping her into the humble and passionate woman that she is today. With their dedication to providing endless opportunities for their children to thrive, she attributes her hard work ethic and morale to a distinctive combination of her two parents. She participated in various sports and activities, from the performing arts to football, emerging into a well-rounded and respected young woman. Kathy is a true fitness enthusiast and continues to stay active through adulthood, with the strong belief that it encourages discipline and dedication, motivating her to live a healthy lifestyle.
In addition to educating her on the significance of extracurricular activities, her parents were adamant in identifying the importance and privilege of education. She currently holds two Honors Degrees in Communication Studies and Commerce, and is in the midst of completing her Master's Degree in Public and International Affairs, concurrent with working full-time.
Above all, Kathy is an active member of her community with a strong passion for volunteering and charity work. She strongly believes that giving back is an invaluable part of creating strong character and a stable community, learning the importance of philanthropy at a very young age. Having already dedicated hundreds of hours to various charitable organizations locally and internationally, she was motivated to start her own charity, Fly Away. A self-esteem driven campaign, dedicated to working with this generations young women to develop a positive relationship within themselves, and understand the meaning of true beauty through the power of the arts. Having had great success, she developed and expanded on an additional initiative, Dream Catchers – helping developing villages globally to acquire clean water, by fundraising to provide them with rain-catchment systems and water wells.
Despite the stipulations that pageantry receives, Kathy has experienced firsthand that this pageant was created to honor women of intelligence, beauty and strength. Through her experiences and education, she believes that she is prepared and committed to take on the responsibility of representing Canada on a world stage, embodying the very essence that is Miss Universe. If given the opportunity, she truly believes that with twelve months crowned, she will have an opportunity to make an impact that may last a lifetime.
Sponsors
Family and Friends
Q&A
What are your interests and what do you enjoy doing the most?
Philanthropy
The Arts
Fitness
Photography
Travel
List any special training you have had (music, art, drama, dance, etc.)
Dancing
Singing
Acting
Piano
Clarinet
Certified Zumba/Dance Instructor
Public Speaking
Hosting/Broadcasting
In what sports, if any, have you participated?
Boxing, Football, Soccer, Track and Field, Golf, Tennis, Swimming, Softball, and Cross Country.
Name one person, other than your parents, who has had the most influence on your life. Why?
Though my parents have been extremely impressionable in my life, a close friend of mine, Karishma Dewan, has also played an exceptionally large part in shaping me into the woman that I am today. Her willingness to stand above the masses has always been inspiring, a silent encouragement to honor and exude my authentic self. Irrespective of the situation, she has supported me through my triumphs and faults, absent of judegment, always keeping my best interest at heart. Through all of our great memories, laughs and love, one of my fondest would be without a doubt be working closely to build a passion project of hers, called The HUFF. She was one of my best friends, a constant motivation, and I am so grateful to have met such an incredible woman in my lifetime.
What is your proudest personal accomplishment (other than participating in this pageant)?
Remarkably enough, it is with great thanks to the forty hours of community service that we are required to complete in high school, that I discovered my love of philanthropy. Following these four years, I had completed over two thousand hours of volunteer hours with various organizations, and it was then that I became determined to create something of my own. After two years of continuous paperwork, meetings and planning Fly Away was born. A self-esteem driven campaign dedicated to helping this generations young women to develop a positive relationship within themselves and understand the meaning of true beauty through the power of the arts. Having had great success, I began to develop and expand on an additional initiative – Dream Catchers. An initiative devoted to assisting developing villages all over the world to acquire clean water, by fundraising to provide them with rain-catchment systems and water wells. The creation of these two initiatives is without a doubt, my proudest moments to date.
What is the most interesting or unique thing that has ever happened to you and/or what is the most interesting thing about you?
Entering a nationwide texting competition!
What is your career ambition and what are you doing or plan to do to accomplish that goal?
I have always been a strong-willed and independent individual, so naturally I am drawn to self-creation and entrepreneurship. Following the conception of my two initiatives, I made an internal affirmation to myself that I would continue to create and operate several enterprises that are committed to making a positive impact on the social issues that I find so pertinent in our global community today.
I am currently pursuing my master's degree in public and International Affairs, allowing me to continue to vastly expand my knowledge of global issues, and fulfill my dream of bringing positive change in the world.
My degree in Commerce has allowed me to independently manage my own businesses, while my background in Communications has given me the ability to develop brand/marketing and media strategies for emerging businesses, in our web-based generation, and has become crucial following the need for online presence following the COVID pandemic.
Through my past experiences, I have learned that the individuals who hope to make the biggest impact are those that work tirelessly to achieve their goals. We must always continue to manifest what we desire, but our goals cannot be achieved by internal expression alone, we must act upon those declarations, consistently working day-by-day to achieve our dreams.
What would be your "dream job" in life?
With a passion for philanthropic work and a background in communications, my dream job would focus on a pursuit to inflict positive change on the quality of life in marginalized communities and social inequities across the globe. I believe that my education, life experiences and willingness to facilitate change are the key factors allowing me to work towards achieving this goal. In addition to these key traits, I can attest that through being a delegate in the Miss Universe Canada Pageant, this organization has assisted with my aspirations of becoming a global ambassador. If given the honor of being chosen as this year's national representative, it would allow me to have the perfect platform to continue to bring awareness to various humanitarian issues that we are facing today and act as a mentor to inspire and encourage others to do the same.
Describe where you were raised and what your childhood was like.
I was born and raised in the city of Toronto, Ontario – the perfect reflection of this beautiful country, a melting pot of ethnicity and culture. I have been fortunate enough to have two strong, educated parents to guide me throughout my life, sacrificing so much to ensure that my sisters and I had endless opportunities to thrive. Throughout our adolescence, they encouraged us to participate in countless sports and activities, teaching us perseverance and dedication. I recall spending hours on end in our minivan for family road trips and vacations, the sweet smell of Caribbean culture streaming from the kitchen and the sound of uncontrollable laughter coming from my home. The admiration that I have for parents goes beyond words. They are two incredible human beings, teaching us value in the memories that we share with the people that we love.
List any interesting or unusual jobs you may have had.
I recently completed my Zumba certification, and had the opportunity to instruct my first few classes. It certainly was an interesting experience for me, but more importantly, it has been rewarding to assist others with a fun and energetic way to achieving their fitness goals.
List any volunteering you have done.
Founder of Fly Away and Dream Catchers: Fly Away
Volunteer with Big Sisters, Girls Action Foundation, North York Harvest Food Bank, Greenpeace, CNIB, Variety Village, Free the Children, United Nations, One Young World, Plan International, Cross-Cultural Solutions, Global Youth Volunteer Network, Canadian Red Cross, City of Toronto and Markham, Sick Kids Foundation, Sickle Cell Awareness Group of Ontario, Animal Aid & Rescue, Heart and Stroke Foundation, World Vision, The Salvation Army, and the Canadian Cancer Society.
What is your most unusual talent?
Painting with my feet!
Where is the most interesting place you have been to?
I believe that travelling is one of the best ways to learn about the world around us. Each trip serves as an opportunity to witness natural beauty and sightsee, but also aids in awareness of the devastations facing our world today and discovering ways to help eliminate them. I have been fortunate enough to have quite a few opportunities to volunteer abroad, and without a doubt, my first volunteer experience to Nicaragua has been the most interesting and educational experience thus far. To this day, I continue to rave about how much being there has changed my life. It became the solidification that choosing to have a strong focus on philanthropic work was the right path for me, my push in creating my initiatives. Ultimately, my life goal would be to utilize my education and experiences to make a positive impact on the world.
What do you hope to be doing in ten years?
Successfully balancing my personal and professional life is both a current and continuous pursuit I am working towards achieving over the next ten years. Optimistically, I envision myself as happily married, with a bond as strong as my mother and father, mirroring a family as spirited as my own. In addition to expanding on my two initiatives and growing list of charitable endeavors, I am avidly working towards the advancement of my career, with aspirations to grow into the established corporate professional that I aspire to be. Ultimately, I hope to be privileged enough to have achieved these milestones and proudly say that I had been crowned Miss Universe Canada 2020.
Is there anything you would like to add that we haven't asked?
Participation in this pageant has already began to change the course of my life, giving me a powerful platform to advance my education, my career and humanitarian work, by thrusting my full efforts into the causes I believe in. As one of the longest-standing international beauty pageants, Miss Universe continues to develop a strong history of breaking through the typical perceptions of beauty, encouraging women to be the best version of themselves and striving to become living examples of the pageants iconic mantra "Confidently Beautiful". If given the honor, I hope to use my voice as Miss Universe Canada, to continue to work towards relieving our global issues by starting right here at home. I believe that I am the perfect spokesperson to continue this legacy and embody the traits fit to be a role model for the coming generation.