Kelsey Johnson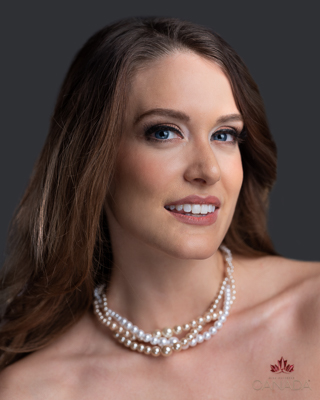 Height: 5'11
Hometown: London, ON
Languages: English
Occupation: Entrepreneur
Kelsey Johnson believes that women have the power to change the world. As an ambitious, confident and hard-working individual, she strives to encourage others to see their full potential by celebrating who they are and embracing their differences.
Born and raised in London, Ontario, she always felt compelled to raise her voice against social injustice. Her experience with childhood bullying pushed her to use the challenges she faced as a stepping stone to propel herself forward, eventually becoming Miss Teen London-World 2011. Building a platform, based on self-love and acceptance, helped her to prove that it is possible to overcome any obstacle if you truly believe in yourself. Kelsey credits this mantra, as well as the love and support of her friends and family, for setting the foundation for her future success.
Following her reign, Kelsey went on to acquire a Bachelor of Arts (Honours) degree from McMaster University, where she excelled at Political Science and Health Studies. Her passion for excellence and personal growth fuelled her desire to participate in various extra-curricular activities; becoming President of the McMaster Political Science Students Association, a Student Representative on both the University Academic Planning and Policy Committee, and Experiential Education Governing Council, as well as a volunteer at a local retirement home. Kelsey managed to undertake all of these responsibilities while working as a part-time model and waitress. She also managed to maintain a healthy active lifestyle, having participated in several coed sports. These experiences taught her the importance of time management and set precedence for her ongoing learning as she later obtained a Postgraduate degree in Public Relations from Humber College.
Kelsey has always had a thirst for adventure. Her strong desire to travel the world, along with her passion for aviation, was heavily influenced by her grandfather; a veteran of the Royal Canadian Air Force. As a flight attendant, she has visited over 70 countries where she learned to step out of her comfort zone by immersing herself in different cultures. These experiences contributed to her cosmopolitan mindset; allowing her to meet new people, try new things and visit unique places. It also inspired her to share her journey on social media; earning her the title of #avgeek and enabling her to build an online audience of over 80,000 people.
Over the years, Kelsey has sought to give back to a world that has given her so much. She has worked with various charities and nonprofit organizations across the globe, such as the Maria Cristina Foundation in Dhaka, Bangladesh. They seek to empower children through education, giving them the tools necessary to accomplish their hopes and dreams.
Kelsey's next steps, having recently relocated back to Canada from the United Arab Emirates, is to join the Canadian Forces. She is excited to be raising funds for Feed It Forward and to be competing in Miss Universe Canada.
Kelsey's strength, determination and desire to empower others make her an ideal candidate for Miss Universe Canada. As a global ambassador, she would use her platform to help people realize their full potential; encouraging them to believe in themselves and to pursue their dreams.
Sponsors
Styl'n Hair Design in Burlington,
NuMe Hair
, Family and Friends
Video
Q&A
What are your interests and what do you enjoy doing the most?
I have always been interested in travel, aviation, and fashion.
Travel is an excellent means of learning. It expands your perspective; allowing you to immerse yourself in different cultures as well as new and unique places. Travel also encourages you to get out of your comfort zone and meet new people. I've always been curious about the world, and my role as a flight attendant has enabled me to fulfill my desire to travel the globe; bringing me to over 70 countries.
My grandfather, who served in the Second World War, introduced me to aviation. His influence propelled me to become a flight attendant. While flying, I actively participated in airshows as well as industry conferences and events in the Middle East where I was based. This earned me the title of #avgeek on social media!
With regards to fashion, I've always been drawn to the industry because it was a way for me to express myself. I'm constantly fascinated by what people wear, especially the different styles and designs that have emerged over the years from different cultures. I have a background in modelling too, which has enabled me to work with a lot of creative individuals both in the past and present.
What I enjoy doing the most is bringing these interests together. My personal blog (lipstickandluggage.ca) and social media channels (@lipstickandluggage), act as my creative outlet, allowing me to do just that! Through these digital platforms, I'm able to share my adventures with others and encourage people to explore the world too.
List any special training you have had (music, art, drama, dance, etc.)
When I was younger, my mother encouraged me to model to improve my self-esteem. At 16, I signed with a local agency and took several modelling and acting classes to learn more about the industry. A few years later, I had the privilege of walking in Toronto Fashion Week, as well as a runway show for Aveda in Berlin, Germany. I've also participated in several shows for Middle Eastern designers in Dubai, United Arab Emirates.
Over the years, I've been in several commercials and music videos too. I enjoy being in front of the camera, and collaborating with like-minded individuals. I'm confident that Miss Universe Canada will introduce me to new opportunities and allow me to expand my network in these areas!
In what sports, if any, have you participated?
Sports and physical activity have many benefits. Physical exercise is good for the mind, body and soul, while team sports can teach communication, dedication and leadership among other skills. My affiliation with sports stems from a young age, as my parents encouraged both my sister and me to be active. I played competitive fastball and soccer growing up, and also participated in track and field.
In university, I played basketball and volleyball on coed recreational teams. Now, I run to keep in shape and live a healthy active lifestyle.
Name one person, other than your parents, who has had the most influence on your life. Why?
My grandfather, John Callingham, has always been an inspiration to me. He was a member of the Royal Canadian Air Force and fought for our country in the Second World War. His plane was shot down over Germany during a mission, and he was held captive as a prisoner of war.
When I was a child, he was the President of the Prisoner of War Association and held various positions within our local Canadian Legion. He would often take my sister and I to his events, such as airshows, parades and ceremonies.
His strength, determination and dedication to our country was admirable, and I wanted to be like him. Without his involvement in the Canadian Forces, I may not have realized my passion for aviation.
What is your proudest personal accomplishment (other than participating in this pageant)?
One of my proudest accomplishments was being crowned Miss Teen London-World 2011, and placing in the top 20 at the national pageant. My platform was "be your own kind of beautiful" and focused on female empowerment, as well as the need to educate our youth about the impacts of bullying in our society. Throughout my childhood, I was constantly teased about my appearance. The pageant gave me the opportunity to build my confidence, and speak out about an issue close to my heart.
What is the most interesting or unique thing that has ever happened to you and/or what is the most interesting thing about you?
I have actually broke a Guinness World Record! On November 29th, 2019, I represented Canada on a unique, one-off flight across the 7 Emirates in celebration of United Arab Emirates' National Day and their Year of Tolerance. 140 nationalities participated, earning us the award for "most nationalities on an aircraft!". We each disembarked with a certificate recognizing this achievement.
Aside from this, many interesting things have happened to me during my travels. I've actually had a shark bump into me while I was swimming in South Africa, and I also crash-landed while paragliding in Nepal.
What is your career ambition and what are you doing or plan to do to accomplish that goal?
Prior to becoming a flight attendant in the Middle East, I obtained a Bachelor of Arts (Honours) degree in Political Science and Health Studies from McMaster University in Hamilton, Ontario, as well as a Postgraduate degree in Public Relations from Humber College in Toronto, Ontario. I had previously wanted to become a politician but was drawn to strategic communications, marketing and branding. This is what directed me to a career in public relations.
Although I enjoyed my career as a flight attendant, I would love to join the Canadian Forces as an Intelligence Officer or Public Affairs Officer. These roles would allow me to combine my former education with my previous experience, as well as my current interests, while serving my country. I've begun the application process, and am hoping to achieve this goal in the coming year.
What would be your "dream job" in life?
A "dream job" is more than just earning a big paycheck or being offered good benefits. I believe a "dream job" involves having a good work-life balance as well as the ability to help others and give back to the community. Becoming Miss Universe Canada would give me that opportunity.
This role is more than a title, a sash and a crown. It is the chance to build a platform to promote positivity, and represent a country that has given us so much.
Having been fortunate enough to travel the world, I have witnessed its beauty and diversity. If selected, I would use my voice to encourage others to be themselves, by embracing their differences. This is what makes us who we are, and what makes Canada such a great place to live.
Describe where you were raised and what your childhood was like.
I was born and raised in London, Ontario and grew up alongside a younger sister. My family enjoyed travelling together, and we would often go on trips to the United States to visit relatives and spend more time with one another. They have always been very supportive of my endeavours, and I couldn't be more thankful for that.
As exciting as these family adventures were, I struggled to stay happy when it came to my schooling. This was because I was constantly bullied for my appearance. I specifically remember being called "afro-man" in elementary school because of my curly hair and "tomboy" style. I would slouch in my seat at my desk because I was "so giant" and my classmates "couldn't see the board".
The name-calling persisted into high school, and began to impact my schoolwork. I started skipping classes because I didn't want erasers and insults thrown at me by my peers. Eventually, I ended up failing a math class. After a quick visit to my school's guidance counsellor, I was able to pick myself up. This intervention changed my perspective and motivated me to apply to university. I graduated with honours and was accepted by McMaster University in Hamilton, Ontario.
I entered Miss Teen Canada-World in 2011 to raise awareness of the impacts of bullying, as well as the need for youth to embrace who they are and to be respectful of one another's differences.
List any interesting or unusual jobs you may have had.
I've mentioned my role as a flight attendant a lot, but it was the MOST interesting job I've ever had! As exciting as it was to travel the world, there are many misconceptions about the job. It isn't always as glamorous as it seems!
Between the jet lag, long shifts and rigorous training, flight attendants are responsible for ensuring passenger safety at all times. This means putting other peoples lives before their own in an emergency. The position also involves a great deal of customer service too; meaning flight attendants have to remain polished and professional at all times.
They are taught safety and emergency procedures, as well as general medical and security; giving them the tools necessary to deliver babies, restrain dangerous passengers, and direct large crowds of people among many other things. (Even cleaning the toilets)!
List any volunteering you have done.
Over the years, I've had the pleasure of working with various charities and nonprofit organizations around the world. These include:
Maria Cristina Foundation (Dhaka, Bangladesh)
Rumah Yatim (Jakarta, Indonesia)
The Emirates Airline Foundation (Dubai, United Arab Emirates)
Me to We (Toronto, Canada)
London Celebrates Canada (London, Ontario)
As a titleholder at the Miss Teen Canada-World 2011 pageant, I successfully raised $5,000 for the Me to We Foundation. I am looking forward to raising funds for Feed It Forward this year during Miss Universe Canada.
What is your most unusual talent?
Having travelled extensively, my most unusual talent would be my ability to understand a wide variety of accents and slang terms from around the world! Care for a braai? (That's South African for BBQ)!
Where is the most interesting place you have been to?
Every country has something beautiful to offer, but I have to say I was most intrigued by my trip to Kenya. I had the pleasure of touring this beautiful country with Fairmont Hotels and Resorts in October 2019; visiting Nairobi, Mount Kenya, and Maasai Mara.
From the warm hospitality and kindness of the people to the pristine rolling hills and valleys of the landscape, to the sight of African Wildlife; I remember the entire trip like it was yesterday.
You have truly never seen the world until you have discovered the plains of Africa, and it breaks my heart to know that with every passing year, wildlife populations and their habitats are in danger. Kenya also encounters many challenges with poverty, limited access to drinking water, access to healthcare, violence against children, child marriage and female genital mutilation.
This experience opened my eyes to a lot of things, and it's one of the many reasons why I encourage others to travel the world. It is important to see these issues firsthand with your own eyes, in order to truly understand the impact that they have.
What do you hope to be doing in ten years?
In 10 years, I hope to be settled back in Canada with a full-time job and a family. I also hope to globe-trot more in the future too. Travel is a great way to learn, as it expands your perspective and allows you the opportunity to immerse yourself in different cultures. I would like to visit every country in the world one day, with Antarctica at the top of my list!
Is there anything you would like to add that we haven't asked?
Since I was younger, I've always felt compelled to do something extraordinary with my life. Miss Universe Canada would allow me the opportunity to do just that; giving me the platform I need to be a global ambassador, as well as a role model, for our beautiful country.
If selected, I would bring my ambition, my confidence and my cosmopolitan mindset to the table, as well as my platform of inclusivity.
Amazing things happen when you pursue your dreams, and I want to be an example of that.
Thank you to the Beauties of Canada organization for the chance to compete in this year's Miss Universe Canada pageant!