Laetitia Nocera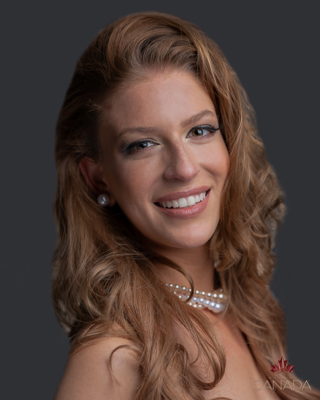 Height: 5'6
Hometown: Toronto, ON
Languages: English, French
Occupation: Elementary School Teacher
Laetitia comes from a family of mixed Haitian and Italian heritage. She was born on the beautiful island of Haiti and immigrated to Canada when she was 8 years old. She is bilingual in French and English both orally and in writing. In Canada, Laetitia was welcomed into the French-Ontarian community through a shared history of the French language. She even received a provincial award in high school for her contribution to the Francophone community in Ontario!
When Laetitia comes home, you can usually expect to find traces of markers, paint, and glitter somewhere on her outfits. As an elementary school teacher, she often finds herself carrying around the next generation's creative pursuits on her clothes. The kindness and support she received from her school teachers growing up inspired her to become a teacher herself. She values the public education system as a powerful way to equip the leaders of tomorrow with tools to take care of themselves, each other, and our planet. She hopes to inspire more interest and investment into quality, child-centred public education.
Laetitia graduated with a Bachelor of Education in French and Theatre, as well as a Bachelor of Education, both from the University of Toronto. She received two awards in university for her community involvement. She is passionate about making the world a better place by advocating about mental health issues and encouraging self-love. She created the social media campaign #KindnessStartsWithMe to encourage positive self-talk. Through personal story-telling, she opens up the dialogue about what being kind to ourselves in thoughts and in actions means (Hint: It is not always fun and comfortable!).
Within the campaign, Laetitia also started the CareBands project, handcrafting headbands to raise funds for Feed it Forward to provide nutritious meals for those struggling with self-care because of food insecurity.
As Miss Universe Canada 2020, Laetitia plans to spark new conversations on education, race, and mental health.
Sponsors
Video
Q&A
What are your interests and what do you enjoy doing the most?
I am a mixed-medium artist and enjoy crafting, visual goal setting, and merging the practical aspects of life with beauty. As a crafter, I sew, knit, and transform every aspect of life into art. I enjoy expressing myself through dance and exploring languages through literature, art, and cinema.
List any special training you have had (music, art, drama, dance, etc.)
Minor in theatre from the University of Toronto, lead performer in high school theatre
Public speaking through pageantry and community involvement
High fashion and runway certification with the Toronto Fashion Academy
Classically trained dancer and pom cheerleader
In what sports, if any, have you participated?
I was always more of a dancer, with two left feet for sports! Dance not only taught me movement and performance, it also sharpened my teamwork and cooperation skills. The countless hours dedicated to perfecting my craft taught me the self-discipline that I needed to succeed in school and in life.
Name one person, other than your parents, who has had the most influence on your life. Why?
My idol Princess Diana had the most influence on my life growing up. I was very young when she passed away and the way the world mourned for her taught me the massive impact of a kind spirit. She defined the word royalty for me: strength, beauty, grace, humility, and empathy. Although she struggled through her personal hardships and mental illnesses, she still found ways to make the world a better place. As Miss Universe Canada, I would draw inspiration from the lessons that she has taught us on spreading light wherever and whenever we can.
What is your proudest personal accomplishment (other than participating in this pageant)?
My proudest accomplishment is when I finally understood that I needed to be more kind to myself. As a perfectionist, I set high standards for myself but I would not leave room for mistakes. After the preliminary competition at Miss World Canada 2019, I engaged in negative self-talk and over analysis. I truly believed I had done poorly and was upset at myself! However, I still made Top 15 the next day at finals.
This has prompted me to start a social media campaign called #KindnessStartsWithMe and its related charity project, #CareBands. Using personal storytelling, I encourage positive self-talk and open up a dialogue around healthy self-care.
Through pageantry, I learned how to take mistakes as lessons and opportunities for personal growth. I am excited to be able to share my message and journey through Miss Universe Canada.
What is the most interesting or unique thing that has ever happened to you and/or what is the most interesting thing about you?
Many are surprised to discover I come from a mixed heritage. My mother has a Creole lineage and my father was raised in Haiti by his Italian family. As a white-passing Italian-Haitian, I struggled to understand my identity growing up and never really knew where I fit in. Through years of self-discovery, I learned to see myself in my own light, instead of that defined by others. I now celebrate my rich cultural heritage as a valid and important voice in the modern conversation surrounding racial issues. It has also made me deeply understanding and empathic towards those trying to find their own place in the world.
What is your career ambition and what are you doing or plan to do to accomplish that goal?
It struck a chord with me a few years ago when a parent told me that my class was the first time her grade 6 child felt like they belonged in a classroom. I was happy to hear that but it upset me that this brilliant and creative student had felt secluded for so long.
In the next few years, I would love to open up a centre for children who learn differently. I have been incorporating flexible seating, mental health tools, and other methods for my students to express their individuality in class. However, no matter how much teachers try to shield their students, the boundaries of public education can be strenuous, and sometimes damaging, for children who need more creative freedom.
I believe that investing in our children is the best thing we can do to advance society. I will continue to work very hard as a teacher, to nurture and to protect our next generation.
What would be your "dream job" in life?
It would be an honour to be Miss Universe. It has everything I love in one job position! I see the role as a springboard and amplifier for societal change.
As Miss Universe, I would love to use my platform to share my passion for education. I truly believe that sharing and growing knowledge is a powerful way to forge a better world. Education can come through so many different forms, such as public education, libraries, internet, community, and elders. It is easy to be afraid of what we do not understand, but education can empower people to navigate the world with wonder, amazement, and resilience.
Unfortunately, the power of a quality education continues to be inaccessible to many in the world, even in developed countries such as Canada. The biggest barriers to education are often poverty, mental health, health, and discrimination. Many of these situations are difficult to vanquish without support, compassion, and empathy.
It is my dream to inspire people to see that investing in education as a whole is something that benefits our society at the core. I believe that it is important for everyone to have the ability to grow in a positive, healthy manner that suits them best. When we are lifting others up through sharing knowledge, we are creating a better universe.
Describe where you were raised and what your childhood was like.
I came to Canada in Grade 4 and I have lived mostly in the quiets of the Durham region. I was born an old soul who loved reading, opera, theatre, ballet, musicals, sewing, cinematography, and knitting.
Growing up an immigrant to Canada can be quite difficult, but also full of surprises and funny moments. Every time we learned something about living in our new country, my parents would yell out "Canadian Experience!" Although the term came from the glass ceiling they were facing during their job applications, it taught me to use humour to get through hardships and difficult situations.
List any interesting or unusual jobs you may have had.
I had a brief adventure sewing Star Trek costumes for people going to fan conventions. It was out of the blue as I haven't seen the series, but it was a lot of fun replicating the costumes.
List any volunteering you have done.
An important aspect of public school is the socialization and skills-building offered by extra-curricular activities. As a teacher, I dedicate hours of personal time to help my school community including:
Coaching dance and cheer teams, including a school performance in Maple's Santa Claus parade,
Supporting with clubs, teams, concerts, plays, field trips and overnight camping trips, parent meetings and support, conferences and workshops,
Taking part of school committees such as the Staffing committee and School Achievement committee,
Supporting with and providing opportunities for children with leadership and charity work during and after school,
Promoting and running eco-initiative such as a markers recycling program,
Sparking an interest in mental health and kindness through emotional literacy and conflict resolutions,
Providing a listening ear whenever needed!
What is your most unusual talent?
My unusual talent is that I enjoy making things out of nothing or out of unusual materials. I have made bracelets with electrical wires and beads, dresses out of candy wrappers. I have sewn and knitted handbags, headbands, dresses, skirts, scarves…I love making things!
Where is the most interesting place you have been to?
Even though I am quite the adventurous type, to me, the most interesting place that I have been to is my grandmother's backyard. It has hidden spots, stairs, secret doors, and plants of all kinds…it was like a jungle to us growing up. It is funny how life can take you through the most wondrous journeys, but the little things are the ones that will always matter the most.
What do you hope to be doing in ten years?
The past few years have taught me to take things in stride and to embrace the unknown. I have always been the type of person to plan meticulously years ahead so it was a very interesting change indeed. I came to the conclusion that as long as I am healthy, happy, safe, and loved, that is all that matters! I am excited to see what life has in store for me in the next 10 years and what surprises awaits me in the universe.
Is there anything you would like to add that we haven't asked?
I am so thankful for the opportunity to be selected as a finalist for Miss Universe Canada 2020. It has been such a dream of mine since I was a little girl to represent Canada on the Miss Universe stage. I hope to follow the footsteps of one of the most inspiring Miss Universe Canada, Natalie Glebova, and bring back the crown for Canada too!