Lauren Peters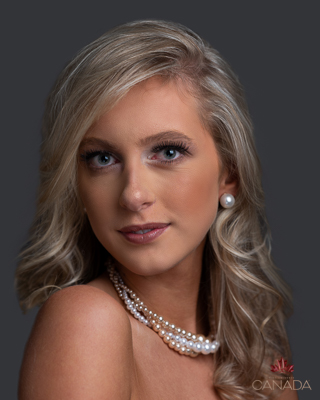 Height: 5'8
Hometown: Mississauga, ON
Languages: English
Occupation: Actress
Lauren Peters is an outgoing, hardworking, and ambitious 22-year-old known for having a smile on her face that can light up any room. She is from Mississauga, Ontario and her energy, kindness, and love for life has allowed her to achieve many great successes personally and professionally.
Lauren is an actress in film and television and is signed with an elite talent agency in Toronto. She started off in the industry when she was just 9 months old alongside her identical twin sister Nicole (who is also competing for the title of Miss Universe Canada). Most recently, Lauren plays the pivotal role of Faith McLanden (Young Blake Lively) in the Hollywood feature film, A Simple Favor, which aired in theatres worldwide. She was flown down for the World Premiere red carpet in New York City for it as well as nominated for a Young Entertainer Award for "Best Supporting Young Actress in a Feature Film" in Los Angeles for her role in it. Some of her other notable credits include the movie Anne of Green Gables, CBC's Frankie Drake Mysteries, as well as large-scale commercials including Tim Hortons, Rogers, Dodge Durango, and Sears. Lauren is in the process of getting her O1 Extraordinary Talent Visa and plans on spending some time in Los Angeles with her identical twin sister to further develop her acting career.
Due to her excellence in maths and sciences, as well as love and passion for the entertainment industry, Lauren has spent time studying at both McMaster's prestigious and selective Arts & Science program as well as Ryerson's renowned Radio and Television Arts program. She has been on the Dean's List all four years of her undergrad, graduated with highest distinction (Summa Cum Laude) and just wrote her LSAT this past summer, hoping to eventually go to law school and become an entertainment lawyer.
An avid athlete, Lauren water skis professionally in Muskoka. She considers Muskoka her second home as she has been going up to her family cottage there since she was born. Lauren has worked the past several summers teaching water sports to people of all ages as well as skiing in water ski shows all across Muskoka every week of the summer. She has been selected for the Team Canada National Show Ski Team and is set to compete in Florida on behalf of Canada in 2022. Lauren's favourite water sports include slalom skiing (especially slalom criss-cross with her twin sister), swivel skiing, pyramiding, and doubles and hopes to master long-line barefooting next summer!
Education, acting, sports, and helping others are all really important to Lauren. Lauren looks forward to doing even more volunteer work in her community and at a larger-scale helping both those in need and empowering the youth. She is a strong believer in equal opportunity for all, as well as empowerment. Representing Canada as Miss Universe Canada has been a lifelong dream of Lauren's and she is confident she can represent the country with grace, intelligence, and charm!
Sponsors
Video
Q&A
What are your interests and what do you enjoy doing the most?
Acting, Travelling, Water Skiing, Sports
List any special training you have had (music, art, drama, dance, etc.)
Acting (countless film/TV acting classes at renowned studios as well as private coachings)
Dance (acro, hip-hop, jazz, ballet, tap, gymnastics)
Art (private art lessons – watercolour, acrylic, sketch)
In what sports, if any, have you participated?
Volleyball, Soccer, Basketball, Flag Football, Running (cross-country and track (400m, 100m Relay)), Gymnastics, Slalom Skiing, Swivel Skiing, Wakeboarding, Wakesurfing, Flyboarding, Show Skiing
Name one person, other than your parents, who has had the most influence on your life. Why?
My older brother has had an immense influence on my life. He has only just turned 25 years old and has already fully completed Medical School and is in his second year of residency. His drive and determination for what he wants is truly inspiring and refreshing. Watching his path constantly reminds me to go fearlessly in pursuit of my dreams. Not to mention his passion for helping others is motivating and I hope to do just the same – help others. I may not be helping them in the traditional sense of doctor and patient but rather I hope to help by empowering youth/women and eliminating barriers to equal opportunity.
What is your proudest personal accomplishment (other than participating in this pageant)?
One of my proudest personal accomplishments was booking the role of Faith McLanden (Young Blake Lively) in the Hollywood feature film "A Simple Favor". I was able to act on set with a world-renowned cast and crew and also attend the red carpet premiere for it in New York City. Additionally, I was nominated for a Young Entertainer Award in Hollywood for "Best Supporting Young Actress in a Feature Film" for my role in it. Landing a role in such a big-scale production truly solidified the fact that working hard and never giving up pays off. This is definitely a mindset I like to live by.
What is the most interesting or unique thing that has ever happened to you and/or what is the most interesting thing about you?
Having an identical twin sister is definitely a unique feature about me! Almost nobody can tell us apart and it's pretty amazing having someone who looks just like you and is interested in the exact same things as you, always by your side. It's also fun to trick people!! Fun Fact: I'd say one of the greatest differences is that I love ketchup and my twin sister despises it!!
What is your career ambition and what are you doing or plan to do to accomplish that goal?
My career ambition is to be both an actress constantly working in film and TV as well as an entertainment lawyer. I frequently audition and train to further improve my craft and I am determined to keep working until I achieve this goal! I am moving to Los Angeles with my twin sister to further pursue acting and I also wrote my LSAT this summer where I plan on eventually applying to law school. I truly believe that hard work can achieve a whole lot!
What would be your "dream job" in life?
My ideal job would be to be in a position where I can do what I love every day while also having a positive impact on the larger world around me. I love helping others and doing this in some capacity would be extremely rewarding.
Furthermore, I have always dreamed of being both an actress, as well as an entertainment lawyer to combine both of my passions. Although this may be an ambitious goal, I believe that the sky is the limit and you can truly make something work if you set your mind to it.
Describe where you were raised and what your childhood was like.
I was raised in Mississauga, Ontario alongside my 9 minute younger (very) identical twin sister, and my brother who is two years older. Despite some difficult times and various obstacles growing up, I was fortunate enough to have parents that both loved me and a brother and sister who always shared constant support.
I grew up never wanting to miss out on any experience/opportunity and my parents always instilled in me that I could in fact do anything I put my mind to (which is a very important lesson I still keep with me today). Thus with this mindset, I grew up in elementary and high school always playing on every single sports team, joining clubs, and doing acting outside of school all while still focusing on my studies.
On top of my parents being there for me, I attribute a lot of where I am today also to my identical twin sister. Not only have we gone through a lot together (good and bad), we always push each other to be the best version of ourselves which I think is extremely important. Not to mention we provide one another with some friendly competition!!
I have also always been very close to my grandparents growing up and they have truly taught me the notion of unconditional love and being there for those you care about. Ultimately, I am thankful for the opportunities and experiences I had the chance to take part in during my childhood.
List any interesting or unusual jobs you may have had.
Definitely my job as a waterski and wakeboard instructor and show skier has been one of the most interesting jobs I have had. As a show skier, I ski in four shows a week every week of the summer to audiences of hundreds of people. Performing and doing water ski pyramids as well as other water sports/acrobatics on water is absolutely thrilling and definitely one of my most unique jobs!
Additionally, I have done experiential marketing for various different companies which has been a very exciting experience as I get the chance to constantly interact with new people (I'm a people person!) and have the chance to be a brand ambassador for so many different companies. Furthermore, I interned at Breakfast Television which was an incredible experience being in a fast-paced/Live environment. I had the chance to "Live-eye"/field report which was definitely up my alley.
List any volunteering you have done.
Unity Wave (community initiative to empower the local youth)
Dr. Simone's Canadian Food for Children (helped box and transport food to feed the poor in developing countries, also wrote letters to those in developing countries)
Tutoring (I offered free tutoring to those in need)
Eco-team (school initiative to minimize waste and implement planning to utilize eco-friendly materials)
Diaper Drives (help collect diapers for families in poverty)
Feed it Forward (eliminate food waste and feed those with food insecurities)
What is your most unusual talent?
Pretending to be my identical twin sister without anyone knowing!!! (hehe shh!)
Where is the most interesting place you have been to?
Hawaii was one of the most amazing places that I have been to. I visited Oahu, Maui, and Kauai and was able to truly let my courageous side free by doing things like surfing and taking an open-door helicopter ride over the island!
What do you hope to be doing in ten years?
In ten years I hope to be an ambassador and role model for people and especially young women everywhere. I hope to not only achieve my personal and professional goals but truly make an impact on those around me. If given this title of Miss Universe Canada, I would really aim at using this title to make positive changes in the lives of so many. Furthermore, I hope to be in a place where I am doing what I love every single day of my life. We truly only have one life on this earth and thus not a single day should be wasted not doing and not being with those you love!
Is there anything you would like to add that we haven't asked?
I am so honoured to have this opportunity and I'm hoping the next journey in my life will include being crowned Miss Universe Canada! I am determined to use this platform to truly make a difference by empowering youth and pushing for equality for all. If given this title, I believe I can make incredible change as well as represent Canada with class, intelligence, and charm! Thank you to the Miss Universe Canada organization for giving me this opportunity and best of luck to my incredibly talented and beautiful (inside and out) fellow delegates.