Marina Sabbithi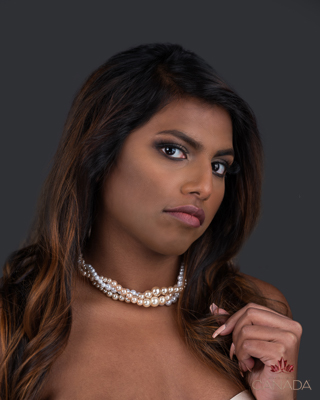 Height: 5'6
Hometown: Montréal, PQ
Languages: English, Telugu, Hindi
Occupation: Business Intelligence Student
Marina always has a smile on her face, she believes in being very optimistic in life. She says we should thank God for the goodness He has embedded in our lives rather than concentrating on the negative aspects of life. She believes in accepting criticism and using it to become a better person. Marina Sabbithi was born and raised in an Arab country, Kuwait. The country with the highest currency value in the world and is situated in The Middle East. In a cultural place like Kuwait she developed having the different approach Arabs have towards everything and especially women. Women are given the highest priority there. Growing up in a completely musical family, she naturally developed the skill of singing since it runs in her blood. She has been a part of many competitions at school and eventually improved her dancing skills. She also loves sporting and has participated in several clusters at school from running to shotput throws. She has also put a step forward in entertaining those who are disabled. She has also been a part of her School Supreme Council which has developed her leadership skills. She later moved to India to pursue her Bachelors's in Business Administration. Though her plan was to be in the medical side, God has put her in the Business side. Moving to India has changed Marina's life, she has learnt to live her live in India. Seeing so many different festivals and cultures, she has improved as a person and learnt to be happy with the smallest gifts God has provided her with. Living in India and away from Her parents, She got more close to the Lord. She also attended the most cheerful church and also met the most encouraging Pastor. She was also a part of her church worship team, which improved her skills as a Worshipper. Meeting totally different people in India, she learnt something new from everyone. Later she moved to Canada for her Diploma studies. In Canada, she has met a group of beautiful people who are like family. They encouraged her in becoming a better person, she has again learnt something from every person. Living in many completely different countries, she understood the true value of life and the beauty of Gods creation. She believes in multi-tasking and Will power and says anything can be achieved if you believe in it. She believes in discipline which is the key success to be a leader. She says participation and hard is more important than anything, the rest is up to God. According to her there's no such thing as 'Losing', you either Win or LEARN. She learnt to approach every problem with a positive and calm mind specially not forgetting to smile.
Sponsors
Vamshi Manohar Dangeti, Sarika Middela,
AKRV Clicks
, Family and Friends
Video
Q&A
What are your interests and what do you enjoy doing the most?
I am a true believer of multi-tasking. As a child, I always participated in a lot variety of activities. The main motive is to never get 'bored'. My interest lies a lot in music, I keep making a lot of covers of many songs by playing the guitar. I have a love towards dancing too, I have been a part of various dancing groups at school and college, it just brings out the inner child in you. My other main interest is basketball, I have been a fan of basketball since I was a child, I also write songs about it. This is not a very known interest of mind but I'm in a very bored state, I sketch! It improves my concentration and patience a lot. I also have an interest in doing different kinds of hairstyles and makeup, I keep updating my looks and styling skills very often.
List any special training you have had (music, art, drama, dance, etc.)
As a child, I was born in a musical family, My dad plays more than 4 instruments and Mom is an amazing worship leader! Growing up, me and my brothers heard only songs and instruments, so eventually me and my brothers, we developed the skills of singing and playing a few instruments.
In what sports, if any, have you participated?
Athletics (400 m relay, shotput throw, discuss throw)
Basketball
Tug-of-war
Volleyball
Every sport made me a better person, made me stronger to take in different opinions and believe in participation rather than just winning.
Name one person, other than your parents, who has had the most influence on your life. Why?
My grandparents, they have shown me how to spread love. They are a true inspiration in my life. They were the first one to move out of their comfort zone to make more money for their children. They moved to a completely different country, to have a better life. Seeing them, I learnt to come out of my regular cozy comfort zone and do something that would make me happy and would make me a better person.
What is your proudest personal accomplishment (other than participating in this pageant)?
I personally felt overwhelmed when I started to sing in the worship team of my church. It has always been a dream to be a part of it. Where you learn so much while practising and at the same time getting close to God, it helped to be more disciplined and distinct. I improved in every side of my life while I was on the worship team, I made me happy on the inside. Other personal achievement was when I was in the Supreme Council of my school, It personally made me a leader not just on the outside but also on the inside.
What is the most interesting or unique thing that has ever happened to you and/or what is the most interesting thing about you?
I have visited the disabled to entertain them. It was a special feeling, they were so pure at heart. They were all aged people but their brains functioned like 5-year old kids. It was a total different experience. I shows you how blessed you are as a person by having so many organs working so perfectly.
Others unique thing I experienced was sky diving, I am really scared of heights but fortunately, I tried to overcome that by going for sky diving and jumped from 13,500 ft! It was the best decision of my life!
What is your career ambition and what are you doing or plan to do to accomplish that goal?
My ambition is to become a very successful businesswoman, I would like to own my own fashion label. In order to achieve that I need to become a better person and the best version of myself to handle a huge business. Miss Universe Canada helps you to grow as a person in every aspect of life, you become a better individual and you find your 'TRUE SELE' while competing. So my ambition would be apart from winning, even to just 'PARTICIPATE' in Miss Universe Canada.
Apart from all this, the main ambition of my life is to see a 'Proud Smile' on my mom's graceful face.
What would be your "dream job" in life?
My dream job is to become Miss Universe, it was even the password of my first email ID! It's not just about the title, its about the responsibilities you will be assigned which will improve you universally and which will help you perfect every part of your life. Where you evolve to become 'YOU'.
Describe where you were raised and what your childhood was like.
I was born and brought up in an Arab country called Kuwait. My parents are of Indian ethnicity. Since my childhood, I've been raised in a society with different races and cultures. I was fortunate enough to know different kinds of people. It helped me to increase my knowledge about different cultures. The best thing about my childhood was food. Growing up,I was also exposed to a lot of music specifically.
List any interesting or unusual jobs you may have had.
I have always given the church a hand in the children's ministry. It is beautiful to work with children who are so pure.
List any volunteering you have done.
I have volunteered for a lot of fests at college. I have also volunteered to entertain the disabled. I have also volunteered to meet the disabled people. I helped me to be a more kind person.
What is your most unusual talent?
I write tiny poems with a lot of rhyming! I also multi-task a lot or at least I try to. Or is being a left-hander in a right-handed world a talent?
Where is the most interesting place you have been to?
India, the diversity is interesting. There are so many things you can learn in India. One thing that attracted me the most are the festivals. They have a festival almost every day, Its really amazing to experience so many festivals and religions all in one place. The next thing would be the food and the list goes on!
What do you hope to be doing in ten years?
I would like to construct a very unique business, a business that encourages young women to be independent. I would also like to help people to build better healthy habits. I would like to spread awareness about health. I would like to use every minute I have to do something I will be proud of in the future.
Is there anything you would like to add that we haven't asked?
I would like to mention that I have been a part of my church worship team, which according to me is the greatest achievement since I believe in religion which is a production of discipline. I am waiting to become the best version of myself in Miss Universe Canada 2020