Meera Patel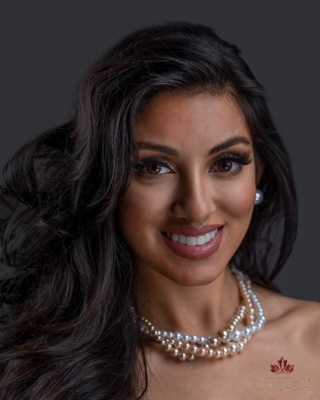 Height: 5'1
Hometown: Edmonton, Alberta & Calgary, Alberta
Languages: English
Occupation: Marketing Consultant & CEO of Queen Kong Clothing
Meera Patel is a brand activator, story-teller, creative consultant, strategist, and entrepreneur. Born in Edmonton, Alberta to Gujarati parents, Meera was always told to use her strength in service to others. With this mission close to her heart, Meera turned her passion for curiosity into her career, and became a Marketing Consultant to help business owners thrive using her expertise in digital marketing. With an academic background in both Chemistry and Marketing, there lies a powerful parallel to Meera's character as a half Scientist and half Artist.
As a champion of female strength, and women supporting women, Meera is also the founder of Queen Kong Clothing. Queen Kong is a female empowerment tribe that connects women through bold statement fashion, where a portion of profits are donated to charity. This year's selected charity is the Chhanv Foundation, a Non-Profit Organization in India working for the rehabilitation of acid attack survivors.
Growing up during the birth of the social media boom, Meera first experienced bullying at a young age. She learned fast that there were those who utilized social media to publicly assassinate another's character, reputation, and physical appearance.
Moreover, if this was happening to her, then others were experiencing this "new-age" form of bullying as well. It was then that Meera learned that pain that is not transformed, is transmitted. In search of building a community to raise the hearts of others, Queen Kong Clothing was born.
Throughout adolescence, Meera often felt like she didn't fit in in the world. As a woman, she has come to realize that this is because she is here to help build a new one.
Sponsors
SportClips Ellerslie Crossing
,
Sportclips Sherwood Park
,
Hi Tech Seals
,
Gentlemen Esntls
,
Sona Visual
,
White Diamond
,
Frida Beauty Bar
,
Ambrosia Medical Spa
,
Alexia Carreon Photography
,
ProSkin
,
Skin Carma
,
Outspoken Communications
,
Aesthetics Dental
,
Namu
,
Apar Initiative
,
Zac Training Systems
,
Scout Beauty Bar
,
Manroop Nails
,
Amour Laser
, Family and Friends
Video
Q&A
What are your interests and what do you enjoy doing the most?
Time-travelling! Let me elaborate – time traveling can take many forms. If you've ever immersed yourself in a good book, you know exactly what I'm talking about. By just reading 5 words on the first page of an entrapping book, we begin to forget that we are simply reading printed words on a page, and instead, we fall magically into uncharted lands. My love of literature includes both written and spoken-word poetry. My favorite poem is "Pretty" by Katie Makkai; Makkai weaves a cautionary tale about a girl who loses her sense of self-worth while chasing the perceived ideal of being "pretty". All the while, forgetting the importance of true fulfillment and happiness. Don't be alarmed if you get chills up your spine and tears in your eyes if you ever have a listen!
I also love time-travelling through impeccable films with striking cinematography that drops you right into a scene of wonder and mystery. So often I forget I'm snuggled up on my couch, merely watching a screen. Alongside my unconventional ways of time travel, I also have a huge passion for traveling itself! I have been fortunate enough to travel to several countries including Thailand, Indonesia, India, France, United Kingdom, Mexico, Australia, Vietnam and the United States of America. My favorite part of travelling is exploring the spectacular natural beauty of new countries and learning the different journeys and cultures of the many souls I have met.
List any special training you have had (music, art, drama, dance, etc.)
Growing up with my father who is notorious for his musical spirit, I had the pleasure of learning a variety of musical instruments, including the (novice) sitar, (novice) harmonium and the clarinet. While my dad was championing my musical side, my Mother took charge of pushing my physical boundaries. As a result, I have extensive experience in Western Ballet, Bharatnatyam, Skiing and Gymnastics.
My parents often encouraged me to seek opportunities outside of my comfort zone, and this quality soon became embedded in my personality. I took it upon myself to enroll in Art Lessons, Public Speaking, Graphic Design and Search Engine Management courses, Cooking classes, Belly Dancing, West Coast Swing classes, The Canadian Aviation Security Awareness Program, and my favourite – Surfing!
In what sports, if any, have you participated?
My parents didn't have a lot of faith in my athletic ability growing up…in fact, they found me quite comical! If you ask my Father to recall moments from my childhood, he will in fact ACT out his memories of me as a soccer goalie. From my memories as a goalie, I remember how the soccer ball would eerily roll towards me, as if taunting me. I would step backwards into the net, fully concentrated on the ball, mimicking its pace and direction…just… to… let it in the net! The speed of the soccer ball, or rather, lack thereof, would render me fully capable of stopping the ball with anything – my foot, my hands… anything! Unfortunately, my fear of the ball rolling towards me was greater than the excitement of blocking it. When I lay awake at night, I can still hear parents in the stands groaning and screaming, "MEERA! MEERA! Stop the ball! It's right there! It can't hit you! It's rolling for goodness sakes!"
Fortunately, as I grew older, my fear of soccer balls came to an end. Among others, Soccer is one of my favorite sports to play. But shh, don't tell 9-year-old Meera… Despite my short stature, I was awarded Most Valuable Player while playing basketball, known for my quick reflexes and agile sprints. Recreationally, I like to pretend I'm Katniss Everdeen at the local Archery studio, learning to practice my steady hand and precise aim in case I ever decide to "volunteer as tribute". With a competitive nature, it's easy for me to keep my body healthy and active with different sports and activities. If I'm not playing sports to stay active, you can find me pumping weights at the gym, running my way through the Peace Bridge in Calgary, or perfecting my downward-dog at a Bikram Yoga session. Recently I have found my serotonin levels soaring at an all-time high when sweating during an intense and colorful spin class! Being active is integral to my lifestyle; it has a profound impact on both my mental and physical health. I encourage everyone to cultivate a lifestyle that incorporates physical activity!
Name one person, other than your parents, who has had the most influence on your life. Why?
I have incredible people in my life, but the two that have had the biggest influence are my older brother and sister, Divyang and Ekta. Both are compassionate, loving, and hilarious, all characteristics that I hope to embody. I'm not sure what I did in a past life to deserve their unconditional love and guidance, but I am colossally grateful. My siblings have instilled in me a genuine curiosity for everyone's unique story. I am inspired to learn something about whoever I come into contact with and make every interaction meaningful. Ekta and Divyang have imprinted me with a value system that I am proud of, and an unapologetic drive to chase after my dreams. I am grateful for their example, and would not be the woman I am without them.
What is your proudest personal accomplishment (other than participating in this pageant)?
We all have had bad seasons in life, and mine was while pursuing my Bachelor of Science degree. I remember countless sleepless nights spent studying in the library, "break-down" after "break-down" in the washroom at 4am, and late-night drives home from University that felt like "long howls of silence". While my Scientific talents had found their home in the Chemistry program, my heart was not there. I remember the feeling of never-ending anxiety, knowing that I was utterly misaligned with my heart. Nonetheless, I received four consecutive honor-roll scholarships while surviving a phase of life that was clouded by my low self-esteem, deep depression, and anxiety. However, I'm not proudest of obtaining the degree, but of coming through that experience and learning the importance of living my truth, and working as hard as I possibly can – for what I believe in.
I recently found myself jumping for joy after selling my first Queen Kong Product without any focused advertising or product marketing. I had poured all my efforts into establishing an online community; often posting motivational quotes, statistics and art that promoted female empowerment. To have an international buyer was truly humbling; it meant that my online community was gaining momentum, and that I was connecting with people all over the world.
What is the most interesting or unique thing that has ever happened to you and/or what is the most interesting thing about you?
Anyone who knows me is aware of my irrational fear of birds. The most intriguing notion of this fact is… nothing traumatic involving a bird has ever happened to me!
Sure, I've been circled by birds in the sky while holding a bagel, and sure, I may have thrown "said" bagel while running into the front doors of my high school … but nothing has ever actually happened to me!
I've been afraid of birds since I was young and that fear has often hindered my sense of comfort while travelling. Exploring the Louvre in Paris and standing awestruck at history's greatest artists was incredibly exciting for me… however, my mission to run inside amidst navigating the millions of pigeons outside was nothing short of hilarious and fascinating for the many bystanders! On my recent trip to India, I mentioned my fear of birds in passing conversation to a lady I had just met and she playfully responded she once had the same fear. She encouraged me to look into exposure therapy as a first step. Since that conversation, and after 20 years, I have forced myself to get out of my comfort zone and consciously put myself in spaces where birds are present. It has been difficult, but I'm making progress. In fact, I just called a bird "cute" the other day; you should've seen the look on my friends' face!
What is your career ambition and what are you doing or plan to do to accomplish that goal?
I have a passion for connecting with women worldwide; my dream is to forge a global community that fosters women supporting women. I have initiated this movement with Queen Kong Clothing. My hope is to grow Queen Kong Clothing as a brand, and further its mission of female empowerment. To don bold statement fashion is to feel confident enough to do so, and this is the fire that I intend to create and nurture in women all over the world. Many women experience exclusion, and/or bullying in their formative years, and I want them to have a community where they can feel safe, and call home.
I have reverse-engineered my Queen Kong brand goals based on sales, advertising, research, and social listening. I am proud to have created a clothing line that truly resonates with young women. My goal is for Queen Kong to inspire new thought patterns in young girls, and eventually a strong belief system built on the strength of "sisterhood", and women looking to empower and encourage each other.
What would be your "dream job" in life?
In all honesty, I am currently pursuing my dream job! It is my dream to leave this world a better place than I came into it. My goal is to achieve that and more with the Miss Universe Canada 2020 title. It would be both an honour, and privilege to take on the role and responsibilities of Miss Universe Canada; I would be grateful to be provided with the opportunity to inspire others while using this robust platform to shed light on relevant and timely causes and organizations such as Canadians Sharing Locally & Globally, Bullying Canada, Chhanv Organization, Canadian Women's Foundation and more.
Describe where you were raised and what your childhood was like.
I am tremendously grateful and proud to have been born and raised in the beautiful city and province of Edmonton, Alberta. I have an immense amount of respect and gratitude for my parents who left the comfort of their traditional family and home in India, in hopes to better the lives of their three children in the land of opportunity and equality – Canada. Looking back, I find it funny that my mom and I would go to a nearby lake and feed ducks, and now as an adult, I have developed an ornithophobia which I'm currently trying to conquer! I have always had an especially close relationship with my Father. His tireless work ethic is admirable to say the least, and the initiative he takes to further his skillset inspires me. My Father has been consistent in exemplifying to our family his unwavering dedication to our comfort, health, and safety. Coming from an East Indian background, there is a cultural pressure and traditional narrative to push marriage on your daughters. But instead, my Father pushed education, knowing it would prompt a pursuit of intelligence, curiosity and independence in all of us. And so it has and I couldn't be more grateful.
As the youngest of the family, I had the luxury of learning through the mistakes of my older brother and sister whom I contribute most of my successes and character to. Unlike most families, my siblings and I vary significantly in age, my sister being 12 years older and my brother five years older than me. My sister often played the role of "Second Mom" in my family; she volunteered as Guardian for many of my school field trips, and was my biggest cheerleader. Whenever I was sad or scared, she did all she could to not only to lift my spirits, but empower me to always see my strength over my fear. Meanwhile, I looked up to my brother for his ability to pick up any sport and excel at it, even if it was his first time! No exceptions. Through childhood, I considered myself a "tomboy" and fully embraced my propensity to video games and athletics. I was proud of my "gaming" accomplishments, and cheekily coined the username: CodFather.
If you ever saw me when I was younger, you would notice a light bulb floating over my head, perpetually looking for "the next" business idea as a "kid-entrepreneur". I executed my first business plan at eight years old: a lemonade stand, but not your average lemonade stand of course! My lemonade stand was mobile, travelling door to door or to the soccer field on a hot day. I was determined to supply lemonade wherever I saw a demand. It's funny how things come in full circle as my first job after graduating University was at PepsiCo., and their business model mirrored that of my lemonade stand. At eleven years old, my friends and I set up a makeshift "tattoo parlour" in a tunnel on the playground. We would dip our pencil crayons in water and charge to create canvases out of other tiny human arms. My ventures quickly evolved from crayon art to selling limited edition Pokemon cards to creating cover art for custom CD's and eventually web-page design. I was born with an inherent entrepreneurial spirit, and am grateful to have kept it alive all these years.
List any interesting or unusual jobs you may have had.
I had the absolute pleasure to work at the Calgary Airport Authority. A leader in the business and aviation industry, they continue to place on Alberta's Top 50 Employers year after year. My role in the Community Engagement and Stakeholder Relations department led me to manage an enthusiastic, and rather eccentric group of individuals: The Pre-Board Pals Volunteers and their furry loved ones! Pre-Board Pals refers to a partnership between PALS (Pet Access League Society) and The Calgary Airport Authority that provides regular pet-therapy to improve the mental, physical, social, and emotional health of passengers and employees. As a HUGE dog lover, this role filled my heart with joy. Every time I saw our compassionate volunteers with their little furry side-kicks in tow, I felt nothing but "paws-itive vibes". I was fortunate enough to be able to design baseball inspired trading cards with pictures of these adorable dogs, as well as masquerade as the "pupp-arazzi" for puppy photo shoots in the airport terminal. I can't help but smile just thinking about it!
Additionally, as an entrepreneur, there is no rhyme or rhythm to my day! The frustrations that my clients and other business owners face can come out of nowhere, and can often be very complex. I am grateful to be in a position where I can help them tackle these issues.
List any volunteering you have done.
CIBC Run for Breast Cancer: raised $700.00 alone in the span of two days
University of Alberta's Cooperative Education Student Association as VP Marketing
University of Alberta's Backstage Pass Student Ambassador for ATB Financial
Canadians Sharing Locally and Globally Organization
Heart and Stroke Foundation: captain for the Big Bike Challenge, organizing teams of 12 and was awarded for having the most donations
Hare Krishna Mandir: served food to attendees
YYC Navigators: designed a booklet and helped coordinate the program to help children with Autism Spectrum Disorder to navigate the airport and familiarize with security procedures and to minimize sensory overload
Grey Nuns Hospital
Festival of Trees
Mustard Seed Charity Drive
Hurricane Relief Fundraiser: designed promotional material, organized and executed fundraiser for hurricane relief victims in 2017
What is your most unusual talent?
I can confidently say that I can concoct a messy albeit entertaining chemistry experiment at the drop of a hat. Although many would argue that my real talent is cleaning up the mess before my parents find out.
Where is the most interesting place you have been to?
I recently travelled to Vellore, a small village in southern India where every person I met felt like a familiar soul; it was as if we had met in a previous life. Vellore is home to the Narayani Peedam Ashram; visiting this ashram was the purpose of my visit to India and it truly felt like heaven on earth. It was a meditative experience for me, particularly when I walked the "Star Path" barefoot at 4:00 am in the morning while the sun was rising on the Golden Temple. Surrounded by intricate hand-painted architecture, I remember feeling so grateful to have all five senses to experience the cleansing energy at the Sri Narayani Golden Temple. My experience in Vellore strengthened my belief in the power of human connection, and allowed an abundance of serenity and healing into my life.
What do you hope to be doing in ten years?
As Michael Chabon succinctly said: "Man makes plans, and God laughs." While this quote pokes fun at the human condition, it also puts into perspective our adamance, and resulting relief in putting together an airtight five or ten year plan, and following it to a tee.
I only hope to prepare for the opportunity to achieve my aspirations when "10 years from now" comes. I hope to be aligned with my "dream job", and to feel as though I have successfully contributed to the world in a meaningful way. I hope to have connected, and continue to be connecting with humans all over the world. I want to learn their stories, about their unique cultural backgrounds and all the lessons they have learned.
I hope to achieve a position of influence that will empower me to instill compassion in others, specifically how we, as a global community, can serve through love and empathy. My mission is to leave this world a better place then when I came into it.
Is there anything you would like to add that we haven't asked?
I want to use this portion to reach out to readers who may be experiencing depression or anxiety, and are on their individual "self-love" journeys.
My most valuable lesson in life has come through realizing the power of a thought. Thoughts have the ability to wound deeper than anything. We must select our thoughts the same way we select our clothing every day; our thoughts dictate our feelings about ourselves, others, and any experiences we encounter in this world. Consciously choosing our thoughts is a skill we must cultivate if we want to stop identifying ourselves by our problems. I want to encourage anybody experiencing these difficulties to acknowledge their self-doubt and their pain. Stand resolutely in these storms of adversity and meritocracy. Recognize you are more than skin and bones; you are one thousand stories of potential. In fact, your story may serve as somebody else's survival guide.