Natasha Ahuja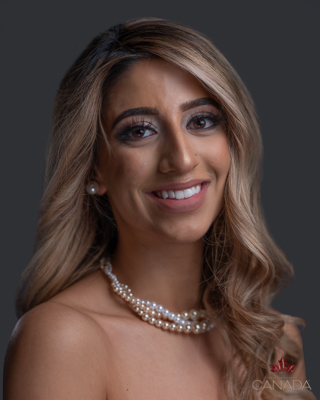 Height: 5'8
Hometown: Waterloo, ON
Languages: English, Hindi, Punjabi
Occupation: Student at Wayne State University (Psychology)
Natasha Ahuja is a strong believer that kindness goes a long way. Being kind can cure more than what simply meets the eye and a smile has the power to make someone's day.
Natasha was born and raised in Waterloo, Ontario, and is now attending Wayne State University in Detroit, Michigan. Natasha is a former NCAA Collegiate 400m hurdler and 400m sprinter. Her love for Track & Field gave her the opportunity to move to New Orleans on a full scholarship where she attended Southern University at New Orleans. At the end of her first year, Natasha received the Dean's List Award, Highest Class Average Freshman and Highest Freshman GPA, finishing with a 4.0. She later decided to transfer and continue her athletic and academic endeavors at Wayne State. Natasha has also been in the modelling industry for over 5 years and has had the opportunity of being published in magazines in the GTA, New Orleans and Detroit.
Growing up with a father who suffers from bipolar disorder and depression, Natasha fully understood the impact mental illness has on individuals and those around them. For this reason, she decided to pursue a degree in Psychology to better understand mental health and human behavior. Natasha has been involved in conducting ongoing research at school regarding non-suicidal self-injury and the adverse effects of suicide. Her goal is to eliminate the stigma of mental health that exists in society today and encourage those suffering from mental illnesses to seek treatment in a safe and non-judgemental environment.
Natasha has always been fascinated with makeup and her vision sprung from her passion towards beauty and making others smile. Natasha is the Founder of "Beaudefy the Odds", an up-and-coming Non-Profit Organization that focuses on reminding everyone that their beauty is more powerful than their struggle. Her non-profit will work closely with people who have suffered from an illness or hardship that has lowered their confidence and self-esteem. Through the power of makeup, Natasha will be working with hospitals, healthcare facilities and medical professionals to help people remember that they never lost their beauty. By producing video content, she has created a platform to share their stories and let others know that they are not alone. She hopes to create an everlasting community that will allow people to unite through their struggles – not self-isolate and suffer alone.
Natasha has created daily reminder videos promoting self-love and kindness on TikTok while also sharing her positivity on Instagram. She has used these platforms on social media to speak up on social and health issues while instilling confidence amongst those who come across her page. Natasha has grown her platform to over 55,000 followers and aspires to continue to empower others and promote the importance of being kind to oneself and, in turn, to other human beings, as well.
Becoming Miss Universe Canada would give Natasha the opportunity to break through beauty perceptions of visible minorities and create a shift in the mindset of future generations.
Sponsors
F45 Kitchener Sportsworld
,
TruHealth &Wellness
,
Bilalo Hair Artistry and Spa
,
Finesse Style Studio
,
Sandhya Garg
,
Norma Reed
,
La Crème St Jacobs
,
Icey Teeth Whitening
,
Tribe Media
,
Cyanic Clothing
, Family and Friends
Q&A
What are your interests and what do you enjoy doing the most?
I enjoy travelling, running, doing makeovers and meeting new people. Travelling has allowed me to gain knowledge about other cultures and also view humankind from a different perspective. Running has always allowed me to wind down and relieve stress. Makeup has been therapeutic for not only myself, but those who have allowed me to do their makeup. Above all else, I enjoy spreading positivity. I am happiest when I am putting a smile on other people's faces.
List any special training you have had (music, art, drama, dance, etc.)
Through my modelling career, I have had 7 years of training. I learned about posture, posing, fitness and runway. This special training gave me the opportunity to be featured in several magazines and a commercial. I also took art lessons growing up which taught me abstract art and sketching. This definitely sparked my creativity and allowed me to think outside the box.
In what sports, if any, have you participated?
Sports have played a significant role in my life from a young age. Growing up, I tested out almost every sport until I found something that I loved. I participated in basketball, field hockey, swimming, figure skating, volleyball and track and field. Basketball and track grew to become my two favorite sports. I played basketball recreationally, competitively and on my high school team. However, Track and Field changed my life forever. In grade 7 when I competed in hurdles for the first time and won county finals while setting a meet record. My passion for hurdles continued into high school as I competed on a competitive team as well as high school. I made the decision in grade 10 that I wanted to go to the United States and run at a Collegiate level. Sports taught me the importance of determination and work ethic. Ultimately, my hard work paid off and I landed a full scholarship at Southern University at New Orleans.
Name one person, other than your parents, who has had the most influence on your life. Why?
My grandfather is and always will be the greatest influence in my life. He is the hardest working and most kind-hearted person. My grandpa moved from India at the age of 36 with nothing but two dollars in hand. After losing his father during the tragic divide between India, he set a venture to Canada for a better life. Coming to the Kitchener/Waterloo area, my grandpa was the first man to wear a Turban. My grandpa is living proof that your circumstance does not define you. With the right work ethic and dedication towards your dream, anything is possible. He has influenced me to work hard no matter how seemingly unattainable my goals may be. My grandpa worked his way to the top of his industry and became one of the top Insurance Advisors in Canada. He constantly reminds me to keep a positive outlook on life and be kind to everyone whom we cross paths with.
What is your proudest personal accomplishment (other than participating in this pageant)?
My proudest personal accomplishment would definitely be receiving a full athletic scholarship to continue my athletic and academic career in the United States. Coming from an East Indian descent, it is very seldom that females from our culture are seen competing at a Collegiate level. I felt proud not only being a visible minority but by being a woman in athletics. In grade 10, I decided to get a personal trainer. I would wake up at 5:30AM and have a training session for an hour and a half before my high school classes started. I worked extremely hard to earn my scholarship and continued this work ethic in University. My focus was always to remain balanced between athletics and academics. I maintained a 4.0 GPA during my first year as a collegiate athlete. My athletic journey is most definitely my proudest accomplishment.
What is the most interesting or unique thing that has ever happened to you and/or what is the most interesting thing about you?
The most interesting and unique experience I have had was flying to Los Angeles, California to do my first makeover for my Non-Profit Organization "Beaudefy the Odds". I had the opportunity to meet a 30-year-old woman who had just won her battle with Ovarian Cancer. I reached out to her initially through Instagram and asked if she would be interested in sharing her story on video. It was so amazing to be able to sit in her home, over 4,000 kilometers away and do her makeup. This experience was lifechanging as it opened my eyes to the reality of someone struggling with Cancer. After doing her makeup, her reaction was priceless and the tears down her eyes spoke more than words ever could.
What is your career ambition and what are you doing or plan to do to accomplish that goal?
My career ambition is to create a lifelong impact in the lives of those who are struggling with self-confidence and self-esteem. I am actively working towards my ambition with my up-and-coming Non-Profit Organization, "Beaudefy the Odds". The mission statement is to remind everyone that their beauty is more powerful than their struggle. I had a sudden idea in November of 2019 to combine my love for makeup and helping others. Since then, my Non-Profit has gained recognition from media outlets such as Yahoo Finance, Market Watch and Business Insider. I plan to continue to raise awareness and eliminate the definition of "beauty" that society has created.
What would be your "dream job" in life?
My dream job does not come with a "title" – but only "a purpose". I want to radiate positivity across everyone I encounter and use my voice to remove stigmas regarding mental health. I hope that through my Non-Profit Organization, I am able to remind others that they are beautiful – no matter what. I want to inspire others and motivate them so that they know that anything is possible with faith, hard work and a smile.
Describe where you were raised and what your childhood was like.
I was born and raised in Waterloo, Ontario. My childhood was far from perfect, but I would not be the woman I am today without it. Growing up with a father who was struggling with bipolar disorder and depression, life at home was not the happiest. Along with these two mental illnesses came severe financial burden, emotional and mental distress and plenty of adjustments. My father had manic and depressive episodes which would cause a rollercoaster of events at home. During my childhood, I witnessed first-hand, what life is like with a mental illness. I learned not to judge others, because everyone has a story. I realized that kindness, empathy and a smile can cure so much more than we think. My awareness at a young age has made me want to implement change and eliminate the stigmas that exist in society regarding mental health. Mental health is just as important as physical health and I believe that this is the lesson my childhood taught me.
List any interesting or unusual jobs you may have had.
Being a brand ambassador on University Campuses would have to be the most interesting job I have had. I got the opportunity to walk around campus and network with students. This allowed me to meet new people and also welcome newcomers at the University. I got to give out free merchandise, freezies and host on-campus contests to push students out of their comfort zone. I enjoyed this job because I got to talk to other students about their concerns at school and provide advice, while also making friends along the way!
List any volunteering you have done.
Lab Assistant at Wayne State University
World Vision
Relay 4 Life
Youth Track and Field Team
Youth Basketball Association Camp
KidsAbility
Breast Cancer Society of Canada
Canadian Cancer Society
Karmanos Cancer Institute
YMCA
What is your most unusual talent?
My most unusual talent is that I can find something positive in any situation. No matter how bad it may seem, I will always find the bright side.
Where is the most interesting place you have been to?
The most interesting place I have been to is my country of descent, India. This was by far the most eye-opening experience. Travelling to a developing country made me even more grateful for the life I have been given. While wandering the streets of India, I witnessed immense poverty and a lack of appropriate healthcare. I found it shocking to see the number of people who were homeless and stranded with families to care for. Many of us take simple things for granted such as clean water and a roof over our head. Seeing people with absolutely nothing, smiling and happy, reminded me to be grateful. This trip made me understand how privileged I truly am to be born and raised in Canada. Furthermore, I learned how much my parents and grandparents have sacrificed to provide a better life filled with opportunities.
What do you hope to be doing in ten years?
In ten years, I hope to be making a significant difference in people's lives. I hope to instill confidence in others and create change through my entrepreneurial endeavors. Using my platform, I hope to continue to raise awareness of mental health issues and inspire others to chase their dreams. With my Non-Profit, I hope to have implemented a permanent service in all hospitals that offers free makeup services to patients. Most of all, I hope to influence others to be kind to one another.
Is there anything you would like to add that we haven't asked?
If I can go to sleep knowing that I put a smile on one person's face or made one person feel beautiful – I truly believe that I am winning at life. I believe that today is beautiful and tomorrow is even more beautiful.