Neelam Patel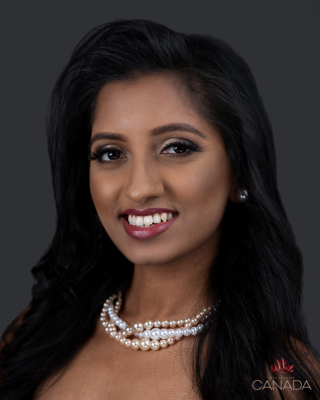 Height: 5'2
Hometown: Dollard-Des-Ormeaux, QC
Languages: English, French, Gujarati and Hindi
Occupation: Certified Low Vision Specialist
Neelam Patel was born and raised in Montreal, Quebec, and had the privilege of growing up fluent in English and French. She is of Indian descent on both sides and her parents have always encouraged her to be compassionate, well-rounded and hardworking. Neelam looks at life with eyes wide open, and is eager to embark on new opportunities and to make the most out of her day. She is currently working two jobs but, she still makes time to work on her fitness and maintain social relationships.
Education has always been the primary focus of Neelam's upbringing. She graduated from the IBO program in secondary school with the Principal's list award. This distinction was given to 7 students out of the whole graduating class that maintained an average of 85% or higher during all 5 years of high school. Then, she obtained her Bachelor's of Science degree from McGill University while majoring in Pharmacology. In pursuit of higher education, Neelam completed her Masters of Science degree at Université de Montréal in Vision Rehabilitation Science with a 4.0 GPA. During this time, she also initiated a research project to determine the depressive symptoms screening and management procedure for visually impaired elderly people in Quebec's vision rehabilitation centers. She hopes that this project will help create a province-wide screening protocol, not only to help identify visually impaired people who have depressive symptoms but, to also help provide treatment.
After completing her studies, Neelam became a certified Low Vision Specialist and is currently working full time for Vision Loss Rehabilitation Canada. She helps visually impaired individuals adjust to their vision loss by introducing optical and non-optical devices, and teaching adaptive techniques. Furthermore, Neelam educates the public on vision-related disabilities and explains the rehabilitation services that are offered. Neelam is currently on the Health and Wellness committee at work and is trying to improve the overall employee satisfaction and create a positive working environment for her colleagues. She is extremely passionate about vision care that she also works at a local optometry clinic aside from her full-time job.
By joining extra-curricular activities, Neelam learned early on how to be well organized and disciplined. She began swimming lessons when she was 6 years old and then joined the synchronized swimming team. She competitively played badminton in high school for 3 years. Although she is not currently playing any sports, Neelam maintains her physical health by going to the gym, training with a personal trainer, swimming leisurely and taking various fitness classes such as Zumba and kickboxing. Aside from fitness, Neelam took piano lessons for a year and played the alto saxophone for 4 years. Learning a new instrument required a lot of patience and practice but Neelam was highly motivated to learn.
Giving back to the community is of great importance to Neelam. Although she's volunteered at multiple different occasions, her greatest involvement was with the Montreal Children's hospital where she volunteered over 100 hours. During this time, Neelam was helping the nurses feed babies and spending time with the children who were very sick. Since families couldn't always stay at the hospital, many children were alone during the day. Neelam and other volunteers would bring games and activities to help the children feel comfortable. Neelam also volunteered to judge the Montreal regional science fair projects. She gave them constructive feedback on their projects and was especially enthusiastic about inspiring the younger generations to pursue a career in science.
The Miss Universe Canada is a title that carries significant prestige and has the ability to create positive change. Neelam wants to use her platform, Vision2020, to help raise awareness on eyecare and advocate for people with visual disabilities. She wants to educate the country that even if you don't have 20/20 vision, 2020 is the year to prioritize your vision.
Sponsors
Nina Couture, Family and Friends
Video
Q&A
What are your interests and what do you enjoy doing the most?
Recently, I discovered my passion for traveling. When I explore a new country, it allows me to learn about the culture and traditions. Thus far, I've traveled to India, Italy, Switzerland, France, England and the United States. I've been to India five times and had the privilege of attending four weddings. The weddings in India span a couple of days and easily have over 500 guests. Attending a wedding in India is an amazing experience because there are many traditions involved, colorful outfits and Bollywood music.
I also enjoy cooking because it inspires creativity and helps me explore different cuisines. Generally, I try to prepare well-balanced meals and I constantly watch cooking shows for ideas. I've mostly focused on Indian, Italian and Thai food before but I'm currently learning about the Greek cuisine.
List any special training you have had (music, art, drama, dance, etc.)
I partook in musical training where I spent a year learning how to play the piano and four years with the alto saxophone. I played the alto saxophone in my high school band and it helped me learn how everyone had to work together and play their instrument in order to play a song well. I've played the alto saxophone during numerous school concerts. Although I don't play the alto saxophone anymore, I have a keyboard at home and occasionally still play it.
In what sports, if any, have you participated?
In the ninth grade, I joined the high school's badminton team and continued to play for three years. Keeping track of practices and games helped me learn how to be better organized and playing badminton helped me de-stress. Growing up, I took swimming lessons for many years and I was on the synchronized swimming team for a year. To help with my flexibility, I also took gymnastics that same year. I performed one synchronized dance routine with my team and one solo routine during competitions. Since staying active is an important part of my life, I continue to exercise at the gym on a regular basis.
Name one person, other than your parents, who has had the most influence on your life. Why?
Other than my parents, my older brother had the most influence on my life. He is four years older than me. Most of the time, it was my brother who would help me with my homework when I didn't understand a subject at school. He helped me enjoy studying and made me want to pursue higher education. Although he lives in Toronto now, I know I could pick up the phone and call him for anything.
What is your proudest personal accomplishment (other than participating in this pageant)?
Completing my research project during my master's degree was one of my proudest accomplishments. I designed consent forms, obtained the appropriate approval, conducted interviews with multiple participants in both English and French, went through all the results, wrote a research paper and presented it to the university's panel of judges. I am particularly proud of this accomplishment because my research project focused on determining if Quebec's vision rehabilitation centers were screening visually impaired elderly people for depressive symptoms. There are a few students who are continuing my research project and hopefully, it will help create a province-wide protocol to help screen visually impaired people for depressive symptoms and help provide treatment.
What is the most interesting or unique thing that has ever happened to you and/or what is the most interesting thing about you?
Many people find it interesting that I come from a very big family. My mother has 8 siblings and my father has 7. Since I have many aunts and uncles, I have a total of 39 first cousins. My cousins are all varied in age however, I am very close to most of them. Having a big family taught me how easily disagreements can arise, how important it is to forgive each other and most importantly, how to be there for each other. Most of my cousins live in Canada and I see them often.
What is your career ambition and what are you doing or plan to do to accomplish that goal?
My ambition in life is to positively affect the people around me. Focusing on career, I always wanted to work in the healthcare setting with an interdisciplinary team of professionals. Currently, I'm a certified low vision specialist and I help people who have visual impairments. I work with other professionals such as optometrists, ophthalmologists, occupational therapists and family doctors. I've been working in the field for over a year and I want to focus on improving my knowledge and skills to better help people. To accomplish this goal, I've been attending as many conferences as I can, and asking my colleagues with more experience, various questions.
There are many countries that don't have access to healthcare. My career ambition is to travel to one of those countries and use my education to provide services. I plan on partaking in a humanitarian trip to provide eye care services in the community and educating the students in the field about low vision. There are many humanitarian trips that provide services and return home after the trip. However, by educating the students there while providing services, it becomes more sustainable and the trip has a lasting effect.
What would be your "dream job" in life?
Although I enjoy my current job, it can become repetitive. My "dream job" would be a variety of different jobs put together. On the one hand, I want to continue being a low vision specialist and helping people but on the other hand, I also want to teach. Since I am certified, I will be able to start mentoring students in the program next year. A part of me would also enjoy doing research and making Canada more accessible to people with visual impairments. I want to keep learning and I want my work to have a positive impact. Therefore, my dream job is a combination of practicing my specialty, teaching and researching in the field.
Describe where you were raised and what your childhood was like.
I was raised in Montreal and my family used to live in a duplex home with my uncle's family. We had a big backyard where my brother, two cousins, and I used to play. We spent most of our time playing basketball and riding our bikes.
My parents were very supportive and being well rounded was extremely important to them. To ensure that a parent was always with us, my mother used to work during the day and my father would work at night. I was able to see how hard my parents worked in order to provide for my brother and me at an early age. Despite their busy schedules, during the weekends my parents would take us to the library, play board games with us and ensure we had exercise by playing sports with us at the park.
I lived in the duplex house for the first sixteen years of my life and then we moved to a house in the suburbs. Since we were old enough, my father changed his work schedule and started working during the day.
List any interesting or unusual jobs you may have had.
I used to work as a park monitor during the summer while I was in university. Most of the parks in the city had a park monitor who would provide first aid if anyone was in need, prepare the sports fields for activities and maintain the park overall. There were no major accidents and over the years I've simply provided a few residents with band-aids. There were baseball teams that would use the baseball field and I used to prepare the field by drawing white lines with sand and changing the distance between the bases depending on which age group was playing. Although this sounds easy, drawing two straight lines with sand on the group turned out to be difficult and took a lot of practice to master! I held this job for 4 years.
List any volunteering you have done.
Montreal Children's hospital

Spent time with children when their families were not available and helped nurses feed babies.

Royal Victoria Hospital

Volunteered in the therapeutic recreational department and helped plan activities. Also volunteered in the physiotherapy department.

Hydro-Quebec Montreal Regional Science fair

Volunteered to judge the science fair projects

Brain awareness week

Helped clean brains in Dr. Pfaus's lab and prepare kits. These kits were used to educate elementary/high school students about the brain.

19th Scientific Symposium on Visual Disability and Rehabilitation

Volunteered to guide a visually impaired person during the symposium
What is your most unusual talent?
I'm not sure if this counts as a talent however, I'm able to sing the alphabet backward.
Where is the most interesting place you have been to?
Since I love scenery, the most interesting place I've ever been to was Switzerland. I was only there for three days yet I was amazed by the landscapes. Everywhere I looked, there were breathtaking views of the mountains. During the train rides, I would ensure I had a window seat because I wanted to take in as much as possible. My trip to Switzerland was also memorable because I did a hike up Mt. Titlis and went paragliding in Interlaken. I always had a fear of heights. Therefore, my trip to Switzerland was also a pivotal point in overcoming that fear. I would highly recommend Switzerland to everyone as it was such a surreal experience.
What do you hope to be doing in ten years?
In 10 years, I hope to be surrounded by the people I love. I want to have an established career and partake in a few humanitarian trips to provide eye care services to different areas of the world where it might not be readily available.
Aside from my career, I hope to be happily married with children of my own. I see myself being an involved mother and volunteering with the other parents at my children's schools. My goal is to create a loving home where I could encourage my kids to be well rounded and provide for them. Although I don't mind living in another province, I know I will continue to live in Canada.
In addition, I hope to travel to at least 6-7 new countries. There are many places I want to travel to for leisure such as Greece, Bali, Iceland, Thailand and Japan just to name a few. I know I will continue trying new things and living life to the fullest.
Is there anything you would like to add that we haven't asked?
I have been following Miss Universe Canada for the last couple of years and have been extremely inspired by the amazing women who compete in the pageant. Aside from their physical appearances, these women are well-rounded, kind, educated, role models with a lot to offer. I believe that women shouldn't be afraid to have multiple interests and push to create positive changes in the world. I am extremely grateful to have the opportunity to compete at the national level and I look forward to meeting all the confidently beautiful finalists from across the country.