Nicole Pegler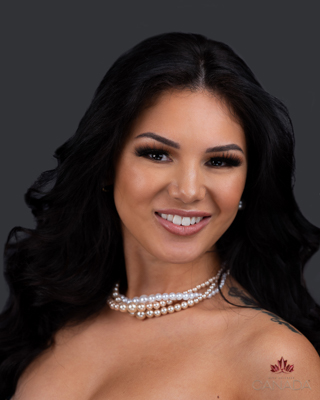 Height: 5'5
Hometown: Vancouver, BC
Languages: English
Occupation: Radiation Clerk
Nicole Enriquez Pegler is a proud Filipina-New Zealander born and raised in Vancouver, British Columbia. She is currently working at the BC Cancer Agency in the Radiation Department while focusing on completing her studies and leading in the Asian community as Miss Philippines International of BC 2019. With her interest in compassionate services, she is pursuing her Bachelor of Science degree in Radiation Therapy at the British Columbia Institute of Technology, anticipating to graduate by 2023. Nicole takes pride in her multicultural background as her mom had immigrated to Canada from the Philippines while her dad moved here from New Zealand. Though an only child, Nicole has a large family of cousins and grew up close to her grandma who demonstrated such positivity that she learned resilience at a young age which influenced her to always pursue her goals despite hardships.
With this determination at her first pageant, Nicole became the Miss Philippines International of BC winner. This organization was created by a former Miss International Canada as a foundation for young women to thrive with their dedication, discipline and personal development. With Nicole's passion for helping others, she strives to promote health while advocating for education, greater integration of self-care and healthy lifestyles in our communities to prevent multiple comorbidities. Through Miss Philippines International of BC, Nicole has contributed to Young Focus Philippines, which is an organization that provides quality education to youth in need in the Philippines. Most recently, she has contributed to PAGASA: People of Accountable Governance and Sustainable Action, which provided survival packs to families who have lost their livelihood during the global pandemic of Covid-19. She had also provided to Feeding America, Meals on Wheels, No Kid Hungry, and World Central Kitchen by participating in the #AllInChallenge. In addition, she contributed to a Taal Volcano Fundraiser for the distribution of all the necessary support to the volcano victims in the Philippines.
As cultural pride and women empowerment are the objectives of Miss Philippines, she was proud to have been awarded Best in National Costume for her Filipina attire; the Maria Clara, which is one of the most influential dresses in the Philippine culture taking its roots back into the Spanish era when women wore it to represent their innocence, purity and honor. The influence of the Maria Clara dress continues today as Filipina women wear it to show their elegance and beauty while reflecting honor and femininity.
Nicole exemplifies characteristics of an empowered woman with her cultural awareness, self-confidence, compassion for others and motivation to improve her well-being. She believes that by embodying resilience, gratefulness and grace, she would excel as Miss Universe Canada and beyond.
Sponsors
Video
Q&A
What are your interests and what do you enjoy doing the most?
I strive on maintaining a healthy lifestyle by going to the gym and creating home-cooked meals. I enjoy spending quality time with my family and friends; going on motorcycle rides in Vancouver or up the Sea to Sky Highway, and spending time at my favorite lake, Chilliwack Lake, BC.
List any special training you have had (music, art, drama, dance, etc.)
Gymnastics, ballet, hip-hop dance, swimming, volleyball, skating and karate.
In what sports, if any, have you participated?
I practiced and excelled in Karate (Butokukan) for almost 10 years. Strength, speed, power and discipline were valuable skills I learnt through my training. I also developed practical skills that I would be able to carry with me throughout my life such as the ability to think through my actions and foresee the possible outcomes.
Name one person, other than your parents, who has had the most influence on your life. Why?
Aside from my parents, my grandma was a very influential person in my life. She never ceased to put others before her and always treated others with kindness and a smile. She possessed resilience and positivity that she demonstrated throughout her life which has influenced me to continue to pursue my goals and ambitions despite hardships that I may face. I aspire to share the same unconditional love and kind heart that she had.
What is your proudest personal accomplishment (other than participating in this pageant)?
My proudest personal accomplishment was being crowned Miss Philippines International of BC 2019. The Miss Philippines International of BC pageant emphasizes the diversity of modern Filipinas along with dedication, discipline and development.
As candidates, we had opportunities to participate in numerous special events, community projects and live shows; including modelling couture designs by renowned designers of the Philippines and guest appearances during Philippine Heritage Month. Special events highlights included Vancouver Fashion Week, Philippine Independence Day, and Canada Day. We had special interviews with Vancouver Television and The Filipino Channel shown on international networks.
I am proud as I had the honour of representing Filipinos in my community, and more so because of the journey. While working two jobs, I was in school part-time, dedicating myself to succeed in all my goals that summer. Additionally, I had moved in with my ill grandmother so that I could spend more time with her. With perseverance, I was able to achieve my academic goals that semester while winning the title. I am incredibly thankful for the valuable memories that I shared with my grandma as she had passed away months later. While it was a difficult time for my family and I, I am proud that my grandma witnessed my commitment to school and pageantry; moreover, it serves as a reminder about my purpose in pursuing a career in healthcare, providing essential services to my community. Ultimately, my success during this time instilled valuable lessons beyond the crown that I feel very blessed about.
What is the most interesting or unique thing that has ever happened to you and/or what is the most interesting thing about you?
I take pride in my multicultural background. My mom had immigrated to Canada from the Philippines while my dad moved here from New Zealand when he was a child. I can generally follow a conversation in Tagalog and Ilocano. My goal is to become fluent in Tagalog before my next trip to the Philippines as I can connect to more people. If chosen to be Miss Universe Canada, I would work with many local and international charities, including continuing to support Young Focus Philippines, an established organization that provides quality education to children in the most rural areas of the Philippines.
I have a strong desire for the youth to be provided with opportunities to complete their education and therefore are given the chance to end the cycle of poverty. I would use my platform to be the voice for those in need as well as contribute my time in person to advocate for this cause as it is close to my heart. I hope to continue to use my platform to promote health and advocate for wellness through charitable work, greater integration of self-care and healthy lifestyle choices.
What is your career ambition and what are you doing or plan to do to accomplish that goal?
My biggest career ambition is to become a Radiation Therapist at the BC Cancer Agency. Through my years working in the Radiation Department, I have found my passion for working in healthcare and compassionate services, working directly with cancer patients. With this motivation and my experience over the past year, I hope to complete my Bachelor of Science in Radiation Therapy by 2023.
What would be your "dream job" in life?
I would consider being a Radiation Therapist as my ultimate dream job. Having the ability to touch many people's lives during such a delicate time in their cancer journey is an incredibly rewarding job and I am looking forward to working more interpersonally with patients in the future. Being in the frontline in the fight to end cancer would be the most fulfilling career to me.
Moreover, if I had to choose another dream job, I would enjoy applying my creative side as an Interior Designer. I have always had an interest in real estate, interior designing and decorating since I started watching home and garden shows with my dad as a child. I would say I am very hands-on and love challenging myself. I enjoy tackling do-it-yourself projects around my home. Being able to carry this out on a larger scale over multiple homes would also be a dream come true.
Describe where you were raised and what your childhood was like.
I am an only child and was very fortunate to be raised in a loving household in Vancouver. Growing up as an only child, I looked forward to visiting my large family who all reside in the Philippines. Having a bi-cultural background, I was blessed to be able to travel to the Philippines and stay with my family there. As a child, my family and I would make our annual trip to the Philippines for one month at a time. While in the Philippines, we would lodge with my mom's family in the provincial farmlands; thus, I was able to take in the authenticity of what living in a less fortunate country was like.
I was exposed to many cultural differences that spanned the opposite end of the poverty spectrum which was much different than what I was accustomed to in Canada. I am truly fortunate to have had these humbling experiences at a very young age as these experiences have led me to having a well-rounded understanding of global poverty issues. I genuinely appreciate these learning moments in life that have grounded me and have instilled important values in me since childhood.
List any interesting or unusual jobs you may have had.
One of my very first jobs was working at a chocolate shop as a "Chocolatier". My favorite part of being a Chocolatier was dipping and decorating chocolate-covered strawberries, especially making "bride and groom" strawberries which was a lot of fun!
List any volunteering you have done.
Mount Pleasant Neighbourhood House
Urban Promise After-School Program
The Canadian Blood Bank
Young Focus Philippines
PAGASA: People of Accountable Governance and Sustainable Action for Covid-19
Feeding America
Meals on Wheels
No Kid Hungry
World Central Kitchen
Taal Volcano Fundraiser
What is your most unusual talent?
I'm not quite sure if this is considered a talent, I can walk and jump on my toe knuckles.
Where is the most interesting place you have been to?
Aside from the Philippines, I would consider Puerto Plata in the Dominican Republic one of the most interesting places that I have travelled to. Their country is so authentically rich in culture and character. What I enjoyed the most were the people and the conversations that I was able to share with them.
What do you hope to be doing in ten years?
Ten years from now, I strive to have made a change in the world by using my platform to continue to promote healthy lifestyle choices that inhibit or delay multiple comorbidities. I wish to emphasize that by making these decisions early on, they can collectively contribute to an individual's overall health and well-being for the future. Alongside that, I hope to have a very successful and fulfilled career caring for patients as a Radiation Therapist. I also wish to start a family and provide them with the best opportunities possible, as my parents have done for me.
Is there anything you would like to add that we haven't asked?
I believe being Miss Universe Canada is an empowered woman who is confident in herself and ready to serve others with a humble heart. I feel that all of my experiences have led me to become humble, grateful, gracious, and resilient. I personally feel that I possess all these attributes and I am confident that I can represent Canada with the utmost honour and grace.