Nicole Peters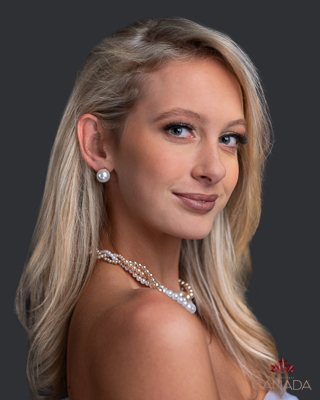 Height: 5'8
Hometown: Mississauga, ON
Languages: English
Occupation: Actress
Friendly, outgoing, and a smile that lights up the room, Nicole Peters has a zest for life that is apparent the moment you meet her! This natural blonde, blue-eyed beauty is 22 years old, born and raised in Mississauga, Ontario, and the youngest sibling to an older brother and an identical twin sister (who is 9 minutes older)!
Currently, she is working as a professional actress for film and television. You can see her starring as the principal character of Hope McLanden (Young Blake Lively) in the recent Lionsgate Hollywood Feature Film, A Simple Favor, directed by Paul Feig that was out in theatres worldwide. For her role in the film, Nicole was flown down to New York City last year for the Red Carpet World Premiere and nominated for a coveted Young Entertainer Award for "Best Young Supporting Actress in a Feature Film" down in Los Angeles. Starting at the age of 9 months old, some of her other significant credits include a supporting role in the popular hit movie Anne of Green Gables, numerous National television commercials including Rogers, Sears, Dodge Durango etc., as well as lead roles in a variety of web series' and other projects.
She has balanced school, playing many sports, student council, and being an actress for film and television from elementary school all the way throughout university. Education has always played an important role in her life. With her varied interests in both the fields of entertainment as well as science, Nicole has spent time studying at both Ryerson for their renowned RTA Media Production program and McMaster for their prestigious and selective Arts & Science program only admitting 60 people per year. She graduated last year with the highest honour (Summa Cum Laude distinction) and wrote her LSAT this summer (coincidentally attaining the exact same score as her twin sister)! She plans on continuing to pursue acting for film and television, as well as attend law school in the years to come to become an entertainment lawyer.
Aside from acting and school, Nicole spends her summers in Muskoka teaching water skiing/wakeboarding and has performed in hundreds of ski shows doing pyramids, slalom skiing, swivel ski tricks, and comedy acts! She is representing Canada on Team Canada's Show Ski Team competing in Florida in 2022.
Just as Nicole has learned a lot through these experiences, one of her greatest passions is teaching and helping others. From teaching water skiing/wakeboarding in the summers to tutoring fellow students, to volunteering in her community, Nicole is a strong believer in empowering others which is in fact one of her main platforms. She is competing alongside her twin sister, Lauren Peters. Though they have been 'neck and neck' in everything from school to sports, instead of comparing themselves to each other, they strive to encourage and motivate each other to do their best at whatever they put their minds to and specifically, excel on this journey towards representing Canada. In today's society, social media makes it really easy for us to compare ourselves and rather than tearing each other down, it is important to build each other up, especially as women!
Nicole's goal is to be the best role model that she can be and continue to take on all that life has to offer with grace, courage, and of course, a little bit of spunk!
Sponsors
Video
Q&A
What are your interests and what do you enjoy doing the most?
Acting, Waterskiing, Sports, Public speaking, Travelling!
List any special training you have had (music, art, drama, dance, etc.)
Acting (various courses at top studios across Toronto, Improvisation, Dance (Acro, jazz, ballet, tap, hip hop)
In what sports, if any, have you participated?
Soccer, volleyball, gymnastics, basketball, flag football, cross country, Track (800 metres and 100m relay), water skiing (slalom), wake boarding,
swivel skiing, fly boarding, snow skiing
Name one person, other than your parents, who has had the most influence on your life. Why?
My twin sister, Lauren Peters. She motivates me to be the best I can be and reminds me to always persevere. Lauren has always been there for me, serving as both a support system, (personal cheerleader!),and incredible role model. We have been through the lows and the highs together and there is no one else I would rather have on this Miss Universe Canada journey with me.
What is your proudest personal accomplishment (other than participating in this pageant)?
Booking the role of Hope McLanden in the feature film, A Simple Favor would probably be my proudest personal accomplishment. Acting has always been important in my life and the reason it is a very proud moment for me is because it showed me that hard work and determination really do pay off! In acting you have to face a lot of rejection and have a thick skin and booking this role showed me the power of never giving up even when you go through hard times.
What is the most interesting or unique thing that has ever happened to you and/or what is the most interesting thing about you?
Graduating from high school I was fortunate to get accepted to all kinds of programs including engineering, commerce, media, health sciences etc. I have always had a wide range of interests and thought I would have to choose between pursuing my academic studies further and doing acting. However, through this difficult and stressful time in my life (in grade 12) I realized that no matter what you want to do, if you just work hard all things are possible. This realization really allowed me to view life differently and realize that the power is within ourselves—we all have it, we just need to unleash it!
I truly believe that every human being is unique and interesting; it is important to remind each other of that every once in a while! The most interesting thing about me is that I LOVE adventure! I have gone on a hot-air balloon ride, an open-door helicopter ride, and have been dogsledding! I am a firm believer in the idea that life is here for us to live it!
What is your career ambition and what are you doing or plan to do to accomplish that goal?
I have many different ambitions in life!! Though sometimes my family fears I am too ambitious, I do not believe that there is such a thing. I believe that ambition is critical and as long as you have a plan, you can make those dreams a reality. My career ambition is to continue acting for film and television and book a number of lead roles! Additionally, I strive to continue to pursue acting while furthering my education with law school and becoming a lawyer. My plan to accomplish both of these relies heavily on one main thing — hard work. I will continue to train to hone my skills, continue to put myself out there as much as I can, study hard, and focus on my end goal!
What would be your "dream job" in life?
I do not know if I necessarily have one specific dream job in life that I want to strive for. However, what I do know is that I want a job that continues to challenge me every day, allows me to learn and grow, and gives me the opportunity to make a difference in any capacity.
Describe where you were raised and what your childhood was like.
I was raised in Mississauga, Ontario. Though life isn't always easy and I was faced with a number of challenges growing up, I was fortunate to still experience a lot of love and support. Beginning at a young age, I have always had an interest in so many different areas (from sports to academics to the arts) and loved pushing myself despite everything that was thrown at me. I believe what helped me get through the tough times in my life growing up was immersing myself in so many different areas that I loved.
I feel like in society and growing up we are often made to think that we have to pick a certain pathway whether that be just concentrating on a certain subject or one specific sport, or if you are involved in sports you cannot be involved in the arts. However, my family played a big part in making me believe otherwise. Though focus is important, there is no reason you cannot do well in school (and take lots of maths/sciences), keep an active lifestyle, and pursue your passion in the arts (for me, it was acting). That is what I did growing up and continue to do, and I want to inspire other girls like me (or anyone for that matter)! I am a strong believer that everyone should be allowed the same opportunities and if you put your mind to something and work relentlessly towards your dreams you can and will achieve them.
List any interesting or unusual jobs you may have had.
Water Skiing instructor and ski show performer! (I am on Team Canada's Show Ski Team 2022)
Experiential Marketing for the Warner Brother's movie, "Isn't it Romantic" — I acted as a character in an open store front for promotion of the movie
Intern or as our colleagues called it ("TWINtern") at Breakfast Television!
List any volunteering you have done.
Developed programs for youth at my local community centre
Tutoring — all subjects!
Eco team, picking up litter, planning initiatives, educating the community on climate change
Dr. Simone's — packaged food and clothing for developing countries
Feed It Forward
Soccer club, helping young girls learn and get excited about an active lifestyle
What is your most unusual talent?
I can barefoot! (water skiing with no skis!)
Where is the most interesting place you have been to?
I have been to Mexico a few times for family trips but where I found was the most interesting—and frankly, also disheartening, was downtown Mexico City. To witness the poverty that overwhelmed the city and the efforts that even young children were doing to help provide for their family was extremely eye-opening. I believe that we all deserve a happy and secure life. Ever since this moment, I try my best to somehow contribute to a better life for those living in poverty both internationally and locally—even if it is just in small ways. When I am able to travel abroad I always look to see if I can bring items along to donate. However, I also realize that charity starts at home. I appreciate how fortunate I am in my life in Canada but I also recognize that there are still those a bit less fortunate even in our amazing country. Though I may not always be able to help everyone, I believe all of us helping—even in a small way, can make a difference.
What do you hope to be doing in ten years?
Though this may seem like a cliché answer, in ten years I hope to be doing something that makes a difference. Ultimately, I want to be in a position where I can positively influence, help out, and empower others.
Additionally, as simple as it may sound, I want to be happy. Life is so short and we all deserve happiness.
Is there anything you would like to add that we haven't asked?
I just wanted to say that I am honoured to have this opportunity and if chosen to be Miss Universe Canada I will represent Canada with grace, dignity, compassion, kindness, and fearlessness.