Nova Stevens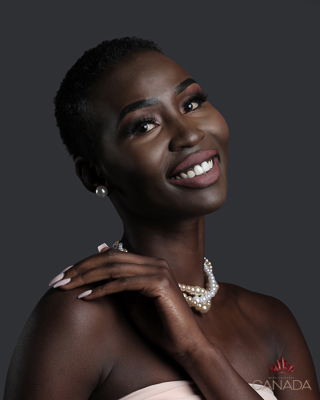 Height: 6′
Hometown: Vancouver, BC
Languages: English, Nuer
Occupation: Model, Actress, Spokesperson, Mentor, Activist
Dynamic, resilient, persistent, and full of life, this is how those who know her best would describe Nova. However, asked to describe herself, Nova would emphasize resiliency and the power of faith in being able to change your circumstances. After her family fled a brutal civil war in South Sudan, Nova was sent alone to Canada at age 6 to be able to have a better life. Leaving behind her mother in a UN camp in South Sudan and her father and siblings in Ethiopia, Nova uses her new chance at life in Canada as a driving factor to one day reunite her family.
By the young age of 15, with the help of the Youth Transition program in Alberta, she had already forged a life for herself, living independently, finishing school and learning the importance of guidance for youth. At age 18 she earned the manager position for the program because of her maturity and her drive to give back. Being separated from her family and growing up without her parents in Canada, Nova is acutely aware of the importance of fostering healthy development of children and youth from all walks of life. While continuing to work towards reuniting her family, she is continuously looking for opportunities to serve young Canadians as she is so grateful for the opportunities that being Canadian has given her. Nova is a co-founder and one of the spokespersons for 'Freedom March Vancouver' and 'Black freedom society' whose mission is to eradicate hate and racism experienced by black and indigenous people of colour in our world today. On August 1st, during their emancipation day march, Nova and Shamika announced that they had the city of Vancouver declare August 1st as emancipation day with an official document signed by the Mayor of Vancouver Kennedy Stewart.
Growing up, Nova shined as a natural leader. On June 19th, 2020. Nova co-organized a peaceful protest/march for Black Lives Matter march; which brought more than 15,000 people together. This was not the beginning of Nova's leadership initiatives. Having been involved with youth leadership programs throughout high school, she championed the importance of education for youth and helped their families foster that environment. She has experienced the importance of a balanced and healthy lifestyle to promote both mental and physical wellness. As such she has always excelled in sport, competing competitively in volleyball, track and field, and basketball. This led to a full basketball scholarship out of high school. She continues to maintain an active lifestyle and practices mindfulness to remain focused on her goals – which, as you can imagine, are as big as her personality!
Through her persistence and disciplined goal-setting she has become an activist for Black Lives Matter as well as an actress and published international model working in the fashion capitals of New York, Paris and Milan. She is currently working as a model and actress who can be seen in the following tv shows: See, Motherland and Magicians. She can also be found in commercials for Dairy Queen, Toyota Corolla, Jared's Jewelry and Macy's. Nova's smile can light up any room and her charisma has established her as a sought after spokesperson for Freedom March Vancouver.
As part of her commitment to the Miss Universe cause she has been passionately studying and raising awareness about 'Feed it forward' a Canadian not-for-profit with two main goals: to feed Canadians that are food insecure, and to reduce food waste. Its mission is to make a difference in the lives of fellow Canadians who are in need of assistance with securing nutritious food and regular balanced meals. Nova looks forward to bringing her confidence and passion to the Miss Universe stage this year. While continuing to give back, she also hopes to use this opportunity to shine a light on the issue of inequality and racism experienced by people of colour. Most importantly, she hopes that winning the title and your hearts would encourage other young African Canadians to see the beauty in themselves.
Sponsors
Function Health Club
,
Catherine Regehr
,
Brunette the Label
,
Avenue PR
,
Level Up Living
,
Brightlight Pictures
,
Victory Media
,
Nadia Albano Style Inc.
,
French Lime
,
Allure Carnival – Joanne Webster
,
Shawe
, Family and Friends
Video
Q&A
What are your interests and what do you enjoy doing the most?
I have a myriad of interests so it's hard to narrow it down to just a few. I consider myself "a lover of life" simply because I can find joy in all things. Especially when it comes traveling; which is one of my greatest passions because it allows you to explore the world while learning new cultures. In my opinion, this is one of the best ways one can truly learn different aspects of themselves. This may fall in the line of passions rather than interests: activism. For me, it's not extremely important to use my voice to speak up against wrong doings, for those that may not be able to speak for themselves and invoke change. The most powerful tool you posses is your voice. It can be used for good or bad. Choose wisely. When I'm not immersing myself in different cultures, or organizing marches and protests, you can find me at the beach with a book in hand, or meditating. I believe it is important to live an active and healthy lifestyle; which should include a good balance of mind, body and soul. To achieve that balance I lead a healthy vegan lifestyle and enjoy hiking, swimming, running and being pushed to my limits by my trainer (sometimes). In addition, I can't deny my passion for fashion. Fashion, has all ways been a huge part of my life. Whether it's being on the runway, playing dress-up for photoshoots or using it as a tool to express my individuality. One of my favourite quotes by the one and only Coco Chanel "Fashion is not something that exists in dresses only. Fashion is the sky, in the street, fashion has to do with ideas, the way we live, what is happening" this to me sums up what fashion represents. Lastly, I truly enjoy giving back to the community that helped raise me in any way that I can while mentoring youth that need that extra support in their life.
List any special training you have had (music, art, drama, dance, etc.)
I've always lead an active lifestyle and workout every day. I currently live in Vancouver and for those that know the city would know that Vancouver is considered "Hollywood North" and I have been taking the advantages that this beautiful city has awarded me with. I am a signed actor with Premiere talent and have been talking acting classes to perfect the art that I love. Also, I've been a part of 'Toast masters' a public speaking group that gets together once a week to practice and learn public speaking skills. This group has aided me with strong presence as well as speaking with confidence and conviction. Additionally, I am taking singing lessons to help with the formation of my voice. I believe there is a correlation between modeling, acting and singing. In these arts, your using the other in one way or another.
In what sports, if any, have you participated?
Naturally, I am an athlete and have grown up playing volleyball, track and field and basketball. My athleticism lead to me receiving a basketball scholarship in high school, which led to me playing for the SAIT Trojans.
Name one person, other than your parents, who has had the most influence on your life. Why?
I live by this quote "Think like a queen. A queen is not afraid to fail. Failure is another stepping stone to greatness." Oprah Winfrey. Those are the words of the woman that has inspired me from a very young age. I have not been fortunate to grow up with my immediate family. It was people like Oprah that I looked up to, for inspiration. I remember always watching her talk show and listening to her advice carefully as if she was my mother. From her I learned that it's not where you're from, rather where you're going. Your past does not define you, it strengthens you.
What is your proudest personal accomplishment (other than participating in this pageant)?
I am very proud of the woman I've become and my accomplishments thus far. My proudest moment thus far would be co-organizing a Black Lives Matter march/protest. We brought together over 15,000+ to march in solidarity against racism, discrimination, police brutality, inequality and overall hate. Another accomplishment I am very proud to be a part of; is the declaration of August 1st as independent day by the city of Vancouver. This was a historic day, I am grateful to have been one of the people behind that accomplishment. It's amazing what you can accomplish when you recognize the power of your own voice and use it accordingly.
What is the most interesting or unique thing that has ever happened to you and/or what is the most interesting thing about you?
After the 'Freedom march that I co-organized. I would have random people come up to me and tell me they've seen me on tv speaking about racism etc. This has been happening quite often; which surprises and catches me off guard all the time. This is something I've never experienced. I must say, as I was answering these questions, I asked one of my best friends this same question and her response was "you love pranks, you live for April fools' I guess you can consider that to be unique and interesting.
What is your career ambition and what are you doing or plan to do to accomplish that goal?
When it's all said and done, I want to leave a legacy of love, philanthropy and impact. I think the first key to success is knowing what you want, once you know what you want then you can orchestrate a plan on how to achieve it. As of right now, my focus is on Miss Universe Canada as it is in the path towards achieving my goal of Miss Universe. MUC is a platform; and with that platform, I am hoping to open more doors for young girls of color. Who will see themselves in me and know that they too are capable and worthy of representing Canada at Miss Universe. I will also use this platform to continue the fight of injustice and racial inequality experienced by black indigenous people of colour. Black Lives Matter isn't a movement, it's a way of life. In preparation, I am training and seeking mentorship from the most valuable people.
What would be your "dream job" in life?
My dream job would be to continue the things I am currently doing but on a bigger scale. I.E modeling, acting, philanthropy and activism; while pursuing entrepreneurial endeavours. I believe that the entertainment industry gives you a big platform with vast opportunities that allows you to change and impact lives. I want to encourage other young people of colour to pursue their dreams in industries where we are under-represented. Currently, I am in the process of opening a non-profit organization that helps unprivileged youth lead a positive lifestyle.
Describe where you were raised and what your childhood was like.
My childhood wasn't quite average or the norm per se. I moved to Canada with a family member and lived with various family members up until I was 15, which is when I moved out on my own. My decision to move out on my own and live independently stemmed from the fact that I did not want to continue to live in a negative environment. Energy is very important and I realized that at a very young age. Things aren't always easy, but ultimately we are in control of the people we decide to surround ourselves with.
List any interesting or unusual jobs you may have had.
I was 18 and was hired by a third party debt collection company. Ironically, I was the number 1 debt collector in North America during my tenure with the company. That would probably be my most unusual job. This to me was a clear indication of my people skills. I have always been great at communicating with people and genuinely enjoy it.
List any volunteering you have done.
Freedom March Vancouver (March/protest)
SOS Children's Villages
Operation Smile
Freedom March Vancouver (March/protest)
Keep6ix organization
Calgary Alpha house
Aspen
YWCA
What is your most unusual talent?
I can sing any song in a baby's voice as well as make my left thumb dance.
Where is the most interesting place you have been to?
Modelling has allowed me to travel the world and explore different cultures. That being said, I have travelled to NYC, Milan, Paris and the South of France where I jumped into the Mediterranean Sea and swam in a large body of water for the first time! Prior to that I didn't know how to swim and had a fear of deep ends, but that summer I decided to conquer my fear and just do it! I think we should all work on conquering our fears as it inhibits us.
What do you hope to be doing in ten years?
On paper ten years seems like a long time from now but in reality, it's really not that far from today! That being said, in ten years I envision myself having succeeded in my careers and business endeavors as well as having my non-profit organization for unprivileged kids internationally known with sectors all over the world. Nonetheless, I am open to whatever opportunity the universe grants me as I believe life is full of surprises and that's the beauty of it.
Is there anything you would like to add that we haven't asked?
To me, winning this title means: showing the world that there isn't an "ideal" beauty, we are all beautiful regardless of colour, shade, shape, physical attributes or whatever construct society has created to be considered "more beautiful ". It is time to show the world the true beauty of Canada which lies within our diverse culture and love for one another. Most importantly, I want to encourage young girls of colour to see themselves as beautiful, regardless of what society considers as "beautiful" I want them to see my image and think that they too can compete for Miss Universe Canada and win despite being of African descent with dark skin and non-Eurocentric features. We are all beautiful when we are authentically ourselves.