Rosalie Mercier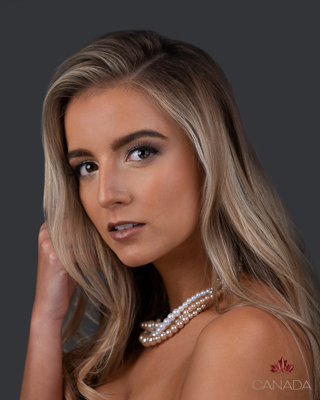 Height: 4'11
Hometown: Québec, QC
Languages: English, French, Spanish
Occupation: Director of Business Development
Rosalie Mercier is passionate about social relationships, international development, and local involvement. Raised in Quebec City, she always has been close to her parents and brother Jeremy. Their unconditional support gives her the confidence to follow her multiple passions and push the boundaries of her limits. Her background allowed her to recognize the importance of education and she hopes to inspire young people to follow their hearts and develop their intellectual curiosity.
It is what she has precisely done for herself. She graduated with a Bachelor's in International Business Management at Laval University with African markets' courses at Em Lyon. Today, she works as a Director of Business Development for Dimension Composite. Rosalie is passionate about her field of studies, and she believes that education helps to solve global world issues. Since she is people-oriented and loves studying, she decided to combine her full-time employment with part-time studies in psychology. She also aims to do a Master's in theology and an MBA in an internationally renowned business school. According to Rosalie, learning is also an inner work, and it is the reason why she hosts conferences in high schools pertaining to self-knowledge, growth and listening to one's inner self. At her high school graduation, acting as her schools' president student council she gave a speech to her peers where she talked about the strong ties built throughout the years.
In 2016, she represented Quebec's Winter Carnival as one of the Duchesses. This allowed her to experience her first trade mission in Paris where she gave a conference in Les Galeries Lafayette with her peers. Meeting politicians, entrepreneurs, media, and people from other cultures was very rewarding. She loved the experience so much that she applied for the Trade Missions program at Laval University where she participated in a three weeks trade mission with Poland to represent a Quebec based company. She received a scholarship at the end of this program and was recognized as Ms. Mission by her peers.
Even though she loves conducting business, doing humanitarian work for local communities and foreign countries showed her the impact she can have on people. Meeting small communities from Honduras and Morocco where access to medical care is limited, drinking water is scarce and education is not for all, was heart-breaking. She became increasingly of social, environmental, and health issues linked to a lack of knowledge in certain communities worldwide. She believes there is always a way of making lemonade out of lemons, with this mantra she aims to become a globally renowned spiritual leader. She would love to inspire people, and businesses to be more conscious and recognize their social responsibility.
Though pageantry has been new for Rosalie, she believes in her capacity to accept challenges, mobilize the best people around her, and to surpass herself.
Sponsors
Video
Q&A
What are your interests and what do you enjoy doing the most?
What I enjoy doing the most is learning! For me, the entire world is a class where I can learn. I enjoy reading books and broadening my horizons on a variety of topics. My favorite areas of learning are: business development, leadership, motivation, psychology, cultures, theology, social relationships, history and herbalism.
Moreover, I love to be involved in my community by doing projects which bring positive side effects (volunteering, creation of events, ideation, etc.). I enjoy attending various social events such as corporate ones, as it is a way to create social connections. From a young age I have had a passion for dancing and being on stage. Whether I am hosting conference or a speech, playing in a musical or belly dancing, it always makes me feel like I can connect, once again, with people.
When I feel like I need time for myself, I love to go to my small local market where we can buy local products. Coming back home with my local finds, I enjoy discovering new flavors by taking the time to cook a great meal. For me, cooking can be a very creative activity, and calming. I also enjoy going for walks in the forest. I enjoy meditation and practicing spiritual care such as reiki.
Finally, one of my favorite hobbies is to travel the world. This allows the discovery of new cultures by identifying the way people communicate, and how it affects social interactions. I enjoy understanding the culture by making connections with locals and being invited into the homes of local people to see their way of living. It is one of the main reasons why I studied International Business Development, that I am currently studying psychology, and that I aim to study theology. This tool helps me deepen social connections that fulfill me.
List any special training you have had (music, art, drama, dance, etc.)
When I was in Elementary School, I already wanted to be able to connect with people. I believe it is the reason why I was so interested in taking part in a musical. I had the chance to play the role of The Little Prince of St-Exupéry; that character was wise beyond his years. This character was so kind, dispensing long-lasting life lessons to younger, and older people that I remember feeling people's empathy when I was on stage. This training was useful for me because it helped me manage my stress from a very young age and it also helped me feel the impact I could have on people. I also won a contest for TVA television (a major Quebec Broadcaster) to be in a commercial for Expo Québec.
During my High School period, I had the chance to be sent to leadership training sessions to improve my capacity to mobilize people around projects and communications. In the same years, I was shy of my new adult body, and I loved the confidence that Shakira had in her videos. I also remember that in kindergarten, my grandmother brought me to a Bellydance show, an experience which I would never forget because the women were so confident and feminine. For these reasons, I decided to start belly dancing to gain confidence, and positively develop my feminine energy. Since I love classical music, I also had the chance to learn how to play the transverse flute.
Once in CEGEP (college), I developed my skills in management and entrepreneurship. These years were so useful to learn basics and concrete skills. I had some training in negotiation and some classes on the role of women in the business world that are still useful for me today. Being one of the Duchesses of the winter Carnival in Quebec also provided me with a huge boost in maturity, and it helped me improve my skills in communication, leadership, and social work. This experience also allowed me to live a first trade mission and learn how to present myself correctly with diplomats, members of the media, and entrepreneurs. It was also a period where I did a few photoshoots for some young photographers and received training to practice Reiki.
Once in University, I was trained in International Business Management and chosen by the Missions Commerciales (trade missions) program. I had a complete training in importation, exportation, managing cultural differences, evaluating companies for M&A, and more. I was also part of the Les Jeux du Commerce program, where I represented Laval University for the Organizational Information Systems division. I was previously trained in strategy, visual presentation, Business presentation, and Interviews.
Finally, I am grateful for all the training I had in my life that helped me grow as a person, and that is still useful today.
In what sports, if any, have you participated?
Recently, I have been involved more with low impact training such as Pilates and Yoga. I have also participated in the past in swimming competitions, running races, and triathlons. Triathlons taught me a lot about discipline, going beyond my physical barriers, and rigor to achieve my goals. In the past, I also practiced baseball, where minorities of girls were playing. I played for fun and enjoyed the team spirit.
Name one person, other than your parents, who has had the most influence on your life. Why?
I would say Jaggi Vasudev better known as Sadhguru, who is a master yogi and mystic founder of the Isha Foundation, a non-profit yoga organization. He is a spiritual guide with millions of followers around the world. He inspires me because he has a modern vision of the spiritual world. Like me, he comes from the business community and is a practitioner of mindfulness. I hope that one day, I will have developed such communication skills and the ability to deliver messages of peace around the world.
What is your proudest personal accomplishment (other than participating in this pageant)?
My most recent accomplishment that makes me proud is to have obtained a job in an industry that I am passionate about and that is directly related to my field of study. I believe that at 23, I can be proud to work in a company that allows me to learn every day, to get to know myself better and to develop my skills. I am also proud to have an environment that supports me on a daily basis and supports me in my projects.
What is the most interesting or unique thing that has ever happened to you and/or what is the most interesting thing about you?
Recently, I have been evaluated as a gifted adult, and I believe it makes me unique since a small part of the population is gifted. It helps me think outside of the box and be positively marginal. I believe it helps me understand my hypersensitivity and my need for constant improvement of myself. Additionally, I believe this condition is interesting, and it is part of the reason why I decided to study psychology.
I am always open to teaching the knowledge I have acquired because I am convinced that teaching means learning twice.
What is your career ambition and what are you doing or plan to do to accomplish that goal?
I recently finished my studies in International Business Management and started a second Bachelor's degree in Psychology. Once I will have completed the Bachelor's degree in Psychology, I plan to complete a Master's degree in Theology. I also wish to graduate from an internationally renowned MBA school.
My ambition is to work, as I already do, in international development. Therefore, in the future, I would like to add a social responsibility dimension to my career, so that I can work even closer to local and international communities in need. I feel so privileged that my job allows me to open my horizons, meet people, and develop human relationships.
I would love my job to create win-win relationships between small communities around the world and global business leaders. This way, the big organizations would gain a better image in social responsibilities, and the small communities would gain better rights for their people.
What would be your "dream job" in life?
My ideal career would be to influence people on conscious, spiritual, and durable values. I would share my "out of the box" ideas and knowledge. My observations of the world are authentic, inspirational, modern, with respect to nature and cultures. I would travel around the world to help women develop a means for long term income. Moreover, I would aim to help them be able to provide the best education to their children and the best conditions for their growth (health and intellectual development). I would help international and local businesses to develop internationally and durably. I would also support local communities in need. My career would help me learn new languages to keep communicating more with small communities who do not speak French, English, or Spanish.
Describe where you were raised and what your childhood was like.
My parent raised me in what I would call a modern-traditional family. In fact, my mother was a housewife, and my dad works in real estate. My parents raised my brother and I with family-oriented and loving values. They are, without a doubt, very generous people. At a young age, we were made aware of the importance of helping others. Growing up, my family was a foster family and we were taught to help others whenever the opportunity presented itself. My father also studied in the education field. He instilled upon me his work ethic and his values of knowledge and education. Also, I believe that being raised by a stay-at-home mother helped my brother and I to develop empathy. My parents always encouraged us to go through our passions even if they were multiple. In this sense, we are an active family who loves to attend events, be involved in our community, and be active. As a child, people often qualified me as being special, I was very articulated, my memory was impressive, and I was often an A student. I was often called «miss projects» since I loved, and still love to mobilize people for creating added value to the community. In elementary school, I remember raising hundreds of dollars for organizations that help children, being involved in the musical, and being a class president.
List any interesting or unusual jobs you may have had.
I had the chance to work at the Comedia Fest Québec festival in 2019, where I hosted renowned humorists. I felt fortunate to get to know the people behind their public figures.
List any volunteering you have done.
I did two community trips to Honduras. The first was to build a house for a family in need and the second was to carry out an educational mission. I also raised donations for Guignolée, UNICEF and Opération Enfant Soleil. I served the Ftour to homeless people itinerants in Casablanca during my studies in Morocco. In addition, when I was Duchesse du Carnaval de Québec in 2016, I represented Cité-Joie. I have already been involved in designing activities for people in CHSLD (seniors home) and in various fundraising activities of a philanthropic nature. Recently, I gave conferences to teenage girls on getting to know and listen to their inner self as a woman. I also met some of them personally for individual conversation when needed. I also welcome foreign students at university to help them adapt better to Quebec's culture. These volunteering acts are some of my favorites.
What is your most unusual talent?
My most unusual talent is being able to visit a country and quickly identify with the norms, the values, the language subtleties, and the non-verbal languages of the locals. This talent helps me in my job and humanity work abroad. I believe this skill also helps me in my everyday life in my relationships with other people.
Where is the most interesting place you have been to?
The most interesting place I visited is Aït-Bougmez in Morocco. It is a small community of Berbers who live in a remote area in the mountains. A cottage that welcomes tourists represents a good part of the economy of the village. It was impressive to see how people lived well with little. I remember watching the children wash their laundry in the river and then lay them in the trees to dry them. I remember seeing the small school in the dilapidated village and wondering about the real future opportunities of its children, who were smiling but raised in extreme poverty. I found this place was impressive because it reminded me that it is possible to live more simply and in connection with nature.
What do you hope to be doing in ten years?
I hope to be happy in every field of my life and aligned with my inner self. In ten years, I hope to be raising a loving family and having a career that I enjoy every day. I wish I will be skilled enough in Ayurveda to teach it to other people. Moreover, I hope to still be involved in the International Business Management field to remain a citizen of the world and remain connected to its different realities. Finally, I hope that after my studies in psychology, I will be continuing to enrich my education in other fields of study.
Is there anything you would like to add that we haven't asked?
For me, winning Miss Universe Canada would mean that there are no limits to what we can do when we have a dream we want to achieve. I would also be proud to be one of the shortest participants to the Miss Universe pageant. I believe that every woman is beautiful in her way, and I know I would be a great representative of Canada's values in the next steps. Coming from Quebec allowed me to get exposed to the First Nation, the French, and English-speakers pivotal to the building of our country, and also the immigrants that have made us progress through time. I would take my Miss Universe Canada role very seriously, by accepting all the responsibilities linked to it, and striving to be the best version of myself. I would also use my title to promote education around the world as a means of prevention to current world issues.