Sam Fraughton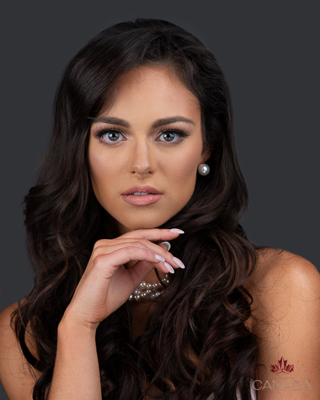 Height: 5'8
Hometown: Edmonton, AB
Languages: English
Occupation: Student at University of Alberta (Law)
Samantha is a third-year law student, where she is interested in issues surrounding access to justice and public legal education. In law school, her volunteerism has covered accompanying people to Provincial court, coordinating a program that teaches grade five students about the Constitution, and providing legal support to low-income communities.
Prior to law school, Samantha's first degree was in drama, and she continues to participate in community theatre whenever she can. Recently, she won a scholarship to write a play about Canada's legal relationship with Indigenous people through the treaties.
Outside of school, Samantha works part-time as a model and has worked for national brands such as Swimco and Paris Jewellers. The highlight of her modelling career so far has been appearing in the December 2019 issue of Vogue magazine. Working in the fashion industry has led Samantha to be an advocate for the slow fashion movement and ethical consumption of clothing. She believes that the issues surrounding textile production are not only environmental, but also have their roots in imperialism, colonial structures, gender equality issues, and human rights.
In her spare time, Samantha swims and runs avidly. She is also an artist who exhibits and sells her paintings at the annual Edmonton Art Walk. Samantha spent eleven years as a classical pianist, and enjoys continuing to take lessons and playing music with other people.
Samantha has placed as first runner-up for Miss Earth Canada 2013 and 2016, and has been a semi-finalist in every other major pageant system in Canada. She is ready to bring nine years of pageantry experience to the Miss Universe stage and make Canada proud.
Sponsors
Family and Friends
Video
Q&A
What are your interests and what do you enjoy doing the most?
I love taking in live performances of any kind, from music to theatre to WWE wrestling. I am also very interested in regional history, and enjoy photographing historic architecture all across the prairies. I spend the rest of my spare time in pursuit of the perfect cup of black coffee.
List any special training you have had (music, art, drama, dance, etc.)
I hold a BA in Drama from the University of Alberta, where I was exposed to not only acting but directing and production design. Theatre is one of my biggest passions in life, and I participate in community theatre whenever I can!
I am also a classically trained pianist, having played since I was eight. I continue to take piano lessons, and enjoy arranging music as well as playing informally with others.
In what sports, if any, have you participated?
As a lifeguard and former swimming instructor, I love to swim for my own enjoyment. I taught many aquatic sport programs for almost a decade, including springboard diving and indoor kayaking. I have been an avid runner for many years, and ran the Edmonton half marathon in 2015.
Name one person, other than your parents, who has had the most influence on your life. Why?
My younger sister Lindsay has had a huge impact on my life. I often turn to her for advice and support, and she makes me laugh unlike anyone else! There is a huge amount of trust between us, and we have been very close for our whole lives. I don't know how I would get by— or who I would be— without my sister's razor-sharp insights and wit.
What is your proudest personal accomplishment (other than participating in this pageant)?
Getting accepted to law school. It was a goal I set for myself in 2013, while completing my arts degree. I studied for the LSAT entrance exam for two years, and put a tremendous amount of energy into the application process. I received acceptance to my school of choice the day after my birthday, too!
What is the most interesting or unique thing that has ever happened to you and/or what is the most interesting thing about you?
When I was 14, I was a finalist in the Canadian National Spelling Bee. It was such a fun and unique experience where I made friends from all across Canada that I still have today. I studied word origins, and learned a lot about how languages work. The word that eliminated me from the competition was 'dubiety'.
What is your career ambition and what are you doing or plan to do to accomplish that goal?
My career goal is to practice public law in some sense. I feel that the justice system should be accessible to everyone, and a large part of my law school career thus far has been focussed on public legal education initiatives.
What would be your "dream job" in life?
My dream is to be a lawyer, where my hope is to have a fulfilling legal practice at the intersections of law, education, and activism. At this point in my education, I am most interested in Indigenous legal issues and in seeing the promises of the treaties fulfilled.
Describe where you were raised and what your childhood was like.
I grew up in Fort Saskatchewan, Alberta, and I was fortunate to live very near to all my grandparents, as well as my great-grandma, who lived to be almost 104! My parents, sister, and I have always enjoyed spending long nights playing board games and cards together. My family is competitive, but also tremendously supportive.
List any interesting or unusual jobs you may have had.
In high school, I was a professional pianist. I had the opportunity to open for Soaring Strings, a violin-cello duo from Quebec; as well, I played other professional shows in Fort Saskatchewan. I learned a lot about myself and what it takes to play an instrument at a high level, and developed a deep respect for the work that goes into creating live music.
List any volunteering you have done.
Faculty of Law, University of Alberta: student legal services, public legal education outreach, Law Show charity fundraisers
USchool at the University of Alberta
Lifesaving Society of Alberta
Operation Smile
Variety the Children's Charity
Sheeptown Players community theatre
EuroTrumpet Productions
Fort Saskatchewan Girl Guides
Fort Saskatchewan Canada Day Committee
What is your most unusual talent?
I have a few: I can lick my elbow, I can recite the number Pi to 45 decimal points, and I can play piano with my hands crossed.
Where is the most interesting place you have been to?
Nicaragua. I travelled there with my family when my younger sister competed in Miss Teen Universe, and I was absolutely culture-shocked. I saw many things that I would never see at home, and that was my first time in a country where the language primarily spoken wasn't English. I learned a lot about my own privilege while on that trip, and it shaped many of the values and beliefs that I hold today.
What do you hope to be doing in ten years?
In ten years, I plan to be a practicing lawyer and hope that I can contribute meaningfully to the legal community. In ten years, I hope I am striving to always better myself, and finding new ways to be creative. I hope through my work and volunteer endeavours, I continue to help others who are less fortunate than I am.
Is there anything you would like to add that we haven't asked?
I entered my first pageant because I love being on stage, and was looking for opportunities to practice public speaking. I have continued to compete in pageants because they have allowed me to ask myself what I stand for and how I want to present myself. Navigating the female experience is largely an exercise in balancing competing social expectations, and pageants create space for women to question and redefine these expectations for themselves.