Svetlana Mamaeva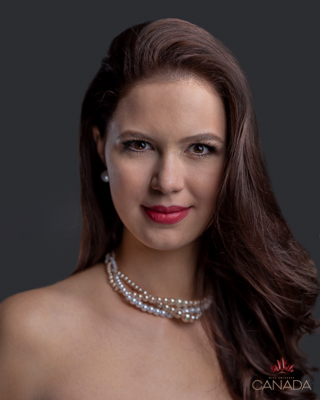 Height: 5'11
Hometown: Maple, ON
Languages: English, Russian, Romanian
Occupation: Project Coordinator (Business Technology Group)
Svetlana is a first-generation Canadian who is currently working in the field of business technology. Having been born and raised in Moldova, one of the least developed countries in Europe, she was determined from a young age to not be held back by her circumstances. She moved to Canada to pursue her education and graduated with an honours degree in finance from the Schulich School of Business at York University.
Led by her interest in this field, Svetlana spent over 2 years working in personal banking, where she earned the Top 10% in Canada award for her performance. She used her academic and professional experience to design a free financial literacy program for women across Canada. This initiative, FinPowered, provides accessible and informative workshops in the face of a global recession.
Aside from her interest in finance, Svetlana always had a passion for pageantry and performance. She first joined the Miss Universe Canada pageant in 2019 and earned the title of Miss Tourism World Canada. Later that year, she represented Canada at the Miss Tourism World pageant where she placed as the 1st runner up among 67 competing countries. Svetlana's dream is to represent Canada on the Miss Universe stage and help women across the world gain financial empowerment.
Sponsors
Video
Q&A
What are your interests and what do you enjoy doing the most?
During my spare time, I enjoy taking dance classes, skiing, spending time with my four siblings and travelling around the world. With the ongoing pandemic, many of my go-to activities were put on hold, so I took this opportunity to seek out new interests.
Speaking of new interests, I came across a short video advertising Chris Hadfield's online course in Space Exploration. He was the first Canadian to walk in space and served as commander of the International Space Station. With his unique storytelling, I was captivated and finished his entire program in just a few days. Led by my curiosity, I also read his book, "An Astronaut's Guide to Life on Earth", which became one of my favourite quarantine reads. It was interesting to learn about this
inspirational Canadian and how he reached his "impossible dream" of becoming an astronaut.
List any special training you have had (music, art, drama, dance, etc.)
I received formal training in public speaking, acting, singing, dancing and modelling. Although I enjoyed all of these activities, I consider public speaking to be the most valuable. To further improve this skill, I completed a graduate certificate program focused on public speaking, effective writing and leadership communication. I was able to apply what I've learned from this program to my career, pageantry and day-to-day life.
In what sports, if any, have you participated?
Growing up, I was actively involved in swimming and skiing. I trained in both sports for several years and was offered the chance to become a competitive skier. Looking back, I can confidently say that my involvement in sports strengthened my character. It taught me how to handle criticism, persevere during difficult times and always believe in myself.
Name one person, other than your parents, who has had the most influence on your life. Why?
The one person who has significantly influenced my life was my great-grandmother. She was a highly respected World War II veteran and received countless awards for her service. There was even a book written about her! She passed away when I was 10 years old and I feel very fortunate to have learned about her experiences directly from her. We shared a close bond and she will always be an example of a strong and inspiring woman in my life.
What is your proudest personal accomplishment (other than participating in this pageant)?
My proudest personal accomplishment is graduating from Schulich School of Business with an honours degree in Finance. I also completed a graduate certificate program in Business Communications offered by Harvard Extension School. I am planning to pursue my master's degree once I gain more work experience.
What is the most interesting or unique thing that has ever happened to you and/or what is the most interesting thing about you?
One of the most unique experiences I have had was celebrating my birthday in China while competing in the Miss Tourism World pageant. Although I was far away from my friends and family, it ended up being one of my most memorable and heartwarming birthdays. We were rehearsing for the final show when the organizers and fellow contestants suddenly started singing happy birthday and surprised me with a cake. Once I returned to my hotel room, I saw the flowers and treats sent to me from Canada. I competed in the Miss Tourism World finals the next day and earned my first international crown with the 1st runner up placement, which made for a very special birthday gift.
What is your career ambition and what are you doing or plan to do to accomplish that goal?
My goal is to become a knowledgeable and compassionate leader in the male-dominated industry that I currently work in. Recent reports have shown that women make up less than 8% of the highest executive positions at Canada's top companies. In order to change these statistics, we have to continue to stand up for ourselves, develop our skills and put in the work necessary to attain our dreams. To do my part towards accomplishing this goal, I continuously seek out new educational opportunities to enhance my skillset and show leadership by taking initiatives as work.
What would be your "dream job" in life?
Without a doubt, my dream job is to become Miss Universe Canada. This reminds me of the time when I was taking an online course in communications, where we participated in class discussions via weekly video calls. Our professor divided us into small groups and asked to share what our dream jobs are so that each group selects one person and interviews him/her for this role. I shared that my dream job is to be Miss Universe Canada and my group chose to interview me. Little did I know that I would have to be interviewed for this role in front of our entire class.
Describe where you were raised and what your childhood was like.
I was born and raised in Moldova and had an exciting childhood. Ever since I was very little, I was actively involved in dancing, singing, acting, modeling, and even pageantry. I absolutely loved performing on stage! As I rediscovered pageantry in my 20s, I find myself experiencing the same excitement and joy that I once did as a child.
List any interesting or unusual jobs you may have had.
If I had to choose my most unusual role, it would be representing my home country at an international pageant when I was only 9 years old. Even at a young age, I understood the responsibility that I had to represent my country well. Within that year, I placed as the 1st runner-up in the Mini Miss World pageant, which sparked my interest in pageantry for many years to come.
List any volunteering you have done.
My long-term experience volunteering with the breast cancer organization allowed me to step into many leadership roles, such as Information Team Leader, Logistics Team Leader and Breast Cancer Association Ambassador.
Most recently, I started my own initiative, called FinPowered, to provide free financial education for women across Canada. Recent studies have shown that Canadian women (31%) were less likely than men (43%) to consider themselves financially knowledgeable. My goal is to help women feel more empowered and equipped during these difficult economic times. I always keep this quote by Melinda Gates at the top of my mind, "Investing in women means investing in the people who invest in everyone else."
What is your most unusual talent?
My unusual talent is my quick memorization. In my home country, our curriculum involved a lot of memorization and it was not uncommon for us to recite 2-page poems by memory, which was how I developed this skill.
Where is the most interesting place you have been to?
I love travelling and feel grateful to have had the chance to visit almost 30 countries! Some of my favourite destinations include Ireland, Turkey, Bermuda and China.
I also had the opportunity to do an exchange in France during my undergraduate degree. I went to school with French students, closely followed local news, and worked on improving my language skills. I think that the best travel experiences are the ones where you can fully immerse yourself in a new culture and learn to live like a local.
What do you hope to be doing in ten years?
No matter where I end up in ten years, my goal is to look back without feeling any regrets and knowing that I took risks and believed in myself. One of my favourite quotes is, "Never give up on a dream just because of the time it will take to accomplish it. The time will pass anyway." Our lives and dreams are constantly evolving, so my hope is to build a meaningful life that I can be proud of.
Is there anything you would like to add that we haven't asked?
Competing in the Miss Universe Canada pageant and representing Canada on the international stage were one of the most special and memorable experiences for me last year. As I return for my second year, my goal is to become more confident, well-spoken and strong, while empowering women along my journey—especially during these unprecedented times.