Tamara Jemuovic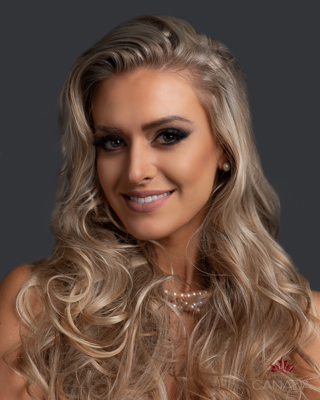 Height: 5'9
Hometown: Toronto, ON
Languages: English, Bosnian, Croatian, French, Serbian, Spanish
Occupation: Real Estate Professional
Although she was born and raised in Toronto, Tamara prides herself on being multilingual. She inspires young girls to push stereotypical boundaries while always setting daily examples for doing better and being better. She has travelled to over 30 countries, lived in 4 of them and adopted two dogs while on her travels abroad. Tamara has a thirst for seeing new places and experiencing life through new adventures.
Aside from her travels, Tamara is known for being savvy with marketing and social media. She believes social media can be a powerful tool for spreading awareness about pressing world issues, encouraging healthy active green living, personal motivation and empowering people to make kinder, more mindful choices. Tamara is no stranger to the modeling world as she has been in front of the camera since age 3. Most notably she has modeled for L'oreal, Schwarzkopf, and nation-wide Rogers Communication ads. Eventually she discovered her love for pageantry where she was able to apply her personality and love for sharing platforms she is passionate about. Tamara was honoured to be crowned Miss Earth Canada 2016 and Miss Globe Canada 2019. Both provided her a memorable experience but further grew her desire to compete for the opportunity to become Miss Universe Canada.
Outside of her career in the entertainment industry, she is a self-employed, Award-Winning Realtor. Excelling in her field and reinforced by her contributions to her community, she has been nominated for the nationally coveted "Canadian REALTORS Care® Award 2021." She has always distinguished herself by her eminent ambition and drive to give back. Tamara graduated with an Honours Degree from the University of Toronto, she completed her graduate studies at the University of Hawaii and her Real Estate License at the Ontario Real Estate College. "Hard work, dedication and perseverance are my driving forces towards success." Education has provided her with the compulsory tools to excel in various environments.
During her studies abroad, Tamara adopted a dog from a local shelter. A few years later, she brought home a dog from a vacation. She is the spokesperson for "HOT PAWS" a fundraising group that benefits local animal shelters and international rescue-missions. She believes that animals are very vulnerable because they rely on us to keep them healthy, safe, and happy. Tamara works towards educating people on the importance of the protection of animals and bringing awareness to prevent animal cruelty. "They can't speak up for themselves, it's our duty to be their voice."
Sponsors
Armex Homes
,
Naked BodyZ Fashion by Brenda Konwisarz
,
The El Mocambo
,
CaliFit
,
FM Med Spa
,
Maret Kendra
,
Venao Swimwear
,
PixbyNicPhotography
,
Tan On The Run
,
JC Silviera Makeup
,
Suited Fitness
, Family and Friends
Video
Q&A
What are your interests and what do you enjoy doing the most?
I am a big believer in "seize the day." I'm adventurous and embrace new challenges, really a true go getter. What I enjoy most is personal development, self care, and taking on challenges that help my growth.
List any special training you have had (music, art, drama, dance, etc.)
High School Diploma in Music Theatre.
Drama / Theatre
Music Theory
Jazz, Ballet, Hip Hip, Contemporary
Band (Flute) & Strings (Violin)
Muay Thai, Self-Defense Classes, Kickboxing
In what sports, if any, have you participated?
Volleyball, Basketball, Skating, Cheerleading, Skiing, Triple Long Jump, Swimming, 200m Sprint, 400m Relay.
Name one person, other than your parents, who has had the most influence on your life. Why?
My aunt because she is like a second mom to me, a sister, and a friend. I always admired her for the strong, successful, independent, and rational woman that she is. She's taught me valuable life lessons directly and indirectly. She's always been one of my biggest supporters and made a positive imprint on my life.
What is your proudest personal accomplishment (other than participating in this pageant)?
Completing my undergraduate degree at University of Toronto, my graduate studies at University of Hawaii and Ontario Real Estate College. Aside from my proudest academic accomplishments experiencing winning Miss Earth Canada 2016 & Miss Globe Canada 2019. Representing Canada on the international stage and meeting 90 girls from different countries has to take the cake!
What is the most interesting or unique thing that has ever happened to you and/or what is the most interesting thing about you?
I've adopted two dogs from different places I've been to. One rescue pup from Hawaii and one from Costa Rica. They're both the light of my life and when people praise me with "You saved them" I respond with "They saved me". I always wonder what we did to deserve such little angels!
What is your career ambition and what are you doing or plan to do to accomplish that goal?
I currently work on an Award Winning Team, a recipient of the "Royal LePage Red Diamond Award 2018, 2019" representing the top 2% of all Royal LePage Agents on a National Level. Every seasonal "Kick Off" meeting that my company has is an opportunity to empower one another to do great things professionally and give back to our communities. Working in such a massive field gives me the opportunity to network and work towards my goals of creating a program to help provide shelter opportunities to those that have met unfortunate circumstances and struggle to put a roof over their head. In a country made up of so many immigrants seeking a new beginning, leaving a painful past behind, we can be a helping hand.
What would be your "dream job" in life?
Miss Universe Canada is my dream job! My "dream job" is to travel the world speaking, educating, and creating awareness in children on the importance of self worth, unity, personal growth/development, and being your authentic self.
Describe where you were raised and what your childhood was like.
I was raised in Toronto, I had a wonderful childhood overall, despite being first generation born here and my immigrant parents running into many challenges. I'll never forget when my dad went to get a coffee and his car got towed, the money my parents used to retrieve the car was meant for groceries. It was a tough time, but their resilience and drive always stuck with me. When I was really young my entire family (including extended family) lived together under one roof. Having everyone around all the time taught me valuable lessons in life, from having a solid support system to respecting other people's boundaries and privacy, to learning how to create peace for myself amidst chaos. Imagine 8 people living in a small apartment! It was definitely a time I will never forget.
List any interesting or unusual jobs you may have had.
I have had a LOT of jobs throughout my life. At one point I had about 8 part-time jobs. I felt as if there were not enough hours in a day! I haven't asked my parents for $10 since I was 14. I started working very young because my parents wanted me to learn the value of a dollar. My mom would drive me to my first job (where I was making $7 an hour, to work my 3 hour shift) and wait for me to finish work because it would cost her more in gas to drive me back and forth than what I made in one day. That translated into being my lunch money for the week! We didn't have much when I was growing up which is why I've grown such a love for giving back to my community, in hopes that I can inspire a young girl to follow my footsteps or create a path of her own despite her own circumstances.
List any volunteering you have done.
TDSB – International Languages Program
Serbian Orthodox Church
Chinese Inspired Fashion Collective
HOT PAWS – (Spokesperson)
Variety Village/ The Children's Charity – (Personally raised $5,000)
Blic Foundation – (Helped Raise $11,000 worth of food, shelter, clothing)
Beauties For A Cause (Environmental Awareness Campaign)
TD Bank Friends of The Environment Campaign
Junior Achievement Worldwide (Teaching Financial Literacy)
Feed It Forward
and More…
Looking forward to working with SOS Children's Villages!
What is your most unusual talent?
I have hypermobility because I'm very flexible, too flexible that I have to be careful when doing activities such as yoga so that I don't strain my joints. I can bend my thumbs all the way back and touch my thumb to my forearm.
Where is the most interesting place you have been to?
I lived in Hawaii, it's most interesting to me because the MANA "Spirit" and OHANA "Family" that I felt while I was living there are something so special that can't be described in words.
What do you hope to be doing in ten years?
I hope to own my own Real Estate Brokerage that is tied to a local charity where a portion of our profits will go towards giving back to the community. Setting an example for our lucrative industry and showing them the importance of our contributions. Having a roof over your head should not be a privilege. I look forward to one day settling down and having my own family and continuing to travel to give my kids the opportunity to experience different cultures, religions and traditions.
Is there anything you would like to add that we haven't asked?
If given the opportunity to win the title of Miss Universe Canada 2020 I will use the power of social media to influence people by bringing awareness to world issues, encouraging healthier lifestyles, empowering people to make kinder and more mindful choices. I strive to use my platform to advocate for the importance of the protection of animals and bring awareness to prevent animal cruelty.