Tavleen Singh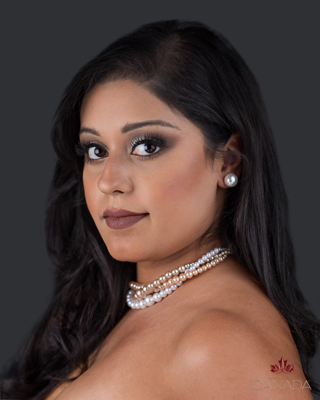 Height: 5'7
Hometown: Lethbridge, AB
Languages: English, Punjabi, Hindi, Urdu, French
Occupation: Student at Lynn University (Masters in Science in Psychology)
Tavleen Singh was born in Brampton, Ontario and moved to Lethbridge at the age of three. She was raised in Lethbridge, Alberta where she graduated at the University of Lethbridge with a Bachelor's of Science in Psychology with a heavy background in Neuroscience. Currently, she is the process of completing her Master's in Science in Psychology degree in 2020 where she will continue towards pursuing a Ph.D in Psychology in particular towards women in mental health. She has a personal private artwork collection where it initially started from her Master's program in Psychology which has given her to express and display her works in the areas of mental health and the scientific research behind psychology. She is the process of self-publishing her first book called Opportunity Cost which helps deliver her creative sense of passion for writing and education. Her recent efforts are being made in starting a podcast to help empower other women in the field of psychology where near by future collaborate with other professionals. From volunteering in diverse medical practices and organizing community events has allowed to- gain a self- expression of giving back to others in the forms of art which involves music, dance, culinary experiences, charity, beauty, knowledge and education.
Sponsors
Family and Friends
Q&A
What are your interests and what do you enjoy doing the most?
My interests revolve around sharing knowledge through an innovative and creative lens where my talents have allowed me to express myself as a woman. I find satisfaction through connecting and meeting diverse individuals to further my knowledge in the areas of helping others, in particular women. My passions lie within art where it has given me the chance to experience depths within beauty, music, dance, fitness, languages, culinary forms, cultures, travel, writing, public speaking, holistic approaches, education and other areas of knowledge.
I having gained to recognize the woman I am thus far where my interest continues to expand with connecting and sharing with other inspirational individuals in the aspiration of becoming a Psychologist for women. This can allow me to further my experiences in expanding my horizons within the areas of the mental, physical and spiritual sense of a woman.
List any special training you have had (music, art, drama, dance, etc.)
Art, music and sports took a large part of my childhood. Piano lessons gave me a chance to take part in piano competitions growing up with Lethbridge Piano Class Festival for nine years. I was also exposed to learning diverse forms of dance where performing for self and community events became a passion. These forms of dance included Bollywood, bhangra, giddha (folk-dance), salsa, hip-hop, and belly-dancing. Swimming lessons and provincial competitions also took the majority of my years where it had led to the certification in lifesaving bronze cross medallion in Alberta for water rescue and lifeguarding. In high school, I took part of the Art IB (International Baccalaureate program), which had expanded my art and creative ability. Growing up and till this day, I took part in many charity and cultural community events where I have immense experience with public speaking, organizing and planning, choreographing events in the departments for entertainments with dance, fashion shows and much more.
In what sports, if any, have you participated?
At a young age and majority of my years swimming had been an immense part of my life outside of school where I had reached to provincial competitive levels. Basketball, badminton and track and field were major extra-curricular sports at school I enjoyed. Several summer camps revolved me taking part in golf and horse-riding lessons.
Name one person, other than your parents, who has had the most influence on your life. Why?
One of the most influential women, Mother Teresa is symbolic by her name. She had dedicated energy, time and passion for offering insight and hope for those in need with the greatest movements across the globe. From international charities, to family counseling, orphanages, religious and non-religious movements and sever other powerful support groups for those had allowed her to become one of the most symbolic woman. Her dedication, service and strength have allowed many women to idolize woman empowerment. She never wanted to be recognized in her death where the spotlight never really was her motive.
What is your proudest personal accomplishment (other than participating in this pageant)?
I hosted and organized a private charity fundraiser with the Canadian Cancer Society where I had raised approx. raised $3000 dollars that night. This private event gave a chance for me to personally organize a private charity event that involved entertainment, food and fun. Connecting with community members and collaborating with professionals gave me a chance to experience hosting personal private charity events. Choreographing and planning was successful where the night was left memorable by many community members of Lethbridge. I further along, would like to host more private events at a national scale.
Currently, I have started @themedicineofart where personal art collaborations are set for purchase where it has allowed combining my continued education experience with Psychology and mental health. I am currently in the process publishing my writing and a book once I have obtained the Psychologist license. A podcast start-up plan is in the works to collaborate with other professional women in Canada to discuss notions of mental health.
What is the most interesting or unique thing that has ever happened to you and/or what is the most interesting thing about you?
In grade 5, I was received "The L.H. Bussard Medal" which is a creative award where the Board of Trustees of the Lethbridge School District No. 51 recognized me in displaying exceptional creative ability in the realms of art, music, drama, structural creativity, creative rhythmical movement, and creative writing. This award was awarded from the entire elementary schools involved with the district in education. The most interesting thing about myself is I love performing and being in front of a large audience and express myself in diverse areas whether its dancing, speaking, displaying, choreographing.
What is your career ambition and what are you doing or plan to do to accomplish that goal?
My career ambition will continue to involve helping others to recognize themselves in their passions and dreams where being a Psychologist for women will allow me to offer confidence, insight and strength through their journeys disregarding their class, race or ethnicity which would give the sense of empowerment. Self-help books offering a creative sense of my education and passions within art will allow me to offer and deliver counseling and therapy for women. Eventually becoming a CEO of a private magazine company and being present in the media also comes across my attention part of my career ambition as being a psychologist for women. Collaborations of a personal art exhibition of selected pieces are also may progress towards expanding my career to express myself as a person with art and the education in the field of psychology.
What would be your "dream job" in life?
Television host, CEO of a magazine company as a Psychologist for Women in mental heath. Displaying my artworks in art exhibitions and personal art exhibition delivering knowledge as women Psychologist attaining to mental health and art.
Describe where you were raised and what your childhood was like.
I was raised in Lethbridge, Alberta where I have gained much of my talents and experiences here. Lethbridge gave me the sense to embrace and learn from individuals with diverse backgrounds and professions where it gave me the sense to be actively involved within the community. As being a diverse individual, I had developed strong leaderships skills at a young age, where performing gave a chance for me to express myself.
List any interesting or unusual jobs you may have had.
Costco Sampling
Cutco (sold kitchen cutlery)
List any volunteering you have done.
I volunteering often at the Lethbridge Regional Hospital (ice-water delivery, piano on Sundays in atrium, pediatrics) during my highschool and undergraduate years. I have volunteering with various medical professionals which gave me the chance to interact and help others in need these include, Nobe EyeCare Associates, The Third Academy, Primary Eyecare Associates, Green Acres Foundation, Canadian Cancer Society, Relay for Life, Multicultural Association of Lethbridge.
What is your most unusual talent?
@themedicineofart displays my personal art works attaining to mental health and notions of psychology.
Where is the most interesting place you have been to?
New Delhi
What do you hope to be doing in ten years?
Offer insight and knowledge to help women in the field of mental health and help manage a collaboration with art offering professional care as a Psychologist. Publishing personal writing and art also comes across to my attention.
Is there anything you would like to add that we haven't asked?
Sharing and collaborating with other women can help build security and offer strength and confidence where being a women Psychologist can help deliver and empower other women to continue to strive through their journeys through obstacles and challenges in their lives. Miss Universe Canada displays excellent talented and educated women who strive to display their uniqueness while collaborating and building empowerment with other women.