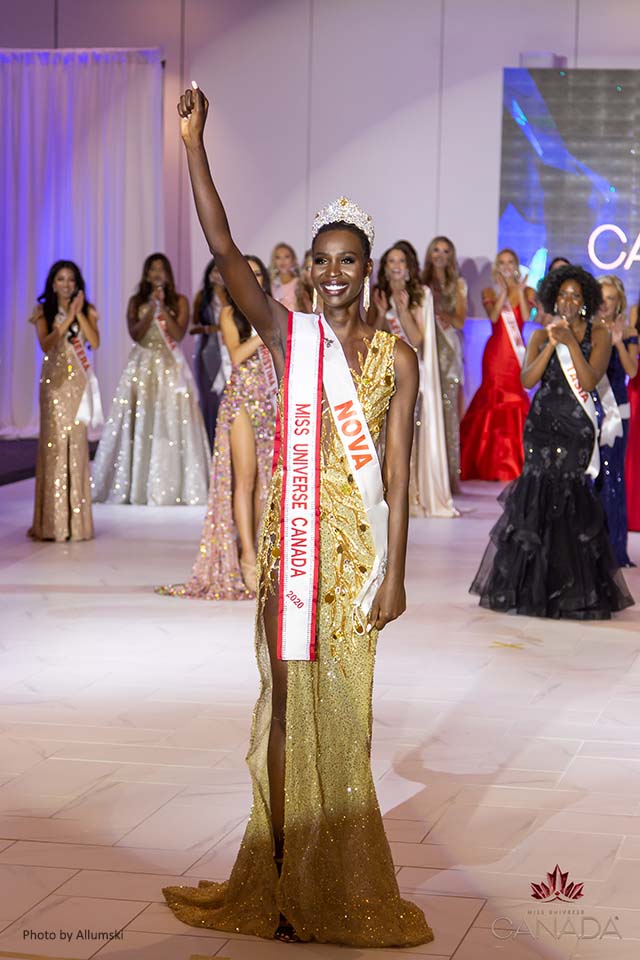 Nova Stevens
Dynamic, resilient, persistent, and full of life, this is how those who know her best would describe Nova. However, asked to describe herself, Nova would emphasize resiliency and the power of faith in being able to change your circumstances. After her family fled a brutal civil war in South Sudan, Nova was sent alone to Canada at age 6 to be able to have a better life. Leaving behind her mother in a UN camp in South Sudan and her father and siblings in Ethiopia, Nova uses her new chance at life in Canada as a driving factor to one day reunite her family. As Miss Universe Canada 2020, he would like to use this platform to help her family reunite after all these years.
By the young age of 15, with the help of the Youth Transition program in Alberta, she had already forged a life for herself, living independently, finishing school and learning the importance of guidance for youth. At age 18 she earned the manager position for the program because of her maturity and her drive to give back. Being separated from her family and growing up without her parents in Canada, Nova is acutely aware of the importance of fostering healthy development of children and youth from all walks of life. While continuing to work towards reuniting her family, she is continuously looking for opportunities to serve young Canadians as she is so grateful for the opportunities that being Canadian has given her. Nova is a co-founder and one of the spokespersons for 'Freedom March Vancouver' and 'Black freedom society' whose mission was to eradicate hate and racism experienced by black and indigenous people of colour in our world today. On August 1st, during their Emancipation Day march, Nova and Shamika announced that they had the city of Vancouver declare August 1st as Emancipation Day with an official document signed by the Mayor of Vancouver, Kennedy Stewart. Her goal now is to have it recognized nationally.
Growing up, Nova shined as a natural leader. On June 19th, 2020. Nova co-organized a peaceful protest/march for Black Lives Matter march; which brought more than 15,000 people together. This was not the beginning of Nova's leadership initiatives. Having been involved with youth leadership programs throughout high school, she championed the importance of education for youth and helped their families foster that environment. She has experienced the importance of a balanced and healthy lifestyle to promote both mental and physical wellness. As such she has always excelled in sport, competing competitively in volleyball, track and field, and basketball. This led to a full basketball scholarship out of high school. She continues to maintain an active lifestyle and practices mindfulness to remain focused on her goals – which, as you can imagine, are as big as her personality!
Through her persistence and disciplined goal-setting she has become an activist for Black Lives Matter as well as an actress and published international model working in the fashion capitals of New York, Paris and Milan. She is currently working as a model and actress who can be seen in the following tv shows: See, Motherland and Magicians. She can also be found in commercials for Dairy Queen, Toyota Corolla, Jared's Jewelry and Macy's. Nova's smile can light up any room and her charisma has established her as a sought after spokesperson for Freedom March Vancouver.
As part of her commitment to the Miss Universe cause she has been passionately studying and raising awareness about 'Feed it forward' a Canadian not-for-profit with two main goals: to feed Canadians that are food insecure, and to reduce food waste. Its mission is to make a difference in the lives of fellow Canadians who are in need of assistance with securing nutritious food and regular balanced meals. Nova looks forward to bringing her confidence and passion to the Miss Universe stage this year. While continuing to give back, she also hopes to use this opportunity to shine a light on the issue of inequality and racism experienced by people of colour. Most importantly, she hopes that now that she has won the national title and your hearts, it would encourage other young African Canadians to see the beauty in themselves.
Our Titleholders