Miss Universe Canada is proud to welcome back Tonos Revolution Makeup as the Official Makeup sponsor for Miss Universe Canada 2019. Tonos Revolution Makeup is returning for another wonderful year with Miss Universe Canada. Visit them at https://TonosCosmetics.ca #MissUniverseCanada2019 #MissUniverseCanada #MUC2019 #MUC #TonosCosmetics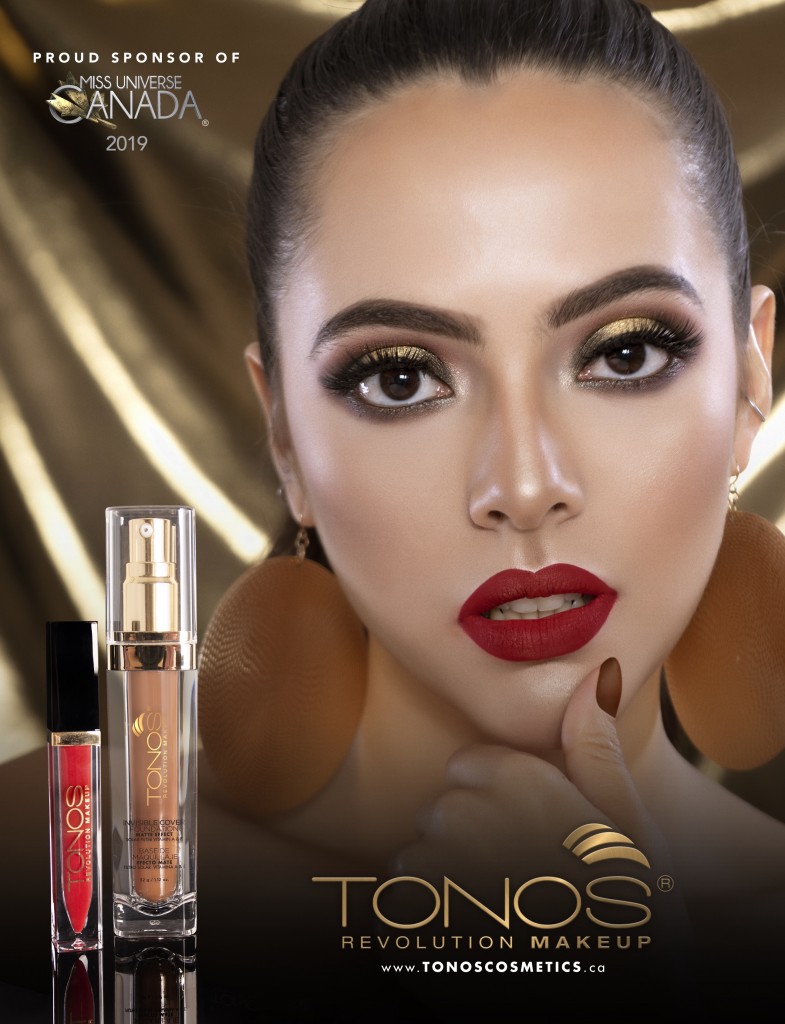 For the third year, Tonos Cosmetics, the Colombian cosmetics firm, has obtained the official sponsorship of Canada's most important beauty pageant.
Candidates will wear makeup that includes plant ingredients and principles of Colombian biodiversity.
The Company has Cruelty Free and Vegan Product certifications, granted by the international organization People for the Ethical treatment of Animals (PETA).
Also, the Company performs social work hand in hand with foundations that improve the quality of life of people with cancer or some type of disability.
 June 25, 2019.  Tonos Cosmetics, the Colombian cosmetics firm, will be the official sponsor of the most important beauty pageant in Canada – Miss Universe Canada – which will take place in Toronto on August 17, and whose will be the representative in Miss Universe 2019.
"We are the only Latin American company that is part of the group of official sponsors of this important event.  It is an achievement that represents for us great recognition of the quality of the products, and the commitment and effort we make every day to bring to women a concept of beauty that also contributes to their well-being and health," said Carolina Marín, CEO of Tonos Cosmetics.
She also added that, with this, the Company has sponsored the event for three years, after having participated in 2016 and 2017.  Miss Universe Canada has been organized by Beauties of Canada for 17 years.  Each official sponsor is chosen after a complete selection process.
A Beauty Line with the Seal of Tropical Biodiversity
The cosmetics firm includes a range of products with ingredients and active principles of plant origin, mainly typical of the biodiversity of the tropics. "Colombia is the second country with the greatest biodiversity in the world and Tonos Cosmetics could not be a company outside of that wonderful wealth.  For this reason, we use – in the sophisticated elaboration of a large part of our products – components derived from tropical fruits, as well as aloe vera, Acai and marigold extracts.  We also use macadamia and rosehip oils, shea butter and rice silk, among others," added Marín.
Cosmetics Free from Animal Abuse
Since 2016, Tonos has the Cruelty Free and Vegan Products certifications granted by the international organization People for the Ethical Treatment of Animals(PETA) to companies that do not test their products on animals, do not perform clinical tests on them, or use ingredients from said origin.
It should also be noted that the packaging of cosmetics are respectful and environmentally friendly, which has earned them the Ecofriendly seal.  In addition, the Colombia Country Brand supports the products of this Colombian company that complies with Good Manufacturing Practices (GMP).  In this line, the CEO has highlighted that, "there is still a lot of work to be done in this area; however, we are very satisfied with the moment in which we find ourselves."
Beyond Outer Beauty
Currently, the firm supports the Colombian foundations I Love My Baldness Foundation (Fundación Amo Mi Calva) for women with cancer and Fashion and Flowers (Moda y Flores), which works with women with some type of physical or mental disability.  Tonos Cosmetics performs various activities with these people that include, among others, makeup workshops for women who have been diagnosed with cancer, who have lost their hair and eyebrows in the process of the disease.
"Beyond makeup, we provide a space for them to remember how beautiful they are.  It is very gratifying to see their emotional changes during the workshop process and, finally, the Tonos team receives more than it gives," said Paula Restrepo, Tonos Cosmetics Makeup Artist and leader of these initiatives.
The company's cosmetics are free of parabens, sulphates, phthalates, gluten and mineral oils, among other ingredients, a feature that makes them more respectful with consumer welfare and health.
36 Years in the Market
Thanks to the leadership of a couple from Antioquia and 36 years of experience in the market, Tonos Cosmetics is present in Canada, Costa Rica, Honduras and Ecuador. The firm, with a line of more than 95 product references, is developing new markets, such as Peru.  In addition to its own cosmetics line, the Company advises and elaborates customized products for third parties.