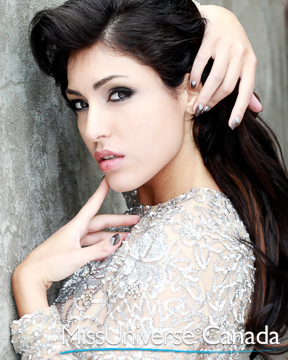 Height: 5'10″
Hometown: Vancouver, BC
Anna Hiita was born in the great city of art in Esfahan – Persia and raised in Great Britain. She explored for knowledge around the world, starting from Dubai and Turkey to the beautiful British Columbia. Her parents have always been her great advocates for learning, so education has and will always be her first priority in her life. Even though as a child she wanted to please them by being an honor student and achieve the best scores at school, today she considers this to be the biggest victory of her life .
She studied 6 years in art and architecture, fashion, acting and modeling as an active top student of the universities below.
1) Exceptional Talents college in Tehran (2 years)
2) Art and Architecture Azad university of Tehran (3 years)
3) Canadian University of Dubai (CUD)(1 year)
4) Art and Architecture Azad university of Dubai (1 year)
5) Blanch MacDonald Centre (fashion)
Sponsors:
Iran Zamin University, Aquarius medical clinic, Sage clinic, Caude Duke Photography, The Lab Salon & Spa, Pacific Dental, Burrard Massage Therapy, Robson Yoga, SKN Skin Care Center, Randy Ordinario Photography, Holly Wood Boutique, Traz4mationhairstudio, Threads Fashion Alterations, Vancouver public library, Morena Beauty Lounge, Shallah Panjwani, Dr Zohre Ansari, Jessica Smith Photography, Aziz Dhamani, Royal Centre Dental Group
Languages spoken fluently (please include your native language if English is not your native language).
English, Persian, Arabic, and Love French.
What are your interests and what do you enjoy doing the most?
Bringing the best out of any opportunity. Life is a journey, you have to enjoy the ride, and I completely agree that it is important to enjoy the thing you do each day.
List any special training you have had (music, art, drama, dance, etc.)
Music, studios, singing lessons, painting, fashion design, modeling, dancing, architectural courses, piano lessons, acting classes, yoga, salsa, swimming, giving a speech, toast masters, physiology classes, Sinence tutors.
In what sports, if any, have you participated?
I have engaged in different sports, to mention a few: Volleyball, Snowboarding, Football, Tennis, Chess, Mind Sports, Billiard, and I love Ping-Pong.
Name one person, other than your parents, who has had the most influence on your life. Why?
I would give this honor to my grand father. He was overwhelmed when I told him and showed grandfather to daughter emotions to me and I knew I had to participate in Miss Universe Pageant.
What is your proudest personal accomplishment (other than participating in this pageant?
Studying hard in different universities in different cities and different people. Travelling even in dangerous situations, being independent and believing.
What is the most interesting or unique thing that has ever happened to you and/or what is the most interesting thing about you?
Being independent and staying strong . Having faith, trying to help people in different concepts. Getting help from others as well as mixing it with my own soul and beliefs. Also trying to be a creative Artist.
What is your career ambition and what are you doing or plan to do to accomplish that goal?
In 5 years I aim to be a lead designer. I know that's ambitious and to get there I will need to deliver outstanding results. A wise girl can learn from her bad situations and try to accomplish them in the best way she can.
What would be your "dream job" in life?
What ever I do I love to be effective in a good way for others. But my dream job is to be a successful designer in fashion, architecture and acting in Hollywood.
Are you currently a student?
Yes I am studying online, and definitely juggling my studies and the pageant.
If yes, where?
Area of study:
Self-educating: studying online.
Are you currently employed?
Yes
If yes, what is your occupation?
I am working online on fashion business, architecture and bookmaking (gathering pictures and quotes about it).
Describe where you were raised and what your childhood was like.
I was raised in different countries and cities United Kingdom, Iran, Dubai, Istanbul, Tehran, and Esfahan.
I always remember my childhood in UK one of the best times in my life.
List any interesting or unusual jobs you may have had .
Fashion designing for an airline. This had to be my biggest unusual and most successful job.
List any volunteering you have done.
Organizing fashion shoots, modeling (both print and runway) , DJ, acting (movie az Tehran ta behesh ), acting, baby sitting, travelling to poor countries as a charity event to help the poor, event planner, stylist, magazine editor and even volunteering at the fireworks psychology classes and being a woman activist.
What is your most unusual talent?
My talent is more about art and relating it to the real world, and Singing.
Where is the most interesting place you have been to?
I have been to 30 different cities, it is a lot but I really loved Bali its so amazing, and travelling to turkey was an adventure.
What do you hope to be doing in ten years?
If I am alive by the special grace of God, I love to hear my friends and family are ok and I hope I can be successful in every thing I do with a beautiful balance .
Is there anything you would like to add that we haven't asked?
Thanks for asking these questions. It was really nice to remember good things I have achieved in life.