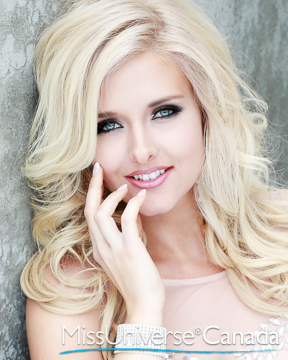 Height: 5'11″
Hometown: Cochrane, ON
Brittanya spent the majority of her childhood being raised in Cochrane, Ontario where she still lives today. She is a young entrepreneur who runs her business, Pampered Pawz, out of her recently purchased country home in Cochrane, Ontario. She graduated with high honors from the Sheridan College Animal Care Program in 2012. Brittanya opened her business in 2009 and offers services such as Cage-Free Dog Boarding, Dog Training, Dog Day Care and Dog Grooming.
Brittanya's main focus is training dogs for clients and rescue organizations. She has worked with some great dog trainers, including Cesar Millan, the Dog Whisperer. She always has many foster dogs in her care that are being trained and rehomed. She would love to one day become a Veterinarian so she can help solve pet over-population, by spaying and neutering animals, in areas that it is an issue.
Brittanya believes her family and friends are the reasons for her success so far. The decision her parents made to raise her and her 3 brothers in a small town was a great one! Having the freedom to explore nature is what made Brittanya the confident young woman she is today. Brittanya is a country girl at heart, growing up horseback riding, ATVing, Snowmobiling, and exploring the woods. If her loving parents had not allowed her to take over there house with her dog business at the age of 15, she would have never realized her true passion for saving animals in need.
Sponsors:
Union Culturelle des Franco-Ontarians, Cochrane Power, Town of Cochrane, Burmuda Tan, John's General renovations, Club Colombe Richelieu, Sunlife Insurance
Languages spoken fluently (please include your native language if English is not your native language).
English
What are your interests and what do you enjoy doing the most?
As an animal lover many of my interests involve my pets. I love bringing my dogs ATVing, snowmobiling, snowshoeing, and on nature hikes. I was thrilled to be able to certify one of my dogs, Kenya, as a Therapy Dog. I love bringing her to visit with the elderly whether it be at the hospitals or old age homes. They thoroughly enjoy her. I also love to teach children how to properly interact with dogs.
I really enjoy my job working with animals and getting to work from home. I spend most of my day caring for 10 – 20 Boarding dogs who have free reign of my home and 2 fenced in yards. I also Groom and Train dogs on a daily basis. Being able to get paid to do what you love is amazing!
List any special training you have had (music, art, drama, dance, etc.)
The most important training I have had would be completing the Cesar Millan's Fundamental 1 Dog Training Course.
I have been trained in many types of dancing including jazz, hip-hop, contemporary and ballet. I am currently in ballet.
In what sports, if any, have you participated?
I have participated in karate, swimming, baseball, soccer, hockey, and figure skating. My favorite sports that I have competed in are volley ball and horseback riding.
Name one person, other than your parents, who has had the most influence on your life. Why?
The person who has influenced my life the most, other than my parents, would be my best friend Brooke Hutchinson. She has always backed me in the decisions that I have had to make. Brooke has helped me become confident in who I am and helped me develop into a positive and unique young lady.
What is your proudest personal accomplishment (other than participating in this pageant)?
My proudest accomplishment was graduating from Cesar Millan's Fundamentals 1 Training Course. The fact that I was able to go to California and spend a week with my idol was amazing but even better were all of the amazing skills I learned from him. This helps me in my every day life being an Animal Care Provider.
What is the most interesting or unique thing that has ever happened to you and/or what is the most interesting thing about you?
The most unique and interesting thing about me would have to be that I started by successful business at the age of 15.
What is your career ambition and what are you doing or plan to do to accomplish that goal?
My career ambition would be to have my own television series about my dog rescue and training work. My plan is to use the money I make from this series to open Canada's largest no kill animal shelter. I am currently working with many dog rescues and gathering as many contacts as I can. I also plan to attend more dog training seminars with trainers that use different methods to improve my training skills.
What would be your "dream job" in life?
Owning Canada's largest No-Kill Animal Shelter is my "dream job" Everything I do is to help people and animals in need and I would love to be able to save as many animals lives as physically possible.
Are you currently a student?
No, I graduated from Sheridan College in 2012 as an Animal Care Provider
Are you currently employed?
Yes
If yes, what is your occupation?
I am the Sole Proprietor of my Animal Care Business
I am a certified Animal Care Provider. I offer many dog related services out of my home including: Cage Free Dog Boarding, Dog Day Care, Dog Training, and Dog Grooming.
Describe where you were raised and what your childhood was like.
The majority of my child hood took place in Cochrane, Ontario where I still live today. I had an amazing childhood being spoiled by two loving parents and picked on by 3 brothers. Growing up in a small town is an amazing experience as there is always a feeling of freedom, safety, and a closeness to nature. I cannot imagine growing up any other way.
List any interesting or unusual jobs you may have had.
Every one of my jobs has been animal related. The most unusual was giving pony rides at our local Polar Bear Habitat. Training the horses not to be afraid of the polar bears was an amazing experience! I also enjoyed meeting all of the tourists who came from around the world to see our Polar Bears.
List any volunteering you have done.
Northern Ontario Animal Welfare Society: Member of council, Mainly fostering dogs and organizing fundraisers
Finding Them Homes: Fostering and transporting Homeless dogs
Animal Rescue of Kapuskasing: Fostering and raising funds
St. John's Ambulance Therapy Dog program: Visiting the elderly, helping children learn to read, teaching children how to properly greet a dog
Reading Buddies: Tutoring children and helping the learn to read
Free the Children: Raising funds for children in West Africa
Ronald McDonald House: Fundraising
Red Cross: Feast or Famine
Canadian Cancer Society: Canvasing for Cancer, Singing in Choir
What is your most unusual talent?
My most unusual talent is performing K9 Freestyle with my dogs. We are able to do entire dance routines and have even been the opening act for the RCMP Musical Ride!
Where is the most interesting place you have been to?
I had the chance to go to Barbados in 2012 to visit a close friend of mine who was raised there. The nature is so incredibly different there compared to Canada it was amazing to learn about all the different plants, trees, and animals. I spent most of my time enjoying the beaches, climbing trees, and exploring nature. Everything was so beautiful!
What do you hope to be doing in ten years?
In 10 years I hope to be married to an amazing man and thinking about starting a family. I also hope to have my own television series about the dog rescue and training work I do. The purpose of my television show will be to fund my No-Kill Animal Shelter.
Is there anything you would like to add that we haven't asked?
I would like Thank You for the wonderful opportunity of competing in Miss Universe Canada 2014.