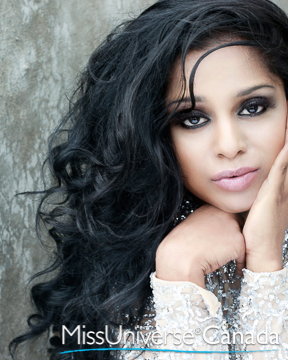 Height: 5'6″
Hometown: Scarborough, ON
A chaotic mess of fabled arts of love, sensual expressiveness, devotion, power, strength; Evlyn exerts a head-turning intensity when she walks into a room.
She's a passionate person who loves life and enjoys all things that get her adrenaline rushing. Some of her favourite activities include horseback riding, racing cars and shooting rounds at the gun range.
Evlyn is an optimistic person who believes anything is possible if you're goal oriented. She sees any barrier towards her goals as a challenge that can be overcome by hard work, persistence and commitment. This is the driving force behind her inner confidence and achievements.
She's currently a senior sales representative at 411.ca. Evlyn is also one of the top performers on her team and she consistently maintains this position.
Charismatic, compassionate and even handed, she has a universal love for all people that is nonsectarian and non judgmental.
Using her experience from her current occupation,she has founded a charitable organization. This organization will use online marketing and social media to raise money and awareness for various world issues.
Her motto in life is, "…just that persistence with that commitment."
Sponsors:
Toronto Mayor Rob Ford, School Trustee Candidate Ward 2 – Eli Sivalingam, Niruban Sakthivel – Dj Incarnation, SPSYN, All In 1 Limo Service, Mark Raju Mauleesan – CEO, Co-Founder, Mauleesan Corporation, G K Photography , Ambiha Silk , Kids N Cotton
Languages spoken fluently (please include your native language if English is not your native language).  
My native language is Tamil. I can speak both Tamil and English fluently.
What are your interests and what do you enjoy doing the most?
My interests are in anything creative. I love party planning, cake decorating, interior decorating and fashion.  Things I enjoy doing the most are any exhilarating activities such as cardio at the gym or playing sports.
List any special training you have had (music, art, drama, dance, etc.)  
I practised Bharata Natyam since I was six years old. Bharata Natyam is a classical Indian dance from south India.
In what sports, if any, have you participated?
I'm a very active person. I enjoy playing all sports. My favourite sport would be tennis.
Name one person, other than your parents, who has had the most influence on your life. Why?
I am not easily influenced. I have been this way for as long as I can remember and I regard it as one of my greatest gifts.
What is your proudest personal accomplishment (other than participating in this pageant)? 
My proudest personal accomplishment would be being one of the top performers at my current job and consistently maintaing this position while managing time for family and friends.
What is the most interesting or unique thing that has ever happened to you and/or what is the most interesting thing about you?  
I'm a very idealistic and optimistic person. I really do believe that we can accomplish anything we want if we want it bad enough. I carry this belief, my divinely stubborn persistence and my ever lasting optimism in every aspect of my life.
What is your career ambition and what are you doing or plan to do to accomplish that goal?  
My career ambition is to become a successful corporate lawyer. I plan on going to law school in the near future.
What would be your "dream job" in life?
Being a successful lawyer would be my "dream job."
Are you currently a student?

No
Are you currently employed?
Yes
If yes, what is your occupation?
I am a senior sales representative at one of the largest online marketing and advertising companies in Canada.
Describe where you were raised and what your childhood was like.
I was raised in a lovely neighbourhood in the northeastern side of Toronto Ontario called the Rouge.  My childhood was a simpler time that I wish I could go back to. I have a huge family with twelve cousins. We used to spend every weekend together. My favourite childhood memories are opening presents on Christmas, watching tv with my little sister on Saturday mornings and riding my bike into the sunset on hot summer evenings.
List any interesting or unusual jobs you may have had.  
I haven't had any yet.
List any volunteering you have done.
In high school I volunteered at a food bank. I met some of the nicest people there. I did the "in-taking" process of the families that came to the food bank. My duties were to fill out their application form and inquire about their current living conditions. It definitely opened my eyes and my heart to see people in my own city living life unable to feed thier children. This volunteer experience helped me understand poverty. I hope one day I can be in a position to give back to my community.
Where is the most interesting place you have been to?  
My aunts home in Switzerland would be the most interesting place I have been to. She lives on a mountain surrounded by thousands of colourful wild flowers, butterflies and a stream running down by her house.
What do you hope to be doing in ten years?  
In ten years I hope to be a successful lawyer, driving a Maserati and living in a mansion.
Is there anything you would like to add that we haven't asked?
Being a Miss Universe Canada Delegate is a dream come true and I will always treasure this as one of my greatest life experiences.