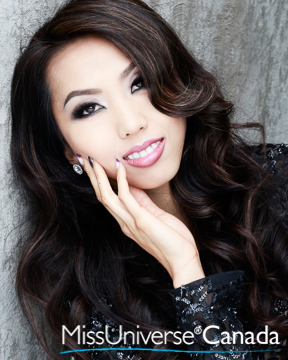 Height: 5'7″
Hometown: Burnaby, BC
Jennifer Dai Trang Nguyen wants to motivate and inspire women of any background to pursue all their goals and ambitions. Her journey and accomplishments are illustrations that anything is truly possible once you set your mind on it. She believes in organic approaches to empowering women – and that is to lead by example.
Jennifer's mother taught and encouraged her to become an independent woman; a woman that can take care of herself and her family. At a young age, she began to work alongside her mother at their family business and discovered her desire to be a leader amongst her peers.
Through hard-work and dedication, Jennifer held presidential and/or key roles of many organizations throughout high school and university. She had a passion for youth initiatives, competitive tennis, and was involved in the Vietnamese community. Now, she is working hard to be the forefront of women in her profession in real estate development. Inspired by Sheryl Sandberg's biography, Jennifer wants to create more opportunities for women to "lean in" their career.
Jennifer is also a proud Vietnamese Canadian. She is so grateful for her parent's sacrifices when they immigrated to Canada to achieve a better life for their family. Today, her family has grown to two generations in Canada where she has an incredibly cute niece and two nephews.
But it was not until she competed and won the title of a local Vietnamese pageant in 2010 that she discovered her Vietnamese roots. When she travelled to Vietnam, it was a very gratifying and humbling experience. Jennifer wants to encourage and inspire more women in the Vietnamese community to never hold back and capture the opportunities that fortunately exist for them here.
She also believes that good nutrition and fitness are essential for healthy lifestyle. She likes to challenge her fitness through obstacle courses like Tough Mudder or trying open water swimming for the first time. With her friends, she enjoys hiking and recently hiked Mount Kinabalu, the tallest peak in Southeast Asia. Above all, she loves going to the gym and drinking her green shakes. Leading by example, Jennifer wants to help others build confidence and achieve great health.
Jennifer is thankful for every encounter and experience in her life. She believes that the support from her family, friends, and mentors were essential to every special moment. To compete in Miss Universe Canada 2014 is definitely another milestone in Jennifer's epic journey. She hopes that this experience will be another example to all women that indeed, anything is possible – you just need to go for it!
Sponsors:
Crux Fitness Personal Training, Intracorp Projects Ltd., Good Health Nutrition, La Lotus Nails Spa, Pink and White Nails Studio, Chau Veggiexpress, Mojo Mobile Spa, Maison Clement Macarons, Inoui Salon, Nuvon's Bridal, Hu'o'ng Lan Restaurant, Friends & Family
Languages spoken fluently (please include your native language if English is not your native language).
Vietnamese and English.
What are your interests and what do you enjoy doing the most?
Quality time with my family and friends are important to me, I find much joy being with them. I'm also an adrenaline junkie where I like to take on obstacle courses such as Tough Mudder. But what I enjoy the most is reading biographies and self-development books. I believe books are so powerful and so many have changed my life.
List any special training you have had (music, art, drama, dance, etc.) 
Sales training and mediation.
In what sports, if any, have you participated?
Tennis, running, snowboarding, obstacle courses, and boxing.
Name one person, other than your parents, who has had the most influence on your life. Why? 
I've been so fortunate to have wonderful mentors throughout my life and at different times. But Alice was someone who was always there for me through all my phases and played an essential role in each chapter. She genuinely adopted me like a younger sister and always tried to guide me as best she could. Whenever there was a turning point in my life, she was always the one of the first people I called. 
What is your proudest personal accomplishment (other than participating in this pageant)? 
My parents has sacrificed so much and worked so incredibly hard to give me the life that I have now. From a very young age, all I ever wanted to do was to give back and take care of my parents. When I managed to secure full-time employment, I was able to provide more financial support and contribute to the family. I eventually was able to assume our home mortgage and this was a surreal and proud moment for me. In due time, my goal is to retire my parents.
What is the most interesting or unique thing that has ever happened to you and/or what is the most interesting thing about you? 
I'm the first person and woman in my family history to go to post-secondary and earn a Bachelor Degree.  I graduated from the Sauder School of Business with a BCom Degree specialized in Marketing and Real Estate. Convocation was a special day as it marked a new chapter for my family and future generations to come. To have achieved something that was once considered unattainable was a fulfilled moment for my family and myself.
What is your career ambition and what are you doing or plan to do to accomplish that goal? 
My career ambition is to continue in real estate and eventually be of great influence and motivation for my team and others in the industry. As I have worked my way up from an introductory level to where I am now, I believe experience from all levels of the profession is essential to leading a successful team.
What would be your "dream job" in life?
My dream job is one where I am stimulated at work but yet able to maintain a balanced life-style. So many moments and opportunities can be lost when you get caught in the minutia of one's career development. I would want to share success work stories and still recall significant family occasions because I was able to experience both and neither was sacrificed for the other.
Are you currently a student?
No
Are you currently employed?
Yes
If yes, what is your occupation?
I'm an Area Sales Manager at Intracorp Projects Ltd., a residential developer in Vancouver and Toronto.
Describe where you were raised and what your childhood was like.  
Unlike my brothers, I was very fortunate to have been born and raised in Canada. I grew up in a very entrepreneurial family where my parents built businesses from scratch. Everyone was working at our family business and so I became independent at a very young age. By age 11, I too began working at the shop. Being raised in this environment broke down many walls for me. I was never shy and always outspoken. These traits have taken me far in my career and personal development.
List any interesting or unusual jobs you may have had. 
I participated at a fundraising event to raise money and awareness for homeless youth in Vancouver. We had to do as many push-ups as we can in 90 seconds to raise money. I managed to do 55 push-ups and was the only female participant. That was something special.
List any volunteering you have done.
In high school, I volunteered for many community and youth initiatives. When I was at UBC, I held various positions in the Vietnamese, tennis, and real estate club.  Since then, I've volunteered within the local Vietnamese community, donated blood, and mentored newly graduates.
What is your most unusual talent?
As a gym junkie, I do plenty of strength training. I can deadlift a lot of weight for someone my size. According to Strength Training Standards, I'm considered an "intermediate" when it comes to doing deadlifts. My heaviest weight is 145lbs with 6 reps.
Where is the most interesting place you have been to? 
I recently travelled to Vietnam and visited the Perfume Pagoda in Hanoi. This was truly a surreal and serene place. There were temples and shrines over a century old built within the mountains' caves. The picturesque of layers upon layers of mountains amidst the fog was breathtaking. It is incredible how the volunteers managed to build the infrastructure in this remote location.
What do you hope to be doing in ten years? 
In ten years, I hope to have a loving family with a wonderful husband. I would also like to be taking care of my parents. I would still be passionate and continuously advancing in my career. Most important is that I would have stories to tell; stories that would inspire others to pursue their goals and ambitions. I'd hope that I would still be just as daring as I am today and live life without regrets.
Is there anything you would like to add that we haven't asked?
My bucket-list:
Go skydiving
Ride hot air balloon
See the Northern Lights
Do a triathlon
Learn to meditate
Go cliff jumping
Cave dive in Mexico
Surf in Hawaii
Visit Bali
 Run a marathon
And a sincere thank you to the Miss Universe Canada organization and all my sponsors for making this journey possible. I will forever cherish this experience for a lifetime.