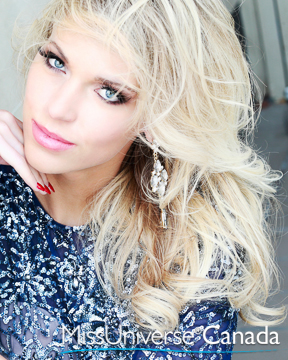 Height: 6'0″
Hometown: St-Prosper, QC
I am the type of person who loves meeting new people and making new friends and acquaintances. I have been frequently told that I have a very friendly personality with a contagious smile that leaves a mark in the different people I meet. I am a very outgoing young women and I love to experience new opportunities in life. I find that life is a series of opportunities that we have control of. The only limitations in life are the ones we put on ourselves. We control our lives and it is important as human beings to believe we can succeed in whatever we dream to achieve.
I am currently studying to become an English teacher at Laval University in Quebec and I have always wanted to share this vision of life with others. My dream is to be a part of children's lives and to help them throughout their journey. I find that children are such a great inspiration with their incredible imagination and their unlimited dreams. As I teacher, I wish to be able to teach them proper English as well as giving them the confidence they need to believe and stand up for themselves. I believe that, as a teacher, you can inspire children's lives in so many ways and help them find their way. My mission is also to help raise awareness to the victims of bullying by raising their self-esteem.
I was born in Montreal and then moved to Farmington, Connecticut for 10 years before coming back to my parents' hometown in St-Prosper, Quebec. I am very grateful for this experience because it has given me a different perspective and appreciation of life. I have had the chance to meet people from all over the world and learn about different cultures which has inspired my love for traveling. I find that being non-judgmental about people's differences is the best way to become the finest versions of ourselves.
I have also volunteered for different occasions such as hometown festivals, hometown sporting events, helping children and elders in learning English communication, being a part of different school committees and raising money for a house where children from my hometown can go and do different activities on weekends. I have always been taught that helping others is a great way to spend our energy and it is something that comes naturally to me.
I am so honored to have the chance to compete in the Miss Universe Canada pageant. I find it important to take these different opportunities to become the person I believe I can be for myself and for others. I want to be the girl that people can relate to, I do not want to be this unattainable girl that people feel like they could never become. I want to prove to people that we should all be treated as equals and that we all have a chance to achieve greatness if we believe in it. It would be an honor for me to hear little girls one day saying they want to be just like me and believe with all of their heart that they could.
Sponsors:
L.S Bilodeau Inc., Université Laval, Assurance Actiprima, CDID, Boutique Lyna, Municipalité de St-Prosper, Restaurant Bar La Grille, L'inter Marché, Pier-Anne Bilodeau Photographe, Cardio Gym, Serge-Guy Cloutier, O'Billes
Languages spoken fluently (please include your native language if English is not your native language).
French (native language)
English
Spanish and German (basic knowledge)
What are your interests and what do you enjoy doing the most?
My biggest interest is definitely fashion. I love looking at fashion magazines and fashion photos. I also love shopping and having occasions to dress up and show off my clothing. I also love sports and nutrition. I like moving and always having something to do. I have played a lot of sports in my life such as basketball, soccer, swimming, dance, karate, boxing, volleyball, running, hot yoga and more. I like the feeling after a hard well-earned workout.
List any special training you have had (music, art, drama, dance, etc.) 
I have taken many music classes in my younger years such as singing, violin, clarinet and flute classes. I also took a drama class and many dance classes such as jazz, hip-hop, tap and ballet.
In what sports, if any, have you participated?
I have participated in soccer, swimming, basketball, dance (tap, hip-hop, jazz), karate, boxing, volleyball, track-and-field, hot-yoga, running, mountain biking, mountain climbing, workouts (pilates, step) and spinning.
Name one person, other than your parents, who has had the most influence on your life. Why? 
I find it very hard to name only one person that has had the most influence on my life because there is a person that has influenced me for every aspect of who I am. The people that inspire me are the people who get up every morning with a smile on their face no matter what is going on in their lives, the people who never give up no matter how hard it gets, the people that do not need much to be happy and that appreciate all the wonderful things life has to offer them and most of all the people who are inspired and motivated to make the world a better place just because they can. I think it is quite unfair to promote just one person for this role for myself, because there are so many people in life that I admire and that I think model the way many of us should live.
What is your proudest personal accomplishment (other than participating in this pageant)? 
My proudest personal accomplishment is being the confident girl I am now. I was born in Canada and moved to the United States for 10 years when I was a child (from 3-13 years old.) I moved back to Canada and could not read or write in French and had a lot of trouble speaking it as well. I was very shy and had an enormous lack of self-esteem. I could not stand up for myself at all and did not believe that I could be who I have become. I suffered through intimidation back in high-school (like many of us do) since I was the new, very tall, blond girl that nobody knew. I also developed anxiety problems throughout the years and have been working on them for the past couple years. I can not believe I will be getting on stage and talking and "showing myself off" in front of many people in this beauty pageant without collapsing to the floor. I have to be confident and work on every aspect of myself to be able to perform to my fullest and the fact that I have gotten here is probably my proudest personal accomplishment: Believing that I have what it takes.
What is the most interesting or unique thing that has ever happened to you and/or what is the most interesting thing about you? 
I have had the chance to participate in different school exchange programs that have helped me with my knowledge on languages. I have always been inspired to learn knew languages because I have a big interest in them and I am also someone who learns languages fast. I have done school exchange programs with girls from Germany, British Colombia and Maine. This allowed me to learn their language and to experience a couple weeks in my partner's life which helped me understand and experience their culture. I then welcomed them into my home for a couple weeks where I spent time introducing them to the Quebec culture and teaching them French. I find that it was a great experience for me as a teenager to learn different languages and to see what it was like to live in someone else's shoes for a couple weeks. It is such a fun and enriching experience to live and I would recommend this to everyone.
What is your career ambition and what are you doing or plan to do to accomplish that goal? 
I have always wanted to be a professional model. I although find it hard to fit in the business because of the strict body measurements that are imposed on the models. This is my dream job and has been ever since I was young.
I also am at my third year of University in Teaching English as a Second Language. I love kids and I really like to help people and see them advance. It is another part of me that I wish to be able to work on with others. I hope to be able to help  and inspire as many people as I can to help them grow. I hope to make a difference in their lives like many have done for me.
What would be your "dream job" in life?
My dream job would definitely be international modelling. I have wanted this all my life and I would love to be able to fulfill my dreams. I would be so happy to be on the covers of the most popular magazines and walk the runway of the most attended fashion shows.
Are you currently a student?
Yes
If yes, where?
Laval University in Quebec
Area of study:
English as a Second Language
Are you currently employed?
Yes
If yes, what is your occupation?
Model in Quebec at Les Muses Agency.
Describe where you were raised and what your childhood was like.  
I was raised in Farmington, Connecticut. I went to a very good elementary school called "The Blue Ribbon Schools." I think that having been to these schools has definitely given me motivation and ambition. I am so grateful to have had the chance to learn English and Spanish at a young age and I am also grateful to be now in Canada.  Canada is definitely my homeland and I am very proud to be a Canadian. I am also very lucky to have had the parents that I have. They have always supported me in school and learning new languages. They have always been there for us and have signed us up in every curricular school activities and sports possible. My parents wanted to give us the world and they have and I am very happy to be their daughter.
List any interesting or unusual jobs you may have had. 
I have had a couple of school jobs that I find interesting such as: Cashier at McDonald's, English monitor at an English Summer Camp, personal English tutor, waitress in restaurants and I have also worked in different clothing stores where I had to give fashion advice to the clients.
List any volunteering you have done.
I have done many volunteer work such as being part of the "Maison des Jeunes" in my home town which is a house where kids would go to do activities and sports. I was part of the council and had to take part in raising money for the house (calender and selling chocolate as well as picking up cans in big events.) I also do volunteer work for my hometown baseball team "Les Jarrets Noirs" by selling hot-dogs and drinks. I have also done volunteer work in festivals and concerts organised in my hometown. I have ran and participated in different activities (bake sales, collecting money at Halloween, car washes) for different cancer foundations. I have also represented my home town in a pageant where I had to sell 2,500 tickets to raise money for my town.
What is your most unusual talent?
I have the ability to inspire people with my way of transmitting different messages and advice  I wish to share with others. I also have very good social skills that help me in life. I feel like I could be a leader that people admire. I can also touch the tip of my nose with my tongue which is I guess pretty unusual.
Where is the most interesting place you have been to? 
The Neuschwanstein castle in Germany. The castle is absolutely beautiful and the view is even more breath taking. The architecture and the furniture in the castle really makes us feel as if we were back in the days when it was built. It is very interesting to hear about the history of the castle as well when visiting. I am very happy to have had the chance to visit Germany and this castle.
What do you hope to be doing in ten years?
I hope to be happy in whatever it is that life has planned out for me and having a family that I can come home to every day.  I think that it is not about what you are doing but mostly about how you feel when doing it and that is why my only hope is to be happy since I could be happy doing many things in life.
Is there anything you would like to add that we haven't asked?
I am honored to have the chance to represent Quebec in the Miss Universe Canada pageant. If given the chance to win this competition, I will do all I can to pass on my contagious  vision of positive thinking which will hopefully encourage others to outshine themselves and to achieve their dreams just as I am doing.