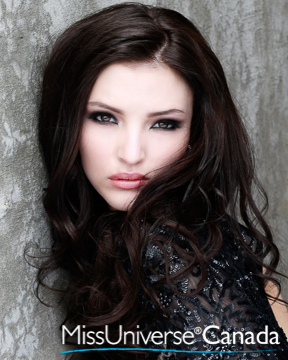 Height: 5'7″
Hometown: Edmonton, AB
Lindsay Goff is one of a kind. From sharing her love of education in the classroom, to walking the runways in New York, she personifies the ideal Miss Universe Canada candidate.
Lindsay is going into her fourth year of Secondary Education at the University of Alberta and is majoring in biology and minoring in art; two subjects Lindsay has a deep passion for. This unusual combination reflects her love of practical knowledge and self-expression and she enjoys finding ways to combine these two passions.
While attending university, Lindsay is committed to empowering and educating youth, both inside and outside the classroom. She is currently volunteering at a K-9 school in Edmonton where she assists in teaching anything from grade 5 French, to junior high art. In addition to being an aid in the classroom, she takes great pride in empowering junior high girls about positive body image and other sensitive issues in a program called Girl Talk. Lindsay understands their struggles all too well and has made it her mission to be there as a support and role model.
Education in general is something that Lindsay takes very seriously. In addition to working on her degree in education, she has also completed a diploma in Business Management and Entrepreneurship at the JR Shaw School of Business in Edmonton, Alberta. During her time in that program, she gained valuable experience in organizational management, public relations and entrepreneurship.
Down the road, Lindsay desires to obtain her master's degree in education in hopes to become a principal, where she will have an opportunity to positively influence even more students. One of the reasons she was inspired to become a teacher was due to the support and kindness she received from her teachers during some difficult periods growing up – being bullied as a pre-teen and having to deal with a host of health issues as a teenager. She has seen the positive impact a teacher can have on a student and hopes she can do the same for her students in the future.
Though education is the number one priority for Lindsay, she has a second passion for modelling. She has had amazing opportunities over the years. From being the face of Lady Venom cosmetics for a year, to walking the runways of Brooklyn Fashion Week in New York this past October, Lindsay has had amazing opportunities that she will cherish forever and she strives to improve her skills and advance her career further.
Lindsay considers herself extremely fortunately to have a loving and supportive family. She loves to keep physically and mentally active. In addition to participating in dance and fitness activities, she keeps her creative side humming with painting, drawing, photography, mixed media and jewelry-making. As well, she is working on diversifying her language skills by learning Spanish and improving her French.
Sponsors:
Maddhatters, Better Than Fred's, Silky Skin Laser, Trisha Pasnak, Rebecka Pichoch, Lisa Marie Couture, Set Nightclub, Le Femme Fatal Clothing, Rebecka Pichoch, 8 Lisa Marie Couture
Languages spoken fluently (please include your native language if English is not your native language).
English, Partial French (not fluent)
What are your interests and what do you enjoy doing the most?
My passion is teaching, especially art and sciences. I currently volunteer at a K-9 school in Edmonton where I work with every grade in every subject, I love it all. As well, I have organized a mentorship program for junior high girls called Girl Talk where we address sensitive issues such as body image and bullying.
List any special training you have had (music, art, drama, dance, etc.)
I have dance experience and with minoring in art I have taken multiple courses in film studies, painting, drawing, mixed media, and photography. As well, I have training in fitness and nutrition.
In what sports, if any, have you participated?
Volleyball, Basketball, Badminton, Track, Field hockey, and fitness training are my preferences but growing up with an athletic brother, and a strong competitive drive, created my love and appreciation of all sports.
Name one person, other than your parents, who has had the most influence on your life. Why? 
Like majority of people it is hard to pick just one special, influential person who has impacted my life so I have to pick two: my brother and sister. Being the youngest child, I was fortunate of having phenomenal siblings. My brother taught me to be tough, competitive, outgoing, and live life to the fullest. Whereas my sister taught me to patient, kind hearted, pursue my dreams with her love and support, and that the most important beauty is who you are as a person. With that combination how could a girl go wrong? I am Thankful every day to have them in my life and both support me 100 percent, through being bullied at a young age to being sick for over 5 years, they always stood by my side in their own way, what more could a sister ask for?
What is your proudest personal accomplishment (other than participating in this pageant)?
My proudest accomplishment would have to be walking the runways at Brooklyn Fashion Week in New York this past October. It was an experience of a lifetime walking for three different designers.
What is the most interesting or unique thing that has ever happened to you and/or what is the most interesting thing about you?
I have struggled through being bullied and suffering through illness for a good portion of my life. At the age of 9 I moved to Grande Prairie, Alberta, and to say the least I did not fit in. I struggled to maintain friendships due to shyness and feeling out of place in the new city. From grades 4 to 9 I struggled with harassment and bullying from multiple students to the point friends would be embarrassed to hang around with me. For the first few years, living in Grande Prairie was a struggle but with the support of my family and amazing teachers, I learned how to coup and eventually helped regain my confidence in myself.
Then, the first week of grade ten I suffered from a bizarre reaction, I was taken to the hospital and from then on for the next 5 years, life was a bit of a struggle. All through high school, and the beginning of my college career, I was constantly on and out of the hospital for bizarre infections and episodes where I would stop breathing altogether. In and out of specialists, they couldn't figure out what was wrong. Finally, November of 2008, they figured it out. I was emitted into the hospital due to another bizarre infection, but this time it was almost fatal. The infection was so bad that I had necrosis of my throat tissue and started to become septic. It was then that the doctors realized the benign growth on my tonsils. Once they reduced my infection, I had my tonsils and the growth removed and I have been healthy ever since June 2009.
The reason that I believe that this makes me interesting is not that I was sickly or bullied but it's my drive and passion for life that makes me, me. One thing I promised myself from a young age is that I will never treat anyone like the way I was treated when I was being bullied, as well to always stay positive in the face of anything. And I am proud to stay I stick true to these beliefs and teach this to the children I teach today and the children I will teach in the future, that is what I believe makes me unique.
What is your career ambition and what are you doing or plan to do to accomplish that goal?
My career ambition is to be and influential teacher, and one day principle, to help children and impact lives. I am currently attending the University of Alberta in the Secondary Education program in my pursuit to becoming a teacher.
Once I become a teacher, I would like to pursue the Master's program to help in the pursuit in becoming a principal. The reason I want this is because I think of my elementary and junior high principal Mrs. Graham, she had such an amazing impact on my life personally. I want to be someone's Mrs. Graham. So with dedication to my studies, and my beliefs, I believe that I can make this ambition a reality.
What would be your "dream job" in life?
Either as said before, becoming a principal or I would also love being in public relations – being the face of an organization that helps raises awareness on social issues and digital citizenship in children.
Are you currently a student?
Yes
If yes, where?
The University of Alberta.
Area of study:
Secondary Education- Majoring in Biology, Minoring in Art, I also have a Diploma in Business Management and Entrepreneurship from the JR Shaw School of Business.
Are you currently employed?
Not while attending University
Describe where you were raised and what your childhood was like.  
I grew up in Grande Prairie for most of my life, but due to my dad's position at the bank, we moved around for the first 9 years of my life. I was born in Drayton Valley, Alberta then shortly thereafter moved to High Level, Alberta. After another short while we moved to Slave Lake, Alberta for two years and then to Forestburg, Alberta when I was 5. Then at age 9 moved to Grande Prairie, where I faced my hardest struggles. But, I can say my childhood was amazing, minus the bullying. I have an extremely close family and I have many fond memories of the farm, camping, and trips to the mountains. For the majority, I had an amazing childhood, but I attribute that to my amazing family.
List any interesting or unusual jobs you may have had.
I have had the opportunity for some awesome, interesting jobs. During grade 10 I had the opportunity to work at the local ski hill as a "lifty"- running the chair lifts- until I fractured my right arm that ended my season, but it was a blast while it lasted!
Another unusual job I have had was being a hot shot in the oil industry. And for those who don't know what a hot shot is, you basically drive out emergency parts to rig locations- aka the middle of the bush! Though being a man dominated industry, I had a blast driving the back roads and meeting some interesting people along the way.
List any volunteering you have done.
Currently I volunteer for a K-9 school in Edmonton where I assist in the classroom as well as organize and run a mentorship program for junior high girls.
And previously, I volunteered for a program called ArtStart, I taught inner city children how fun art can be in a warm and loving atmosphere. I taught children ages 5-8 and loved every minute of it.
I have volunteered for the Red Cross Youth program helping run programs and events.
I have volunteered with the SPCA, helping with events such as the calendar release and gala.
And also blood donation is also important to me, since after receiving a clean bill of health I have been cleared to donate and help others.
What is your most unusual talent?
The retention of random biological and genetic facts, biology fascinates me, and I love learning as much as I can and sharing it. My latest obsession is genetics!
Where is the most interesting place you have been to? 
The most interesting place I have been would have to be Germany, but more specifically the Autobahn highway in Germany. I had the opportunity to go there a few years ago and while driving you feel as if you are in a high speed chase that you see in the movies. We only went 180 kmh but the experience was unreal. But overall, Germany was a breathtaking country and I look forward to going back again one day.
What do you hope to be doing in ten years?

I hope to have a family and my master's in education, and be well on my way to becoming a principal!
Is there anything you would like to add that we haven't asked?
Yes, after having the privilege to compete in the pageant last year I wanted to express how much I have grown as a person. Though I was sad not to win, I realized what an accomplishment it was to make it to the top 20. And after having the time to reflect and grow, I know now that being Miss Universe Canada is my dream and what I need to do to achieve this dream. I have more drive and determination than ever and I plan to show everyone that I have what it takes to be not only the next Miss Universe Canada, but the next Miss Universe.