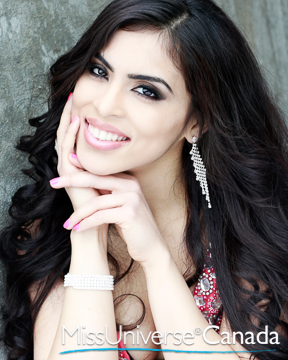 Height: 5'7″
Hometown: Surrey, BC
Navi Mander was born in India and raised in Surrey, BC. She is a respectful and hardworking young woman. She believes, "Nothing is impossible, the word itself says 'I'm possible'!" Audrey Hepburn
Navi is in her final year of a BBA Entrepreneur Leadership program and wants to open her own business one day. Also, she wants to empower women through public speaking in the business field because she believes they should have equal opportunity in all parts of the world. Education is her priority because she understands there are people in the world where education is not a choice. She also has a passion for acting and would love to become an actress and entertain people with meaningful movies.
She has done a lot of community volunteering throughout her school years. She feels that if we can achieve our basic needs then we are more than capable of helping the underprivileged.
One of her idols is her dearest family friend, Nadene Fraser. Nadene has always encouraged and supported her with everything in life. Also, she appreciates her parents and is thankful for all the hard work they continue to do to give her a better life.
Navi enjoys taking risks and taking on new challenges. She enjoys trying adventurous activities; she has been rafting, mountain climbing and sky diving (her biggest accomplishment).
Similar to the Canadian core values, she believes in peace keeping, freedom, and multiculturalism. She believes in life, with determination, hard work and confidence almost anything is achievable.
Sponsors:
Denny's, Gold Mine Insurance, Champers, Ludlow Supplies LTD., Coniston Products LTD, Dr. Jas Gill's Dental Clinic, Overseas Auto Body, Dr. Panesar's Eye Clinic,
Languages spoken fluently (please include your native language if English is not your native language). 
English, Punjabi and Hindi
What are your interests and what do you enjoy doing the most?
I am keen about working out, I believe it keeps me fit physically and mentally in order to live a healthy life. My favorite exercise is running.
I am passionate about cooking and making different types of dishes. There is a vast diversity in cultural foods and dishes; I want to try and explore all of them.
I enjoy adventurous activities. I enjoy taking risks and challenging myself. I have done rafting, mountain climbing, ski diving and much more.
List any special training you have had (music, art, drama, dance, etc.)
I have always loved dancing from a young age, I have self-taught myself through watching videos. I have received training in Bhangra (PCAC Bhangra Team), as well as performed at various community events.
In what sports, if any, have you participated?
I participated in basketball and soccer during my secondary years. Other common sports I enjoy include; swimming, badminton, tennis, skiing and volleyball.
Name one person, other than your parents, who has had the most influence on your life. Why? 
The one person who has influenced my life is my family friend, Nadene Fraser, whom I have known for more than 15 years. I have a lot of respect for her and have considered her like my grandmother because she raised me along with my parents. She has taught me good traits and moral values in order to be successful in life. She has always believed in me and told me to be confident and determined and that with this  attitude anything is possible. She also, taught me the need to be respectful and honest with everyone. Nadene retired from a career working for the Government of Canada in multiple leadership roles. Her experience has influenced my own leadership skills and values, so that I become an effective leader.
What is your proudest personal accomplishment (other than participating in this pageant)?
My proudest accomplishment is sky diving. It was such an amazing experience which allowed me to overcome my fears in life. I believe that if you are confident and have a positive mind, you can accomplish anything. Sky diving allowed me to open up and take on the world with a broad mind and to continue to live life to the fullest and in the moment. Being afraid didn't stop me from being successful.
What is the most interesting or unique thing that has ever happened to you and/or what is the most interesting thing about you?
The most interesting thing that has happened to me was being able to learn to swim within 10 days through my late family friend, John Lester. He taught me the basics and I was confident and jumped into the deep end by the 10th day. At the young age of 8, this made me realize that I wanted to live a daring life. Interestingly, I am known for trying new and challenging things which other people would cringe at the thought of doing.
What is your career ambition and what are you doing or plan to do to accomplish that goal?
My career ambition is to operate my own business one day. I am currently in my final year in the BBA Entrepreneurship Leadership program. I have also worked at multiple organizations to gain experience in how to build employee and customer relations while focusing on my own leadership growth. However, I also have a passion for acting and would like to get into acting. I have taught myself through watching movies and always being the entertainment and host of all family events. I plan to take acting classes and get better at it.
What would be your "dream job" in life?
My dream job is something where I would travel a lot.  I want to travel and see all the countries. I feel it is important to understand each individual according to their culture and traveling is a great way to embrace the differences. With this being said, I also want to become an actress and I think acting is a career where travelling comes as a part of the job. I would like to become an actor and entertain people with my talent and meaningful movies.
Are you currently a student?
Yes.
If yes, where?
Area of study:
Kwantlen Polytechnic University, enrolled in the final year of the BBA Entrepreneur Leadership program.
Are you currently employed?
No.
Describe where you were raised and what your childhood was like.  
I was born in India and moved to Surrey, BC, Canada at a young age. I have lived in Surrey, BC ever since. My parents worked very hard in order to provide me and my siblings with the best opportunities possible. Most of my childhood was spent with my family friends, Nadene Fraser and her late husband John Lester, whom I considered my grandparents. They had the biggest impact on my childhood and my upbringing. They always took us out to explore different parts of Canada and making our childhood memorable, full of surprises and lifetime learning experiences. Also, they taught us how to be good individuals and to respect everyone and everything in the world.
List any interesting or unusual jobs you may have had.
An interesting job that I had was blueberry picking at a very young age. It was an unusual experience because it made me realize how hard some individuals work. Also, if you get the opportunity to educate yourself for a better future then take advantage of it.
List any volunteering you have done.
I have volunteered for various charities but the one most close to me was Jumpstart (giving kids a supporting chance). I collected funds door to door for many years. I have also done community babysitting for as long as I can remember. I admire children; they are the future of the world. They are fun and loving, and put a smile on your face every time. They need to be nourished in order for them to become strong individuals who will take care of the world. Over the years I realized the importance of giving back to my community and volunteering starts close to home. Every little bit counts! Through the Miss Universe Canada platform I now aim to help out more people who are in need.
What is your most unusual talent?
I am very good at picking up dance steps and replicating them.
Where is the most interesting place you have been to? 
My most interesting travel experience was returning to India after many years growing up in Canada. When I returned to India I was much more mature and more able to grasp the different lifestyle. I enjoyed the way the country celebrates festivals and gathered with their families to celebrate. I admire how people enjoy their life to the fullest despite the challenges in a developing country.
What do you hope to be doing in ten years?

In ten years I hope to be a successful business woman, an actress and to have travelled most of the world. I want to empower women through public speaking in the business field because I believe they should have equal opportunity in all parts of the world. I want to be a role model for women in the world. I want to play a big role in giving back to the community. Also, I hope to have a family and be an excellent role model for my kids through passing on the morals and values that I have been taught by my parents.
Is there anything you would like to add that we haven't asked?
I would like to thank Miss Universe Canada for allowing me to take this exciting opportunity. Miss Universe Canada is a great platform for future role models. I am ready to embrace this once-in-a-life time experience and am excited to meet wonderful people throughout the journey. I am so thankful to all the people who are supporting me.