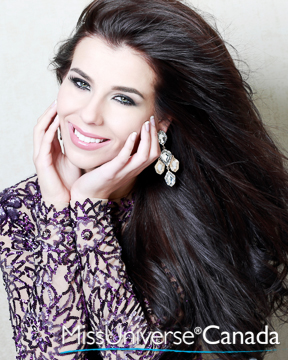 Height: 5'5″
Hometown: Windsor, ON
Growing up, Patricia Poczekaj has always had a strong passion for physical health and nutrition. She believes healthy lifestyles are created within the early stages of childhood, and has structured her platform to be focused on the education of healthy active living among adolescences.
Patricia has continued her passion for nutrition by completing her Honours Bachelor's degree in Human Kinetics, with a concentration in Movement Science. She plans to become a Registered Kinesiologist, and obtain a graduate degree as a Physician's Assistant. Helping others comes naturally to her, and believes this career path could not be tailored any better to her.
Volunteerism has always been a core value that Patricia has believed in. She is a role model for numerous Elementary and Secondary students, where she introduces fitness programs to promote a healthy active lifestyle. She emphasizes the importance of educating the youth while instilling healthy values in her daily life.
Patricia is known for her positive attitude, and can always be seen wearing a smile. Her friends describe her as energetic, ambitious, and enthusiastic. She loves to read, travel and keep active. In the end, it's not about how many breaths you took, but how many moments took your breath away. This has always been a motto of Patricia's and reminds her to always try out new experiences, and appreciate every day of her life.
Patricia has partnered with a local charity, W.E Care For Kids, that is near to her heart. It is important to support local charities as they support the local community. She hopes to continue her philanthropic work, not only with local charities but throughout the nation. With the title of Miss Universe Canada, Patricia's dream would be to start her own healthy living campaign, focused on the education of healthy active living among adolescences.
Sponsors:
Cabuco Concrete, Jasin Facial and Body Rejuvenation Clinic, Boss Nails, Pure Nature Nutrition, Family and Friends
Languages spoken fluently (please include your native language if English is not your native language).
I fluently speak English and Polish.
What are your interests and what do you enjoy doing the most?
On a career level, I am most interested in Health and Nutrition. I enjoy staying up to date on the newest health topics as well as educating others, through volunteering, at school, or at work. I love to being around other individuals, socializing and helping others.
On my own time, I enjoy being physically active. Snowboarding, cheerleading, and dance are some of my favourite ways to stay active. Traveling and enjoying the beauty of the outdoors is what makes me feel most comfortable. We are fortunate enough to live in a country surrounded by beautiful nature. I hope to one day travel the world.
List any special training you have had (music, art, drama, dance, etc.)
Music has always been a large part of my life. I studied music as a flutist for 6 years and enjoy the calming effect that music holds. I practiced dance in my early years with dance lessons until the age of 17. Ballet is my preferred style of dance as it is so beautifully graceful.
In what sports, if any, have you participated?
In High School, I aimed to become as involved in school and extra curricular activities as possible. I stayed involved by joining the Softball team as well at the hockey team. As a University student, I switched routes to a completely new sport, cheerleading. Cheerleading is part of what moulded my entire University experience. I love how it can be physically demanding, extremely intense, but still appreciate the essence of a graceful female.
Name one person, other than your parents, who has had the most influence on your life. Why?
One person in my life aside from my parents of course, would be my sister. She is a combination of my best friend, sister, and my role model. As my older sibling, I have always looked up to her with the utmost respect, hoping to follow in her steps. She has lived in four different countries and moved to Canada as a teenage. Foreign to our language, she succeeded in completing two degrees. She is the most selfless, determined, and intelligent individual I have met, and I am honoured to be her sister. She inspires me everyday to be work hard to achieve my goals in life, while having compassion for everyone and everything in my life.
What is your proudest personal accomplishment (other than participating in this pageant)?
Being recognized as a Miss Universe Canada contestant is a life long dream that I can truly say is one of my greatest accomplishments. Other than participating in Miss Universe Canada, my proudest personal accomplishment is completing my Honours degree in Human Kinetics. This year I have completed my degree in a field that has always been a passion of mine. Closing one of the biggest chapters in my life and knowing I can move on to the next chapter with the tools needed to be successful is the most fulfilling feeling. Education is remarkably essential in today's fast paced society. I believe education should be available for all career paths so everyone has the potential to reach their goals in life and follow their passion.
What is the most interesting or unique thing that has ever happened to you and/or what is the most interesting thing about you?
Something unique about myself is that I am the first of my family to be born in Canada. I am a proud Canadian with a background from Poland. Sharing two cultures, languages, and traditions has allowed me to embrace what the goal of Canada is. That is, being multicultural and accepting of all diverse nationalities.
What is your career ambition and what are you doing or plan to do to accomplish that goal?
I have always been passionate about the Health Sciences and pursing a degree in Human Kinetics has confirmed that this is what I'm born to do. My career ambition is to become a Physician's Assistant, where my knowledge of physical health can be incorporated with my natural instinct of caring for others. Now that I have completed the first step of my plan, I plan to enroll into a graduate program as a Physician's Assistant. Vastly interested in women's health and research, I hope to one day use my knowledge in health to create advancements in our health system.
What would be your "dream job" in life?
My dream job would be to create my own National Campaign to raise awareness to healthy active living in the youth. I would love to share my passion and spread my message nationally to all. Any career where I can use my compassion for others and promote health care would be considered my dream job. I hope to not only be a volunteer in the community but also a leader, and create a large impact with my message.
Are you currently a student?
Yes
If yes, where?
Area of study:
I attend the University of Windsor, completing my Honours in Human Kinetics, concentrating in Movement Science and a minor in Psychology.
Are you currently employed?
Yes, I am.
If yes, what is your occupation?
Executive Assistant for Boiling Point Track Classic. It is an Internationally recognized para-athletic track meet that is near to my heart as it is run out of Windsor, Ontario. This position has allowed me to travel around the province, which networking with sport icons from around the world.
Describe where you were raised and what your childhood was like.
I was born and raised in Windsor, Ontario. As a close nit community, Windsor welcomes and embraces all individuals. I lived in a smaller town called Tecumseh as a child with a population of approximately 23,000 people. Living in a small town provides the comfort of knowing that your teachers, friends, and parents will always support you. My childhood consisted of a lot of sports and traveling, as I always wanted to experience as much as possible. I attended gymnastics, dance, and began skiing at the age of 5.
List any interesting or unusual jobs you may have had.
I was a basketball coach for Primary Elementary School children. Although I have never developed my skills in basketball, I volunteered as a basketball coach as this position was the perfect way to begin following my passion of promoting physical health in the youth. Teaching the proper skills needed for a sport to children aged 4-7 was absolutely rewarding.
List any volunteering you have done.
My devotion to volunteering began as a High School student.
- As youth group leader for four years, I realized that we are always being looked up to for guidance
- I continued volunteering as a peer mediator in my school high school as well as a basketball coach/instructor to primary grade children
- I have used my highly spirited attitude and leadership skills to take on the captain role as a cheerleader for the local Windsor Spitfires hockey team
- As a Windsor Lancer's University Cheerleader- I have volunteered to coach cheerleading to females ages 5-16 once a week.
- Fitness Fun Days- Visiting High Schools and Grade Schools around the community, teaching fun ways to stay healthy and active
- Fuel- Females Using Energy for Life- We travel to High Schools throughout the city educating females on nutrition and physical activity. We are a judgment free zone that uses physical activity to lower inactivity rates, while increasing female self-confidence in order to follow their goals in life
- W.E Care For Kids- A local charity that funds sick children in our community for health care. I have been working with them volunteering for them at various events over the years, as well as hosting my own fundraiser events around the community
What is your most unusual talent?
My most unusual talent would be my ability to stay positive in any given situation. A lesson that I have learned over the years is, not to dwell on what you don't have in life, but to appreciate what you do have. This always reminds me to enter every situation with a positive attitude and enthusiasm and that every situation positive or negative, is a learning experience.
Where is the most interesting place you have been to?
My admiration for traveling began as a child as my mother would take me with her on different trips. Learning about cultures and nationalities is such a great way to learn about geography, and there is no better way than to experience these cultures then in person. The most interesting place I have been to would be Poland. I am the first of my family to be born outside of Poland and knowing where my ancestors came from remarkably empowering. Poland has a variety of historic landmarks as well as beautiful nature. Everything from the traditional food, to hiking in the mountains, to meeting my family was a heart-warming experience.
What do you hope to be doing in ten years?
In ten years I hope to have an established career as a Physician's Assistant, owning my own clinic to directly provide health care through my passion of helping others. I hope to have a family and be empowering my children to dream big and follow their dreams by raising strong willed children like my mother has. I would love to lead my own campaign throughout North America, raising awareness to youth physical health and looking back on the year that I was Miss Universe Canada.
Is there anything you would like to add that we haven't asked?
I would like to take this time to thank the Miss Universe Canada organization, my family, and friends for supporting me in this incredible experience. I know that as Miss Universe Canada, I would continue to inspire my peers and the young individuals looking up to me as a role model. I am so excited to represent Canada and hope to make everyone proud!