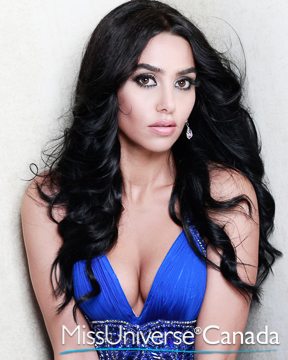 Height: 5'7″
Hometown: Guelph, ON
Prosha was born in the Kurdish region of Iraq and moved to Canada at the age of two. She is the middle child of three. Her close-knit family has kept her grounded and showed her how to appreciate the simple things in life.
Growing up, Prosha was more of a tom boy. Constantly on the go from playing a variety of sports in high school to playing rep soccer and basketball. When Prosha and her family weren't running around from tournament to tournament, you could find Prosha spending quality time with her friends and family.
Prosha is also a passionate animal lover. When she was just learning how to walk, while living in Greece, her parents would take her to the Acropolis where she would sit with a bag of olives and play with the stray dogs. She now has her own Australian Shepherd that she loves very much. Prosha enjoys taking her dog on hikes and watching her swim. She has participated in many Humane Society dog walks as well has donated supplies and toys to animal shelters.
Prosha studied Business in school with a major in E-commerce. After graduating, she decided to travel before settling into a career path. She backpacked Europe for two months and visited many countries including; France, Germany, Netherlands, Italy, Greece, Spain, Turkey, Iraq, United Arab Emirates, Cuba, Mexico and much more!
With traveling being such a big hobby of Prosha's, she had desires to take part in a different type of trip that she has not yet experienced. Being from a third world country, Prosha knows the feeling of life struggles and felt the need to give back. In May of 2012, she went on a 10 day mission trip with Habitat for Humanity to Trinidad & Tobago. While visiting Trinidad and Tobago Prosha and a team of volunteers had the opportunity to build homes for less fortunate families that were in need of assistance. She plans on embarking upon many more mission trip opportunities and has her heart set on Africa next.
Prosha now works at a real estate software company within the implementation department, where she acts as the training team lead. Prosha enjoys the many aspects of her position; including travelling and public speaking allowing her to showcase her vibrant, contagious personality.
Sponsors:
Focused Fitness Center, Lone Wolf Real Estate Technologies Inc., Friends & Family
https://www.youtube.com/watch?v=LtHXMNEqOLo
Languages spoken fluently (please include your native language if English is not your native language).
English and Kurdish.
What are your interests and what do you enjoy doing the most?
I have a deep passion for traveling. Ever since I backpacked around Europe after graduating, I've had the travel bug and it won't go away! I also enjoy reading, taking my dog for hikes and eating out at restaurants.
List any special training you have had (music, art, drama, dance, etc.)
During my high school years I was actively involved with our Drama department and was a key student in facilitating performances.  I also participated in our school Art fairs.
In what sports, if any, have you participated?
I used to play rep soccer and basketball growing up. I now play beach volleyball and tennis in the summer.
Name one person, other than your parents, who has had the most influence on your life. Why? 
My older sister has had the most influence on my life. I call her my second mother. She is the kindest most selfless person you could meet. She is that person that I would call if I were stranded on the other side of the world and she would figure out how to help me and keep me calm. We have lived a lot of life together and she has taught me the value of sisterhood and how unconditional our love is.
What is your proudest personal accomplishment (other than participating in this pageant)?
I always had a desire to go on a missions trip where I did not know anyone or have any expectations other than helping people. I went to Trinidad and Tobago with Habitat for Humanity in May of 2012 building three different homes for the families over there. It was truly such a blessing to be part of that team. Not only was it a life changing experience, I met some amazing people on my team that I still hold close friendships with. I felt proud to have done this on my own not knowing anyone there or what to expect. The feeling of giving back and knowing you've positively impacted someone's life is a beautiful thing.
What is the most interesting or unique thing that has ever happened to you and/or what is the most interesting thing about you?
The most interesting thing about me that a lot of people don't know is the path my family took to immigrate to Canada and the story behind it. We literally fled Iraq by horse to Iran and then to Turkey during the Persian Gulf War. From Turkey we went to Greece and lived there for just over two years before coming to Canada! It really sounds like a story you would watch in a movie.
What is your career ambition and what are you doing or plan to do to accomplish that goal?
I have many passions that could lead to different career paths. I get excited about the unknown and the surprises life brings.  One word people use to describe me is "persistence." I'm extremely motivated and very much a risk taker.
One of the quotes I like to live by is:
The secret is here in the present. If you pay attention to the present, you can improve upon it. And if you improve on the present, what comes later will also be better. – Paulo Coelho
What would be your "dream job" in life?
A job that I can pour my heart and passion into. A job where I can finish the day and know that I've positively impacted someone's life even it's just one person.
Are you currently a student?
I'm graduated.
Are you currently employed?
Yes.
If yes, what is your occupation?
I work in the implementation department for a software company as the Team Lead for training.
Describe where you were raised and what your childhood was like.  
I was born in the Kurdish region of Iraq during the war. My parents wanted more opportunity for my sister and I so they made the big bold move and left everything behind. They sacrificed their jobs, families, everything they owned for us. We have lived through some really tough times to be able to live the life we have now. I came to Canada just over the age of 2 years old so I've practically lived here my entire life and grew up in Guelph Ontario. I'm a small town girl with a big city heart.
List any interesting or unusual jobs you may have had.
I think the most exciting job I had was at a retail store downtown during the World Cup in the summertime. It was so dead that we would sit on the bench during our entire shift because everyone was in "world cup mode" so we streamed the game on our phones and ate ice-cream on the bench. We of course watched to see if any customers would come in and would help them when they popped in!
List any volunteering you have done.
Habitat for Humanity – Trinidad & Tobago
SOS Children Villages
Alzheimer's Walk for a Cure
Humane Society – Wiggle Waggle Walkathon
What is your most unusual talent?
I can touch my tongue to my nose. I also enjoy painting, which I think surprises a lot of people when I actually show them what I've painted.
Where is the most interesting place you have been to? 
Santorini Greece! That island literally feels like you are dreaming it's so breathtaking. I couldn't believe how beautiful everything was from the people, to the landscape, architecture, the blue and white homes and you can't forget about the delicious Greek food!
What do you hope to be doing in ten years? 
Living a healthy life with my better half and hopefully some kids. I would imagine that this would include my dream job as well. Life is always about balance between work and family.
Is there anything you would like to add that we haven't asked?
My biggest food weakness is chocolate. I've recently tried a bacon chocolate bar that was heavenly. I also want to thank my friends and family for all their support!