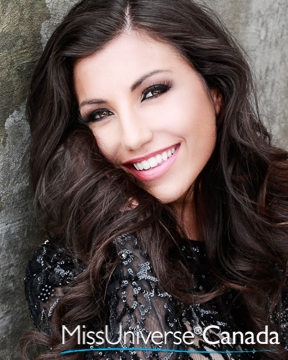 Height: 5'3″
Hometown: Thunder Bay, ON
Born and raised in Northern Ontario, the 21-year old representative from Thunder Bay, Samantha, developed a love for dance at the age of 2 and continued to follow that passion with fifteen years of extensive dance training and nine years competitive cheerleading, proudly being a part of many Provincial and Regional division championships. Samantha is currently studying Nursing at Confederation College and aspires to be a Paediatric Nurse Practitioner. She has received many scholarships recognizing her excellence in academics and has placed First class standing for the Nursing program.
Samantha has participated in both the Miss Thunder Bay Pageant, placing 2nd Runner up along with Beauty with a Purpose winner and the Miss North Ontario Pageant, placing 3rd Runner up and receiving the Akfit Fitness Scholarship. She demonstrates a strong commitment to her community by volunteering with many charities and events, one of her favourites being Habitats for Humanity, and coaching the St. Patrick High School Cheerleading team.
Driven by her strong passion for making others smile, Samantha currently works as a competitive, pre-competitive and recreational gymnastics coach. She is a Nanny for a family with two children under the age of two and a personal support worker in city homes. Samantha was also the supervisor of the indoor Hose plant at the Ontario Ministry of Natural Resources, responsible for cleaning, testing and shipping out fire hose all across Northern Ontario.
In her spare time, Samantha enjoys being outdoors and keeping active. She loves to travel and is determined to see the world. She loves spending time with family, mentoring children, baking, cooking, yoga, meditation, weight training, dancing, cheerleading, pole fitness and a quiet spot with a good book. Her mission is to empower others to always fight for their dreams and her favourite quote is Life has no limitations.
Sponsors:
Philpot & Delgaty, Rust Check, Bruno's Contracting, Dr. Gordon Porter, Body Bistro & Beauty Supply, The Wayland, Luminous Laser, Trans West, Rollason Flowers, Prezio Electric, Giant Gymnastics
Languages spoken fluently (please include your native language if English is not your native language).
Languages I can speak fluently are English.
What are your interests and what do you enjoy doing the most?
My interests include studying functions of the human body, demonstrating caring behaviors, staying active and fit and helping others whenever I can.  Amongst my many interests I enjoy caring for others by demonstrating compassion, kindness and concern in any and all situations the most.
List any special training you have had (music, art, drama, dance, etc.)
Special training I have had is 14 years of various forms of dance, 6 years of gymnastics, 9 years of cheerleading, 1 year of pole fitness and kangoo, Hairstylist apprenticeship, WHMIS certification, First Aid and CPR certification, Safe food handling certification and AACCA certification.
In what sports, if any, have you participated?
The sports I have participated in are soccer, volleyball, basketball, dance, cheerleading, gymnastics, swimming, and figure skating.
Name one person, other than your parents, who has had the most influence on your life. Why? 
The person who has made the most influence on my life is my cousin Brian Price.  At the age of 7 my cousin was diagnosed with leukemia.  He went through years of treatment but never lost his hope.  Regardless of the pain he felt you could never tell he was hurting.  His passion was rowing and he let everybody know.  He dedicated all his extra time to doing what he loved and fighting his cancer.  Today my cousin is 38 years old.  He has won his battle with cancer but more importantly fulfilled all of his dreams leading Canada to many Olympic medals, including a gold in Beijing 2008 and Silver in London 2012.  His determination has taught me that no matter how big an obstacle your dreams are always bigger.  Whatever you believe you can do is possible with a little determination and commitment.  He showed me to always believe is myself and never settle for what I didn't love.  Dreams do come true.
What is your proudest personal accomplishment (other than participating in this pageant)?
My proudest personal accomplishment was when I was 13 years old and placed amongst the top 3 hip-hop dancers in Canada.
What is the most interesting or unique thing that has ever happened to you and/or what is the most interesting thing about you?
The most interesting thing that has ever happened to me was when I was snorkeling in a corral reef in Cuba.  I was surrounded by the most beautiful water animals and given the opportunity to hold one of my personal favorites, a starfish.
What is your career ambition and what are you doing or plan to do to accomplish that goal?
My career ambition short-term is to become a pediatric nurse, spending my first 6 months in a developing country to provide health care to children in need of medical attention.  Long-term I hope to graduate from the Nurse practitioner program, open my own clinic and continue to provide health care in developing countries.  In order to achieve my goals I am enrolled in the nursing program and researching ways to become more involved with medical mission trips.
What would be your "dream job" in life?
My dream job in life would be to be a self-employed Nurse Practitioner travelling to developing countries providing health care.
Are you currently a student?
Yes, I am currently enrolled as a student
If yes, where? 
Confederation College
Area of study:
Registered Nursing
Are you currently employed?
Yes
If yes, what is your occupation?
For my occupation I am a pre-competitive, competitive and recreational gymnastics coach and I also Nanny for a family with a 2 and 1 year old.
Describe where you were raised and what your childhood was like.  
I was born and raised in a Northern Ontario town called Thunder Bay.  Thunder Bay is surrounded by the beautiful Lake Superior and much gorgeous scenery.  As a child I spent most of my time outside or participating in activities.  Most evenings consisted of long hours at the dance studio then a 30-minute drive home to sit down and complete my homework with my mom.  Every January we travelled to Florida for 3 weeks with my grandparents, aunt, uncle and cousins.  We spent our time lounging on the beach, playing in the sand and who could forget Disney World.  As I got older we started doing more camping and boating keeping us closely connected with nature and our summers just seemed to fly by.  I spent much of my time trying to teach my brother my cool new dance moves and although he never picked up on any we became the best of friends because of it.  My childhood was by no means perfect but had it not been for the road bumps I encountered I would not be the unique individual I am today.
List any interesting or unusual jobs you may have had.
Supervisor of the indoor Hoseplant at Ontario Ministry of Natural Resources
House Hoarders Clean-up Crew
List any volunteering you have done.
St Patrick High School cheerleading coach for 3 years and counting.
Numerous fashion shows
Gala events
Wedding Shows
Strong Man Competition special guest
Gymnastics Carnivals
Cheer Camps
Interacting with sick kids by reading, playing and engaging in activity
Homeless Shelter
What is your most unusual talent?
My most unusual talent is pole fitness.  Pole fitness is workout routines targeted toward engaging every muscle in the body all at once.  It is a demonstration of power, strength and agility.
Where is the most interesting place you have been to? 
The most interesting place I have been to is Italy to my family's hometown, Siderno.
What do you hope to be doing in ten years? 
In 10 years I hope to own my own clinic for kids as a Nurse Practitioner and be able to travel and provide health care to developing countries.
Is there anything you would like to add that we haven't asked?
One thing I would like to add that hasn't been asked is my reasoning for wanting to participate in this pageant.  I want to participate in this pageant to encourage others to be the best they can be, to never give up and always fight for their dreams.