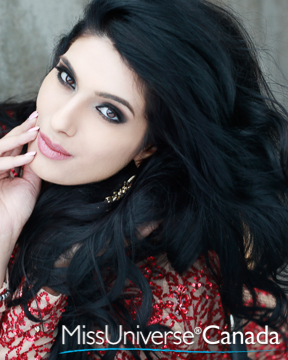 Height: 5'8″
Hometown: Markham, ON
My name is Tanya Virk and I hail from the town of Markham, Ontario. I have always had a great interest in genetics and immunology which lead me to successfully complete the Chemical Laboratory and Biotechnology Programs at Seneca College. My goal is to someday help in the development of pharmaceutical therapies, in addition to one day being an employed member of the UN (United Nations).
At the very core, I would consider myself a philanthropist. My main goal is to possess the ability to spread happiness to others; be it through simple tasks or grand gestures. However, through all my volunteering experiences the cause that I hold close to my heart is the empowerment of girls in third world countries. For me, being in Canada and living in freedom have really put things into perspective. Knowing that 66 million girls worldwide, do not attend primary or secondary school and are unable to reach their potential have led me to take part in several efforts to raise money for this cause. I have arranged charity fashion shows, walks and managed to fundraise thus far and with a determined heart, I intend to continue. My goal is to fundraise to my absolute potential and contribute these funds towards educating these young women. I can only hope that with my help, these women will be able to pull themselves, their children and their communities out of poverty.
The most important people in my life are my parents. They are my strength, foundation and the pillars that have provided me with everything I have ever desired. My parents have been there throughout every experience and without judgment, have truly supported my decisions; yet have kept me humble and grounded. I cannot imagine myself without them. They are the reason I am the strong, courageous, compassionate and fearless woman I am today and that is what has given me the confidence to challenge myself; to challenge myself to be the best I can possibly be, whom I believe will be a strong representative for our diverse country.
Sponsors:
Mainly Mac, Terani Couture, Cascata Blu, Jenuine Airbrush Tan – Mobile Tanning Services & Skincare Products, Beauty and Haircare Enterprises Inc., Family and Friends
Languages spoken fluently (please include your native language if English is not your native language).
English, Hindi, Punjabi, Urdu, Conversational French
What are your interests and what do you enjoy doing the most?
Reading tops my list of interests, as I have read more than 300 books. I also love to swim and practice my make-up skills in my spare time.
List any special training you have had (music, art, drama, dance, etc.)
Bollywood Dance Training
In what sports, if any, have you participated?
I have participated in competitive swimming and have gone on to represent my city at the Provincial level. In addition, I have played basketball and participated in the track and field event, shot-put throw.
Name one person, other than your parents, who has had the most influence on your life. Why? 
The most influential person (other than my parents) would be my best friend. She has been there for me, through thick and thin and inspires everyone to be the best that they can be. She is a supportive, strong and loving person that I am proud to call, one of my role models.
What is your proudest personal accomplishment (other than participating in this pageant)?
Education is a very important factor in my life and should be for all people. One of my proudest personal accomplishments was recently graduating from two Science and Engineering programs. However, I am very proud of every accomplishment I have achieved, thus far.  Every single experience (positive or negative) has helped me transform into the person I am today. With the achievement of my goals, I have learned to be gracious and humble.  On the contrary, every goal that I have not achieved has taught me determination and the drive to work harder. I hold all accomplishments, dear to my heart.
What is the most interesting or unique thing that has ever happened to you and/or what is the most interesting thing about you?
The most interesting thing about me is that I will never give up. It is not an option. I am a determined individual who will not stop trying until I achieve my goals.  My personal motto is: "if you don't give it your all, you will never know what your full potential is" and do my best to apply this motto to everything I do. I would not have achieved the successes in my life, had I given up and this is something that I will take with me as I compete for the Miss Universe Canada 2014 title.
What is your career ambition and what are you doing or plan to do to accomplish that goal?
My career ambition has always been to be in a position where I can influence, inspire, be a role model, and advocate important causes to society. I want to use my voice and determination to make a difference. I am going to accomplish these goals by visiting different communities within my province to share my advocacies and raise awareness to these specific platforms. It is surprising how much can be accomplished with a meeting, a few words and a compassionate heart.
What would be your "dream job" in life?
My dream job in life would be to work for the United Nations. Because I am already so passionate about humanitarianism, I want to use my influence to make positive changes in our world.  This would be such an amazing opportunity and the job of a lifetime.
Are you currently a student?
No.
Are you currently employed?
Yes
If yes, what is your occupation?
I work on several part-time assignments with Estee Lauder, in addition to being employed by the Town of Markham, City Library.
Describe where you were raised and what your childhood was like.
Being born and raised in India, my childhood experience was very interesting and always adventurous.  My father was in the army and my mother was a veterinarian, whose jobs would take us to different cities in India. India is such a diverse nation with the languages, cultures and landscapes changing within each province. Every time we had moved to another city, there was a whole new perspective; meeting new people and engaging with them on a daily basis. Moving to Canada eight years ago was very adaptable. Because Canada is such multicultural country, and due to my childhood experiences in India, I was able to feel at home almost immediately.
Furthermore to my childhood, my parents have been a blessing. They are always supportive, encouraging and have instilled strong moral values within me. I am the woman I am today, and I thank them for always ensuring that we are well-provided for, no matter what the circumstances are. I would consider myself extremely fortunate.
List any interesting or unusual jobs you may have had.
On the funnier side of things, I have been a cook in Pizza Hut.
List any volunteering you have done.
'Because I am a girl'
-       Organized fundraisers
-        Bake sales
(Free – Them)
-       Freedom walk
-       Attended Seminars & conferences
Variety – The children's Charity
-       Fundraiser
Sick Kids Foundation
-       Awareness and monthly donations
Haiti Relief Fund
Mentoring at Seneca College
Part of the Student Federation of Seneca College
Apart from working these two charities, I have modeled for charity fashion shows for the Markham Stouffville hospital for cancer patients. In addition to that, I have been involved with Breast Cancer awareness.
Where is the most interesting place you have been to?
I have not had the opportunity to travel to many countries. However, I would have to say that the most interesting place I have ever been to, and what I am proud to call myself a citizen of is Canada. After having emigrated to Canada, I can honestly say that our country is a beautiful mixture of multiculturalism, diversity, amazing landscapes and friendly people. In my personal opinion, there is something for everyone in Canada, whether it is the metropolitan city of Toronto, Ontario, the beautiful rocky mountains of Edmonton, Alberta, or the nostalgic-inspired architecture of Montreal, Canada is truly the most interesting place I have ever been.
What do you hope to be doing in ten years?
In the next ten years, I see myself working for the United Nations. This may be a "big dream" that is far-fetched at the moment, but like I always say, "Anything is possible if you put your mind to it." I hope to one day, achieve this goal.